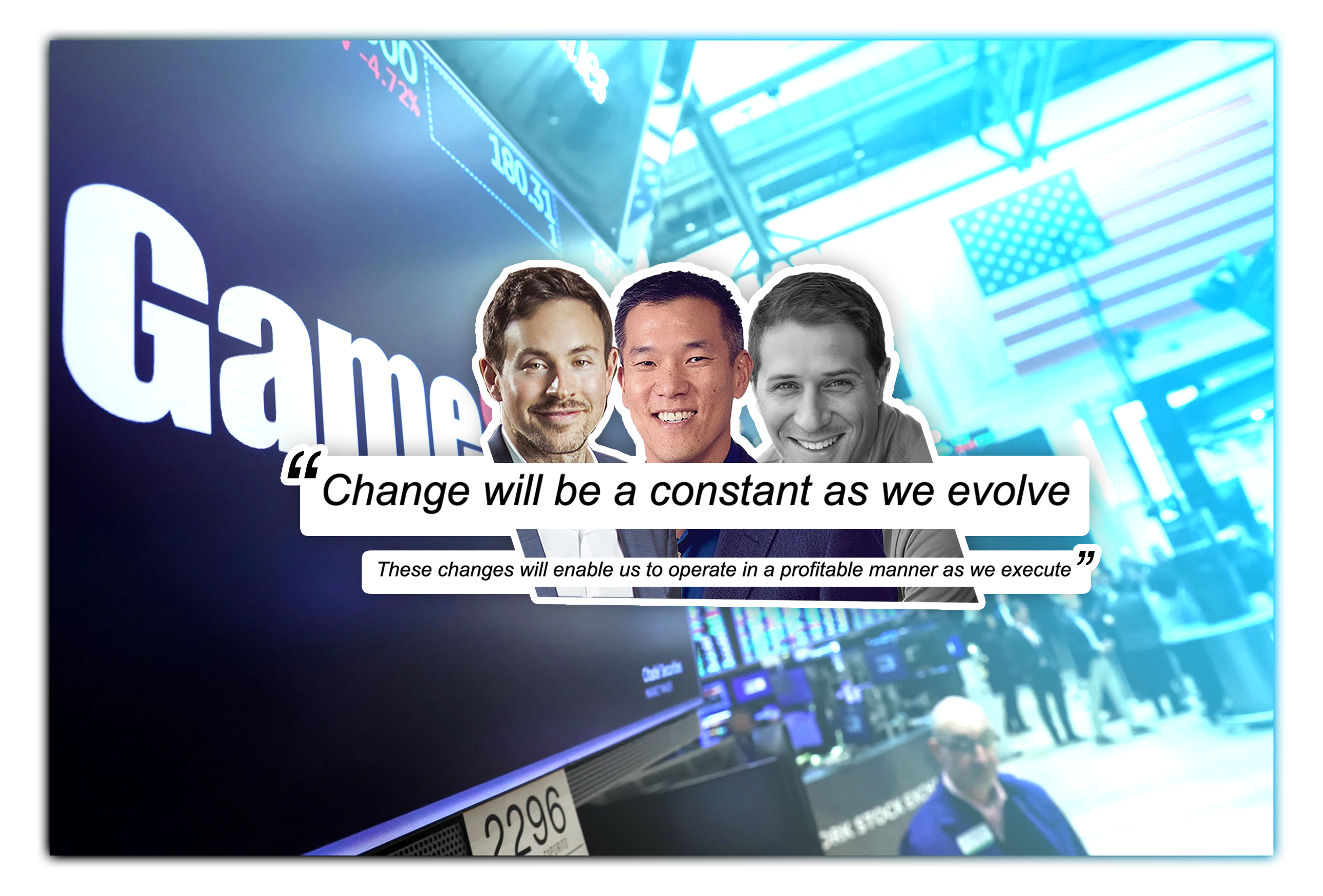 GameStop's CFO is out after just about a year, and an internal memo within the company has laid out a plan towards profitability.
GameStop has fired its Chief Financial Officer, Mike Recupero, and is making staff cuts across departments as part of an aggressive turnaround plan, the video game retailer revealed Thursday.
Mike Recupero, a seasoned technology industry finance executive who spent more than 17 years at Amazon, was announced as the incoming CFO on June 9th, 2021 under Chairman Ryan Cohen's guidance.
The sudden departure of Recupero appears less-than-amicable, as GameStop's Form 8-K filing reveals he was terminated without cause effective immediately.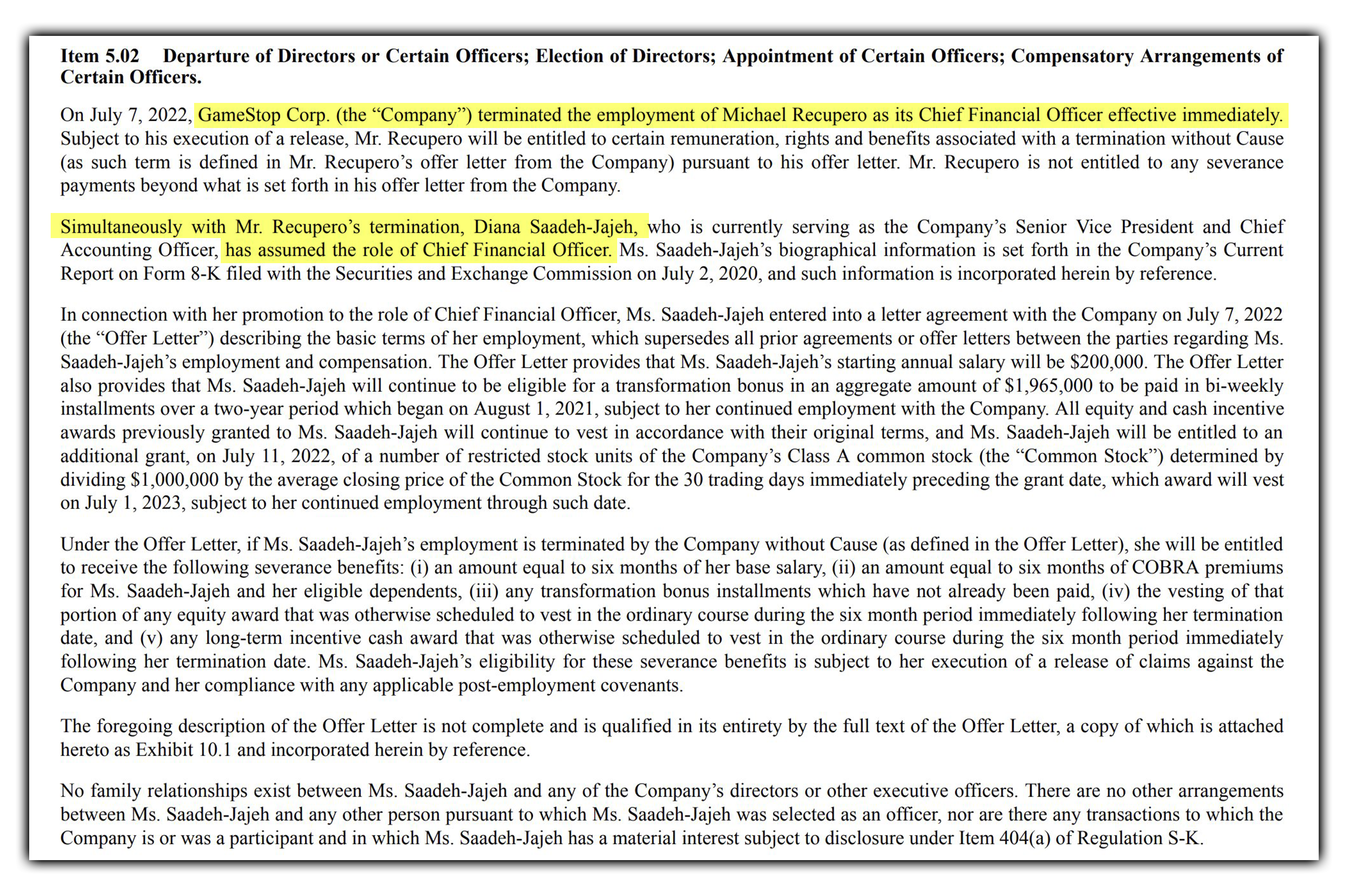 GameStop's Form 8-K filed July 7th, 2022.
Simultaneous to Recupero's termination, long standing Chief Accounting Officer Diana Saadeh-Jajeh has assumed the role of Chief Financial Officer.
She will have a starting annual salary of $200,000, according to the filing, and will be eligible for a "transformation bonus" in an aggregate amount of $1,965,000.
Hands off Mike
After about a year with the company, Recupero was "fired because he was not the right culture fit" and was "too hands off," a person familiar with the matter told CNBC.
He was pushed out by GameStop Chairman Ryan Cohen, the person said.
In May, GameStop Board Member Larry Cheng stated that a down market tests whether the Chief Financial Officer is a leader. He went on to state that a culture-driving CFO can be a huge asset to companies in these down markets.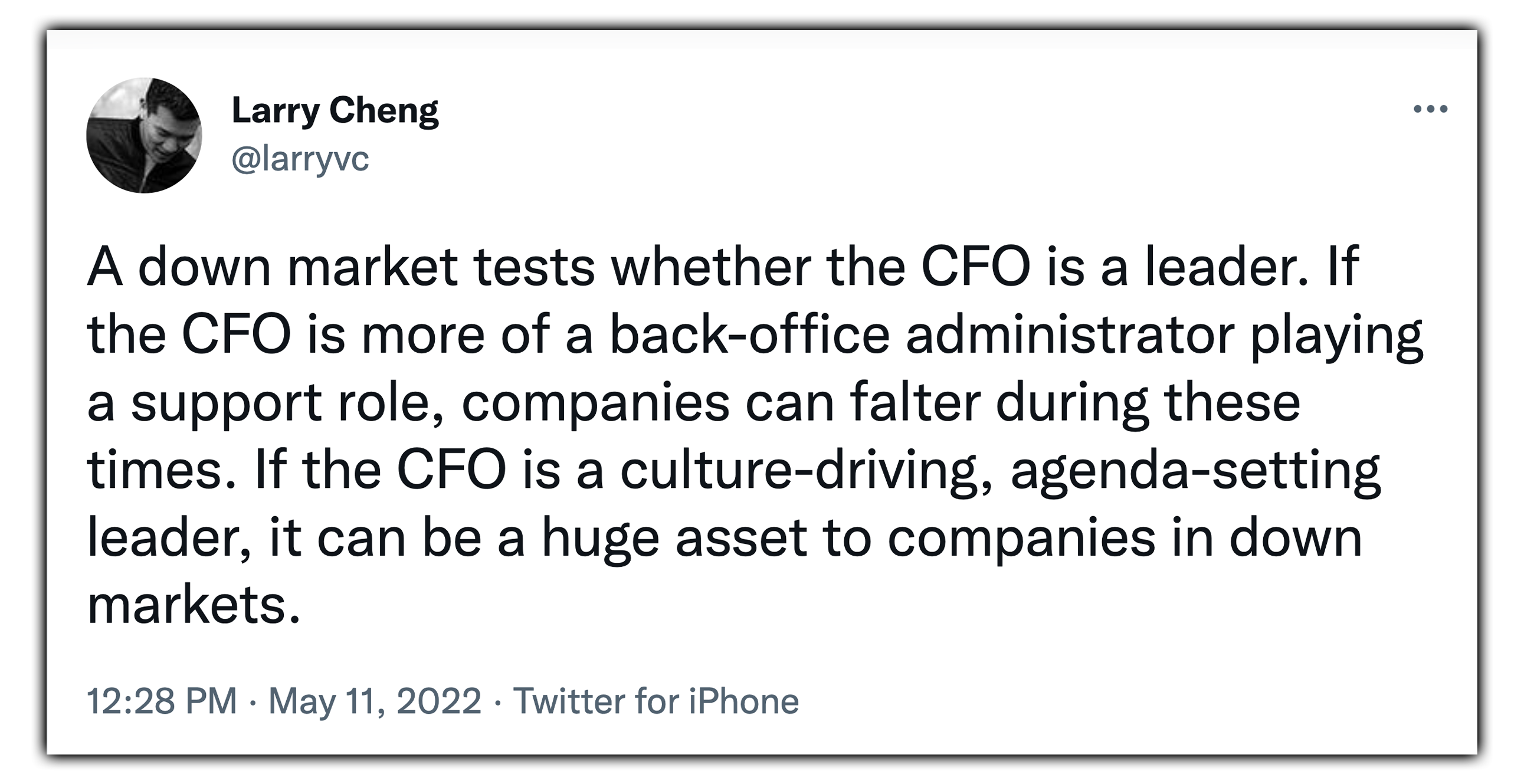 Larry Cheng on Twitter on May 11, 2022
"A down market tests whether the CFO is a leader. If the CFO is more of a back-office administrator playing a support role, companies can falter during these times. If the CFO is a culture-driving, agenda-setting leader, it can be a huge asset to companies in down markets."
Cheng's belief that a CFO acting more as a back-office administrator playing a support role can lead to a company faltering during a down market sounds familiar to the claims that Recupero was terminated for being "too hands off," leading us to speculate that Cheng's tweet was indicative of the situation at GameStop.
The Board Member also shared some evolving theory and observation related to CFOs on Twitter in January.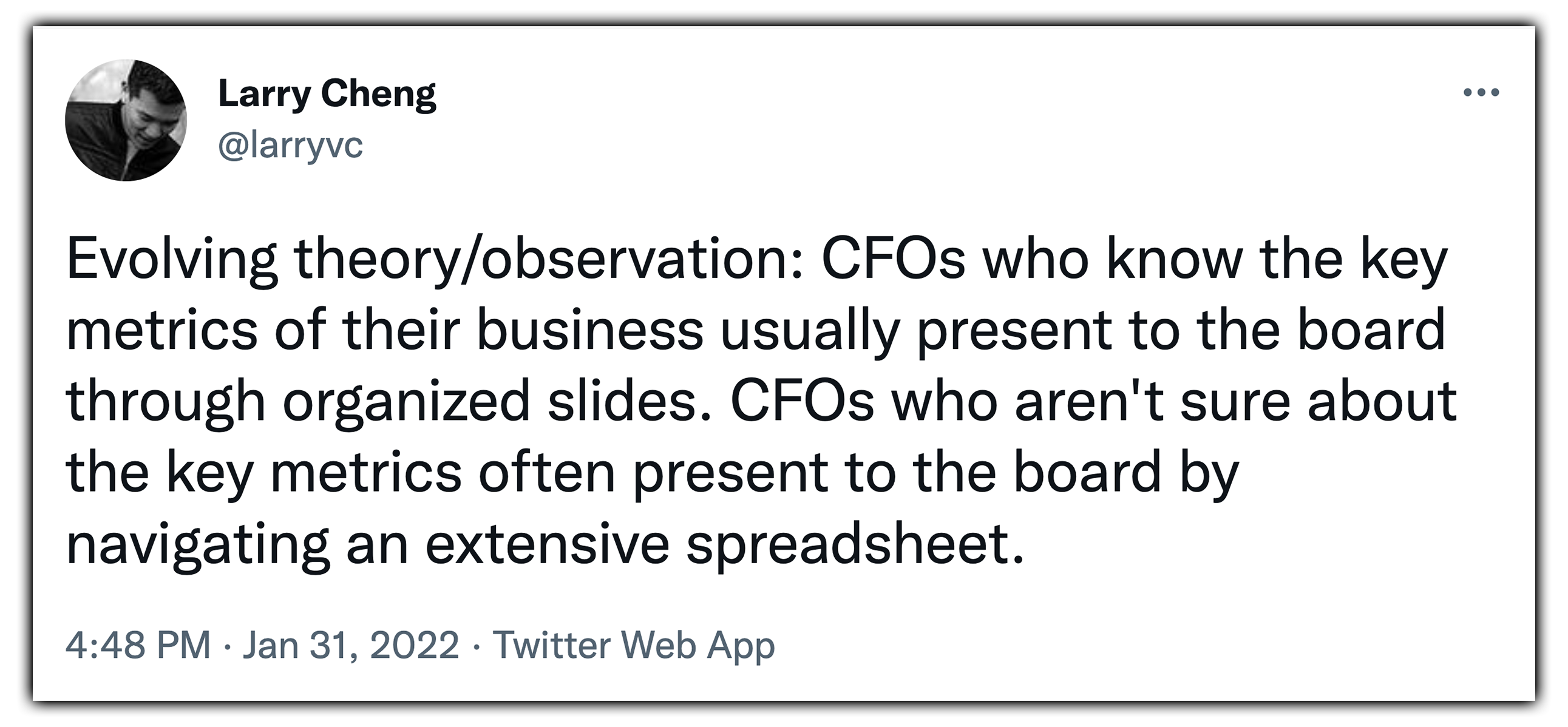 Larry Cheng on Twitter on January 31, 2022
"Evolving theory/observation: CFOs who know the key metrics of their business usually present to the board through organized slides. CFOs who aren't sure about the key metrics often present to the board by navigating an extensive spreadsheet."
The tweet from January indicates Cheng's expectations for CFOs. The board member expects financial officers to present their key metrics in an organized manner, and that navigating extensive spreadsheets instead is a lack of understanding.
Larry Cheng's Volition Capital is invested in a number of businesses so there is little evidence these tweets are about Recupero, but they say a lot about Cheng's values.
Read more about Larry Cheng's past, including his early investment in Ryan Cohen's Chewy and mentorship to the ambitious entrepreneur here.
Organizational Updates
GameStop is also undergoing several organizational updates, including layoffs and investing in field employees, in a strive towards profitability.
The layoffs, which were announced by CEO Matt Furlong in an email memo to all employees, are on the corporate side of the company rather than at its stores, and are intended to "reduce bloat" as GameStop invests in other areas.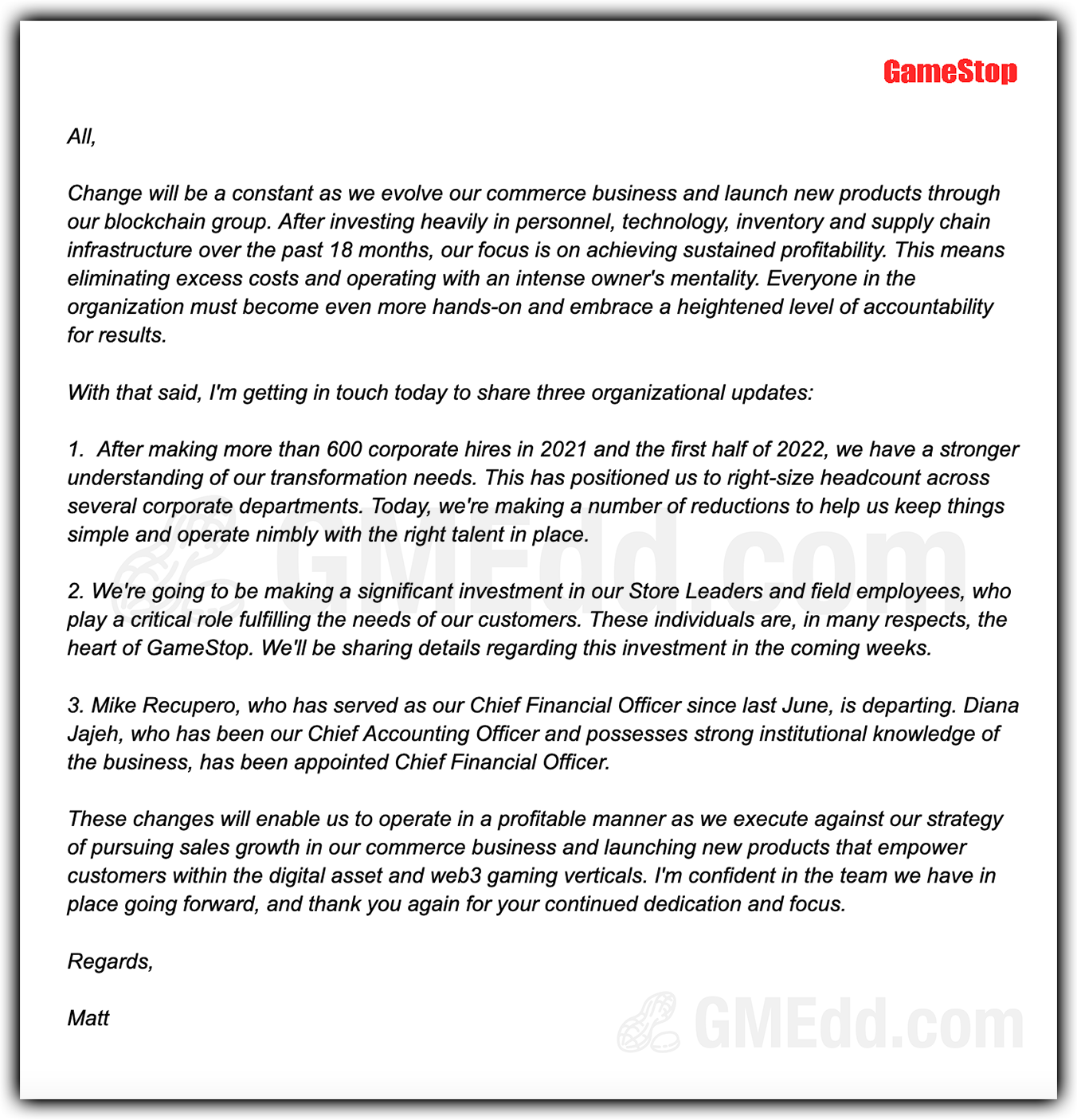 GameStop's internal memo sent after market close on July 7th.
Furlong's memo begins by highlighting the company's evolving commerce business and new products in the company's launching blockchain group.
The Chief Executive goes on to state that the company is now focused on achieving sustained profitability.
"After investing heavily in personnel, technology, inventory and supply chain infrastructure over the past 18 months, our focus is on achieving sustained profitability. This means eliminating excess costs and operating with an intense owner's mentality."
The CEO also contextualizes the cuts, and says the company has made 600 corporate hires since last year. Moving forward, the company will invest in store leaders and field employees, although specifics are yet to be announced.
The memo claims the hiring frenzy of last year and the first half of 2022 has positioned management to "right-size headcount" across several corporate departments.
To conclude, Furlong states that the changes will enable the company to operate in a profitable manner as it executes the strategy of pursuing sales growth and new product launches.
"These changes will enable us to operate in a profitable manner as we execute against our strategy of pursuing sales growth in our commerce business and launching new products that empower customers within the digital asset and web3 gaming verticals."
word on the block
Several employees have made their layoffs known on LinkedIn, including Senior Directors and Software Engineers.
Pierre Dunkel, a former Director of Finance at GameStop, offered to help review resumes and engage in mock interviews for his coworkers.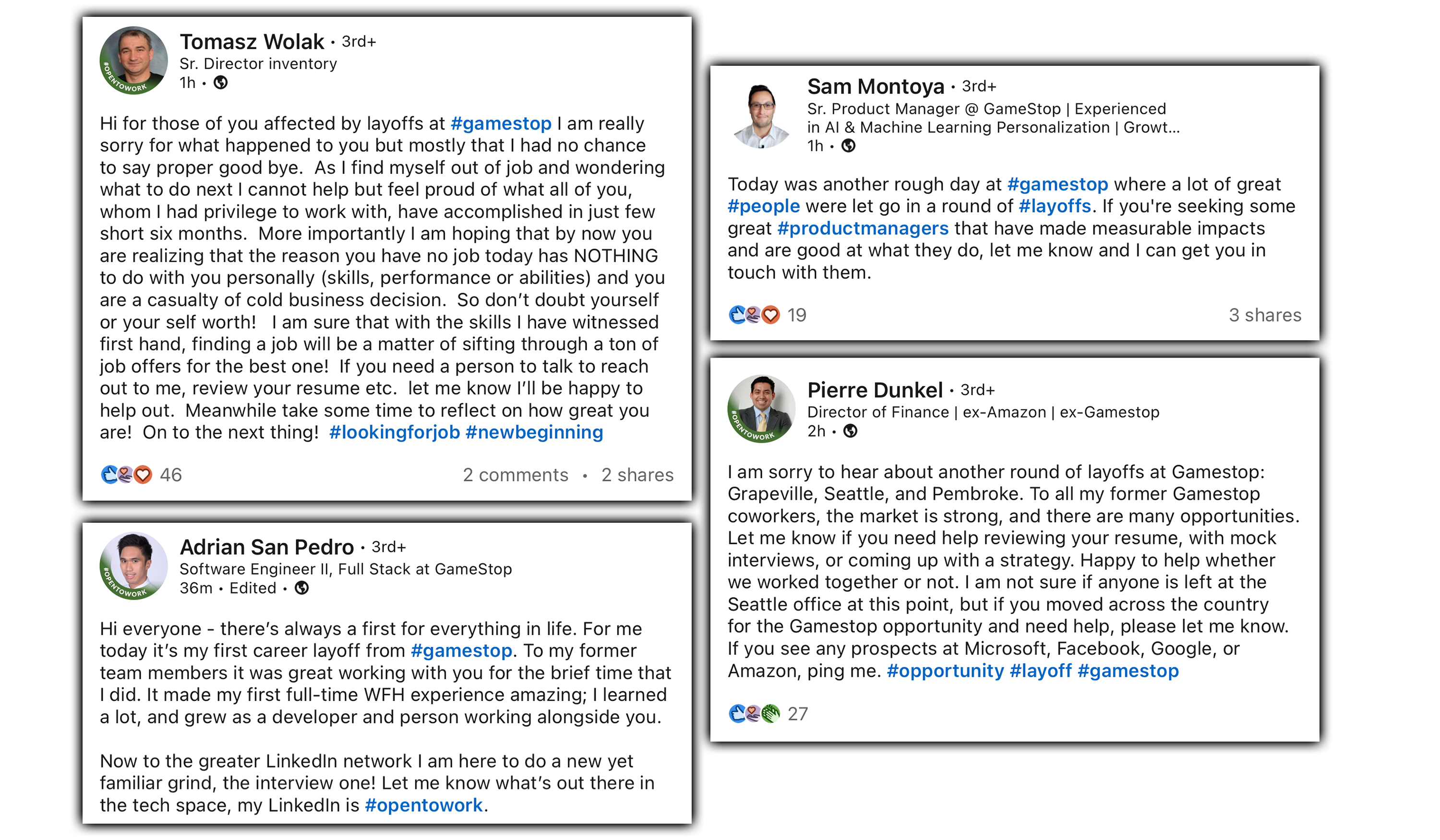 LinkedIn posts by former GameStop employees on July 7th, 2022.
Dunkel also states that he is "not sure if anyone is left at the Seattle office at this point."
GameStop had only recently expanded to Seattle, Washington, as part of an initiative uncovered by GMEdd.com in July 2021 that sought to reach a broader talent pool.
Rumors have surfaced that around 20% of corporate hires have been laid off, indicating that not all individuals who were brought on board during the hiring frenzy were compatible with the business; something to be expected during rapid growth.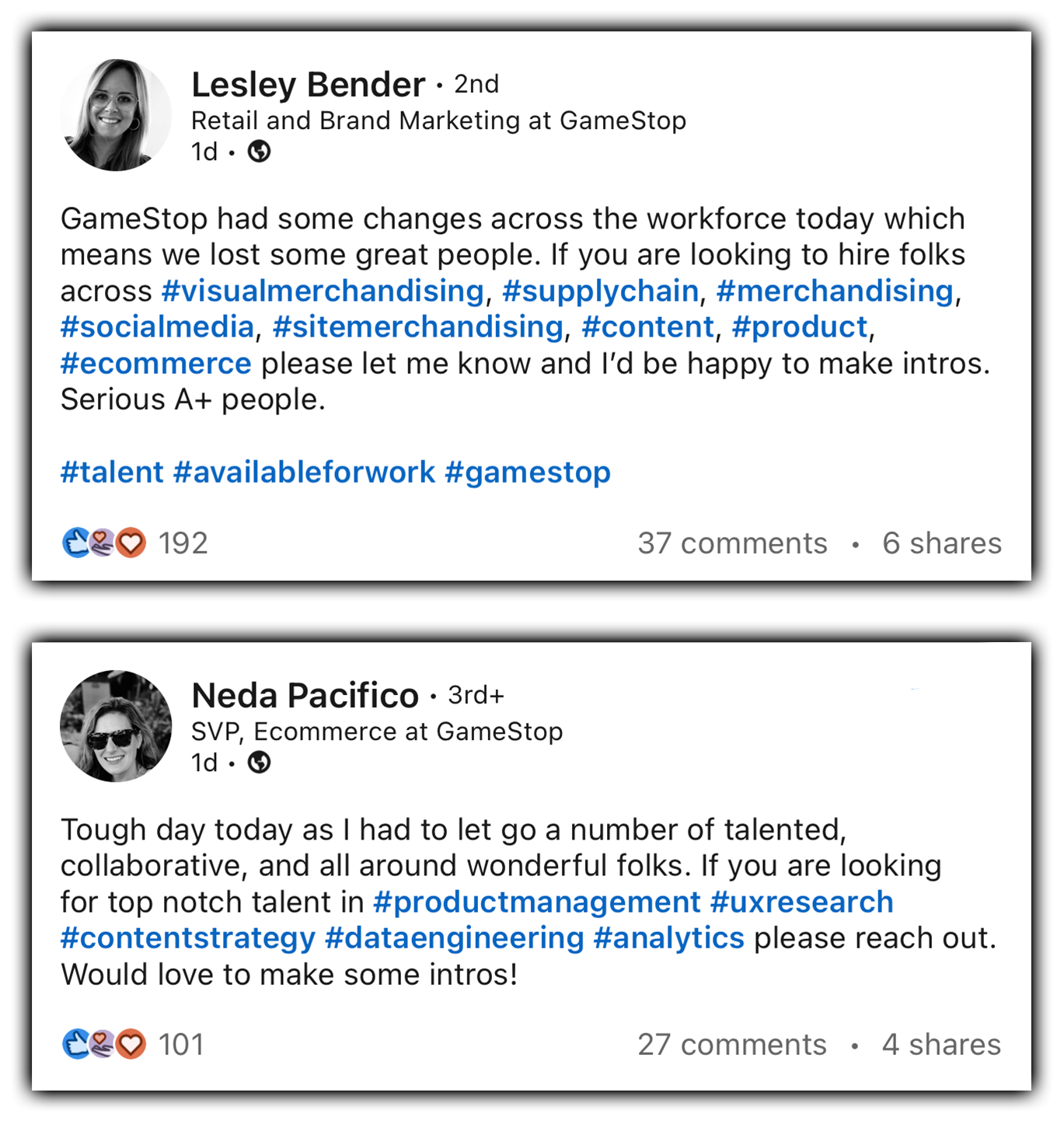 Posts from LinkedIn on July 7th, 2021.
Posts on LinkedIn from Lesley Bender and Neda Pacifico of GameStop work to clue investors in on the departments facing downsizing.
"If you are looking to hire folks across visual merchandising, supply chain, social media, site merchandising, content, product, ecommerce, please let me know and I'd be happy to make intros."
SVP, Ecommerce Neda Pacifico's July 7th post also adds that individuals in analytics, data engineering, and user experience research were let go.
Hearsay also claims that no blockchain team members were included in the layoffs.
nimble operations
Through rapidly expanding GameStop's corporate team with six hundred hires in just over a year, not everyone found compatibility with the start-up mentality that Chairman Ryan Cohen brought to the transforming business.
With GameStop committed to an NFT Marketplace launch by the end of the month, the results of the past year's work will soon begin to unfold.
Sources: GameStop Form 8-K, CNBC, Neda Pacifico on LinkedIn, Lesley Bender on LinkedIn, Tomasz Wolak on LinkedIn, Adrian San Pedro on LinkedIn, Sam Montoya on LinkedIn, Pierre Dunkel on LinkedIn, Larry Cheng on Twitter, Larry Cheng on Twitter