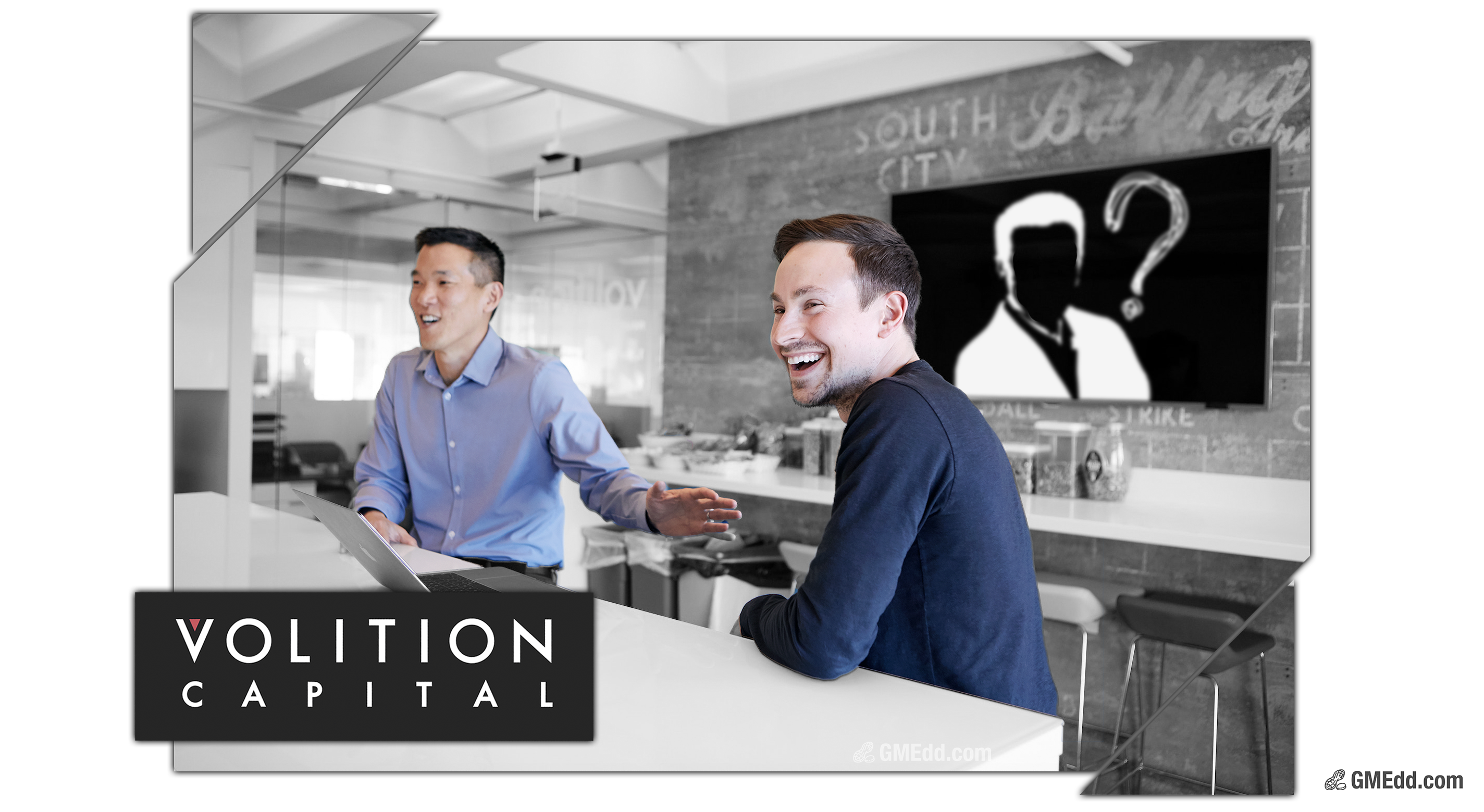 As the Chewification of GameStop continues, perhaps investors should take a closer look at the other Chewy co-founder Michael "Blake" Day and the potential for him to be involved, alongside Volition Capital.
Since reaching an agreement between RC Ventures and GameStop in January, Ryan Cohen has worked almost entirely behind-the-scenes on transforming the retailer, with investors uncertain as to who he consults with towards strategic moves. By looking at Cohen's past, and the breadcrumbs along the way, GMEdd is able to make a few educated guesses.
Chewy's "Other" Co-Founder
Chewy.com was founded in 2011 by Ryan Cohen and Michael "Blake" Day, hereby referred to as Blake. We know enough about Ryan's past from the various interviews he has given recalling his time at the pet-focused E-commerce giant, however, we don't know much about the other founder, Blake. Could he also be involved in the GameStop story?
Blake does not leave much of a trail on the internet. He has a Facebook page, but it doesn't have a public profile picture. It doesn't look like he's on Twitter or Instagram. He does have a LinkedIn page.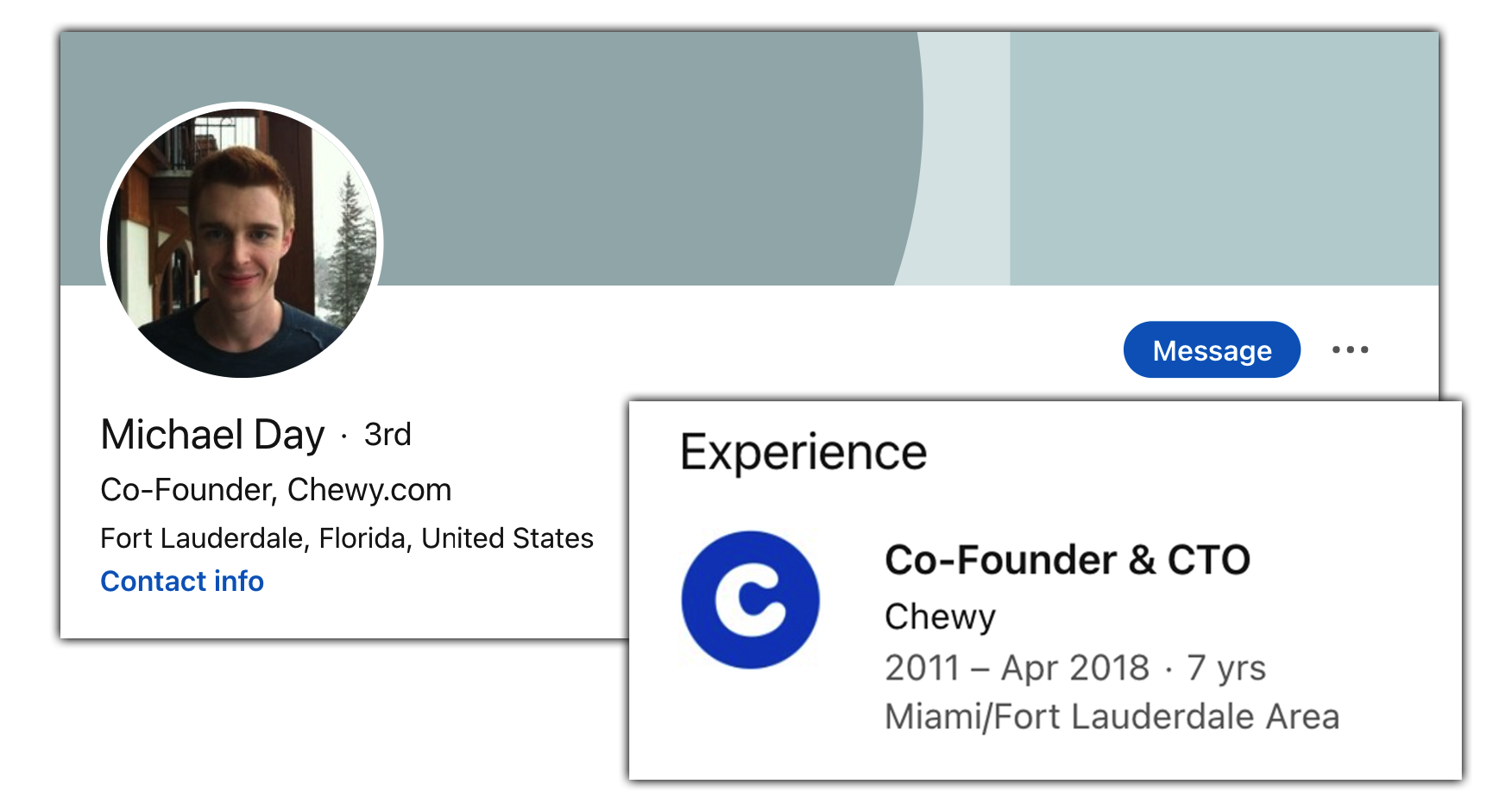 Blake's LinkedIn shows that he was Co-Founder & CTO of Chewy until April 2018, just a month after it was announced Ryan Cohen would be stepping down as CEO. Both Blake and Ryan remained with the company for a year after a $3B payday from PetSmart in 2017.
From past interviews with Ryan Cohen, we know the founders first met through an online Java chat room and shared similar visions for a groundbreaking e-commerce business before starting Chewy.com together, but insight on Blake remains limited beyond this.
In a TechCrunch interview in 2019, Ryan Cohen was asked,
Would you partner again with Michael on a different e-commerce business or maybe a venture outfit?
to which Ryan Cohen responded,
We're really close. It needs to be the right opportunity obviously, and we need to be picky. But I have no plans to sit in retirement, that's for sure. I'm 33 and I'm competitive and I like consumer businesses and I like to win.
Ryan is arguably in the midst of his biggest venture yet, so you have to wonder what his former business partner is up to these days.
Back to Blake's LinkedIn page: The last activity on his account was a liked post from 4 years ago, when Blake still worked for Chewy… until 4 months ago when Blake liked a post sharing a Forbes article about Chewy's exceptional customer service, dated none other than January 29th, 2021.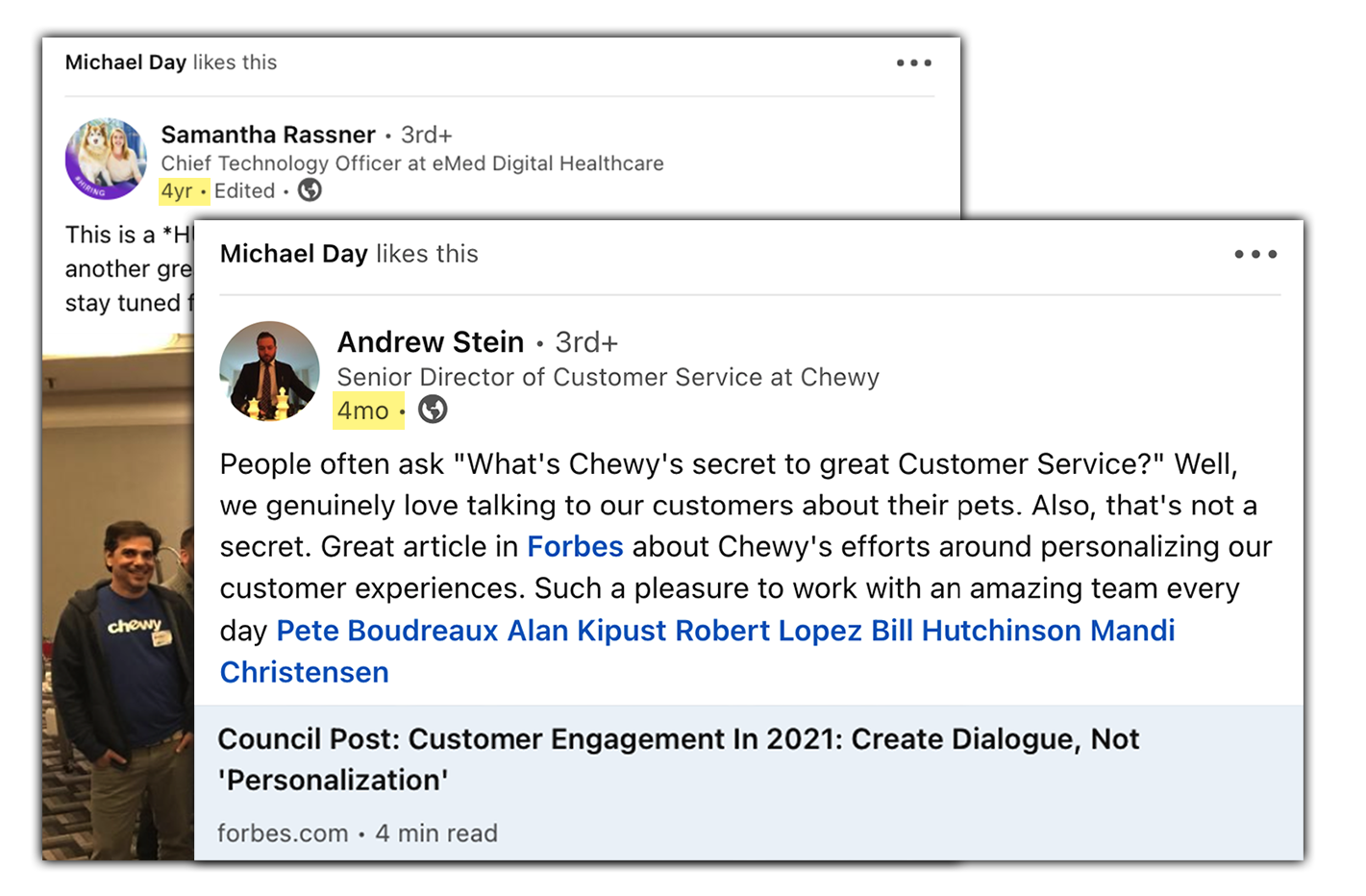 Interestingly enough, January 28th was the day buying of NYSE:GME was restricted across several major brokerages including Robinhood. During this time, GameStop was all over the news. Blake knows how to lay low, as indicated by so little out there on the internet about him, but if anything, this recent activity shows he is still using LinkedIn, and coincidentally while one of his former cohorts is at the center of a historical financial market controversy.
Blake Day, serving as the CTO, ran the Boston location. He gave an interview to VentureFizz about the move to Boston, and one might say he sounds a lot like Cohen:
Samantha Rassner served as Chewy's Vice President of Software Development from September 2015 to February 2018. In a LinkedIn blog post on her exit of the company, Samantha Rassner recounts Blake's visionary speech. Blake and Ryan sound one and the same here as well.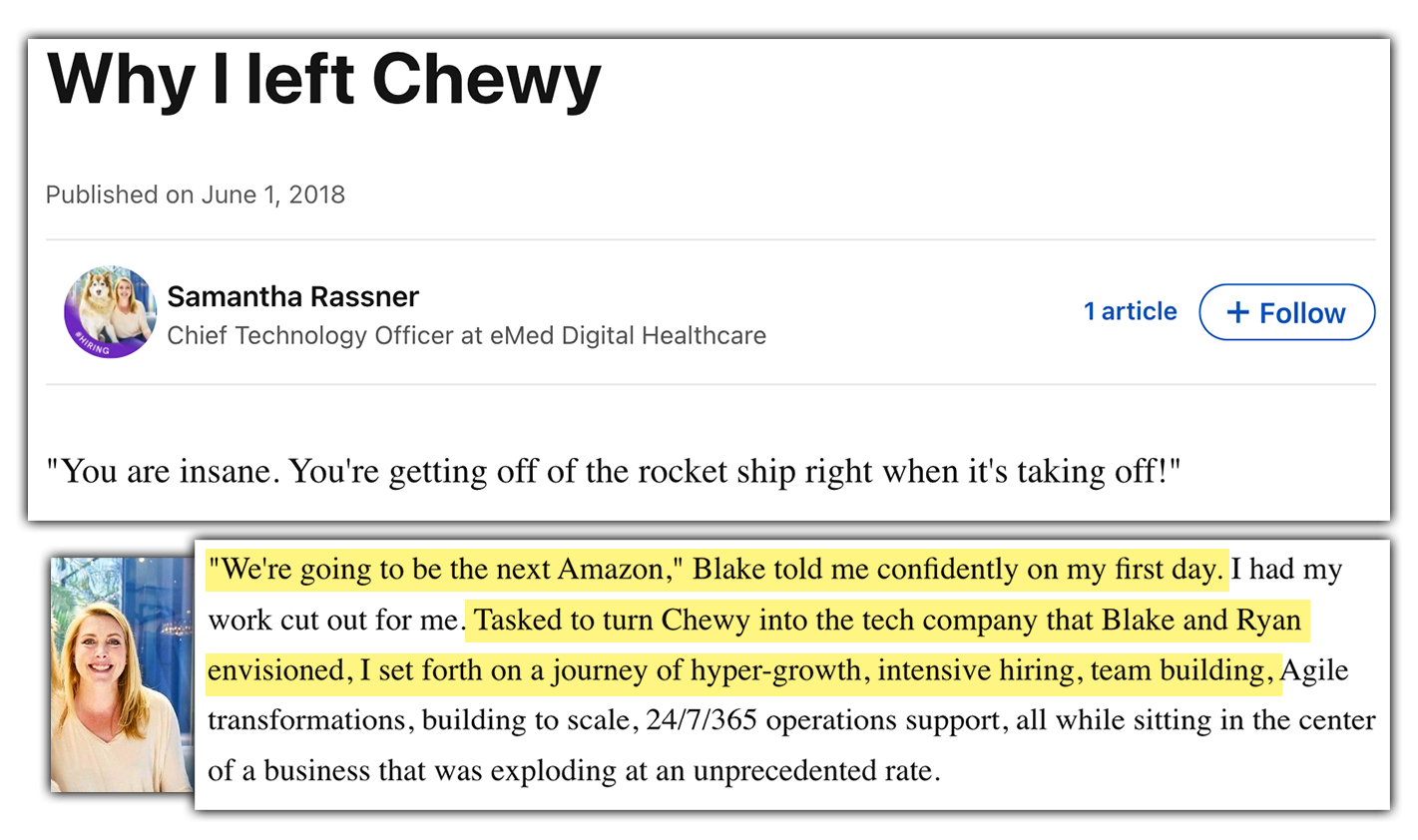 Chewy's First Investor
Larry Cheng, co-founder and managing partner of Volition Capital, was the first major investor to back Chewy after the company was turned down numerous times by other firms.
Larry's investment through Volition was key to the growth and expansion of the company, and as a result, Larry and Ryan remain "fast friends." While GameStop is a different story than Chewy, it's not crazy to think that Volition Capital and Larry Cheng have long been involved in mentoring the turnaround based on these facts alone.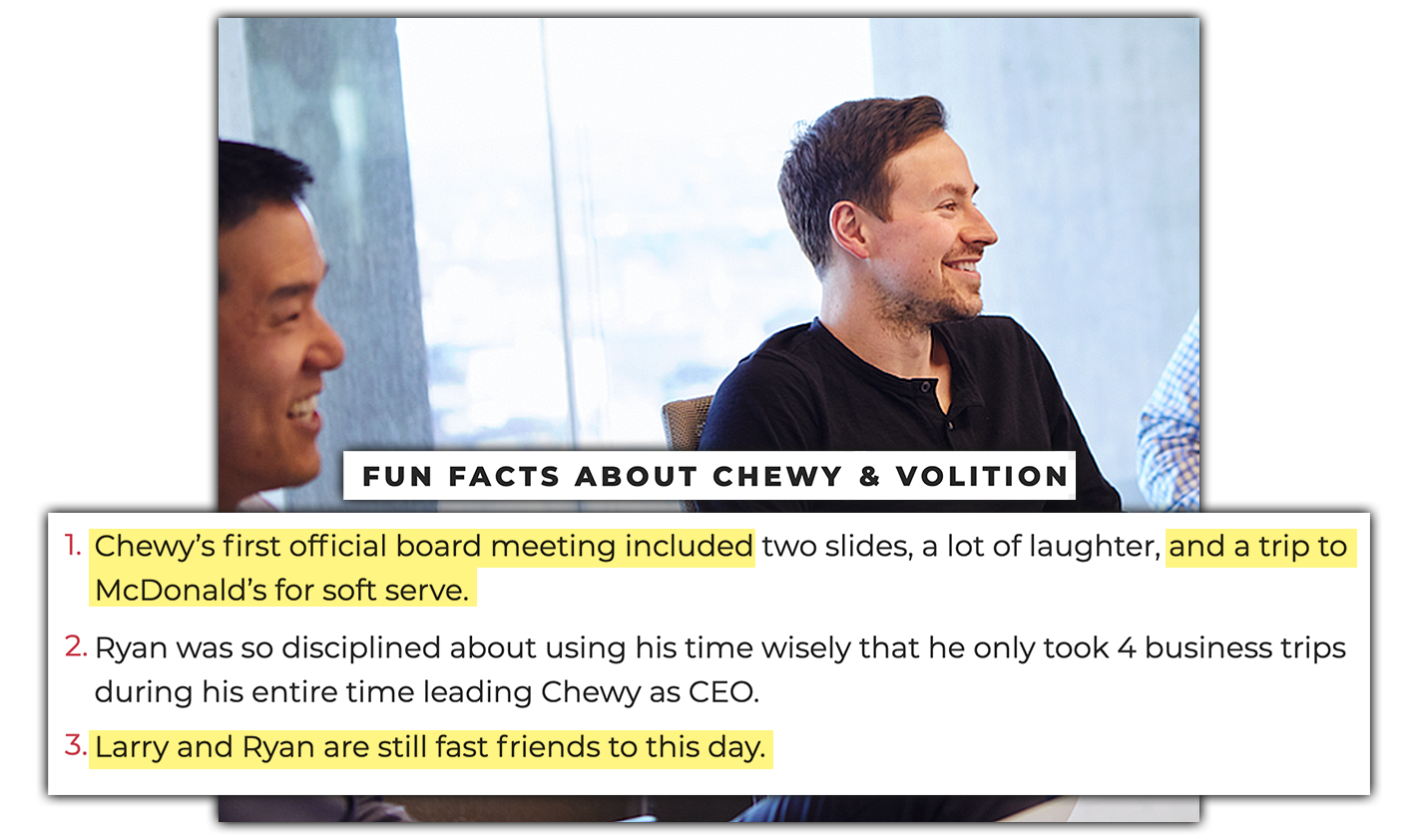 In fact, when Ryan Cohen tweeted a picture of an ice cream cone on February 24, 2021, some drew the connection that it could refer to Volition Capital's website citing Chewy's first official board meeting including McDonald's soft serve.
Who else would have been present at the first official board meeting? The Co-Founder of course, Blake Day.
Timelines Suggest Volition was Clued in on Ryan's Plans
Ryan Cohen filed his first 13D for GameStop via RC Ventures LLC on August 28, 2020, disclosing an initial 9% stake. This sparked waves, particularly within value investor circles, as many pondered the E-commerce guru's investment motives.
What few realize is that Cohen didn't initially invest in August 2020, but much earlier in April 2019. This can be deduced from the initial 13D, through share counts and averages based on implied price. Rod Alzmann of GMEdd.com states that when he inquired with GameStop last year, investor relations confirmed that Cohen had held $GME since April 2019.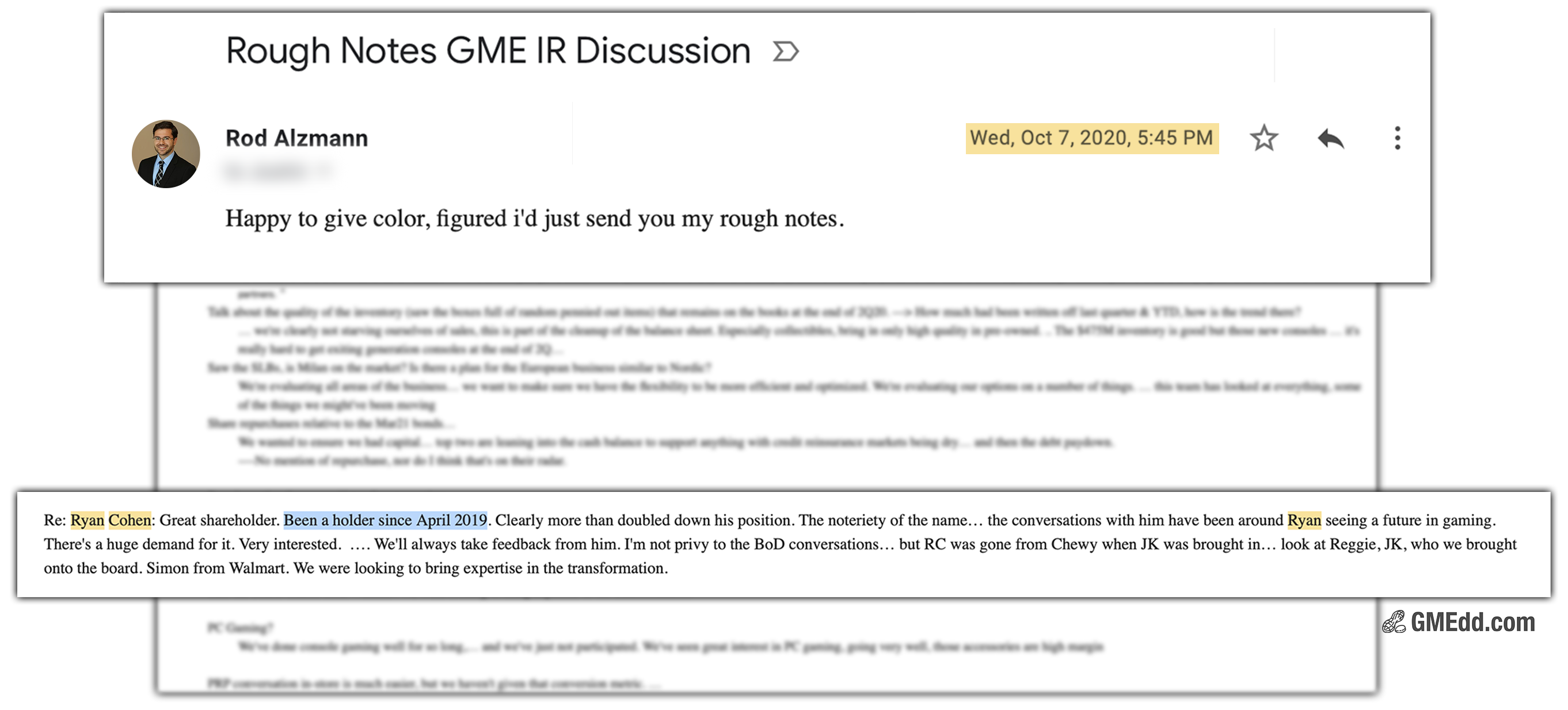 Just one week after Ryan's public disclosure, on September 4th, 2020, Volition Capital published an insight piece titled Gaming as a Service and Why it Matters, authored by one of the firm's associates, Claude de Jocas. This also appears to be the first piece of gaming related research the firm has released.
Over the next few weeks, Ryan added to his position twice more until reaching a 9.98% stake, disclosed September 21. Weeks later, on October 9, Volition released a video where Claude de Jocas discusses the future of internet gaming and its growth potential.
Skip ahead just one month, and on November 17, Ryan filed an amendment to his 13D with an attached letter to the GameStop board urging the company to share a credible plan for seizing opportunities in the rapidly growing gaming sector.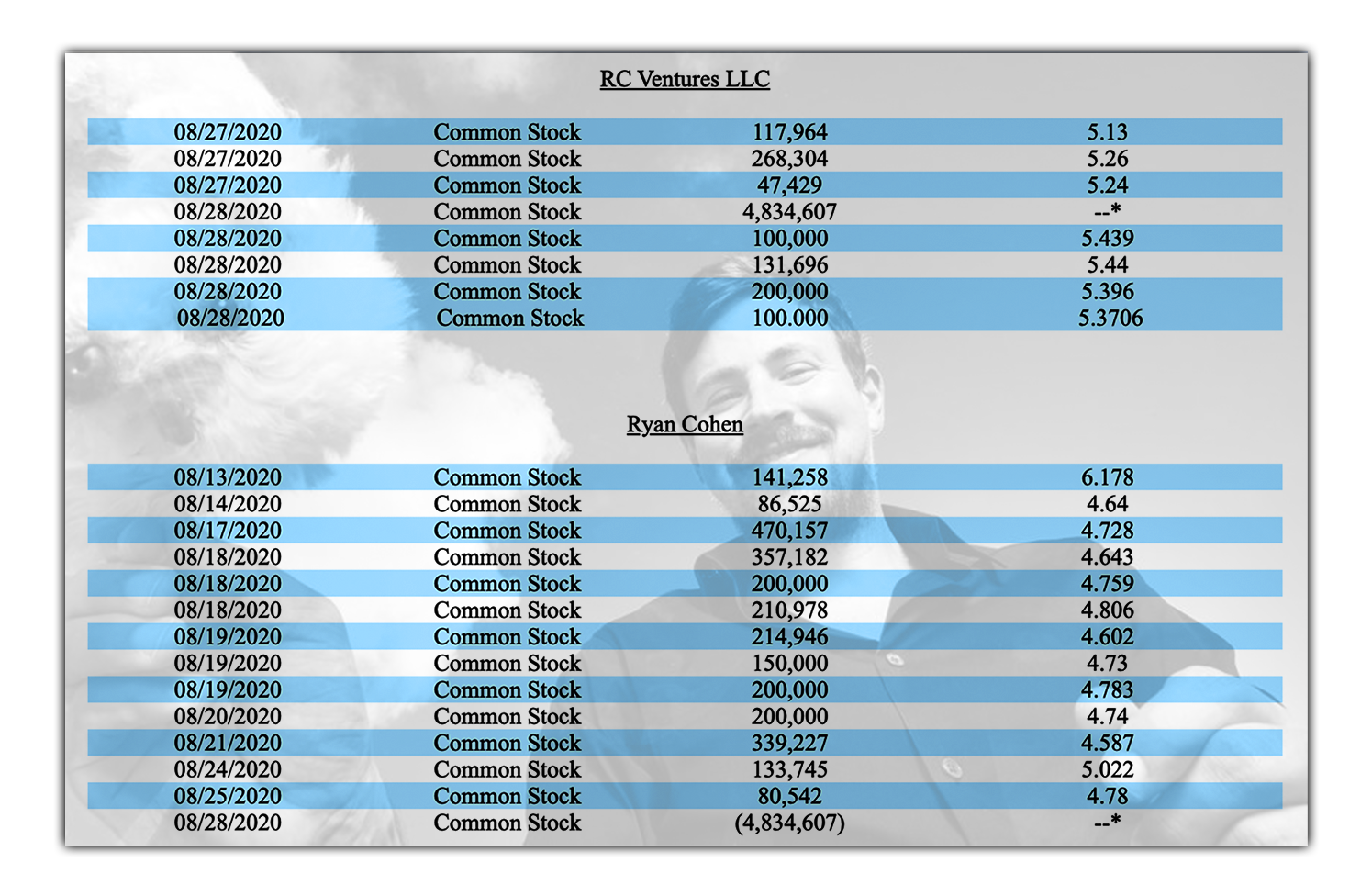 PR Blitz
Ryan Cohen was far from being a household name in August of 2020 when he filed his initial stake in GameStop, so many investors started researching him to get a feel for what his plan was. At the time, Ryan had established a website, ryan-cohen.com, that embedded various media appearances and formal interviews the Chewy co-founder had given, but it has since been shut down in December of 2020.
Had the website done its job?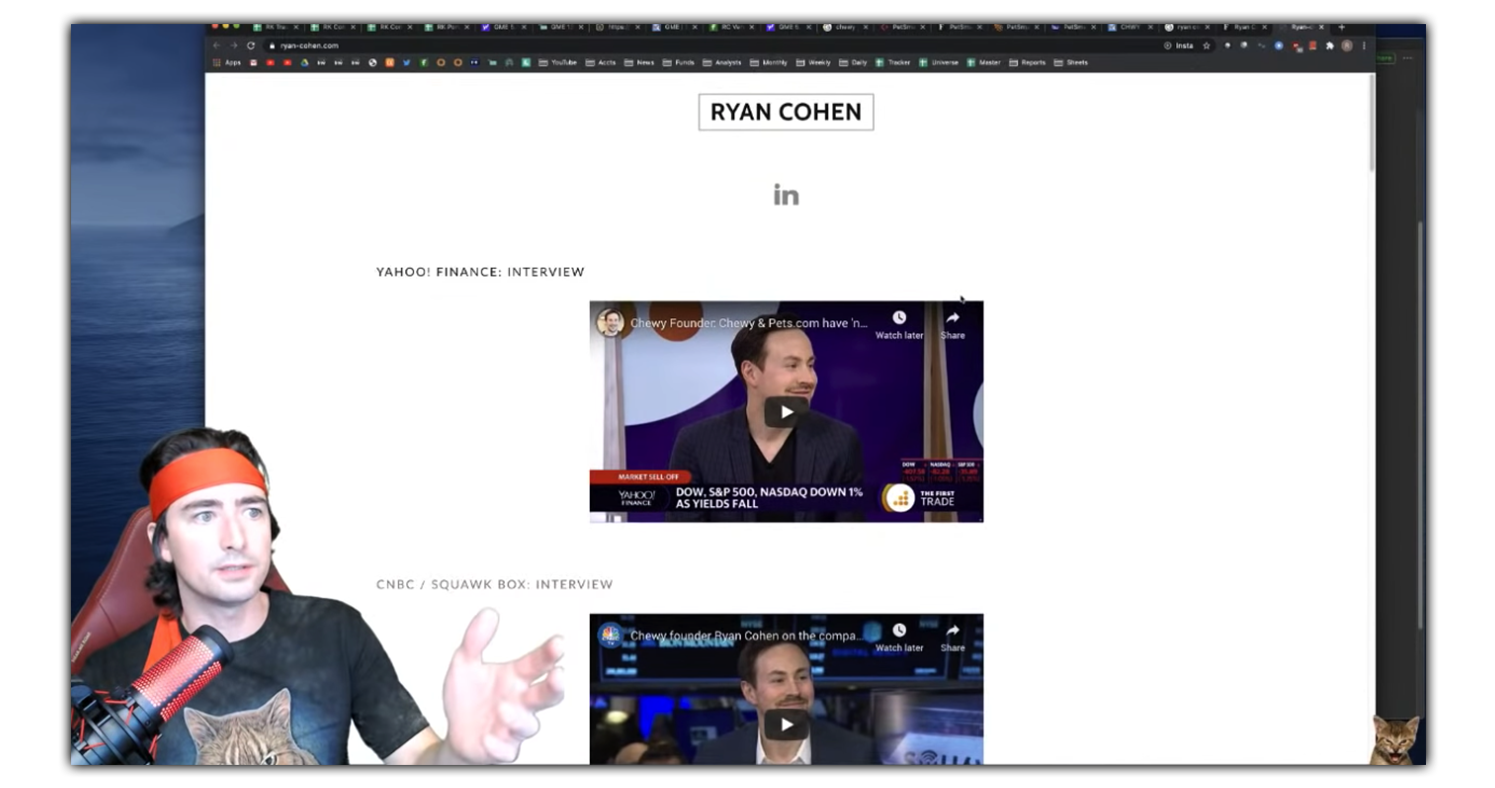 Retail investing icon Roaring Kitty first stumbles upon Ryan Cohen's rudimentary homepage during an August 28th, 2020 livestream. At the time, the deep value investor was merely trying to learn more about the Chewy founder. Most of the content was posted on the site between mid-2019, around Chewy's IPO and Cohen's initial GameStop investment, and mid-2020.
Investors could speculate that this may have been a coordinated PR blitz campaign before revealing a large stake in a public company, one that he had already been discreetly acquiring.
Each interview Cohen conducted provided valuable insight into his business strategy, and much of how he described Chewy's story and his vision could also be applied to GameStop. Was this intentional? In one September 2019 post on Medium, when asked about what's next, Ryan hinted at something being on the horizon.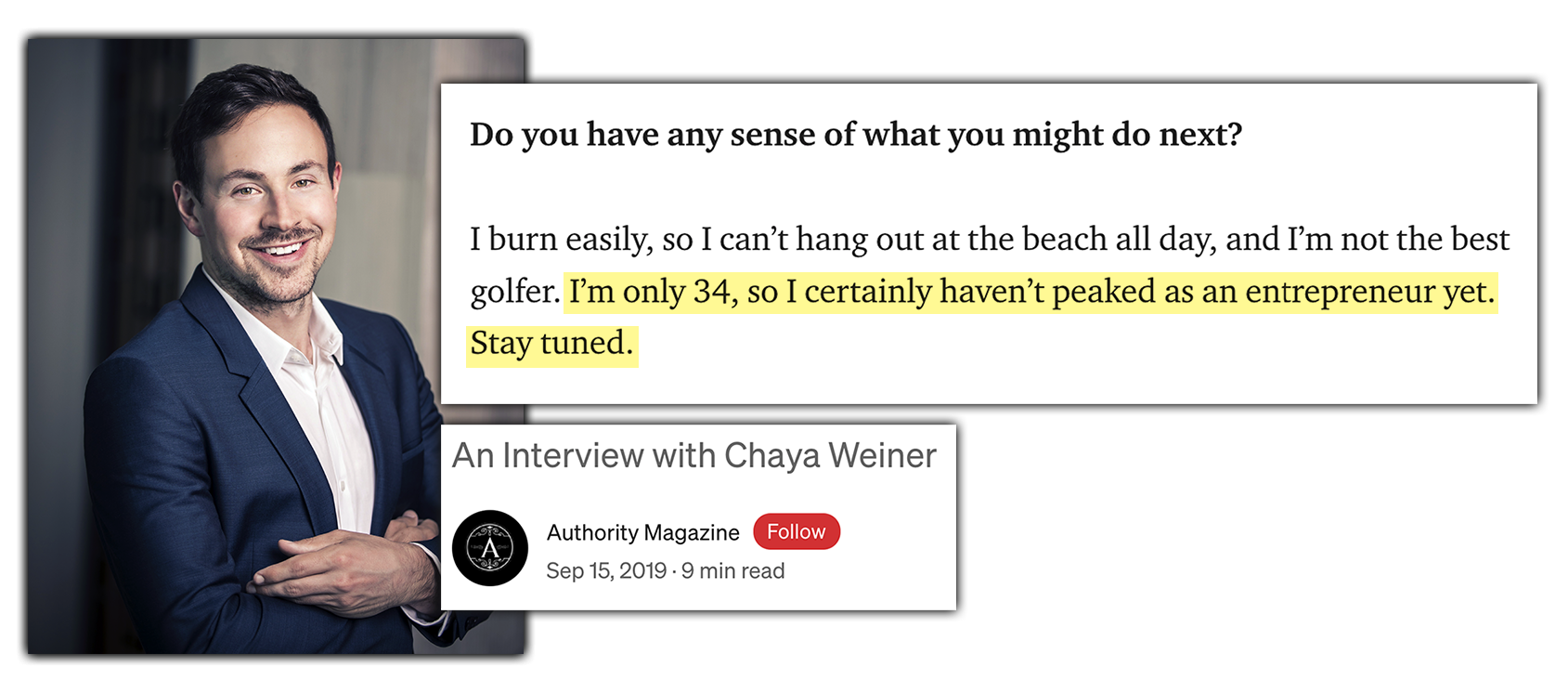 I'm only 34, so I certainly haven't peaked as an entrepreneur yet. Stay tuned.
For more, check out GMEdd.com/report-model for a compiled model featuring all of Ryan Cohen's known media appearances and formal interviews.
Okay, where were we? Ryan Cohen started buying into GameStop in April of 2019, with a disclosure following increased holdings in August 2020. It's unknown as to when he made the decision and how much time was spent beforehand figuring out activist investor logistics coinciding with a PR blitz, but it is reasonable to assume he was strategically building public-facing credibility for himself before revealing his high-stakes investment.
Fast-forward to 2021 and Ryan Cohen now owns 12.9% of GameStop, joins the board, a proclaimed short squeeze event arises national coverage on the retailer prompting a series of congressional hearings, and suddenly everyone knows about r/wallstreetbets.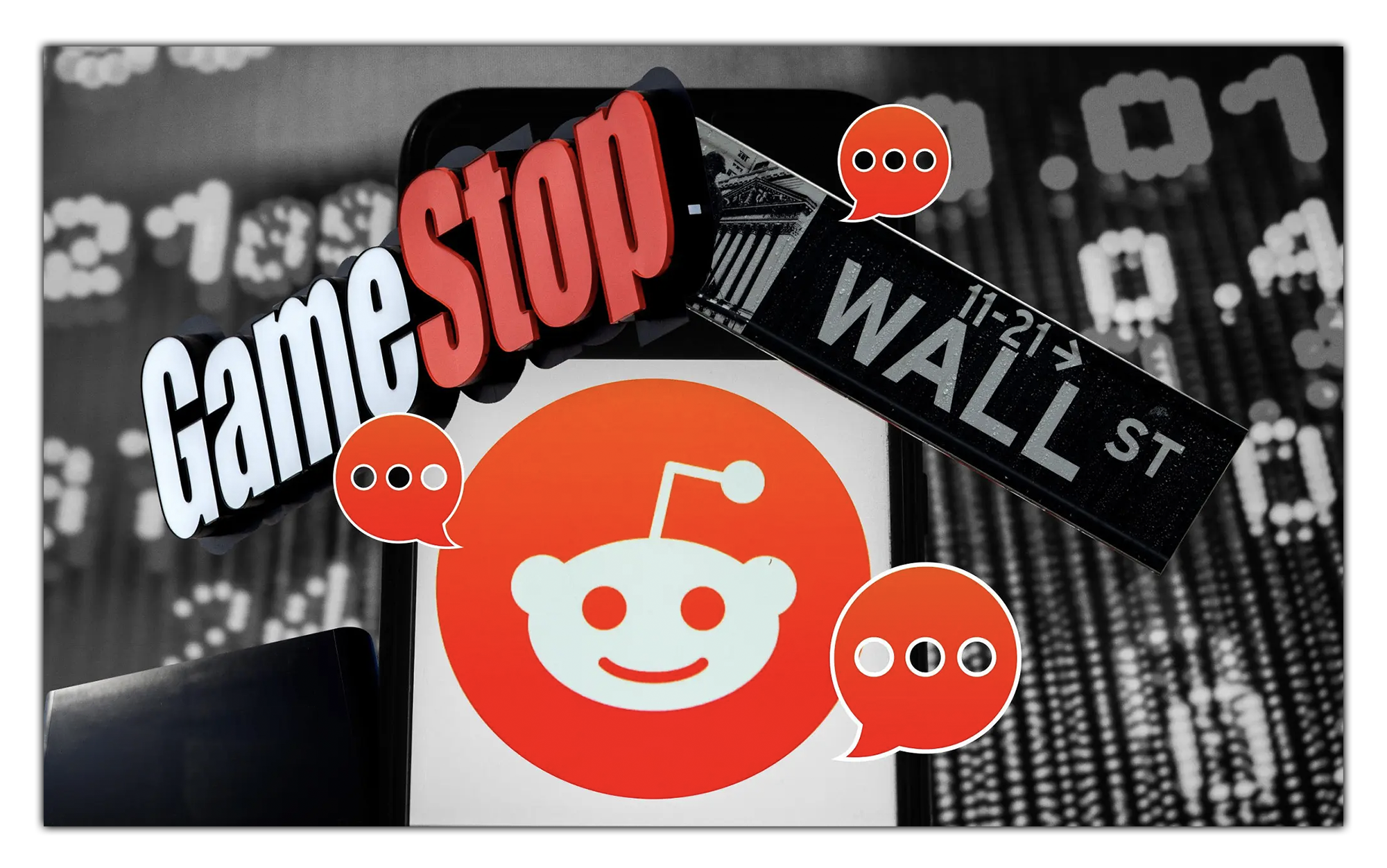 Amid all of this attention, the company remains quiet but starts undergoing rapid transformation, which was initially visible from the Investor Relations page, but now only seen through activity on LinkedIn — there have been over 30 new hires in tech and E-commerce positions starting in February, just a month after Cohen joined the GameStop board.
Strategic Advisory
On March 2nd, 2021, Volition Capital launched a new Strategic Advisory Board that, "will provide focused guidance to the firm and its portfolio companies regarding strategic direction, investments, executive hiring and development, due-diligence, network and operational strategy, among other areas." Volition states that the firm had been working on assembling this board for almost a year.
So a venture firm launched a strategic advisory board. Who cares?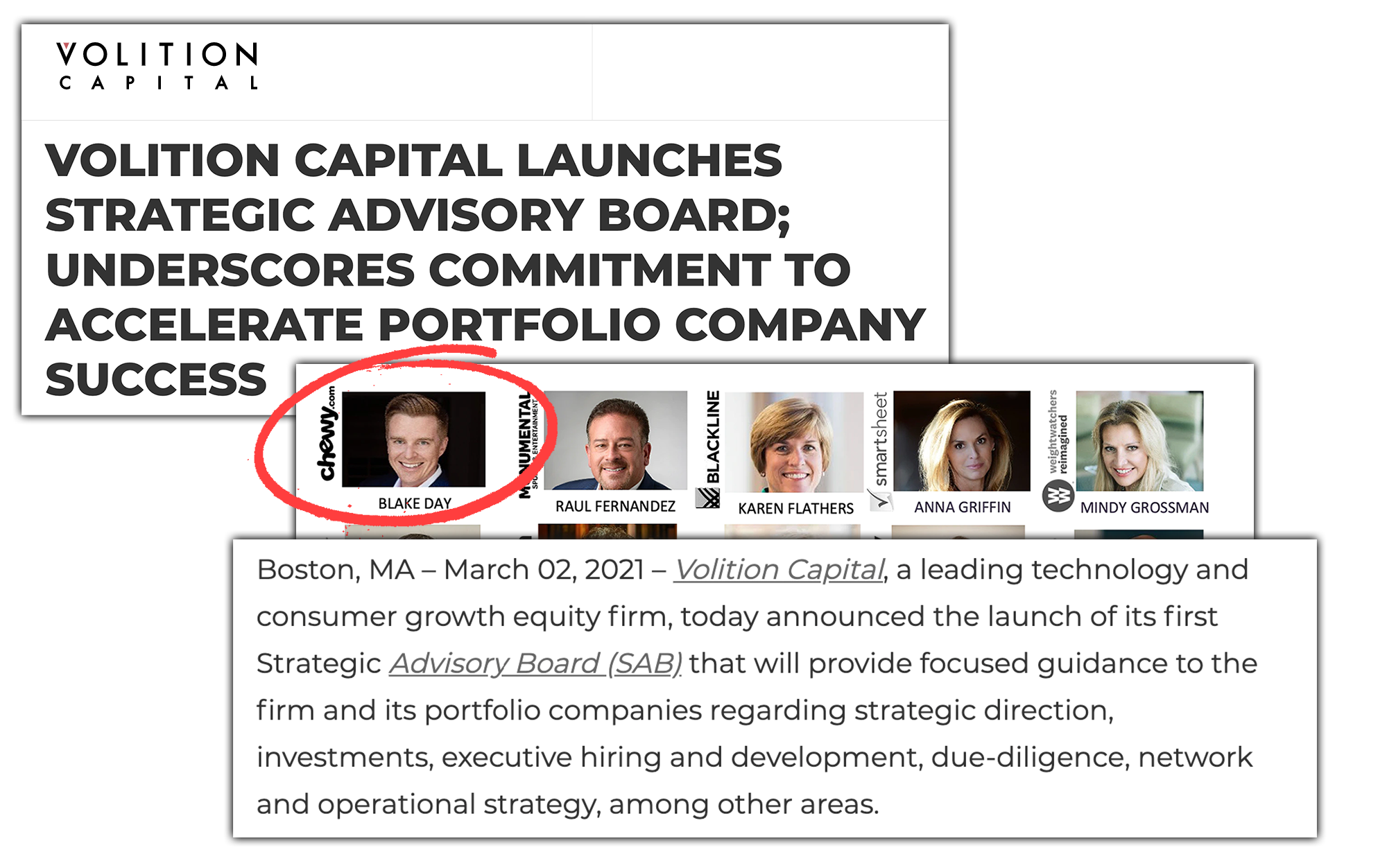 That's right. As of March 2021, Blake is now at the helm of Volition's Strategic Advisory Board. Blake has largely laid low since his Chewy departure and still lives in Fort Lauderdale according to his Volition Capital bio.
This appears to be the first public role he has taken since leaving Chewy in 2018. Cohencidence?

Volition's second listed Strategic Advisory Board Member is Raul Fernandez, who serves as Vice Chairman and Owner of Monumental Sports & Entertainment, which is a private partnership of Washington DC's major sports franchises including eSports teams.
Early GameStop investors will recognize Raul's name, because they will have seen it before as well.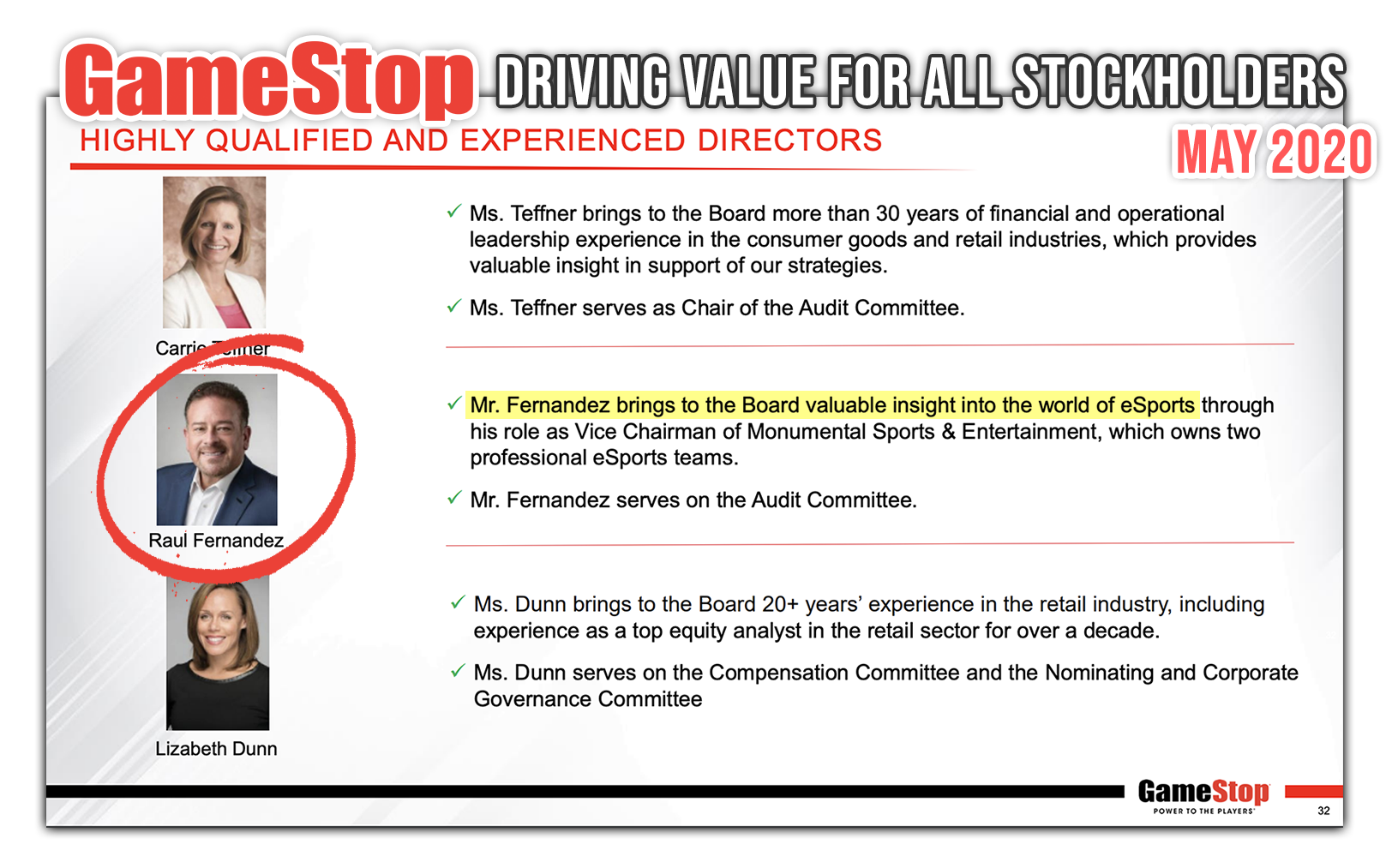 GameStop's May 2020 "Driving Value For All Stockholders" notes that Raul Fernandez serves on GameStop's board to provide insight into the world of professional eSports on slide 32.
GameStop claims that Raul Fernandez was appointed to the board under an agreement with Hestia Capital Partners, L.P. ("Hestia Capital") and Permit Capital Enterprise Fund, L.P. ("Permit Capital"), lead by currently outgoing GameStop director and atypical shareholder activist Kurt Wolf.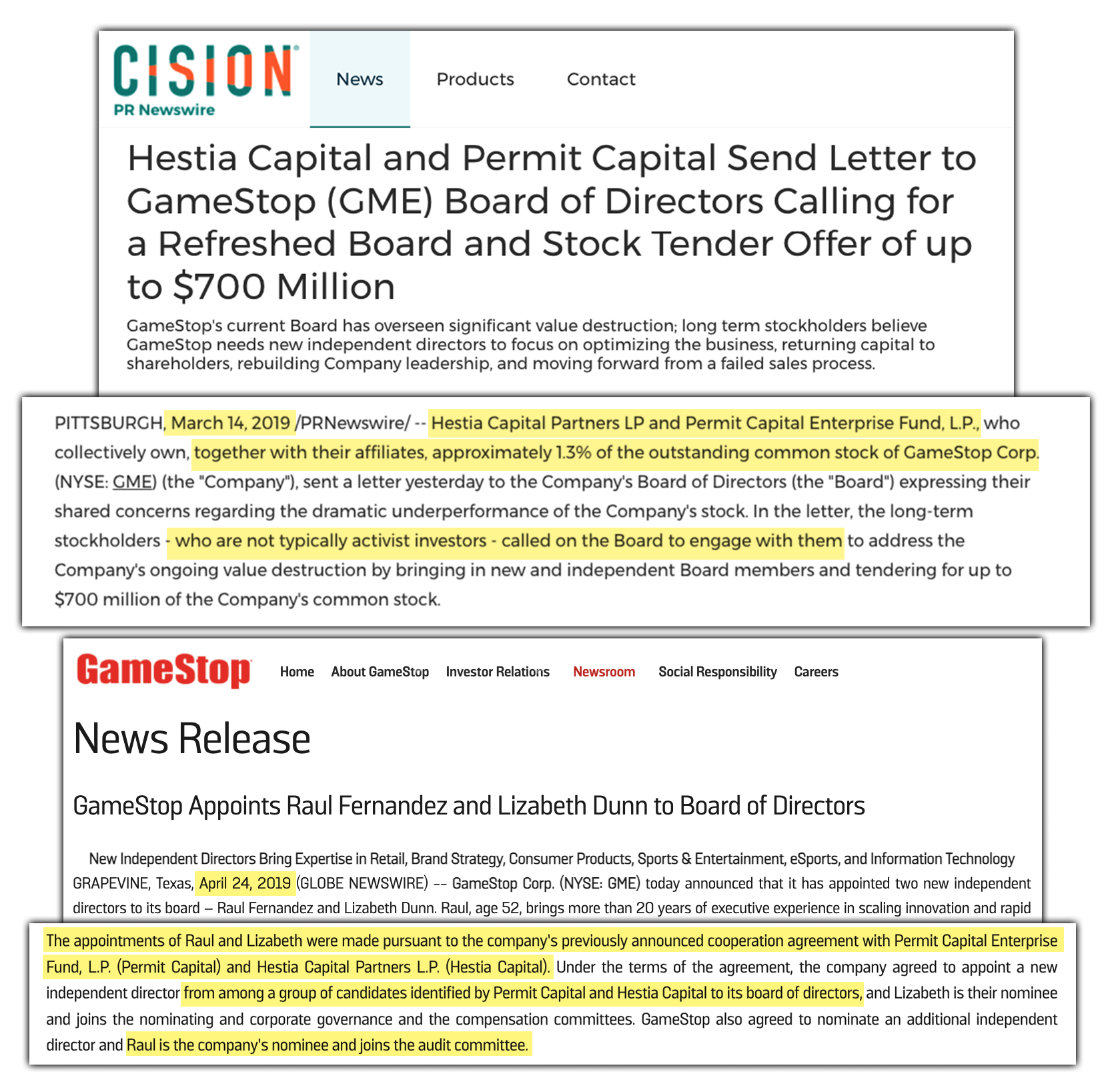 Hestia Capital and Permit Capital, together with their affiliates, beneficially owned approximately 1.3% of GameStop at this point, and Kurt Wolf, as their Managing Partner, had just sent a letter to GameStop's board calling for a corporate refresh.
Wolf had been advocating for GameStop's board to adapt to the times and transform from an underperforming retailer into a forward-thinking company that emphasized long-term growth. He later insists that Raul was placed on the board without any involvement or communication with Permit/Hestia in a May 2020 Restore GameStop presentation deck.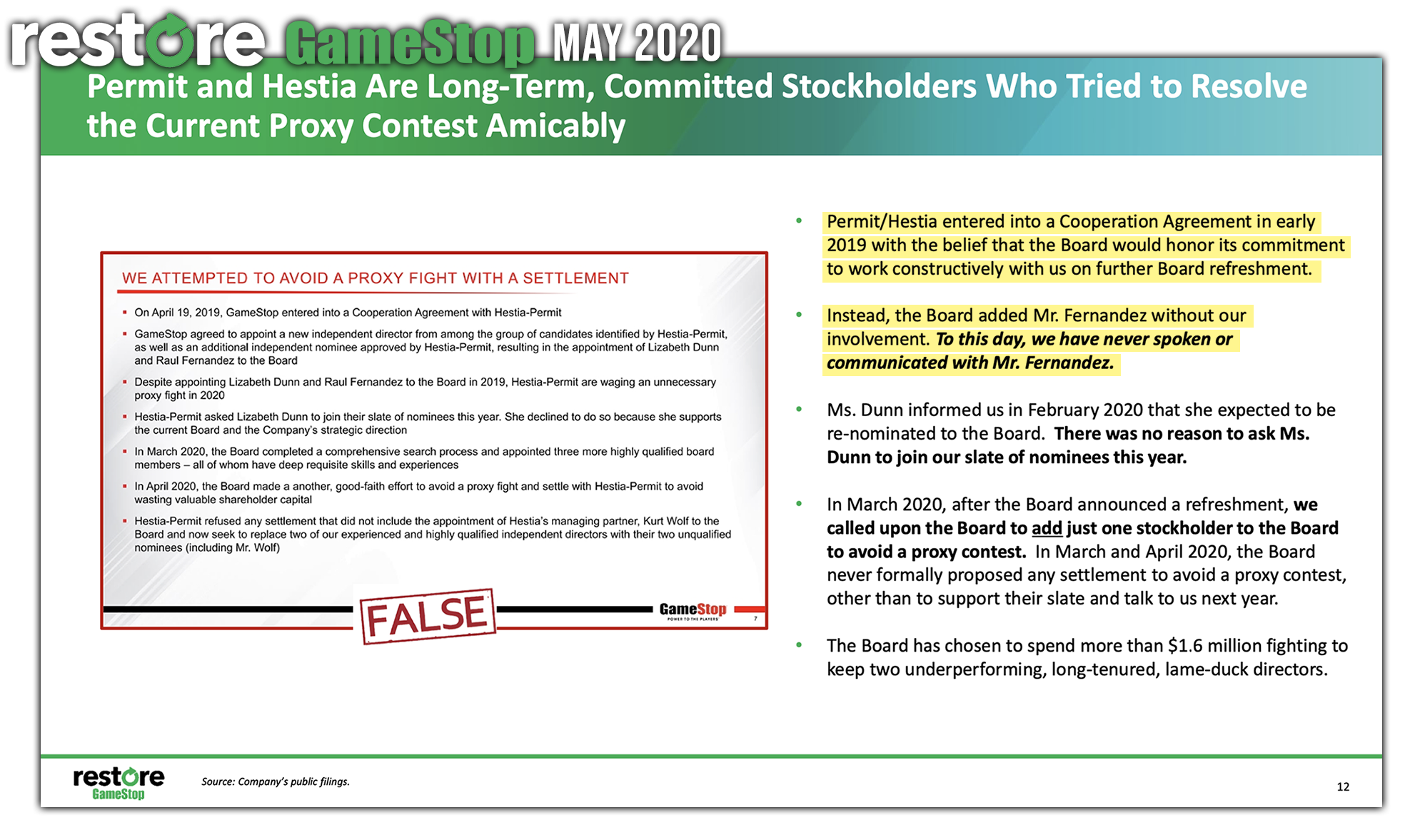 While the GameStop board claimed they began to cooperate with Hestia/Permit in April of 2019, Ryan Cohen began purchasing his initial position in the gaming retailer.
Fernandez still currently serves on GameStop's board, and filings reveal he will be stepping down at the Annual General Meeting on June 9th, as Ryan Cohen takes the reigns as incoming Chairman of the Board.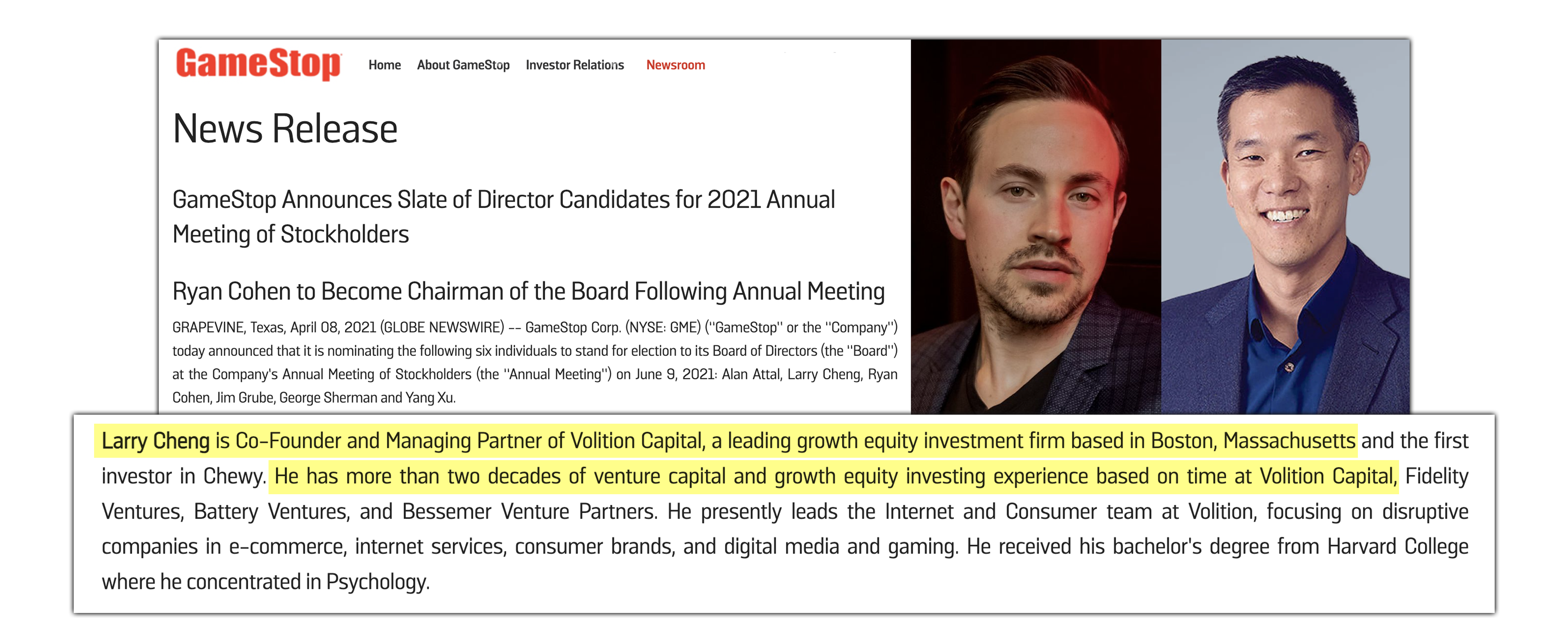 On April 8th, 2021, just one month after Blake and Raul's appointment to Volition's Strategic Advisory Board, GameStop announced Larry Cheng from Volition Capital as a candidate for its board of directors for the company's upcoming annual meeting .
What now?
There's no denying that GameStop and Volition could be tied together in some way. Larry Cheng, Volition's Managing Partner, will likely be granted his seat on GameStop's board in June, and we wouldn't be surprised to see Blake come out of secrecy in the future as well.
The big question remains: What are these guys planning?
Jenna guest wrote this article exclusively for GMEdd, Toast edited and contributed
Sources: Chewy on Crunchbase, Michael Day on LinkedIn, Vox, TechCrunch, Forbes, BostonGlobe, VentureFizz, inc.com, Samantha Rassner on LinkedIn, Larry Cheng Profile at Volition Capital, Chewy's Portfolio at Volition Capital, Ryan Cohen on Twitter, Volition Capital Vimeo, Wayback Machine, SEC Report, Volition Capital Vimeo, RC Ventures Letter to the Board, Medium, Volition Capital, Investor.GameStop.com, GameStop News Release, GameStop News Release