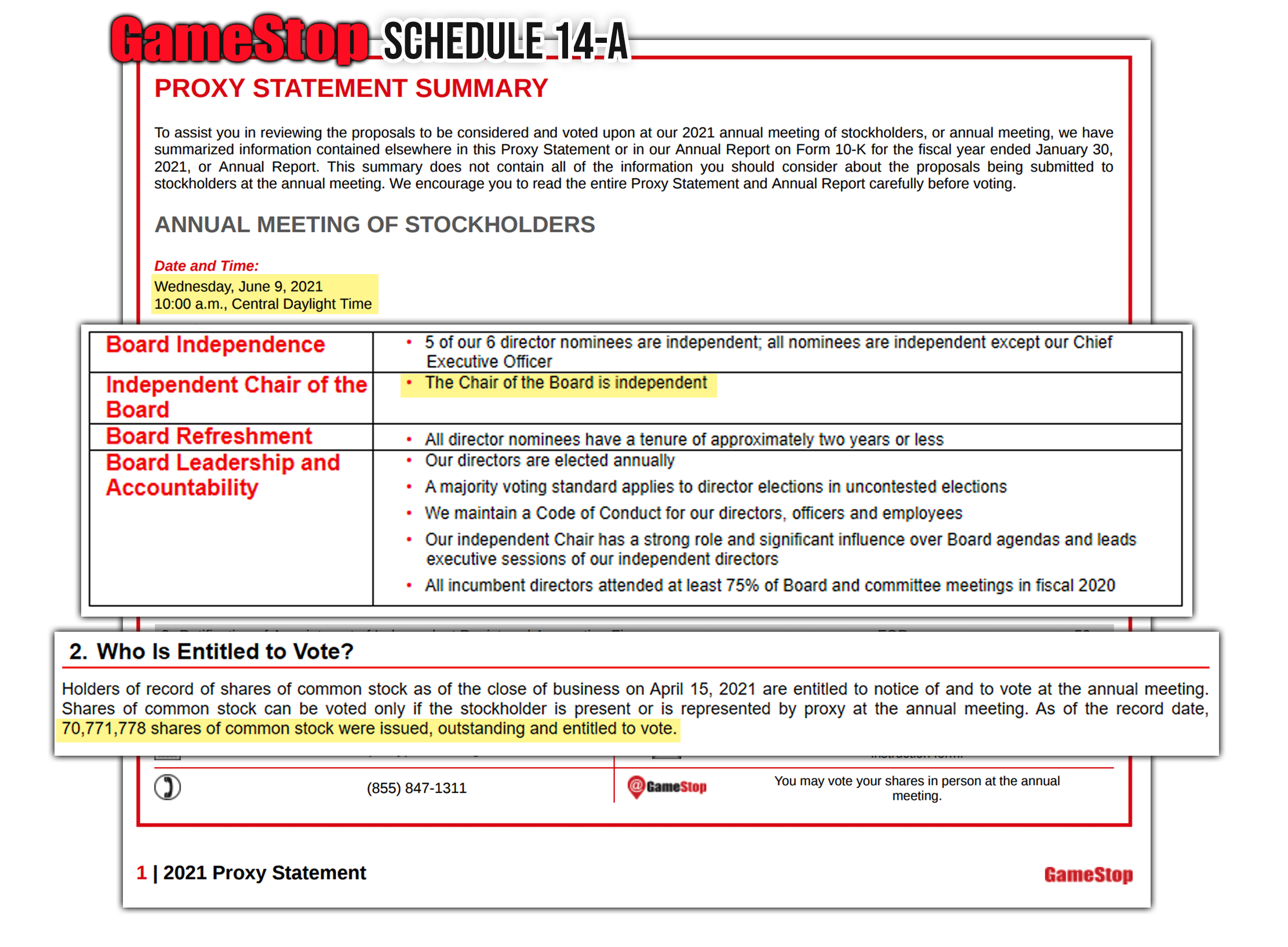 GameStop has released their anticipated 2021 Proxy Statement, revealing several noteworthy insights into the company's strategic imperatives, the annual meeting, and voting.
GameStop has announced that for the June 9th, 2021 annual meeting, stockholders will be voting on:
To elect the six nominees identified in the Proxy Statement (Sherman, Attal, Cheng, Cohen, Grube, and Xu) to serve as directors.
To approve, on an advisory, non-binding basis, the executive compensation
To ratify the Audit Committee's appointment of Deloitte & Touche LLP as our independent registered public accounting firm for our fiscal year ending January 29, 2022
In GameStop's April 5th filing, the company revealed that shares of company stock outstanding immediately after this offering is based on 70,031,650 shares as of April 1st.
As of the Schedule 14-A filing, GameStop states that 70,771,778 shares of common stock are issued, outstanding and entitled to vote. This indicates that the company has begun deploying their Up-To-$1B offering.
Revealed through Corporate Governance Highlights, GameStop states that the Chair of the Board shall be independent, indicating that Ryan Cohen may not be considered for CEO.
GameStop also announced that the company's Chief Executive Officer is required to hold common stock equivalent to 5 times base salary, and the Chief Operating Officer and Executive Vice Presidents are required to hold common stock equivalent to 3 times base salary. Alongside this, non-employee directors are required to hold common stock equivalent to $275,000.
The letter also indicates some of Ryan Cohen's incoming jobs as chairman of GameStop, including but not limited to,
Presides at meetings of the Board and meetings of stockholders
Has authority to establish the agenda for each Board meeting;

Serves as the presiding director to lead executive sessions at each meeting of the Board in which only independent directors participate;

Has authority to call special meetings of the Board and special meetings of stockholders;
Advises the Chief Executive Officer and other members of our executive team on such matters as strategic direction, corporate governance and overall risk assessment.
GameStop also touched on their claw-back policy, indicating that the company is permitted to "recoup certain compensation payments in the event of a significant restatement of our financial results."
Rod Alzmann of GMEdd.com has noted that he found the disclosed 17 board meetings in fiscal 2020 impressive.