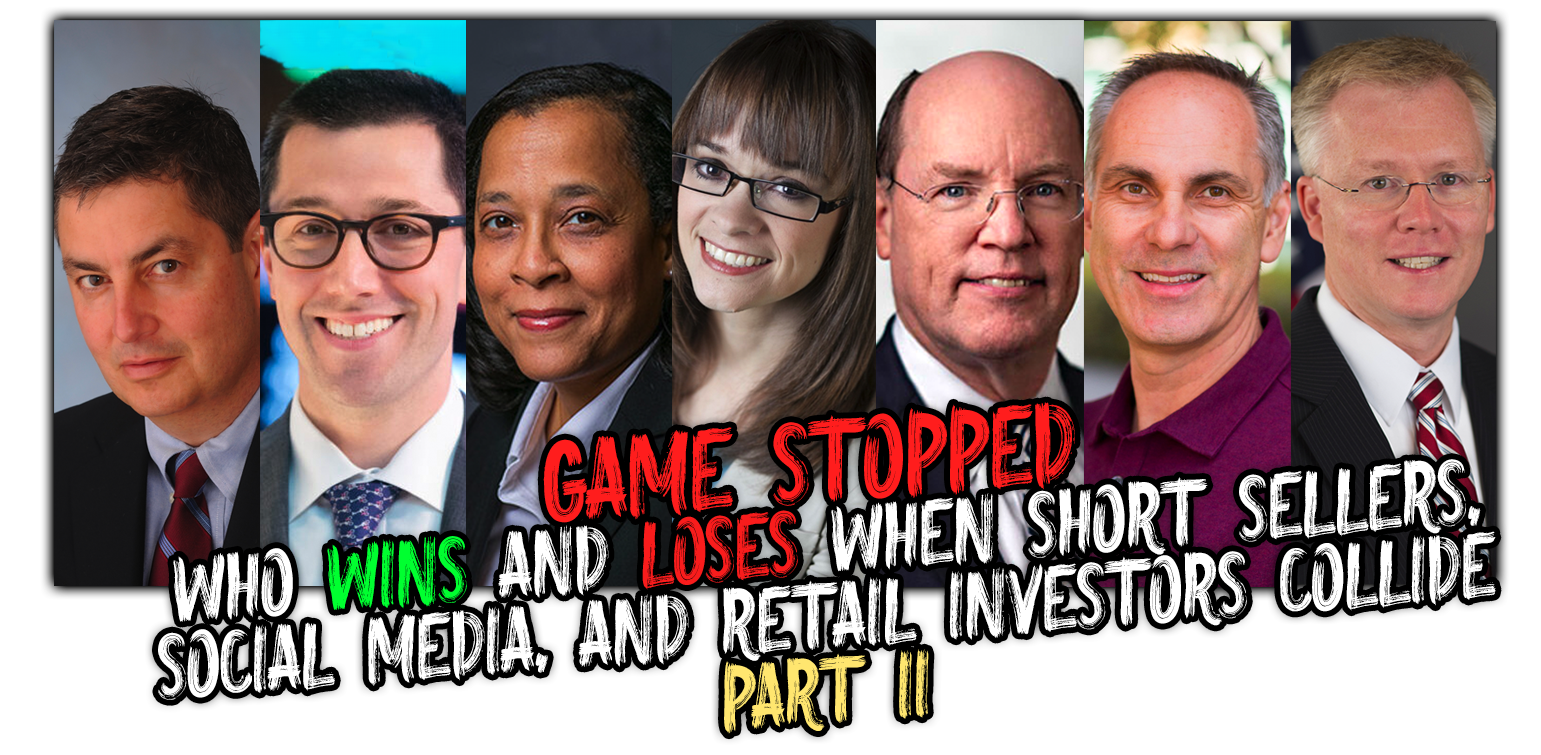 Recognize any of these faces? We doubt it.
As previously posted, the House Committee on Financial Services will host part two of the hearing tackling the GameStop phenomenon tomorrow. The hearing will be live-streamed on Wednesday, March 17, 2021, at 10:00 am ET.
The hearing will begin with a statement by Sal Arnuk, Partner of Themis Tradis LLC, who will mock retail investors that began investing on platforms such as Robinhood, stating:
Robinhood's average account size is about $5,000, compared with TD Ameritrade's $110,000. As such, they have created a unique product –small emotion-driven orders that tend to be predictable.
Read Sal Arnuk's full statement here.
Arnuk will be followed by Michael Blaugrund, Chief Operating Officer of the NYSE, who will use his time to advocate for modernizing shareholder disclosures, providing transparency for securities lending, eliminating competitive barriers for public investors, and accelerating trade settlement to T+1.
Short selling is an essential practice for liquidity, price discovery and risk management, but the securities lending market on which it depends is opaque and inefficient…. The SEC should consider establishing an analogous Consolidated Tape for securities lending. A system that provided for publishing the quantity, fees and/or rebates, duration and other material terms for each stock loan without attribution would provide issuers, investors and regulators the necessary data to better assess the risk and return of establishing a short position, while protecting the identity and intellectual property of any individual market participant.
Read Michael Blaugrund's full statement here.
Following Blaugrund's statements, Dr. Vicki Bogan will speak, Associate Professor in the SC Johnson College of Business at Cornell University. Dr. Vicki Bogan will state that she has advocated for investing in the household for 20 years and believes that Robinhood requires changes to avoid "gamification."
Prohibit user interface mechanisms (e.g., push notifications) that have been designed to increase more trading volume without regard to consumer priorities or risks.
After Dr. Vicki Bogan, we will hear from Alexis Goldstein, Senior Policy Analyst at Americans for Financial Reform, who is considered a "Wall Street Traitor" who joined the Occupy Wall Street movement. She will offer her support for WallStreet Bets users, and ask that regulators examine the institutional footprint during GameStop's volatile periods.
My time on Wall Street also showed me that major institutional players guard information about their own positions, while simultaneously spending large sums of time and resources trying to glean the positions of their competitors — whether through market data, news stories, or rumors. Thousands of users of the WallStreetBets subreddit posting their positions and their future plans for those positions is a source of data that major Wall Street players will mine for information. Many will likely have created software to extract and analyze the content of the posts, and made, trading decisions based on it.
Read Alexis Goldstein's full statement here.
Alan Grujic , CEO of All of Us Financial, a San Francisco-based online broker, will speak after Goldstein. Alan will also advocate for T+0, after endorsing his platform's use of payment for order flow. Alan will also express his baseless concern that GameStop traders were being manipulated.
Social media can empower individuals, but also influence them. When does influence become manipulation? As a professional trader and investor, I fear traders in GameStop were being manipulated to take actions not in their best interests. Manipulation is illegal, and I expect regulators have paid close attention and will take appropriate action.
Read Alan Grujic's full statement here.
The committee will also hear questioning of Dennis Kelleher, President and Chief Executive Officer of Better Markets, and Michael Piwowar, Executive Director of the Milken Institute, who have not prepared statements at this time.
If you were looking forward to hearing from some more of the key players in the price volatility of January, you are out of luck. Robinhood has been made the scapegoat, and those with the deepest pockets are already at work to advocate shutting them down.
GMEdd.com will host the hearing LIVE tomorrow and host a discussion on the GMEdd.com Discord server.