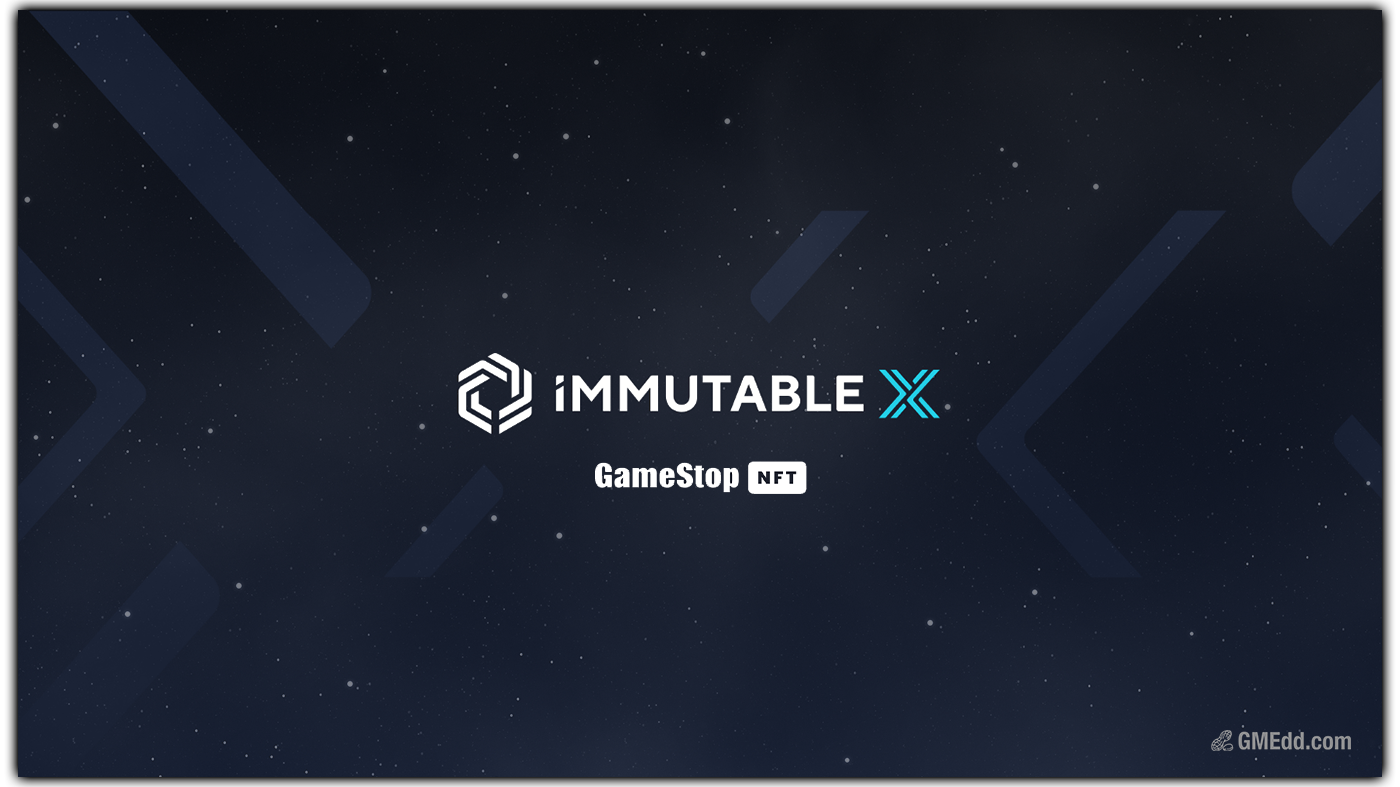 GameStop has found another partner for their venture into the future, and this one is from the land down under.
GameStop has entered into a Protocol Services and License Agreement with Immutable X Pty Limited, also known as Immutable X, pursuant to which Immutable X will become a technology partner and platform for GameStop's non-fungible token ("NFT") marketplace.
GameStop has also entered into a Grant Agreement with Digital Worlds NFTs Ltd. ("Digital Worlds"), which encourages the development of projects using technology of Immutable X by issuing grants of IMX tokens.
The Grant Agreement establishes a commitment to provide up to $100 million in grants of IMX tokens to support creators of NFT content and technology, and also provides for the grant of up to $150 million in IMX tokens to the Company upon the achievement of certain milestones.
additional obligations
Immutable will commit a reasonable level of design & scoping support to Gamestop, including access to Immutable CTO, the company's Product team, and Integration Engineers to help with integration architecture and scoping.
Immutable will co-design the entire solution with the GameStop team. Immutable will introduce a third-party integrator to help with the integration between GameStop and Immutable X. Any engagement by that integrator will be at GameStop's cost.
Marketing and other commitments
GameStop will use Immutable X as their first layer-2 NFT integration for trading and minting, other than Loopring;
GameStop will not integrate any blockchain protocol, other than Ethereum Layer 1 and Loopring into their NFT marketplace without first having integrated Immutable;
GameStop will commit & dedicate resources to co-pitching to gaming studios as reasonably requested by Immutable during the Term, including the Vice President of Business Development – Blockchain and the Vice President of Corporate Strategy for the first four months after contract execution, which can be extended and expanded upon mutual agreement by both parties.
GameStop will use reasonable commercial efforts to support marketing efforts for the NFT marketplace, and will feature Immutable X protocol displayed prominently on the Gamestop NFT marketplace using mutually agreed upon methods (e.g. a site strip).
GameStop will prominently feature on the Gamestop NFT Marketplace the additional grants Digital Worlds is committing to make in connection with Gamestop NFT Marketplace for such time as the grants are being offered using mutually agreed upon methods (e.g. badging on the home page that re-directs to a dedicated landing page).
GameStop will dedicate resources to support engineering efforts for the NFT marketplace and will cover the costs of any third party development needed for the launch and upkeep of the project.
GameStop will announce Immutable partnership/GameStop NFT marketplace in a shareholder company filing (either 10-K or 10-Q) if approved by GameStop investor relations team, legal team, and the Board of Directors.
GameStop will make reasonable efforts to include Immutable in a quarterly earnings update if approved by the GameStop investor relations team, legal team, and the Board of Directors.
GameStop will commit to quarterly meetings with applicable GameStop team members to review the program & strategy for future.
GameStop will provide two dedicated Immutable X press releases:
one after contract execution which will be focused on the grant; and
the other at the integration launch, which will be focused on the integration.
GameStop will use reasonable commercial efforts to refer Immutable X to game studios, and to support pitches where appropriate. GameStop will commit to twice a week meeting and pipeline / lead review for the first 4 months, to co-ordinate co-pitching to those leads, which may be extended if mutually agreed to.
feature/promotion placement
GameStop will have a dedicated landing page linked from the home page using a prominent badging image, which will be a page to promote the grants, and will include a sign-up form.
GameStop and Immutable X will leverage the Immutable X grants pool to incentivize gaming studios, developers and artists to create pre-sale and/or special in-game items promotion using Immutable X minting through the GameStop NFT Marketplace, with any such promotion being as agreed between the parties.
GameStop will provide a site stripe mid-page for grant promotion, for the duration between signing and integration of the grant application framework, that will include a promotional banner at the top indicating that Immutable X will be available soon.
GameStop will provide placement and marketing text on Immutable X minting option and will provide order options dynamically by usage.
What is Immutable?
Immutable prides themselves in the fact that all NFTs that are created or traded on Immutable X are 100% carbon neutral.‍
GameStop has also partnered with Trace and Cool Effect to "offset its remaining carbon footprint," in what could be a bid to avoid the backlash that's become commonplace with mainstream NFT involvement, per Eli Tan of CoinDesk.
"The GameStop mission is literally power to the players, and that is exactly what we're trying to do here," Robbie Ferguson, co-founder of Immutable, told CoinDesk in an interview. "The $100 million is a minimum of what we're doing."
In a tweet at 7:30 AM EST, Ferguson shares the expression, WAGMI, a meme in the crypto-community meaning "we're all gonna make it," alongside a video announcing the partnership.
WAGMI. @GameStop. pic.twitter.com/rfb4o8tw31

— Robbie Ferguson (@0xferg) February 3, 2022
The $100M Fund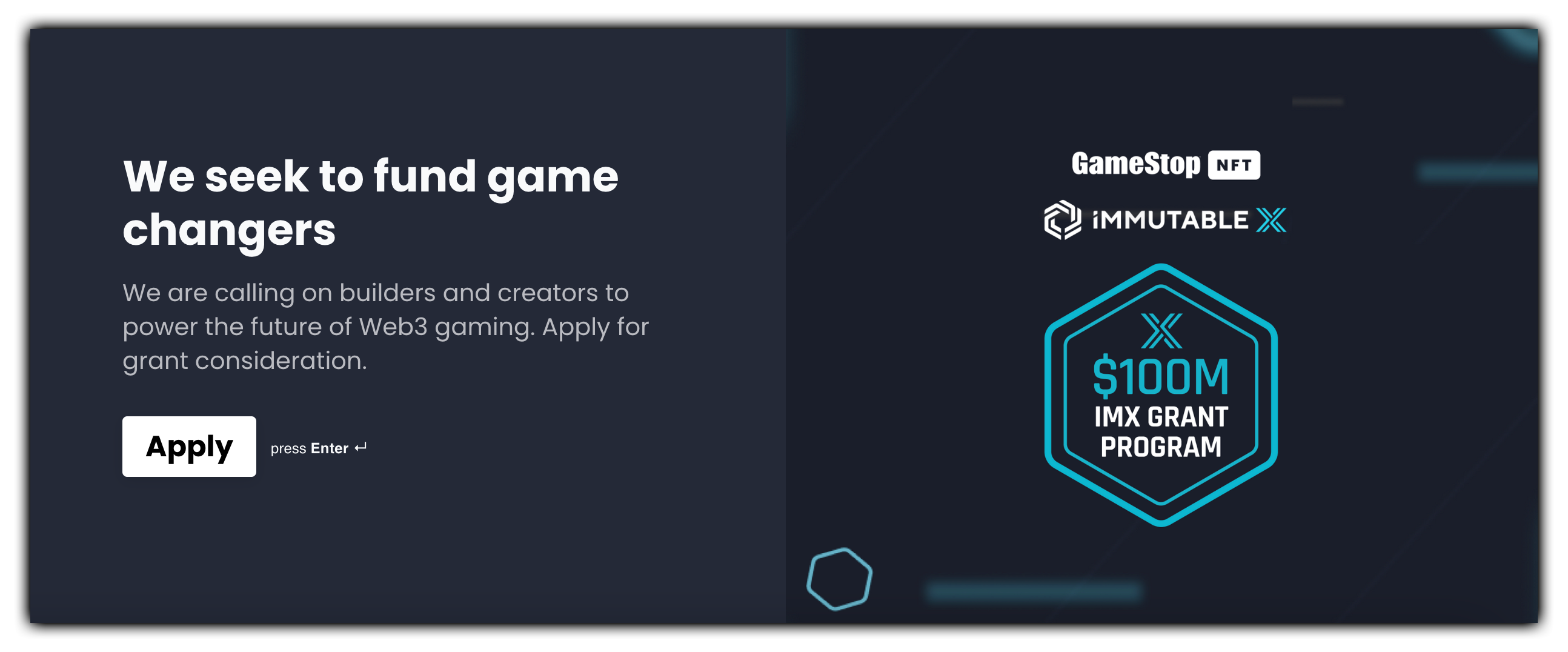 GameStop's NFT landing page has been updated with a new form for builders and creators to apply for grant consideration.
Immutable's Robbie Ferguson will be live on the Bankless HQ YouTube channel at 4:30 PM EST to explore GameStop's Partnership with the Australian-based blockchain company.
Sources: GameStop 8-K, Coindesk, Robbie Ferguson on Twitter, Decrypt