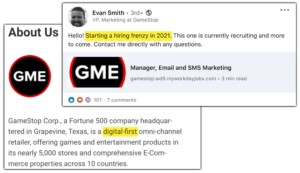 Evan Smith, VP of Marketing at GameStop, shared a job listing on LinkedIn looking to recruit for a Manager of Email and SMS Marketing position. Nothing too out of the ordinary, but his caption is intriguing.
Hello! Starting a hiring frenzy in 2021. This one is currently recruiting and more to come. Contact me directly with any questions.
Upon visiting the ad, the "About Us" for GameStop Corp. states that the company is a digital-first omni-channel retailer. This is a strong shift from simply stating "omni-channel," which was the norm in the past.
Visit careers.gamestop.com to view the rest of the job listings