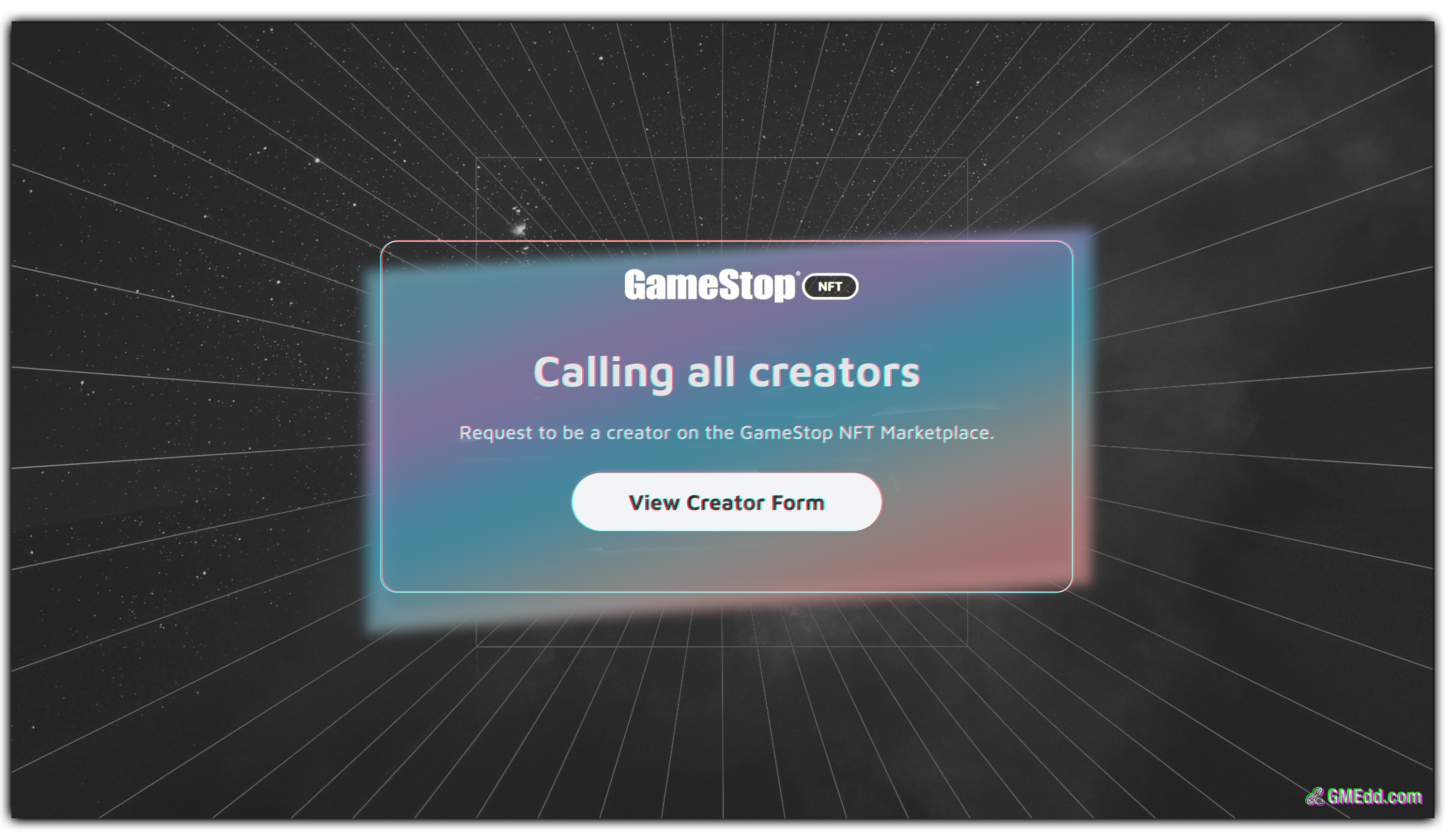 GameStop has made an update to their NFT landing page, indicating interest in recruiting creators to join the platform prior to launch.
GMEdd.com first unearthed the existence of GameStop's Official NFT project in May 2021 upon discovering a website that didn't detail much besides a potential slogan for the project, and ever since then investors have speculated what GameStop NFT entails.
On October 28th, GMEdd.com published source code from Loopring's public GitHub repository that confirmed the highly-speculated NFT Marketplace partnership amongst the ambitious pioneers.
Prior to this, digital breadcrumbs had led us to that same point, detailing how Loopring has the technology that GameStop would require to bridge traditional e-commerce and blockchain and engineer the revolution of gaming.
Upon Tuesday's after-hours session coming to a close, the company has made a few changes to the same landing page that started it all, including a banner inviting creators to request an invitation to join the NFT Marketplace.
Oh, and several hours earlier the Chairman of GameStop's Board Ryan Cohen tweeted "taking a dump in the metaverse," alongside a stock image of a man wearing VR goggles on the toilet. Really, we can't make this shit up.
Change The Game
Now, GameStop has overhauled the NFT.GameStop.com landing page, including a banner inviting creators to request an invitation to join the NFT Marketplace. Scrolling down, visitors will see a second call to creators.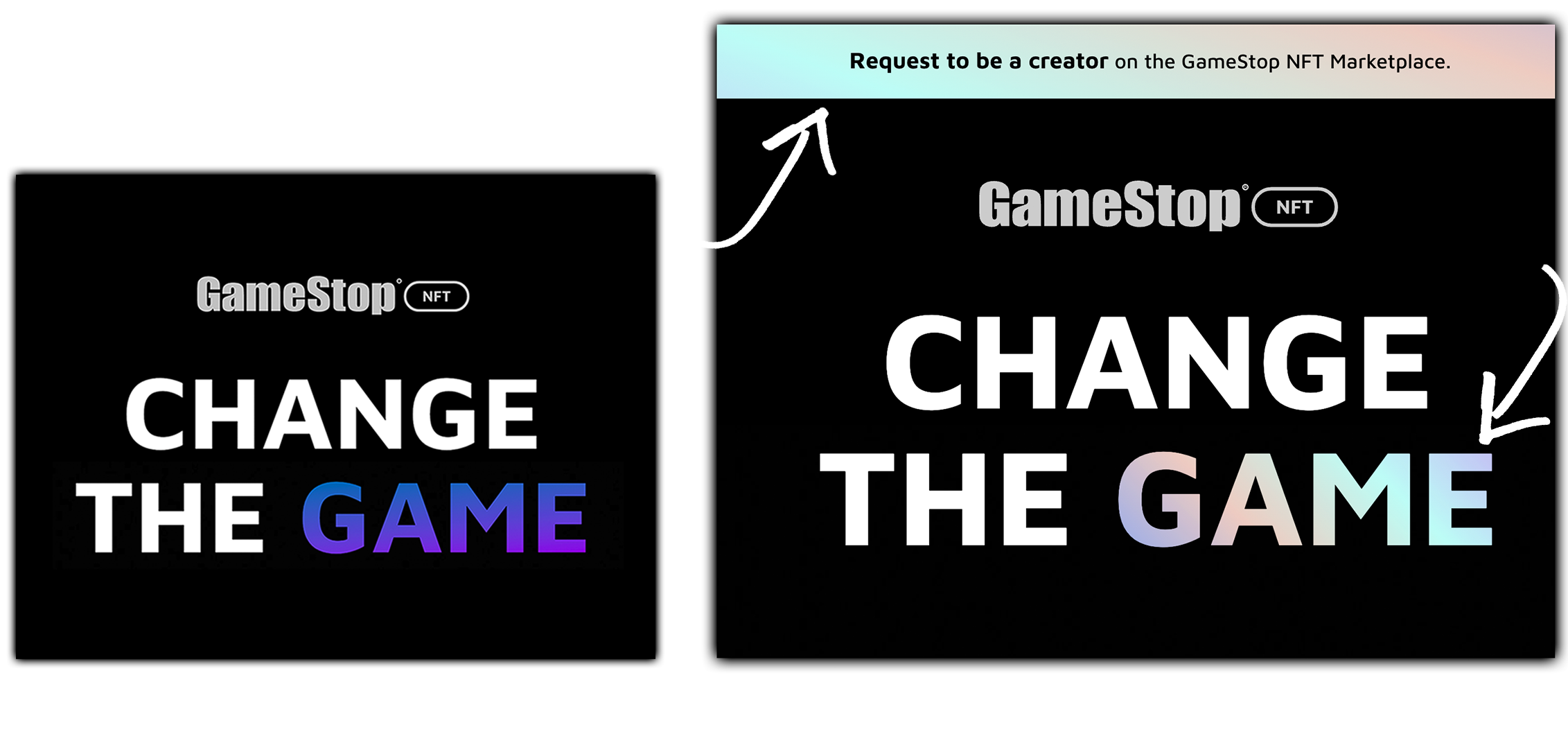 GameStop's NFT landing page as of May 25th and December 27th, 2021.
GameStop has also changed the color of the text "GAME" on the site from purple to a pastel gradient, symbolic of Web3, representing GameStop's interest in the emerging industry.
Upon opening the form, creators are greeted with a message saying, "Power To The Creators," and that the platform will open up minting access on a rolling basis.
Again, visitors see the lengthier slogan, but in an outlined font that looks fun and playful.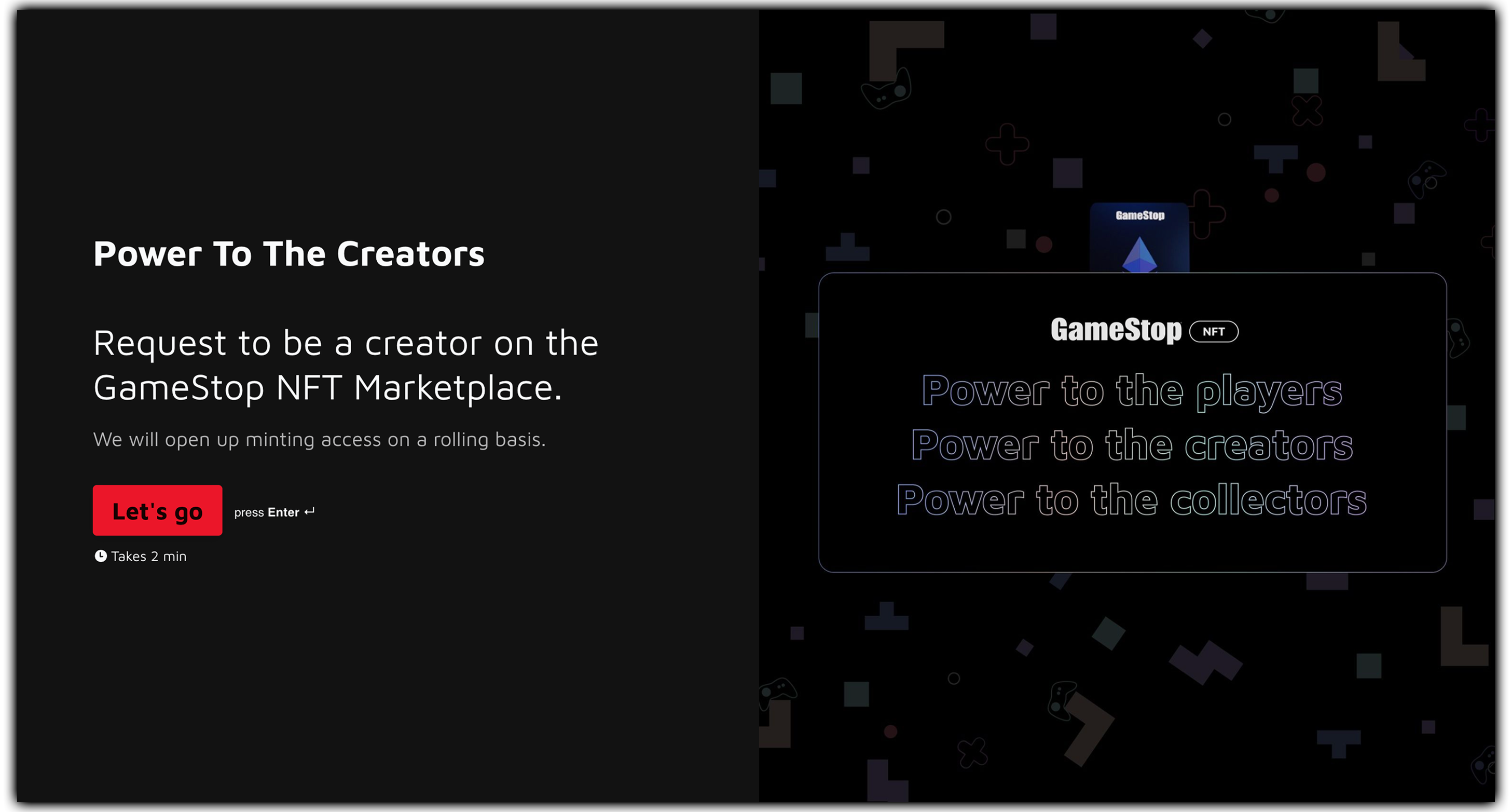 Power to the players, Power to the creators, Power to the collectors
By tapping, "Let's go," creators are taken to a typeform asking them up to ten questions about their experience with NFTs, their existing projects, and what they intend to create for the marketplace.
The survey starts with a request for what they should call you, and is followed by a thank you for wanting to participate.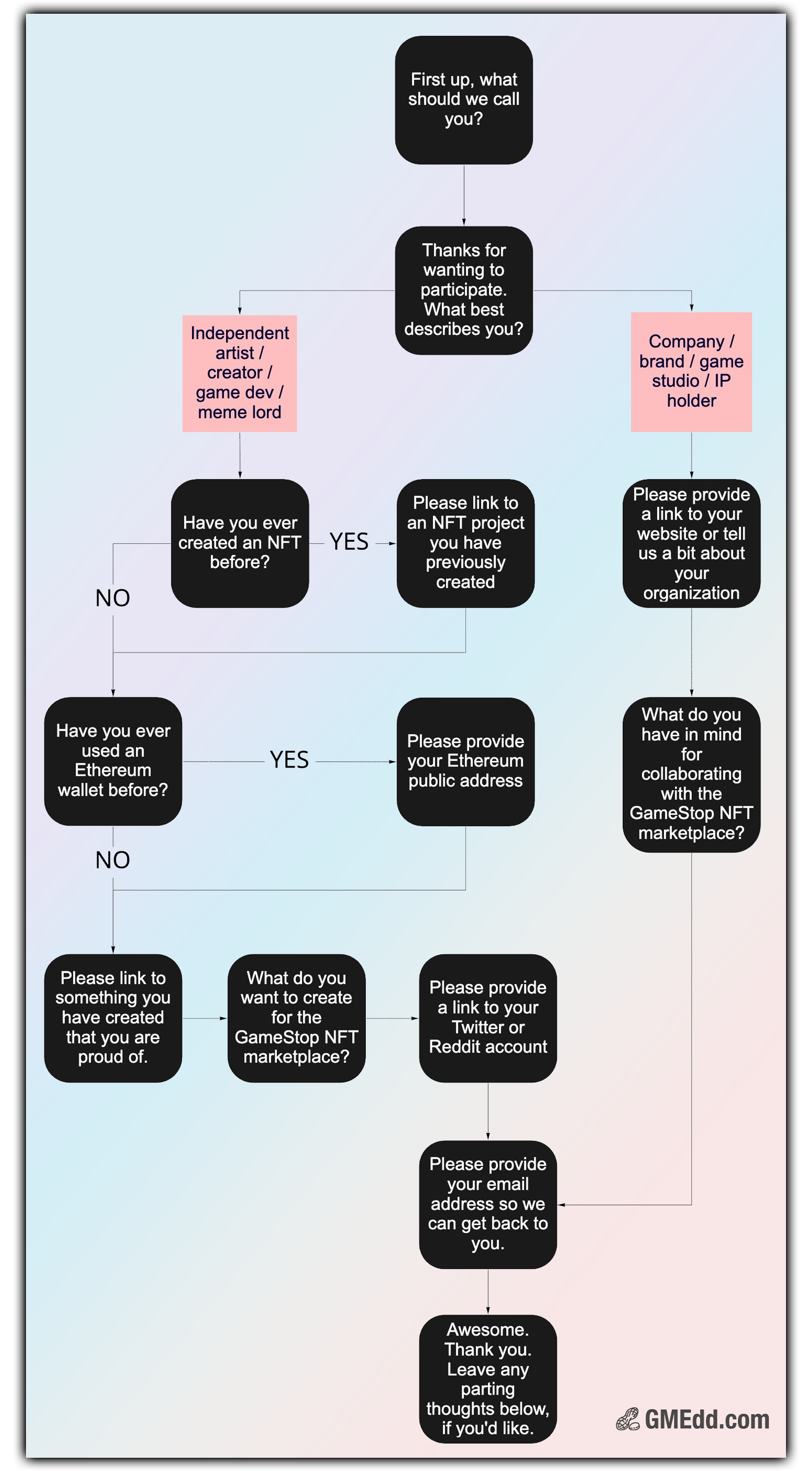 A flow chart created by nateeo.eth for GMEdd.com visualizes the question process.
One of the categories for participating is "Independent artist / creator / game dev / meme lord," while the other fills companies / brands / game studios / IP [intellectual property] holders.
With such an in-tune NFT division at GameStop, the meme lord banter was no surprise, and can we really be surprised that Ryan Cohen signed off on it?
More importantly, these two choices reveal that GameStop is interested in the participation of both creative individuals and game studios, answering some questions as to what kind of content may be on this platform.

The email sent back to those who fill out the GameStop NFT Creator Form.
Upon filling out the form, respondents are notified via email that their submission was received and the rolling basis for minting is reiterated.
Wen Launch
Loopring is speculated to be one of GameStop's partners in the NFT Marketplace, and while their Layer-2 wallet will allow for gas-free, instant transactions on the platform, it needs to be bug-free and ready to support hundreds of thousands of eager users when the marketplace arrives.
Loopring had previously disclosed an anticipated Q4 2021 launch date of their premium partner's NFT Marketplace, but with less than a week of the year now remaining it seems to be an unlikely deadline to most.
Back in October, Loopring's Head of Community Byron Wiebe stated that Loopring's free Layer-2 Wallet will be launching simultaneously or prior to the NFT Marketplace, allowing for easy adoption amongst those who aren't used to crypto.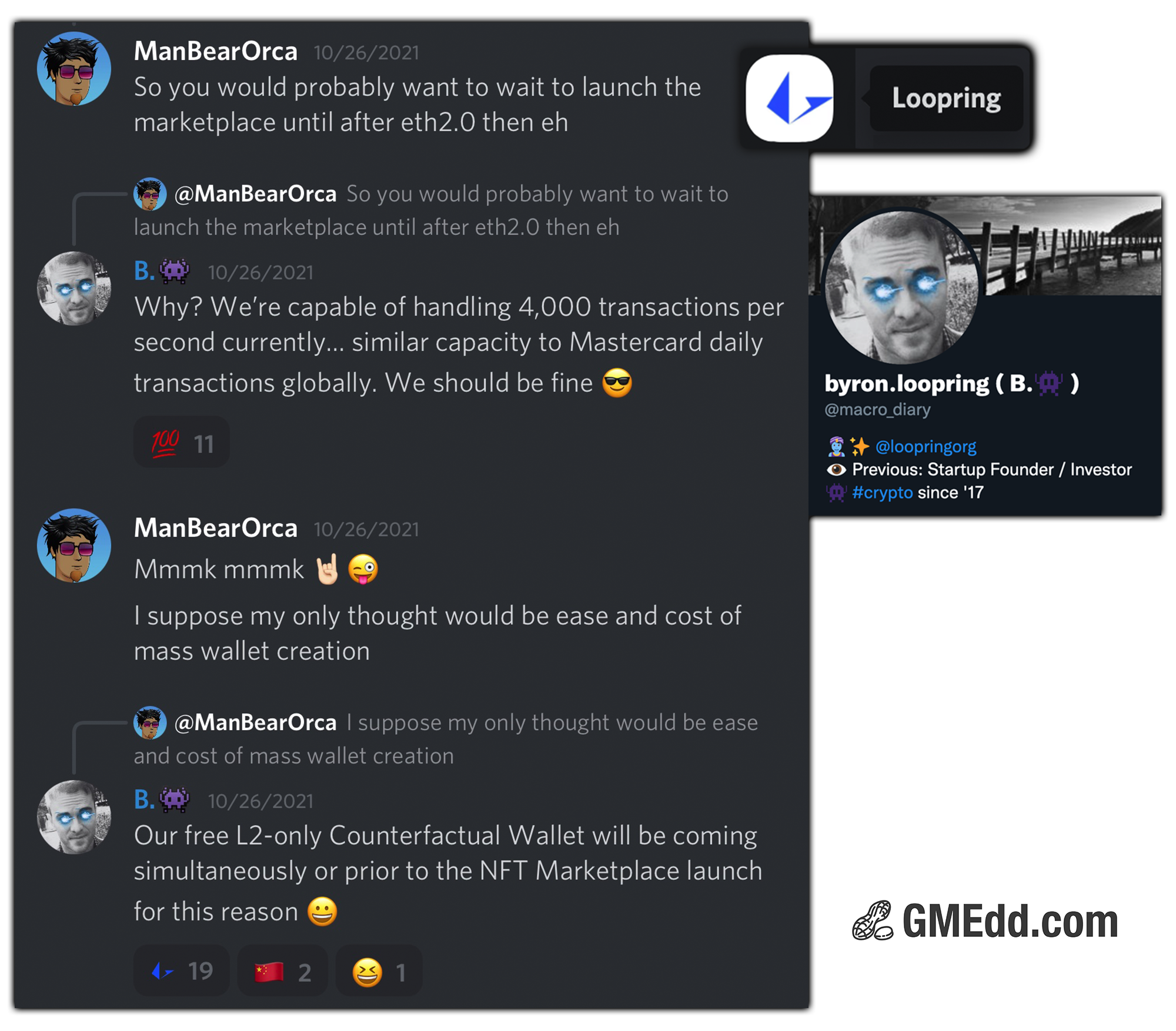 Byron answered some questions from ManBearOrca on October 26th.
Just one week ago, on December 21st, Loopring began rolling out their L2 wallet to "onboard the masses," leading the curious to wonder when to anticipate a marketplace launch.
Despite an intuitive user interface, the wallet still lacks fiat off-ramps, a feature that, "is being worked on and coming hopefully early in 2022," and would be required to allow users of GameStop NFT to convert their crypto back to usable cash.
Loopring's Community Manager has also changed his rhetoric in the last few weeks, now stating that "this quarter is only the beginning," and "the major adoption will happen throughout 2022."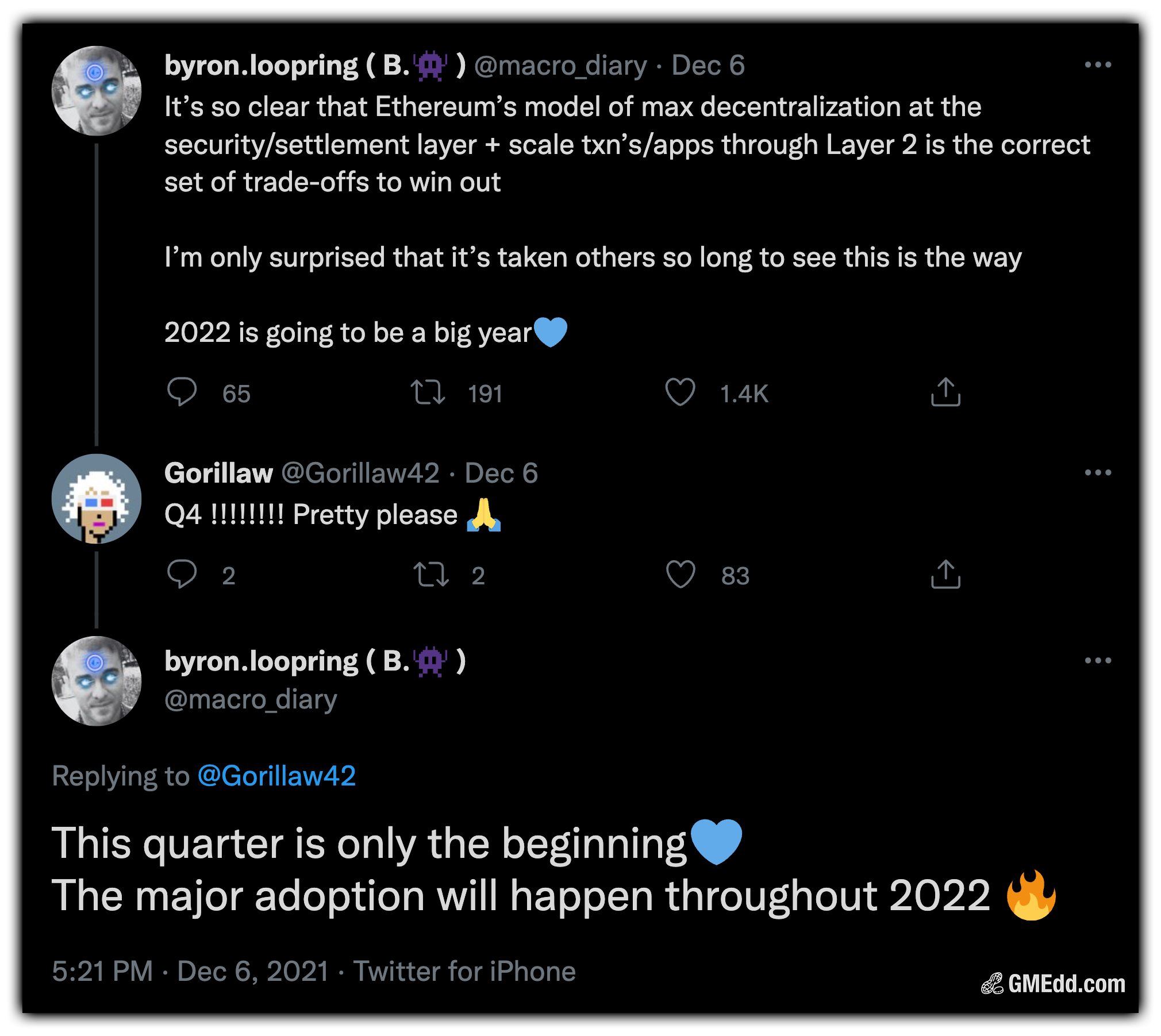 Byron's tweets on December 6th. Yes, that is really his profile picture.
It seems improbable GameStop is interested in launching an empty marketplace, and with applications for creators just now opening it will take some time for the team to go through the immense interest and coordinate with candidates on a rolling basis.
All factors considered, GameStop has undoubtedly made huge progress towards their NFT Marketplace launch behind-the-scenes, but short-term investors may need to remain patient for some time longer, as a buggy launch would be much worse than a delayed one.
In the retailer's ambitions to transform into a technology company, GameStop has a lot to prove, and the execution matters most.
Sources: NFT.GameStop.com, Byron on Twitter, Byron on Twitter
Join GMEdd.com's Official Discord Server to chat about this article, GameStop's transformation, and more.