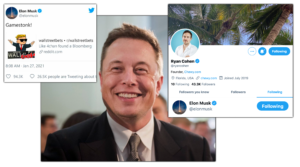 The latest development in our series of tracking Ryan Cohen's Twitter following is a wildcard. Ryan Cohen just followed the man, the myth, the legend, Elon Musk.
We have confirmed Elon Musk has not followed him back at this time. Cohen, in trying to keep the stylish "10 following," has unfollowed SEGA to accommodate for the spot for Musk.
Is it a temporary follow to acknowledge the famous "Gamestonk!!" tweet that collapsed the $150/share wall? Or is there a deeper meaning here? Who knows.