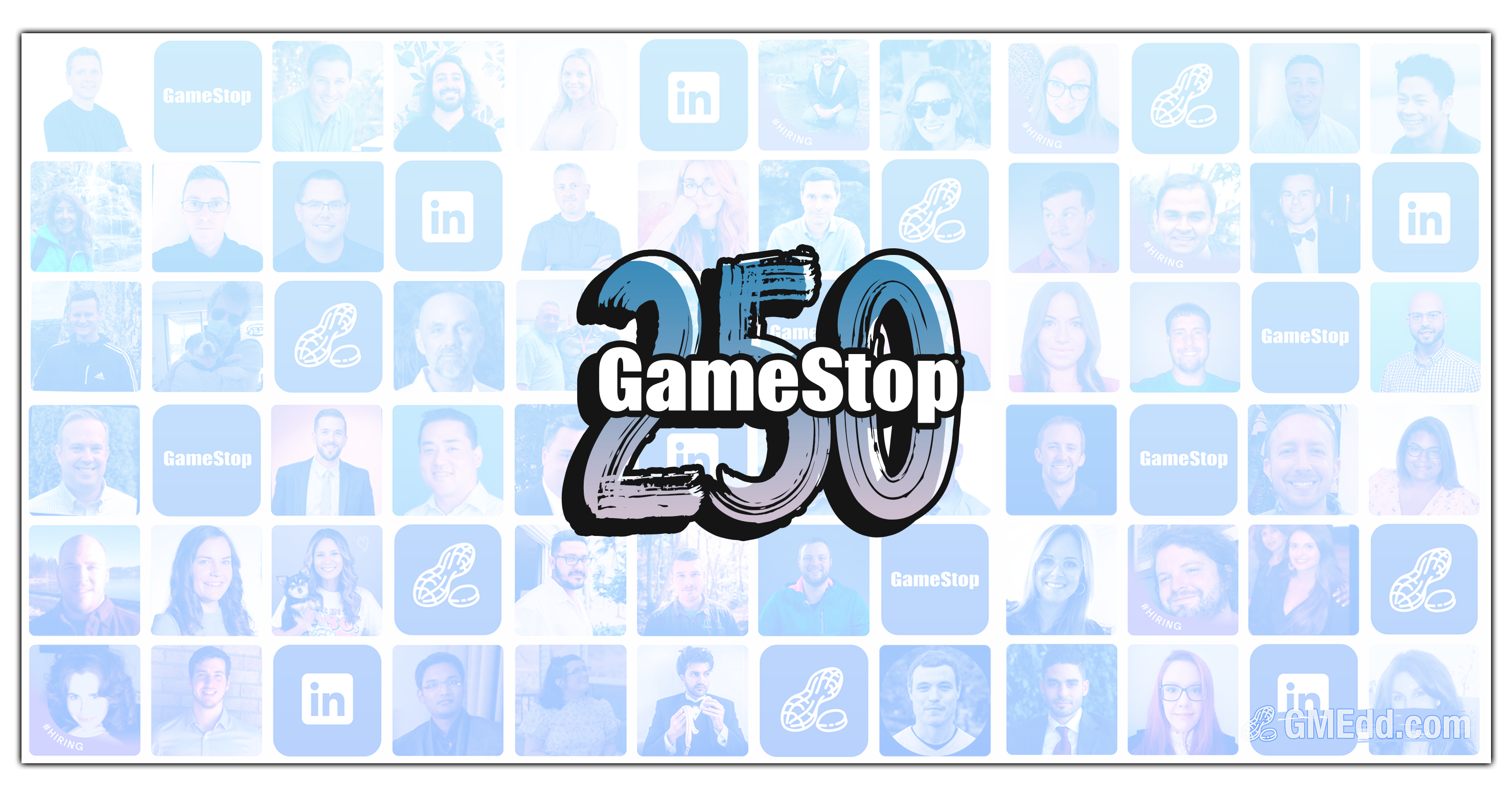 GameStop has 'yoinked' over 250 tech-experienced hires from the likes of Chewy, Amazon, and Microsoft since Ryan Cohen's digital-first takeover.
In May, GMEdd.com published GameStop Poaches Talent From The Best – Amazon, Chewy, Facebook, Google, and More, revealing that public profiles on LinkedIn indicated over 30 new hires at the gaming retailer who brought experience from a cross section of high growth e-commerce stars.
Now, GameStop has more than octupled that number, recruiting over 250 quintessential go-getters to aid in the transformation.
Per an agreement with GameStop Corp. in January, Ryan Cohen's RC Ventures was granted 3 seats on the company's board as the Chewy co-founder had been urging the brick-and-mortar to adapt to changing times.
Ever since, the public corporation has operated largely in silence while building the foundation for a digital-first technology company that can compete with the likes of Amazon.
Ryan Cohen's secret to accomplishing this? Finding talent. And lots of it.
GMEdd.com has been tracking GameStop's tech hires since the appointment of Matt Francis to CTO in February.
Can't stop, won't stop, GameStop.
When Ryan Cohen was asked how he finds his management teams during a 2018 Miami Herald interview, he gave his endorsement for the professional networking platform LinkedIn.
We use a special proprietary tool called LinkedIn and we look for people with very relevant experience at companies we respect and we shoot them a message. … We handpicked these people. They are the best of the best, the Navy Seals of management teams.
By scouring LinkedIn, we can discover some motivations as to what would compel someone to make such an unconventional career move from a blue-chip to GameStop.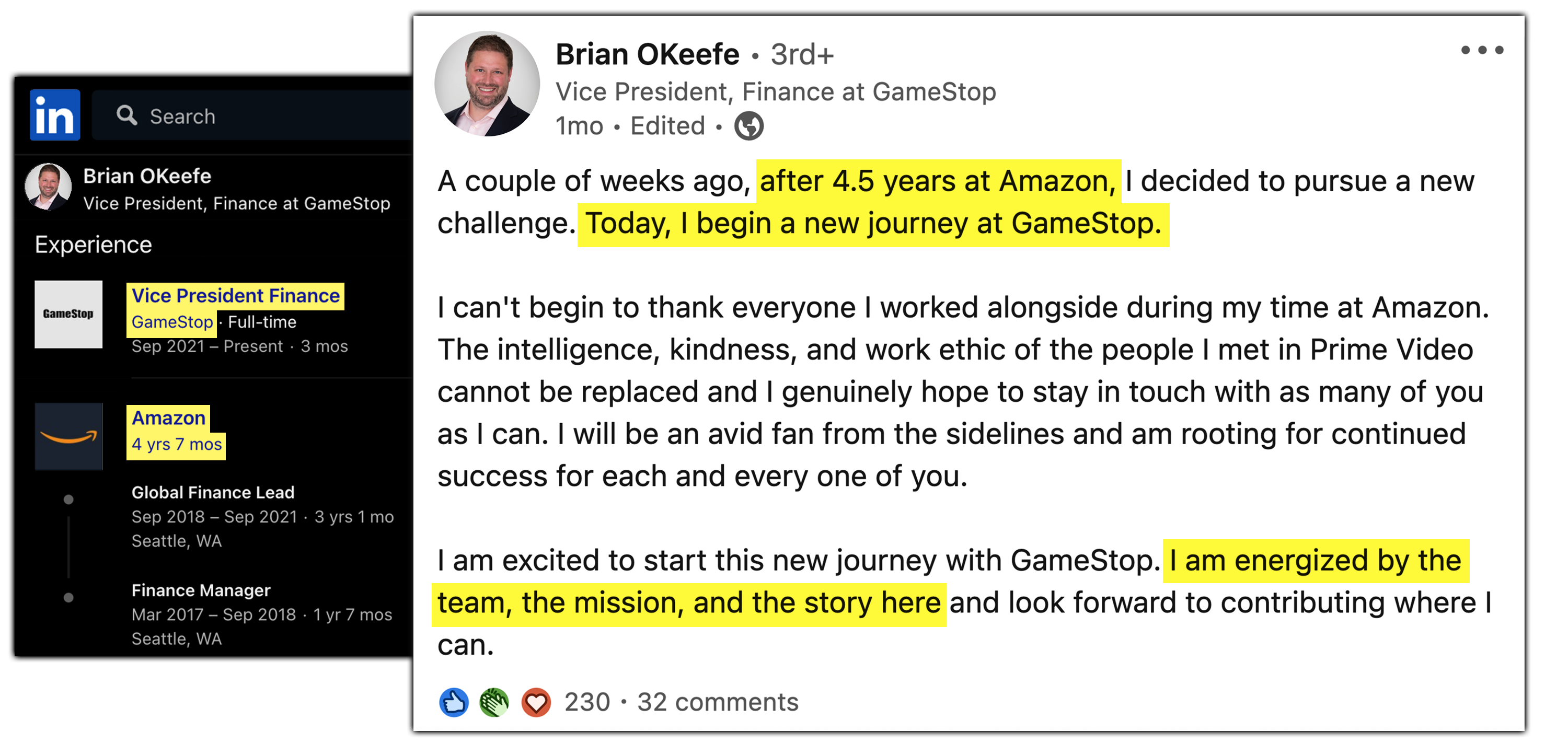 Brian OKeefe's post on LinkedIn in October of 2021.
Take Brian OKeefe, an Amazon veteran who had operated as a Global Finance Lead for the e-commerce giant for over four and a half years.
On LinkedIn in September, OKeefe stated that he has left Amazon to "pursue a new challenge," and that he is "energized by the team, the mission, and the story here," at GameStop.
OKeefe isn't the only GameStop recruit that has shared this same bullish sentiment on social media. In fact, GameStop's mission and startup-atmosphere seems to be part of the pitch.
Jeremy Martin joined GameStop in July 2021.
Jeremy Martin worked at Amazon for over 8 years prior to starting his next adventure in the Dallas-Fort Worth area, at GameStop HQ.
Martin wasn't a small fish, either. Having served as Amazon UK's Chief Financial Officer (CFO), he designed, staffed, and led high performance finance, sales, and UK operations for the multi-billion dollar e-commerce company.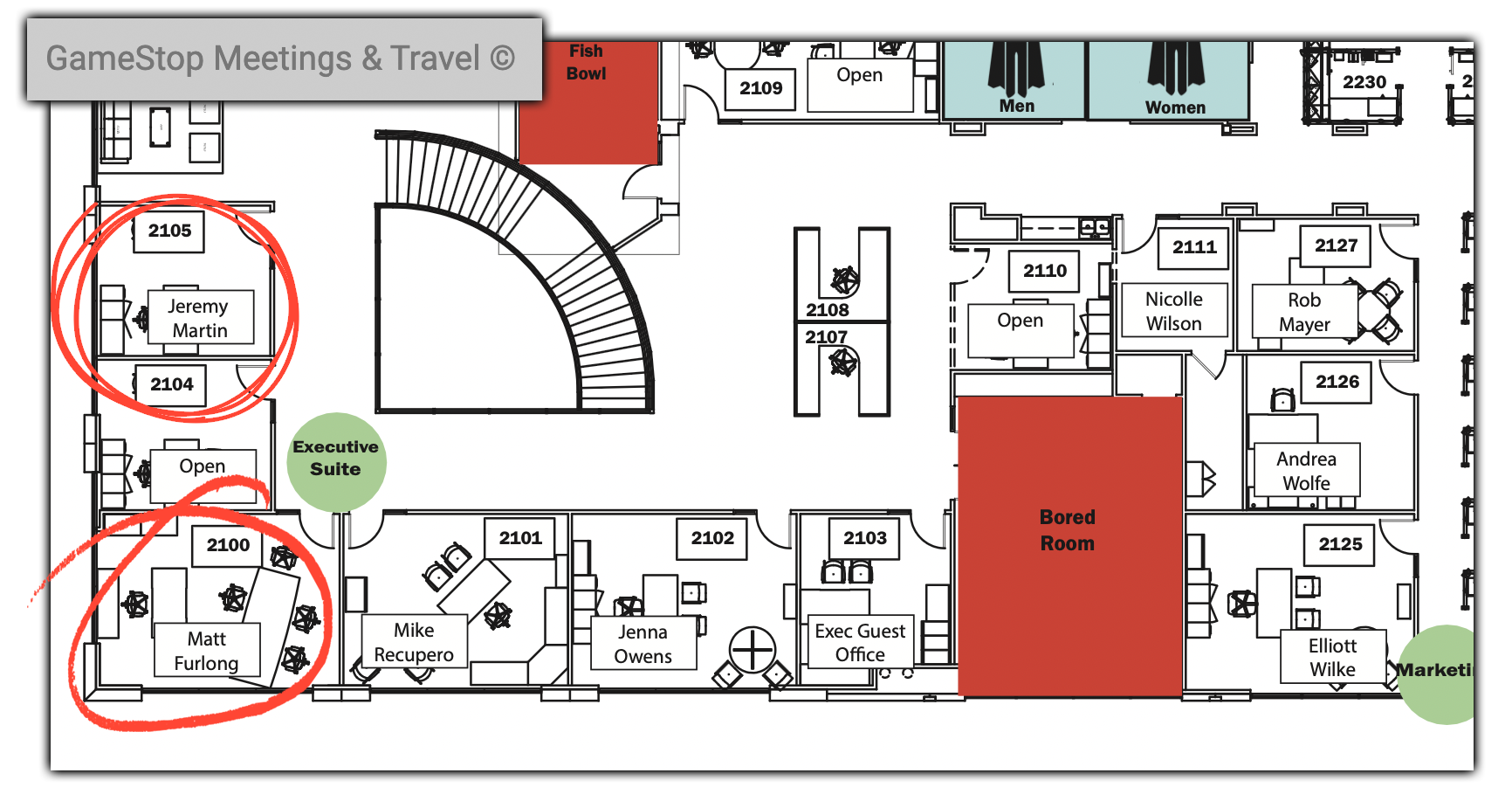 GameStop Headquarters' floor plans are available online, dated July 29th, 2021.¹
GameStop's Grapevine Headquarters' floor plans reveal Jeremy Martin's importance to the scrappy startup, with an office positioned right by the CEO and Executive Suite.
The gaming retailer's newly-appointed Chief Executive Officer (CEO), Matt Furlong, previously worked as Amazon's Country Leader for Australia, indicating GameStop's interest in these high-ranking players.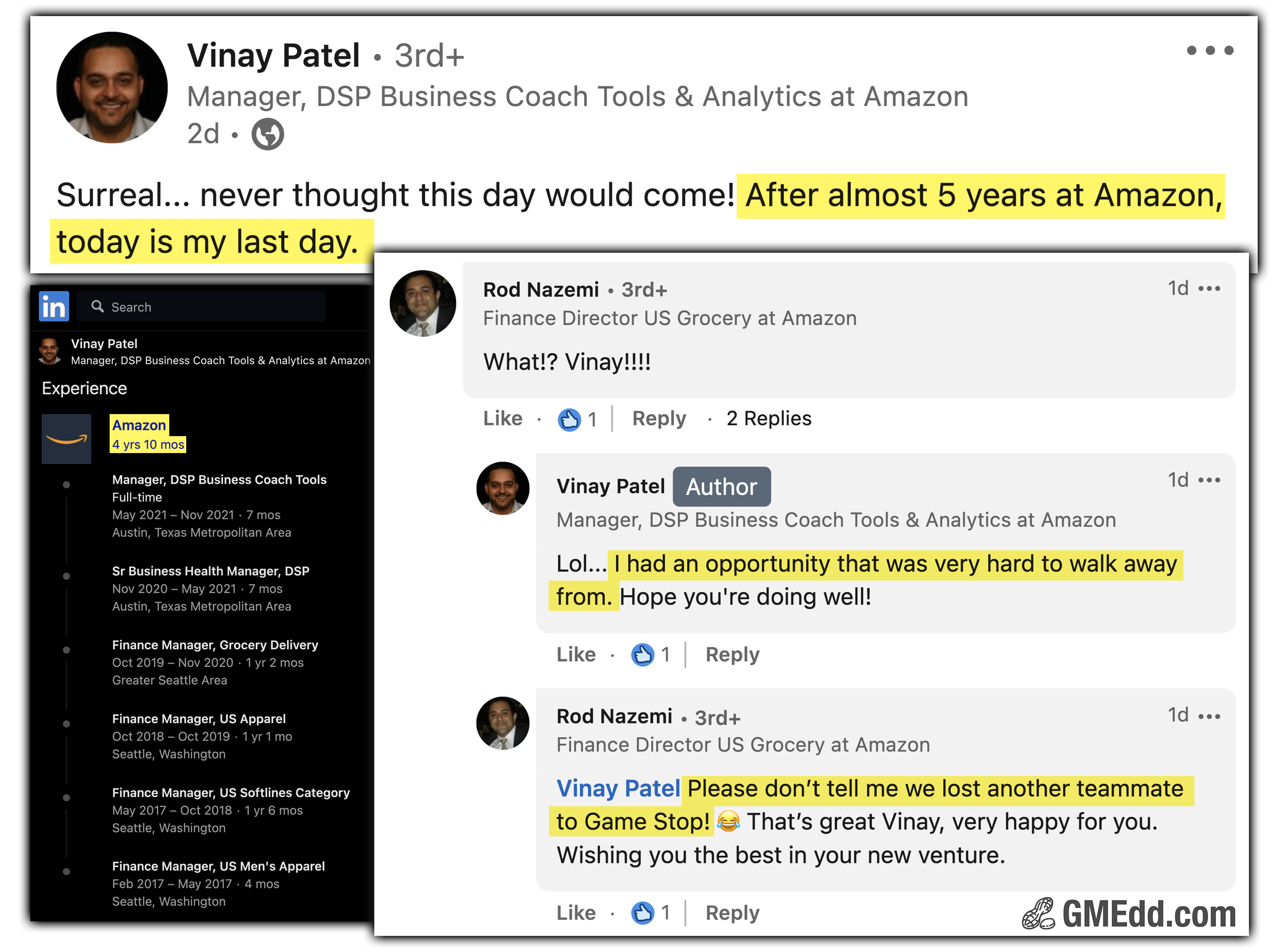 Vinay Patel has not yet announced his new employment, but we can safely guess.²
Amazon employees have begun to notice how GameStop has been poaching all of the company's talent, with Vinay Patel, a 5 year Amazon vet, stating that he "had an opportunity that was very hard to walk away from."
Please don't tell me we lost another teammate to GameStop!
What's the plan?
Although it seems that GameStop's recruits are being asked to keep their tasks on the down-low, some can't help but share their enthusiasm, and it's in-part to help recruit for their own teams.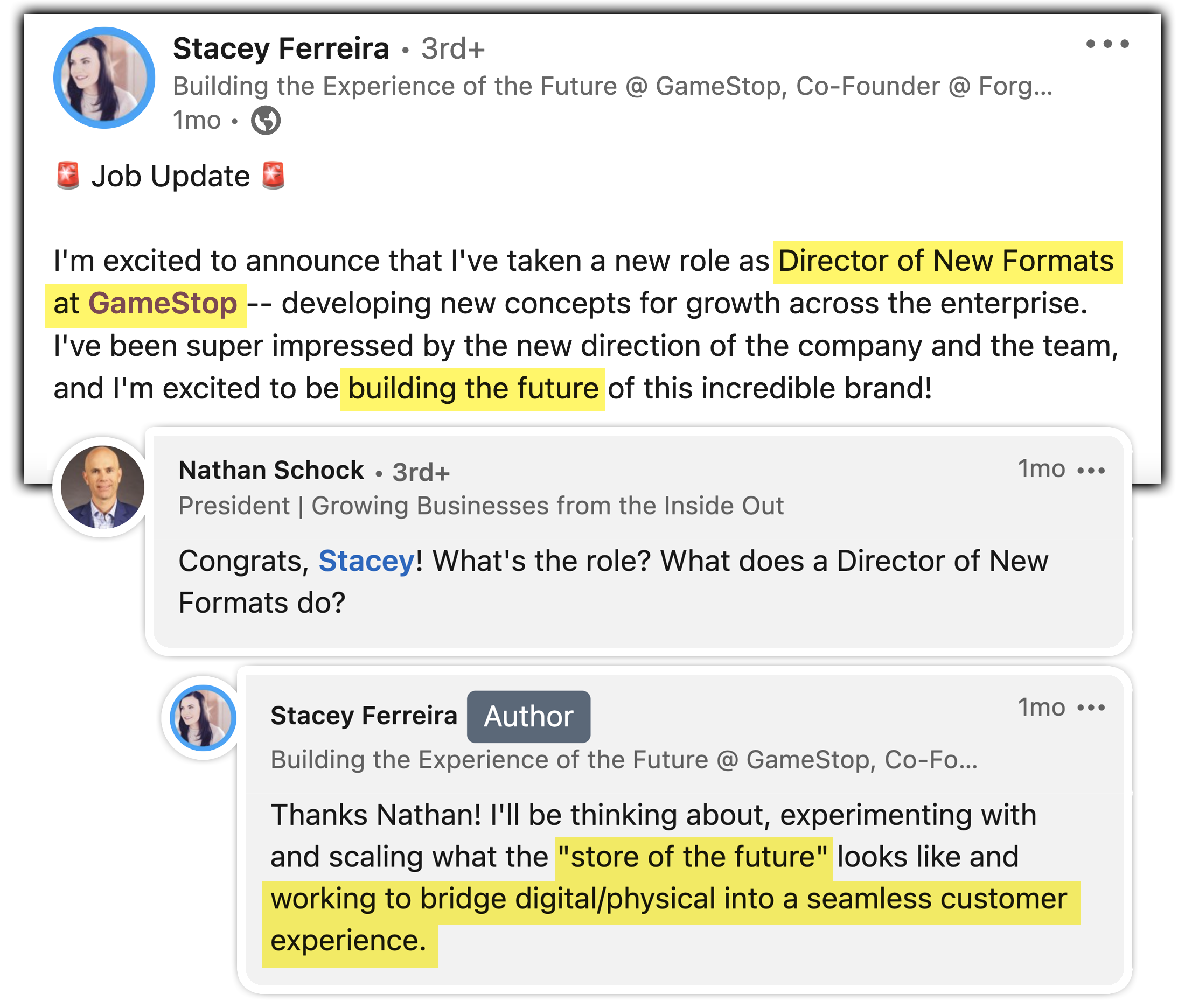 Stacey Ferreira is 'building the experience of the future' at GameStop.
Meet Stacey Ferreira, who has taken the role of Director of New Formats at GameStop. In fact, you may recognize her name, since she's founded and sold two technology companies, been recognized on Forbes 30 Under 30, co-authored the best-selling book 2 Billion Under 20, and spoken at a number of prestigious events including TEDx, Singularity University, Inc. Women's Summit, among others.
Now, she's focused on building GameStop's "store of the future," and working to bridge digital/physical into a seamless customer experience.
Revitalizing retail should not come as a surprise, considering in July individuals with first-hand knowledge on Ryan Cohen's strategy stated that the Chairman was 'infuriated with dusty shelves' and had plans to revive retail stores.
That's not all
While the public has not yet been informed what GameStop's tech-centric roadmap entails, through chatter amongst hires on LinkedIn we can now speculate that the future includes forward-thinking improvements across the board alongside new offerings.
GameStop employees have hinted towards building new mobile apps, an NFT marketplace, a new customer service team, the evolution of the PowerUp Rewards program, new private label products, new supply chain systems, new fulfilment centers, a new website UX, expansion into PC gaming and eSports, revamping GameInformer, a new affiliate and partnership program, and improving the associate training program LevelUp.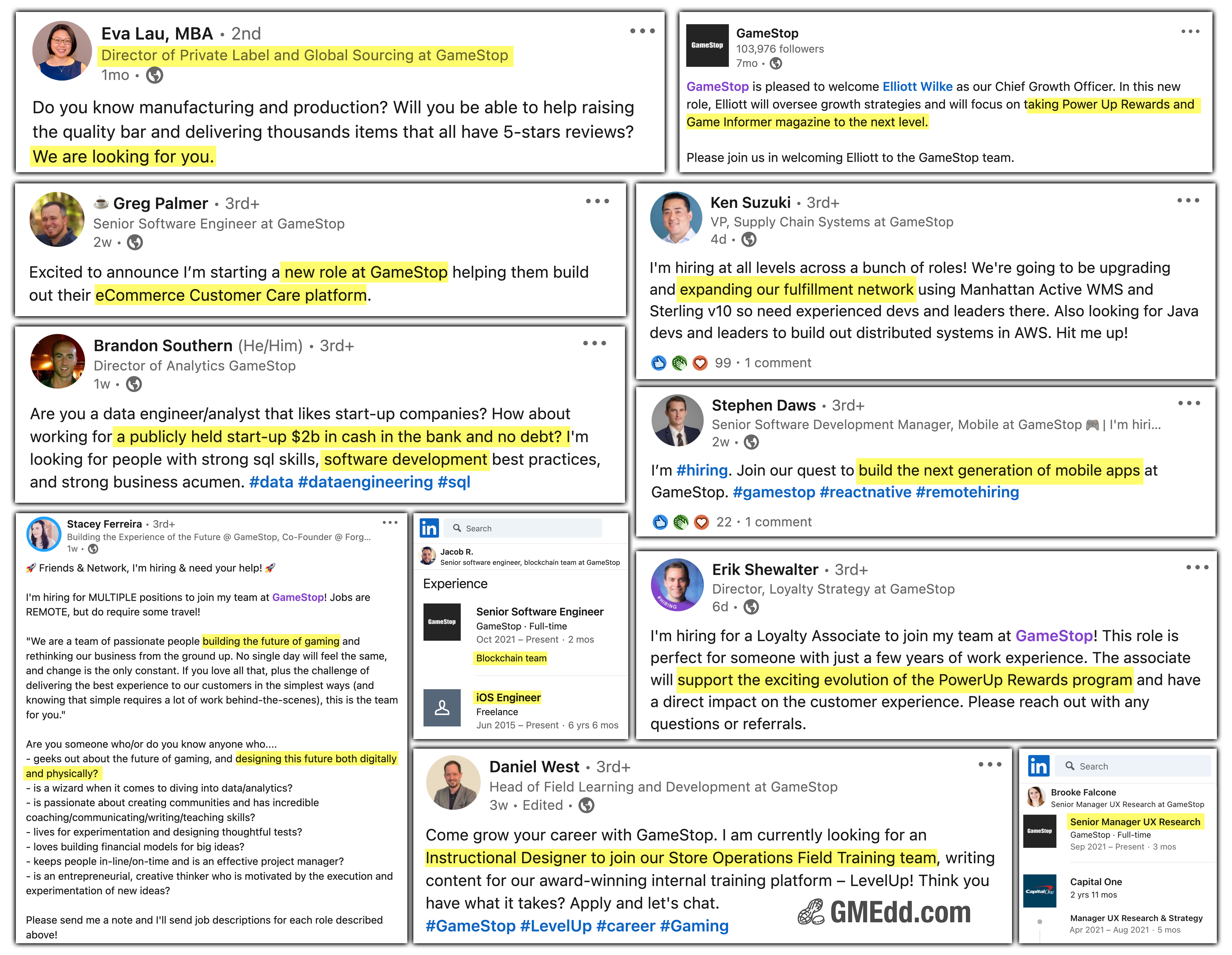 GameStop's senior management is hiring for just about everything.
LinkedIn remains a critical behind-the-scenes resource for GameStop investors, and posts by employees indicate widespread talent acquisition in all departments.
With GameStop's new management on a hiring frenzy, tech and e-commerce executives looking to be a part of something are leaving FAANG in droves to fulfill Cohen's vision.
Toast and vestro researched. Toast edited and contributed.
Sources: Miami Herald, Charles Pich on LinkedIn, Brian OKeefe on LinkedIn, GameStop Space Information, Eva Lau on LinkedIn, Greg Palmer on LinkedIn, Daniel West on LinkedIn, Erik Shewalter, Stacey Ferreira on LinkedIn, Stephen Daws on LinkedIn, Brandon Southern on LinkedIn, Ken Suzuki on LinkedIn, Vinay Patel on LinkedIn
Join GMEdd.com's Official Discord Server to chat about this article, GameStop's transformation, and more.
¹After GMEdd.com published this piece, GameStop's floor plans were taken down, leading our sources to now point to an archived version.
² Vinay Patel has updated his LinkedIn to reflect employment at GameStop.