The "hiring frenzy" first coined by GameStop VP, Marketing Evan Smith in a Feb 2021 LinkedIn post highlighted by GMEdd.com has progressed, revealing GameStop's success in acquiring new talent at a rate that can be compared to the likes of the hottest new startup.
According to LinkedIn data, since the appointment of GameStop CTO Matt Francis in February, we count over 30 new hires who bring experience from a cross section of high growth e-commerce stars Chewy, Amazon, Zulily and Arteza.
The rate appears to be accelerating, with new ex-tech hires in May so far exceeding April and March.
An opportunity too good to pass up
Digging deeper, we can discover some motivations as to what would compel someone to make such a career move. Skyler Ramirez, an Amazon veteran of 8 years, left his most recent Data Engineering Leader position at Facebook after just 9 months to jump ship to GameStop.
In a post via LinkedIn the Vice President informed his connections that it was extremely hard to say goodbye to Facebook, but "sometimes a new opportunity comes along that is too good to pass up." Ramirez also shared he will be hiring several roles on his team as soon as next week.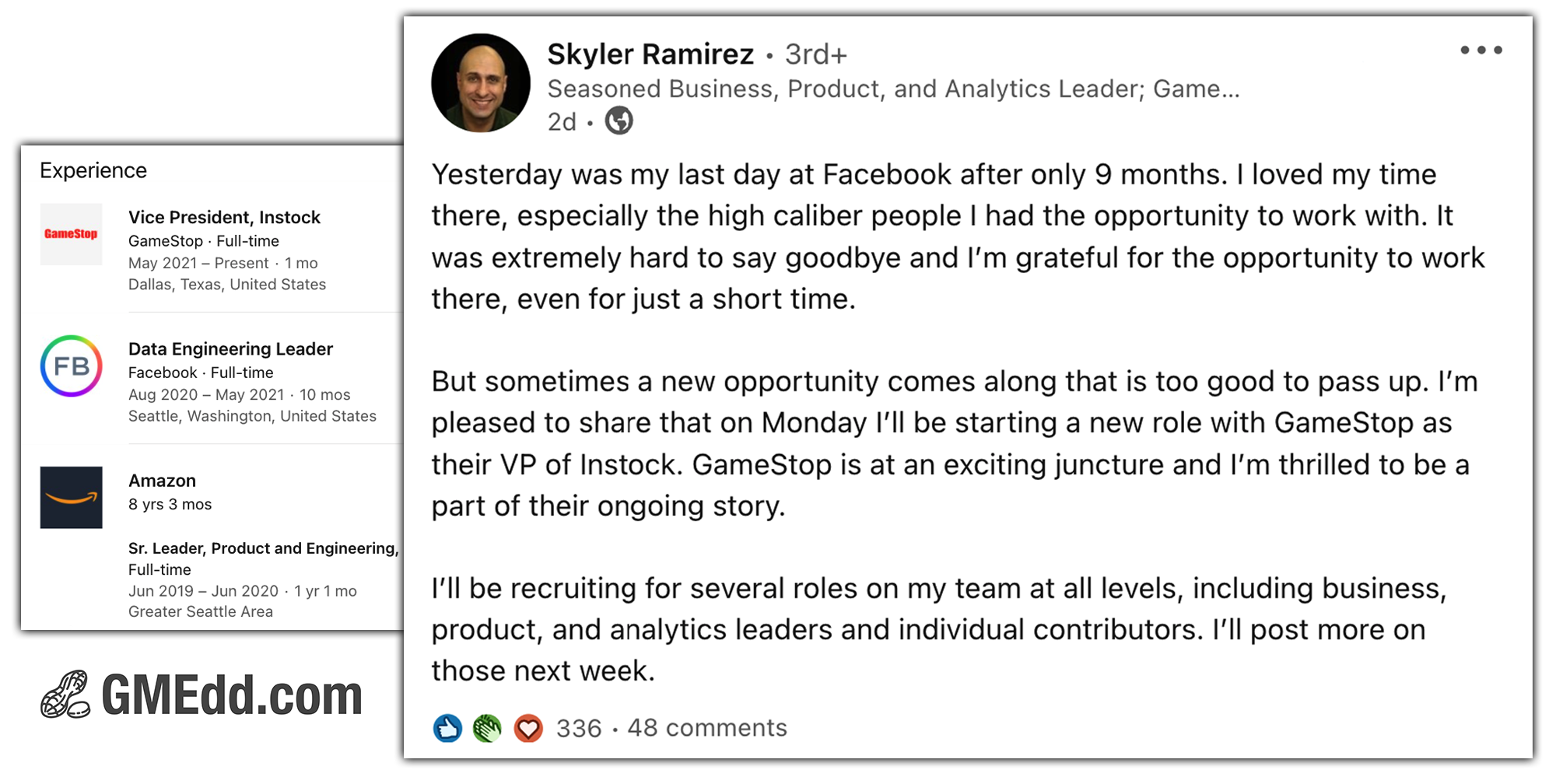 Ramirez's new role of VP, Instock at GameStop is not yet defined on his profile, but his personal About section provides some insight as to his experience and skillset.
A versatile leader with over a decade of post-graduate experience leading business, product, and technical (including big data) teams. A problem-solver who takes on work others view as too hard or too risky, and drives hundreds of millions of dollars in growth and savings. A builder who uses high judgement and analytics to take products and initiatives from concept to execution and set them up for long-term success.
For ex-Amazon turned GameStop Chief Growth Officer Elliott Wilke, part of the appeal of working at GameStop was revealed commenting that he has put his corporate blazer "back in the closet for good" while posing in a snappy new GameStop branded hoodie in a recently updated LinkedIn profile photo.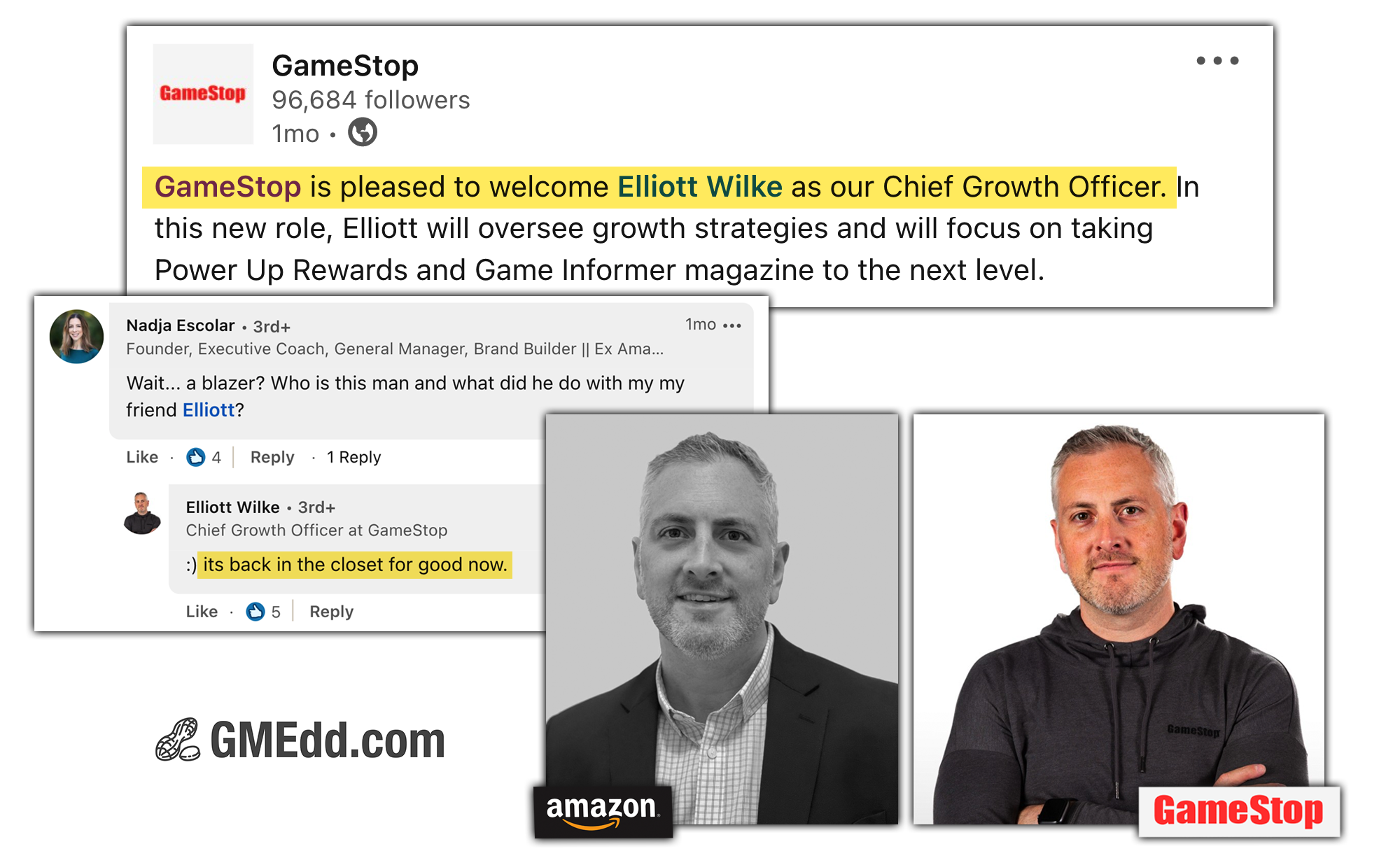 The changing of the guard is not limited to new appointments, with departures going beyond the high profile Executive Vice President group. GameStop Chief Digital Officer, Dhritiman Saha left in April after just over a year in the role further suggesting GameStop's new direction in this area.

Proprietary Brands to fuel further growth
As well as the developments taking place in E-Commerce, Logistics and Customer Service, this new direction seems to include a focus on Private Label with GameStop Vice President of Private Label and Global Sourcing, Kevin Kennedy leaving Chewy in April to take on this new role.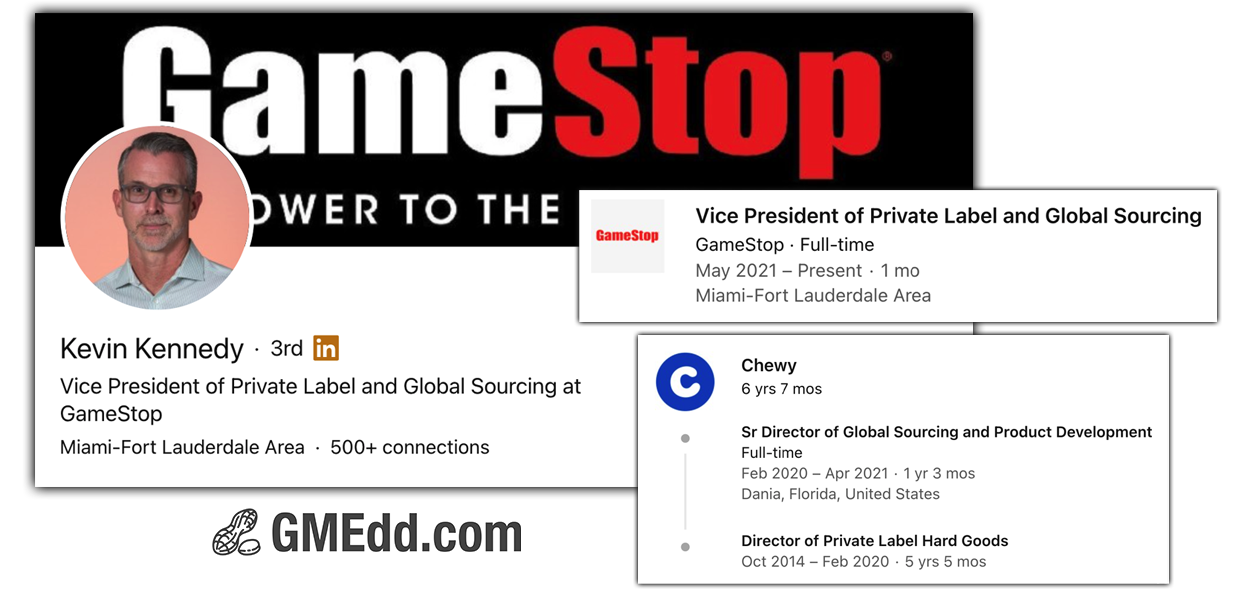 Chewy revealed in their Q4 and Fiscal Year 2020 Letter to Shareholders they achieved gross margin improvements driven by greater penetration rates into higher-margin verticals such as proprietary brands which doubled year over year.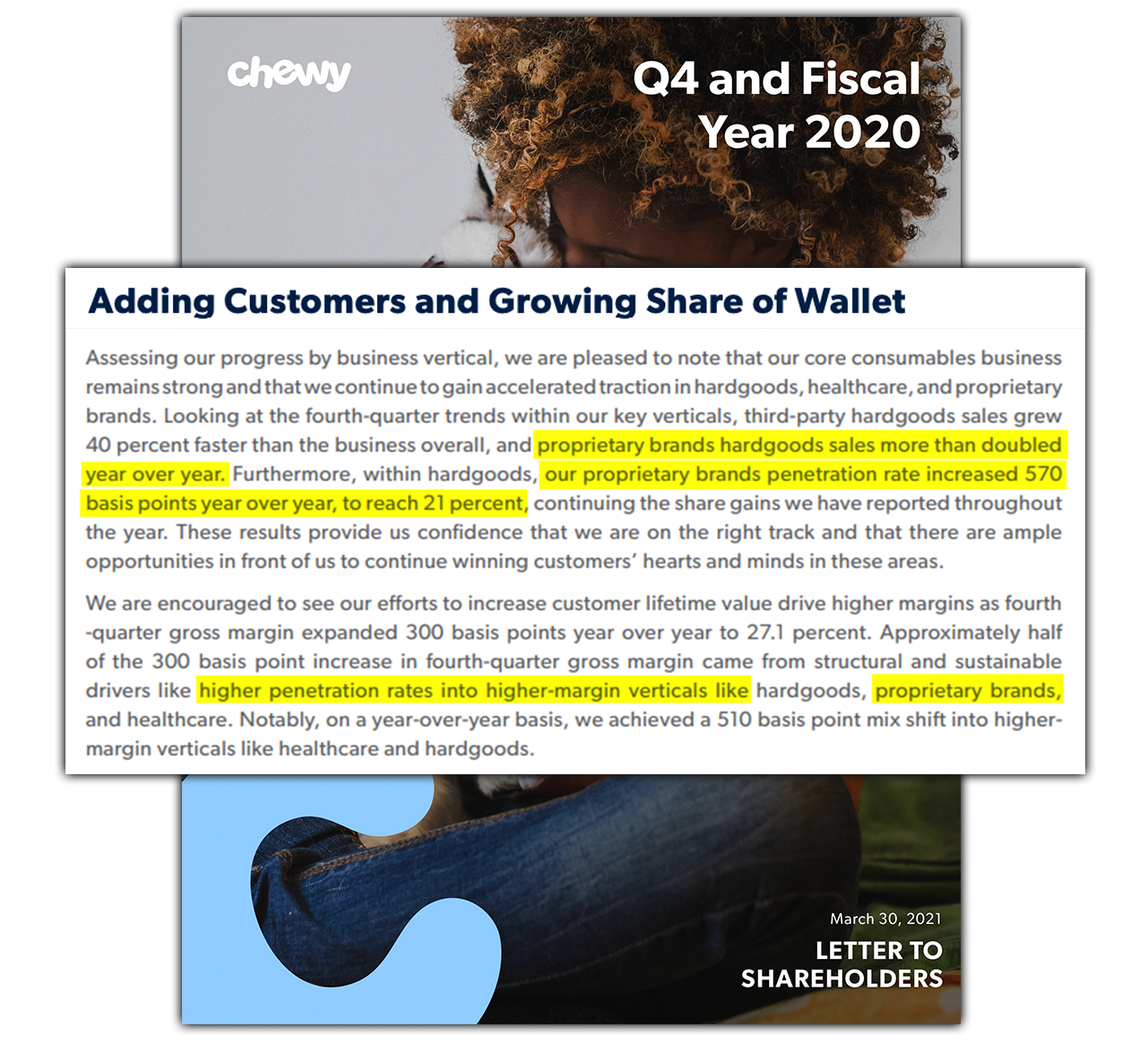 We can infer that GameStop intends to follow a similar path of Chewy and develop in-house brands with higher margins and less dependencies on third parties as just one more contributing part to their ongoing transformation.
What to make of it all
Tech and E-Commerce executives looking to be a part of something are leaving blue-chips in droves to fulfill Cohen's vision. The public has not yet been made informed exactly what the roadmap entails, but this level of excitement amongst new hires is unmatched.
GameStop is gearing up for a transformation that will be studied in universities for years to come.
The Data
When Ryan Cohen was asked how he finds his management teams during a 2018 Miami Herald interview, he gave his endorsement for LinkedIn.
We use a special proprietary tool called LinkedIn and we look for people with very relevant experience at companies we respect and we shoot them a message. … We hand-picked these people. They are the best of the best, the Navy Seals of management teams.
While Amazon and Chewy may be household names, Arteza is the leading direct to consumer arts & crafts supplies brand offering art enthusiasts and hobbyists high quality supplies at affordable price points across a variety of categories. Larry Cheng, one of GameStop's incoming board members, invested in the startup, just as he did Chewy when Ryan Cohen approached him.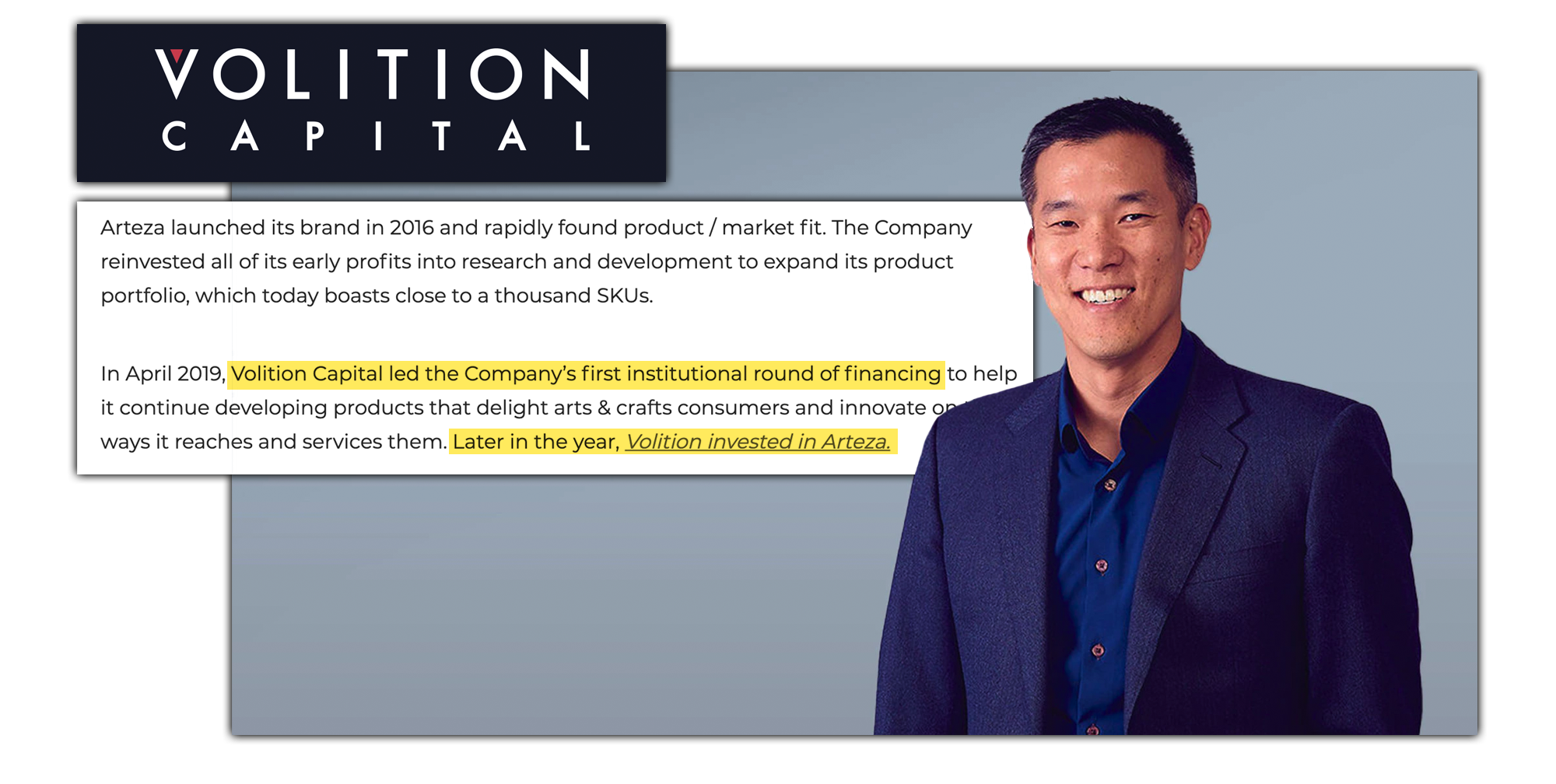 It appears that GameStop has replaced Arteza as a destination of choice, with many who moved from Chewy to Arteza to join Kelli Durkin, GameStop's Senior Vice President, Customer Service and former Arteza CXO, following her yet again from Arteza to GameStop.
GMEdd has sourced the employment information using the very techniques Ryan Cohen is known to use in his own headhunting. Check out our data below and visit our Report and Models page for the latest updates.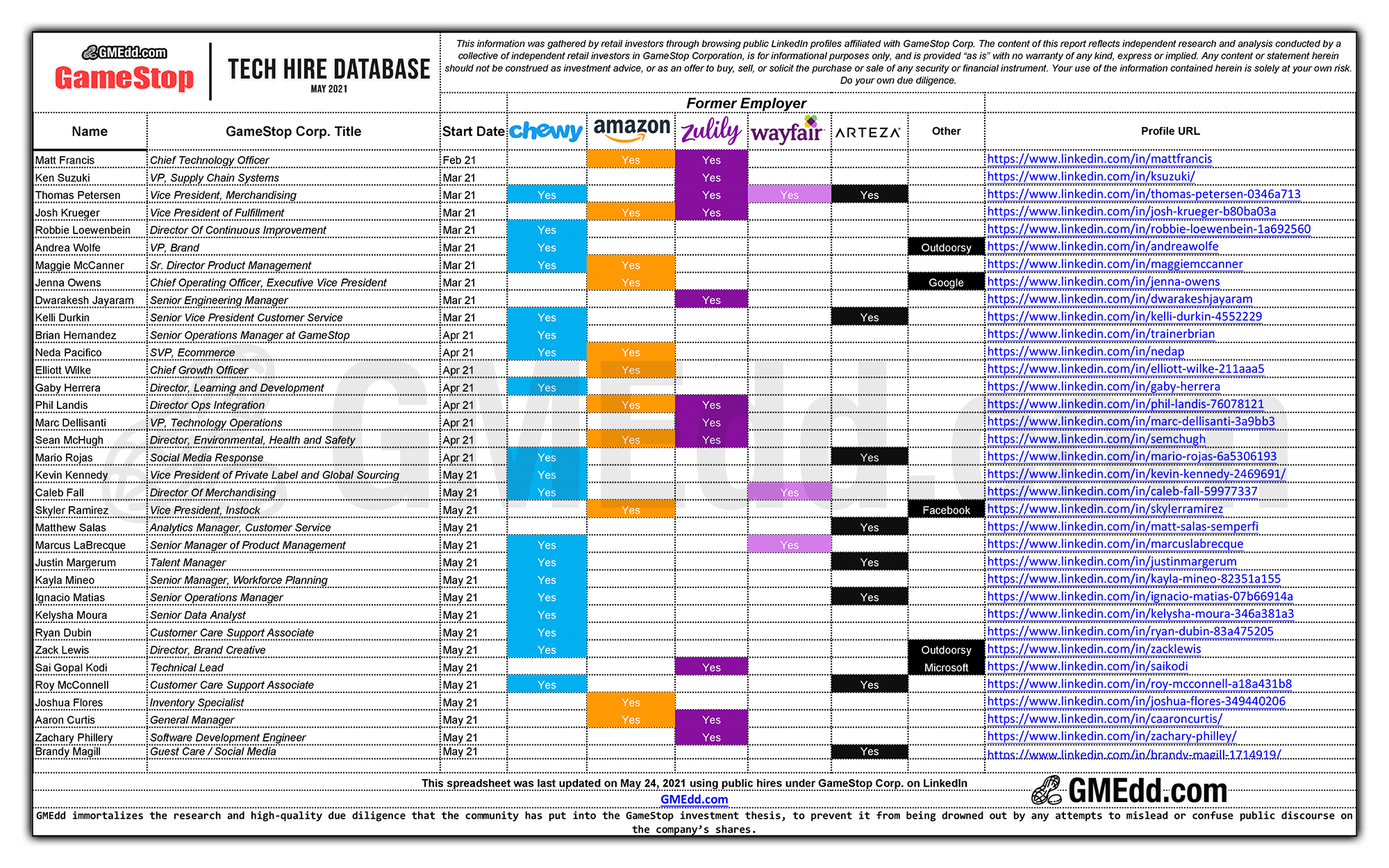 vestro guest wrote this article exclusively for GMEdd, Toast contributed
Sources: GameStop Corp. on LinkedIn, Volition Capital, Chewy Investor Relations
June 1st 2021 Editorial Update: Visit GMEdd.com/report-model to view a continuously updated model for GameStop Corp.'s LinkedIn hires.