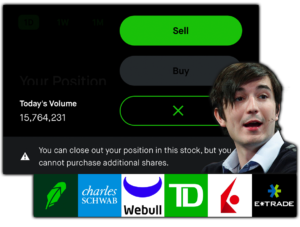 Retail brokerages such as Robinhood, Interactive Brokers, and Webull, have restricted trading on GameStop to Sell Only, citing, "significant market volatility."
In a statement , Robinhood said it was "restricting transactions for certain securities to position closing only." Other trading platforms, including TD Ameritrade and Charles Schwab, took similar steps to restrict trading. It remains unclear how long the restrictions on each platform will last.
Changing the rules in the middle of the game.