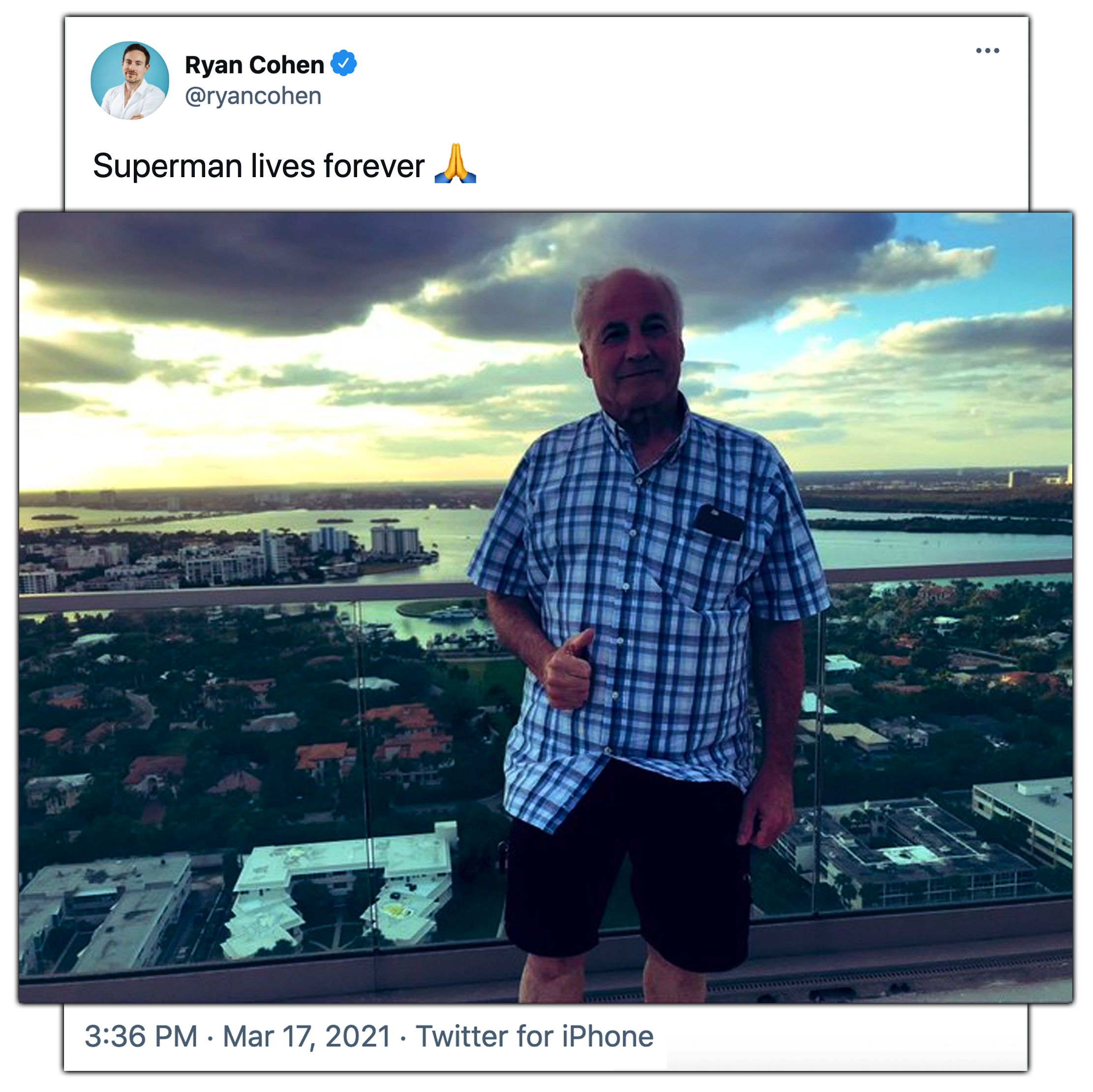 Shortly after the "GameStopped" House Committee Hearing concluded today, Ryan Cohen shared a photo of his late father, Ted Cohen, on Twitter with the caption, "Superman lives forever ????"
We don't believe there is any reason to analyze this tweet, and appreciate Ryan Cohen sharing his personal life with us. So instead, we would like to use this opportunity to honor his father as well, and tell his story.
In an Entrepreneur.com article written by Ryan, he describes his father:
Everything I know — from empathy to the principles of making money — I learned by following in the footsteps of my late father, Ted Cohen. We spoke for hours every day. He was, and always will be, my best friend, advisor and biggest advocate.
Ryan goes on to state that his father Ted was a successful glassware importer with an impeccable work ethic, having never missed a day on the job. Ryan believes that if he were here today, he would be worried about the millions of unemployed and struggling businesses across the country. The warehouse workers, drivers, construction workers and small-business owners — those are the people he respected most.
Ryan states that when he looks back on his life and influence, the following five principles Ted showed him were critical to his success building Chewy.com and investing.
Watch your expenses.


Ryan believes that disciplined capital allocation is one of the most important skills for running a successful business. Ryan credits Ted with granting him the privilege of learning this firsthand.

Delight your customers.


Chewy's focus was fast shipping, competitive pricing and providing customers with a hyper-specialized experience. Ted showed Ryan how building lifelong relationships with customers was far more valuable than optimizing for short-term profits.

Be the person others want to follow.


Ted Cohen led by example, but not in a deliberate way. It's who he was, says Ryan. Ted never patronized anyone, as he admired the blue-collar worker. Ryan would watch him roll up his sleeves and help his employees move shipments of glassware from trucks into the warehouse, then put his suit jacket back on, shirt drenched in sweat, and do administrative work. Ryan says he never saw anyone work harder.

Take the long view.


Ted Cohen was never looking to make a quick buck. He had no interest in material possessions. Every year, through thick and thin, Ted invested his savings into the stock market. He believed the real money was made through time in the market, not timing the market.


Trust yourself.


Entrepreneurs don't operate with a handbook. Ted taught Ryan how to be independent and trust his own moral compass. Ted encouraged him to separate myself from the herd and think critically.
We ask our readers take a moment to study the entirety of Ryan's May 4th, 2020 tribute to his father Ted.
A warm thank you from us to Ted Cohen for mentoring such a wholesome and forward-thinking son. He would be very proud of what you have accomplished, Ryan. God bless.