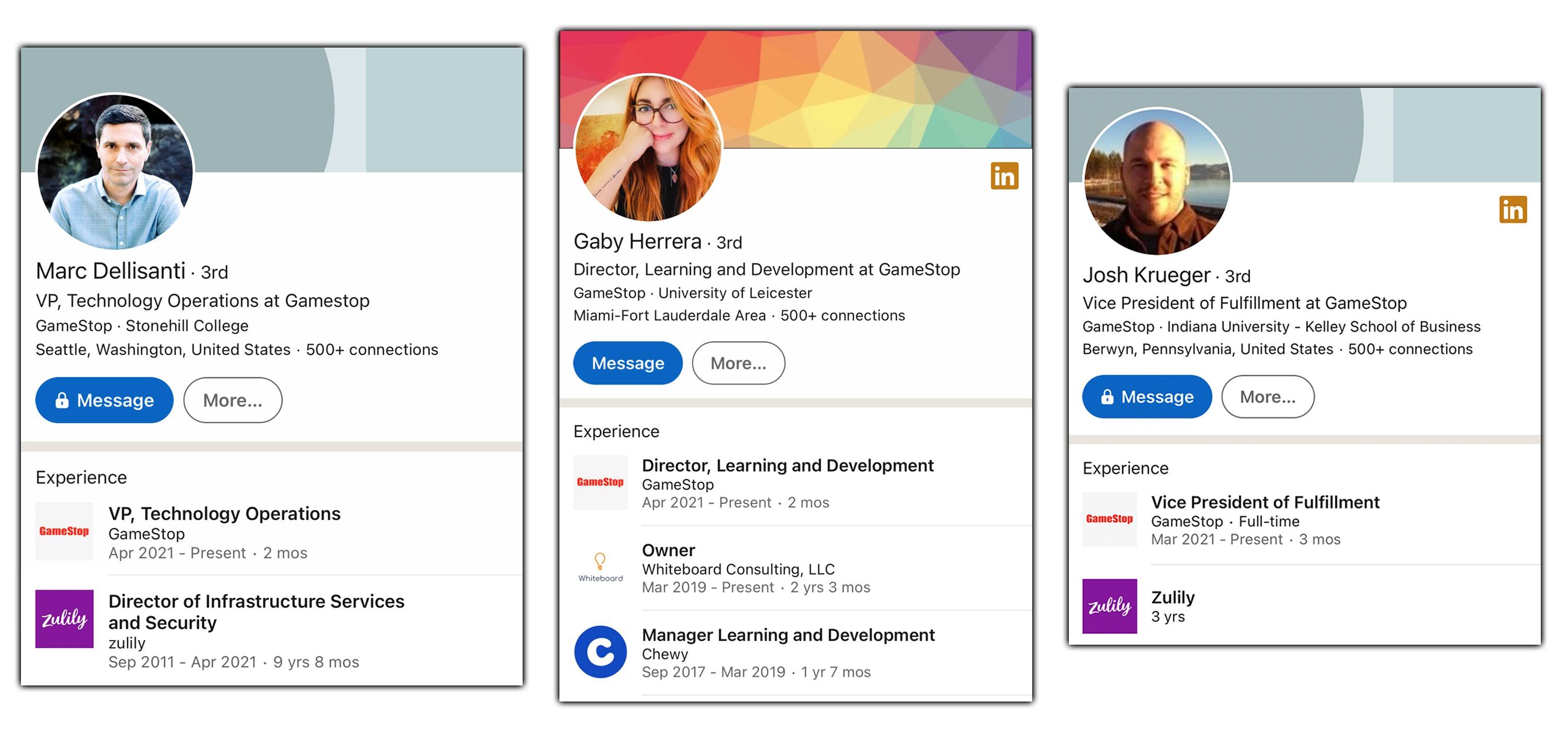 Investors can learn a lot about the transformation brewing behind-the-scenes at GameStop by looking at the company's latest hires on LinkedIn.
GameStop has recruited two new Vice Presidents, Marc Dellisanti and Josh Krueger. Dellisanti was brought on in April 2021, and Krueger in March 2021.
Marc Dellisanti will serve as GameStop's Vice President of Technology Operations, and Josh Krueger as GameStop's Vice President of Fulfillment.
Both individuals have a shared background in working at Zulily, an American e-commerce company headquartered in Seattle, Washington.
Zulily describes itself as:
Since its launch in early 2010, Zulily continues to reinvent itself, providing a fun shopping experience full of products millions of customers around the world love, at prices they can brag about. We're a fast-paced, data-driven and down-to-earth company, dedicated to defying expectations. Our unique business model is just one example.
Another notable hire is Gaby Herrera, a former Learning and Development Manager at Chewy. Herrera has been recruited for a similar role at GameStop, becoming the Director of Learning and Development.
Gabby's LinkedIn biography states:
Experienced Human Resources professional with a knack for Learning and Development. Fast thinker, strong willed, people focused and process oriented. Experienced and skilled in hospitality, luxury and retail, specifically, but adaptable and open to any fields and always expanding horizons.
GameStop will likely continue to hire individuals skilled in e-commerce to support the transformation, and GMEdd will be keeping eyes out for further hires.
Sources: Josh Krueger on LinkedIn, Marc Dellisanti on LinkedIn, Gaby Herrera on LinkedIn