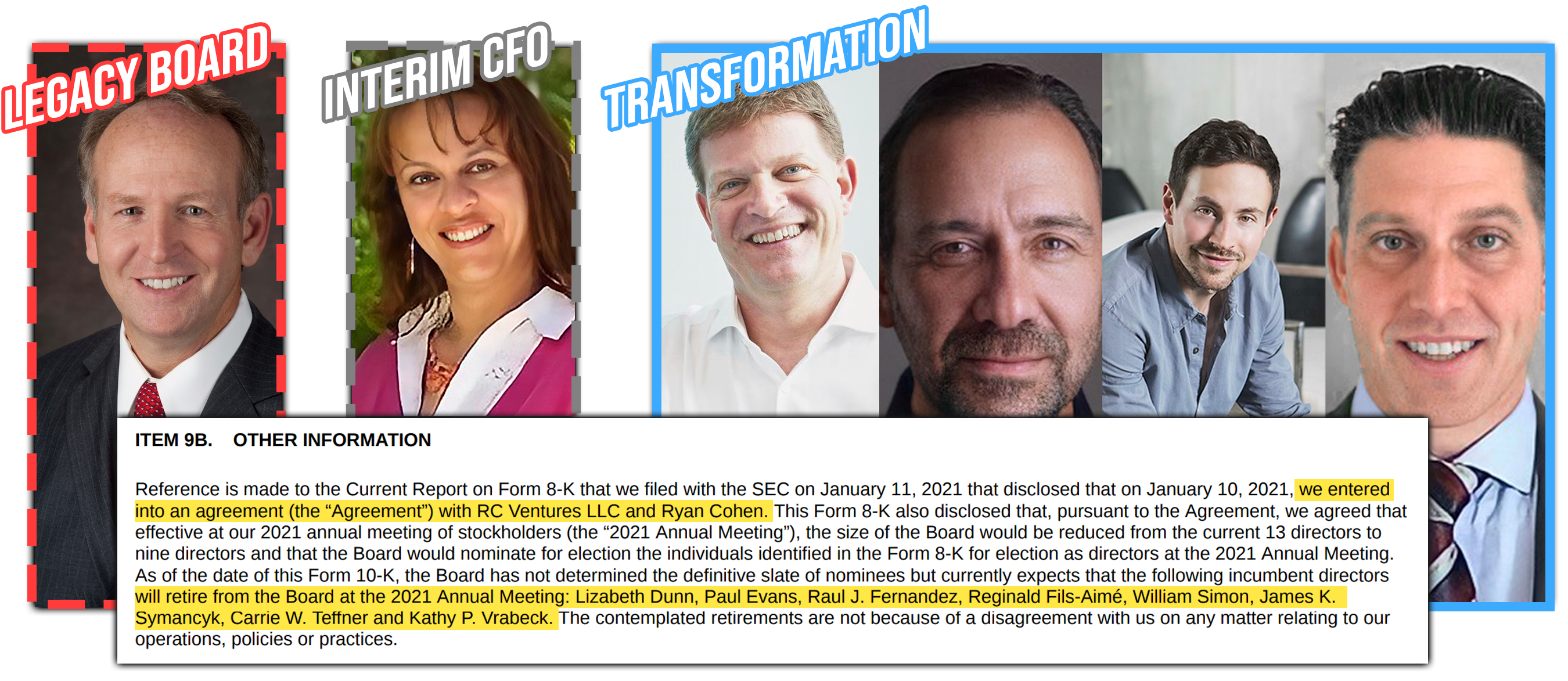 While GameStop's shares fell 33.79% today due to a disappointing but expected Q4 earnings release, the market largely ignored the greatest news of all: RC Ventures is on pace to control GameStop's board.
In Item 9B. Other Information, the filing reveals that, as of yesterday, the Board has not determined the definitive slate of nominees but currently expects that the following incumbent directors will retire from the Board at the 2021 Annual Meeting: Lizabeth Dunn, Paul Evans, Raul J. Fernandez, Reginald Fils-Aimé, William Simon, James K. Symancyk, Carrie W. Teffner and Kathy P. Vrabeck.
The contemplated retirements are not because of a disagreement with us on any matter relating to our operations, policies or practices.
This indicates that the only remaining board members will be: George E. Sherman, Alan Attal, Ryan Cohen, Jim Grube, and Kurtis J. Wolf.
Alan Attal, Ryan Cohen, and Jim Grube, all of which are former Chewy execs, were the board members put forth in the agreement with RC Ventures.
Kurtis J. Wolf was placed on the board in June 2020 following his Restore Gamestop activism. In May 2020, Hestia Capital Partners LP, Permit Capital Enterprise Fund, L.P, his investment group, issued a detailed 80-page presentation titled "More Change Is Needed," advocating for stockholder representation and a non-retail centric turnaround.
Kurtis J. Wolf was also recently placed on the Strategic Planning and Capital Allocation Committee, alongside Ryan Cohen and Alan Attal.
It's safe to assume that Kurtis J. Wolf will be siding with RC on any votes within the board.
With Kathy P. Vrabeck retiring, the Executive Chairman role will be freed up as well. Gotta wonder who will fill that role.
So that leaves the legacy board with only George E. Sherman. Diana Saadeh-Jajeh is currently the interim CFO, but does not hold a seat on the board. It is likely we will see Diana Saadeh-Jajeh retire once a permanent Chief Financial Officer is found as well. You don't have to look far for who we expect it to be. Diana Saadeh-Jajeh's retirement will also free up the Chief Accounting Officer position.
With George Sherman remaining as the only legacy board member, the Chief Executive Officer will be outnumbered four to one.
Unless GameStop nominates replacement board members ahead of the 2021 Annual Meeting, we will see the thirteen-member board fall to just five, with RC at the helm.