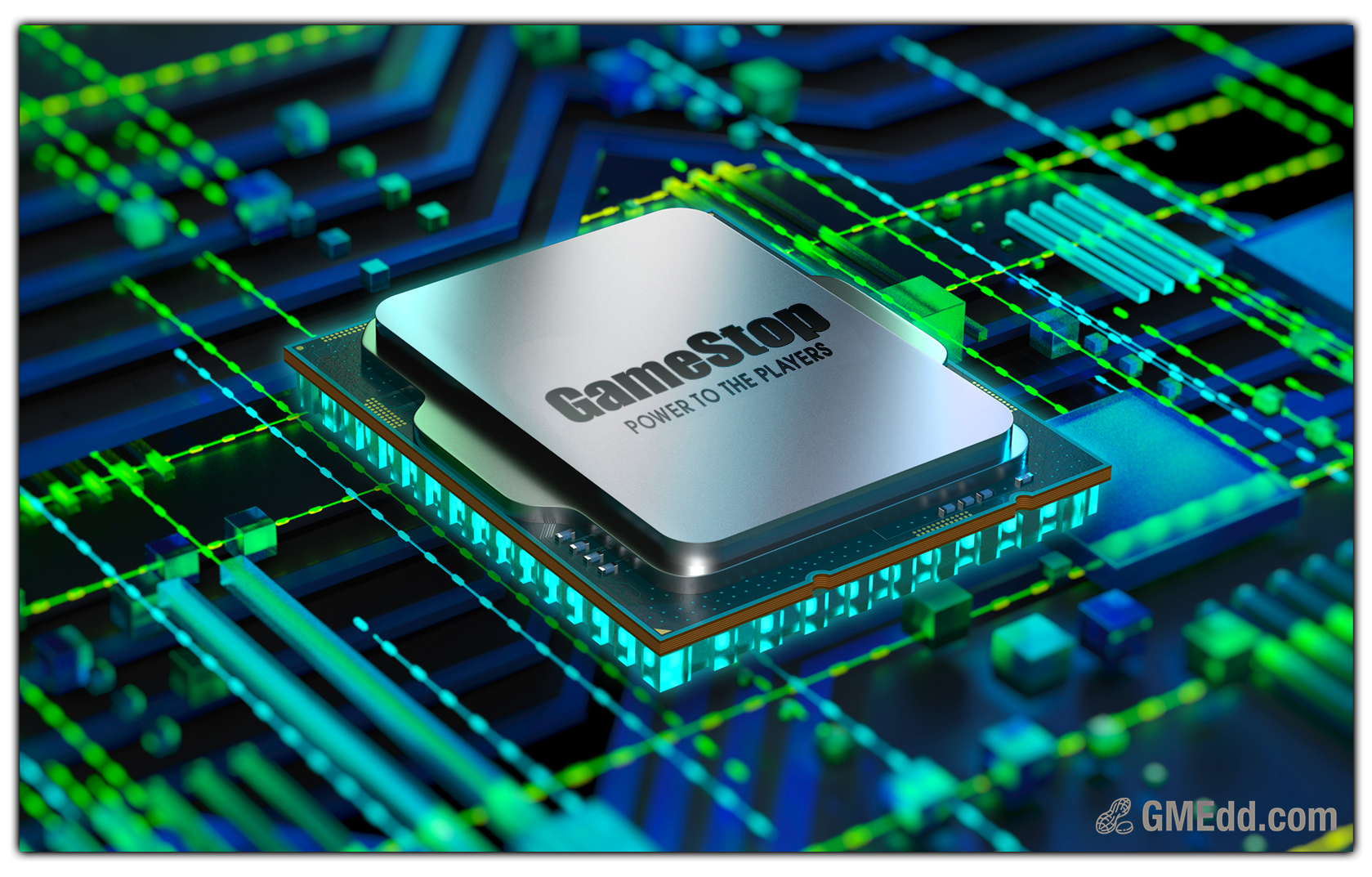 GameStop's Group Director of eCommerce Engineering has made a bold claim while searching for candidates to fill never-ending positions at the transforming gaming retailer.
GameStop has been undergoing a behind-the-scenes tech-centric transformation, largely revealed by hoards of new talent brought on after the January agreement with Ryan Cohen's firm RC Ventures.
another new guy
Mike Angstadt has only been a member of GameStop's corporate team since early August, but already seems in-the-know to what's coming next for the aspiring tech company.
The self-proclaimed builder, leader, and innovator is based in Austin Texas and now holds the position of Group Director of eCommerce Engineering at GameStop.
Angstadt describes his supportive role in one sentence via LinkedIn:
Supporting the eCommerce Engineering teams at GameStop through our revolution of the gaming industry.
Mike Angstadt's job description as of August 25th, 2021.
In an August 23rd post on the social media platform, Angstadt stated that GameStop was looking to hire for a rapidly growing all-star team at GameStop eCommerce, implying that GameStop has started an internal division just for eCommerce initiatives.
The Group Director of eCommerce Engineering goes as far as to state that GameStop is engineering the revolution of gaming.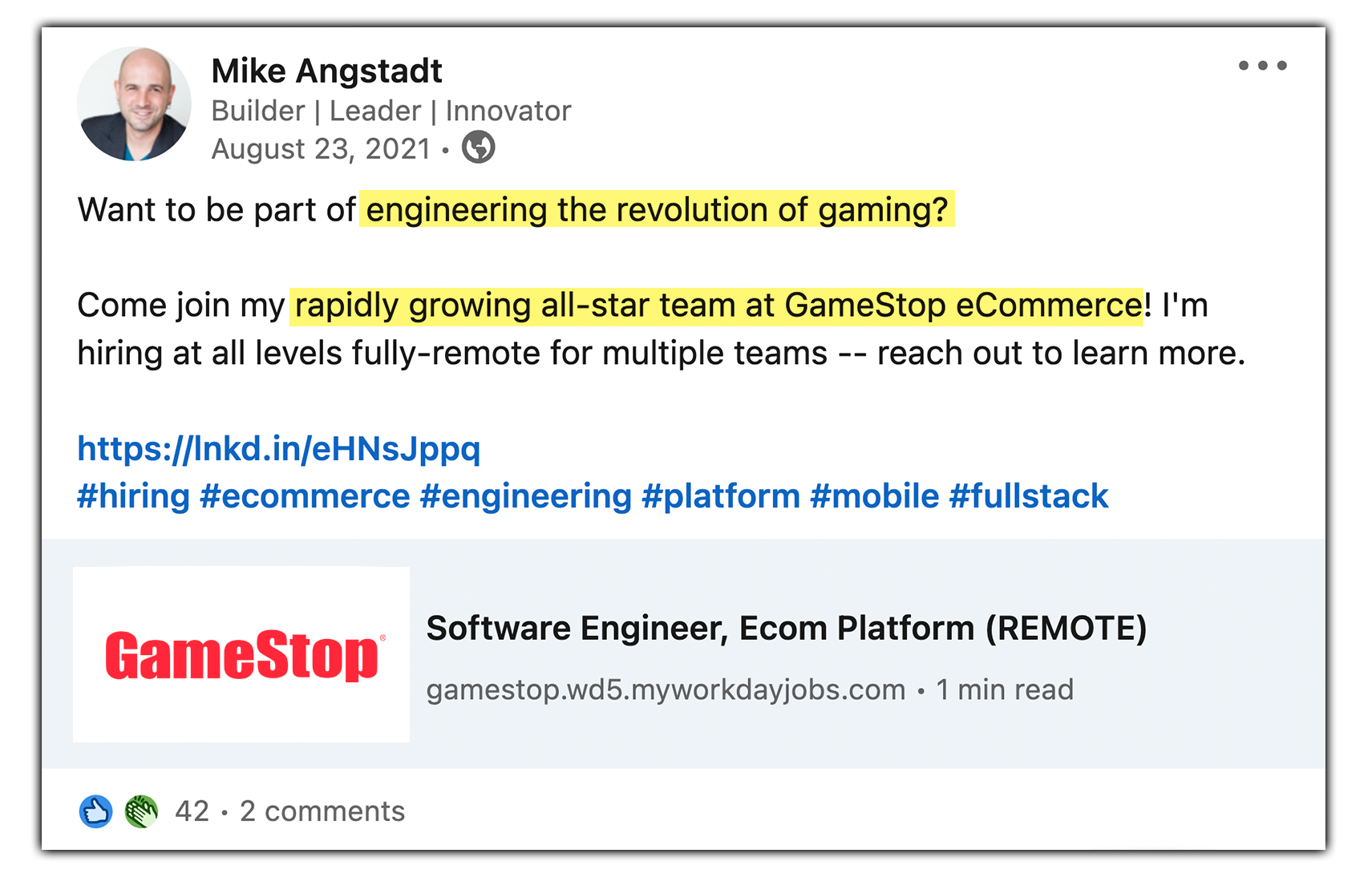 Mike Angstadt's LinkedIn post from August 23rd.
What's the job?
The position that Mike Angstadt is recruiting for is available fully-remote, enabling great engineers to apply to work for GameStop no matter their location.
The job description makes several requests that applicants are to place emphasis on customer experiences, such as:
Thrive in an ambiguous environment, be resourceful, and make tradeoffs to deliver customer impact.
Exhibit a bias for action, constantly looking for ways to improve performance and customer experience.
Be results-oriented, data-driven, and passionate about building innovative customer experiences.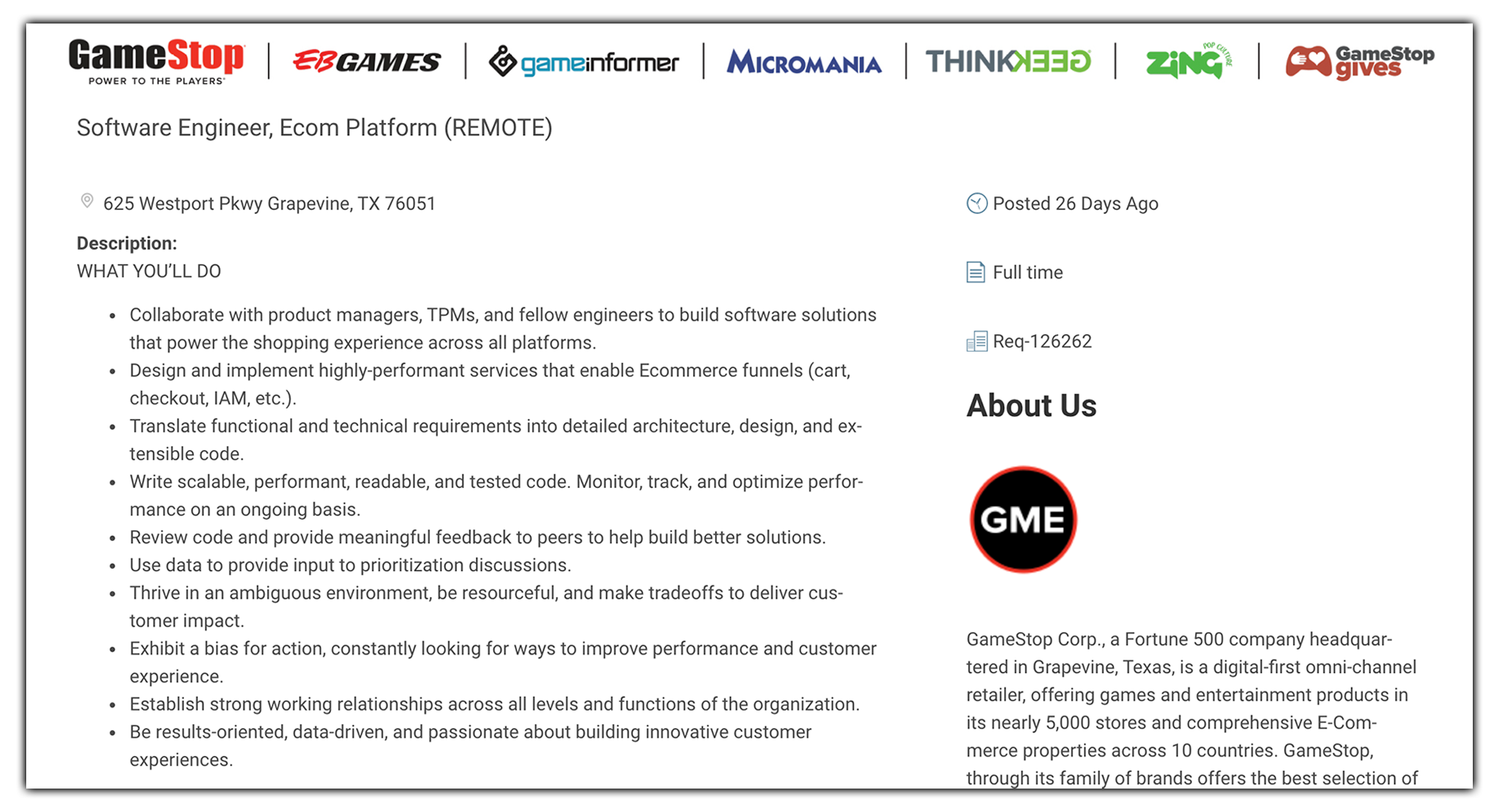 The Software Engineer, Ecom Platform job posting from GameStop.
Interestingly, GameStop also asks that applicants have the ability to thrive in a fast-paced, startup-like environment.
Ability to thrive in a fast-paced, startup-like, agile development environment.
In May, GMEdd proclaimed that GameStop's success in acquiring new talent is at a rate that can be compared only to the likes of the hottest new startup.
The frenzy continues
Since then, GameStop has continued the recruiting frenzy, amassing over 130 distinguished hires to gear up for a groundbreaking transformation.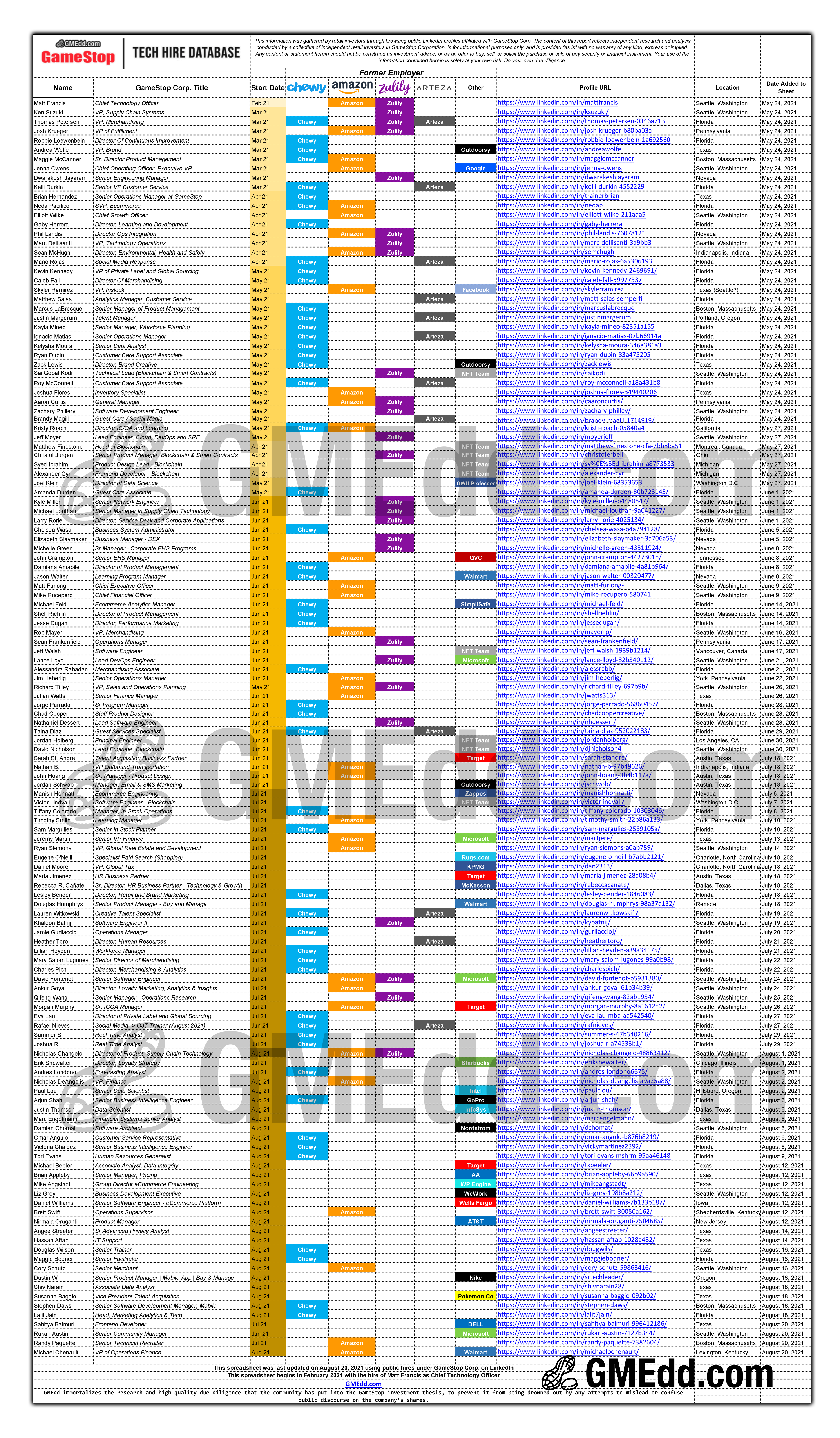 GMEdd's GameStop August 26th Tech Hire Database.
There doesn't seem to be any brakes on this train, with new hires being unveiled on LinkedIn almost daily.
While Ryan Cohen has no known plans to publicize his roadmap moving forward, sleuthing around on LinkedIn remains the best way to make educated guesses as to what comes next for GameStop.
To stay up to date on the latest tech hires, visit GMEdd.com's Report and Models page.
Source: Mike Angstadt on LinkedIn