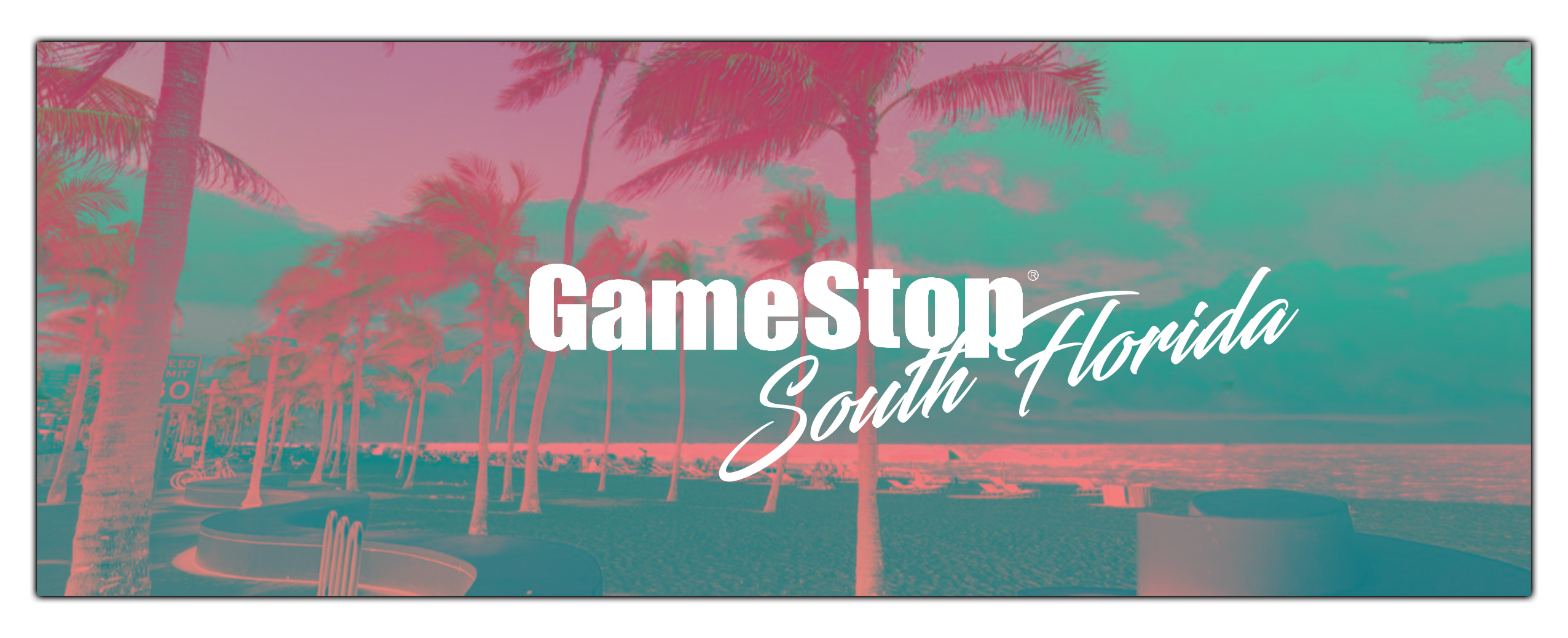 Customer care was always the focus at Chewy, so GameStop's increased investments in support for the gaming retailer should be no surprise.
GameStop Corp. today announced that the company plans to hire up to 500 employees at its newly-leased customer service center in Pembroke Pines, Florida.
The new 30,000 square foot facility is expected to be operational by the end of 2021.
First Stop to the moon, Florida
On top of what we saw in the spring, GameStop has reportedly been recruiting vigorously in South Florida, with the company's very own Kelli Durkin, Senior Vice President Customer Service, sharing a photo of a new billboard via Twitter.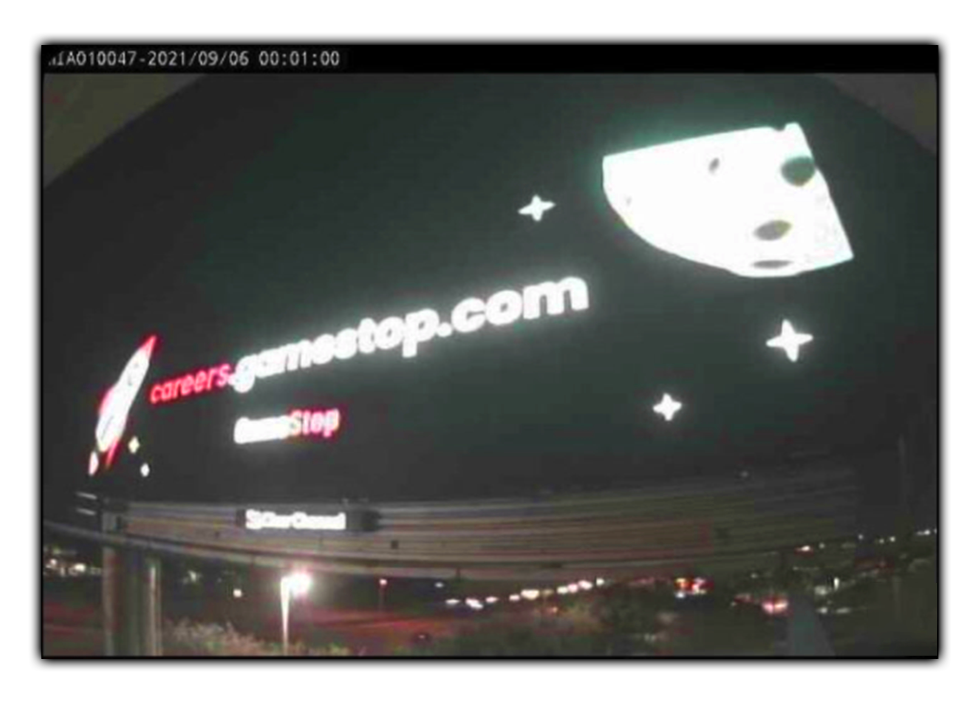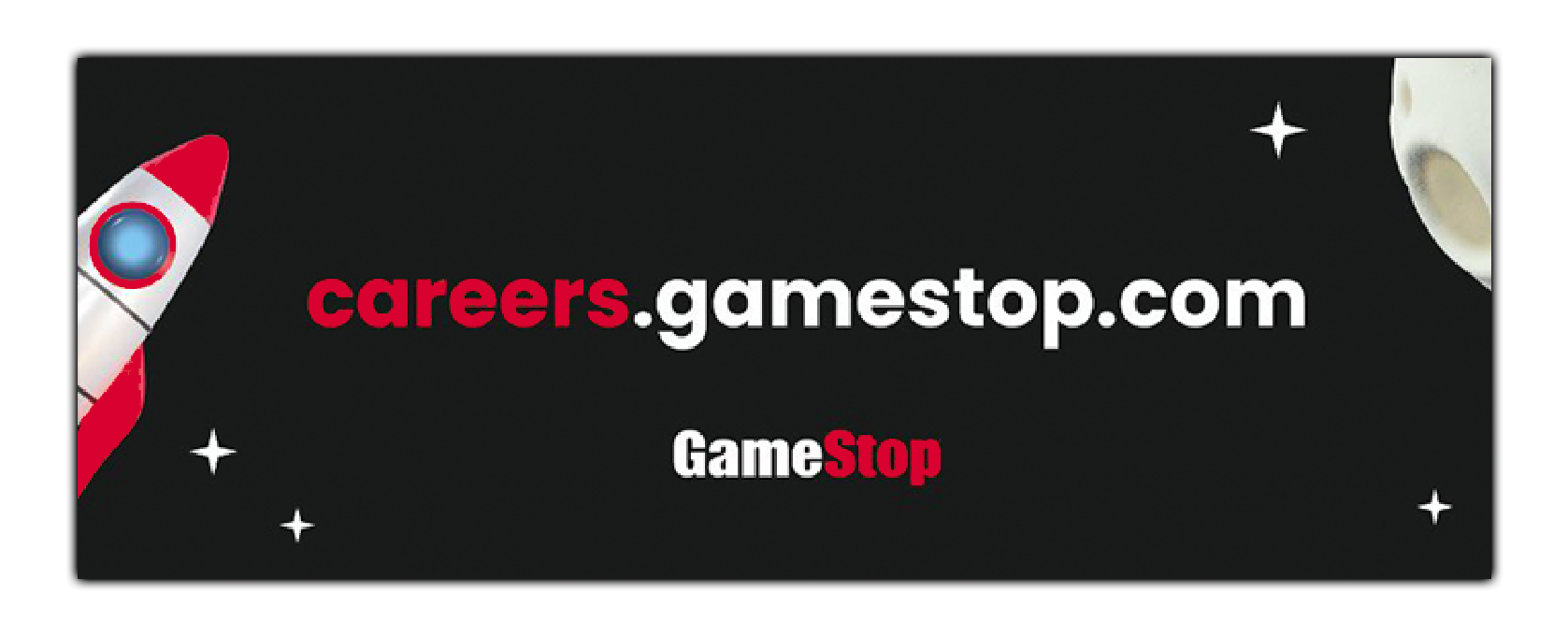 GameStop may finally be embracing their new meme status. How do you do, fellow kids?
The SVP has been interactive with fans on Twitter, sharing selfies at corporate events and around the office.
When Ryan Cohen, GameStop's Chairman, was asked how he finds his management teams during a 2018 Miami Herald interview, he gave his endorsement for LinkedIn.
We use a special proprietary tool called LinkedIn and we look for people with very relevant experience at companies we respect and we shoot them a message. … We hand-picked these people. They are the best of the best, the Navy Seals of management teams.
Posts searching for talent are rampant on LinkedIn, with a clear emphasis on hiring gamers who have passion.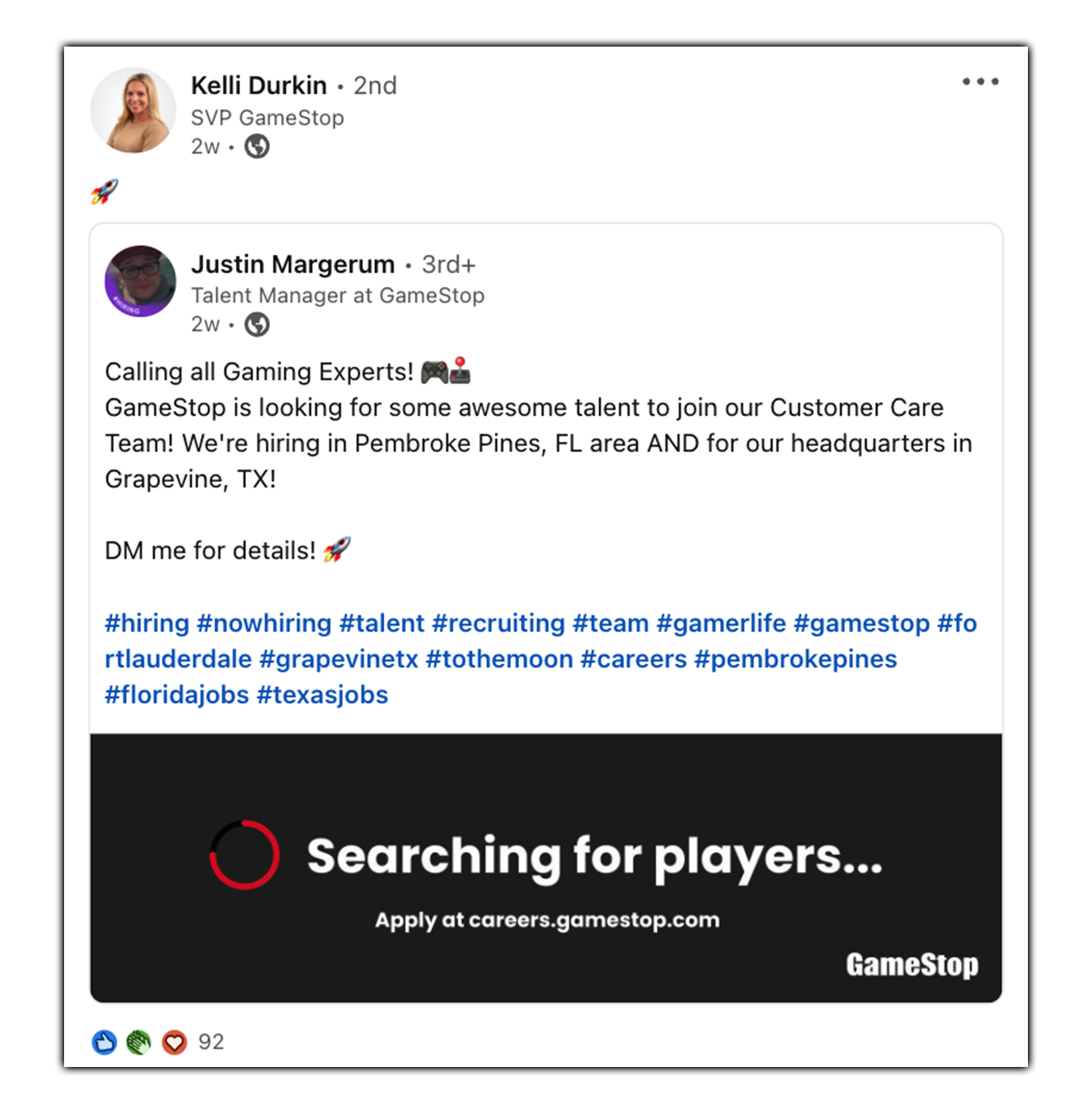 Justin Margerum is just one of the latest recruiters for the new GameStop.
Why Florida?
Back in May, GMEdd.com speculated in a piece titled GameStop Hints at New Florida Office that the fast-paced e-commerce initiatives warranted the company soon opening a Florida-based call center.
Job postings on GameStop's website, along with activity on LinkedIn and Twitter from employees, seem to be hinting towards a South Florida-based customer support center for GameStop. [GMEdd.com, May 18th 2021]
GameStop claims that the facility will be an integral part of the Company's U.S.-based customer care operations.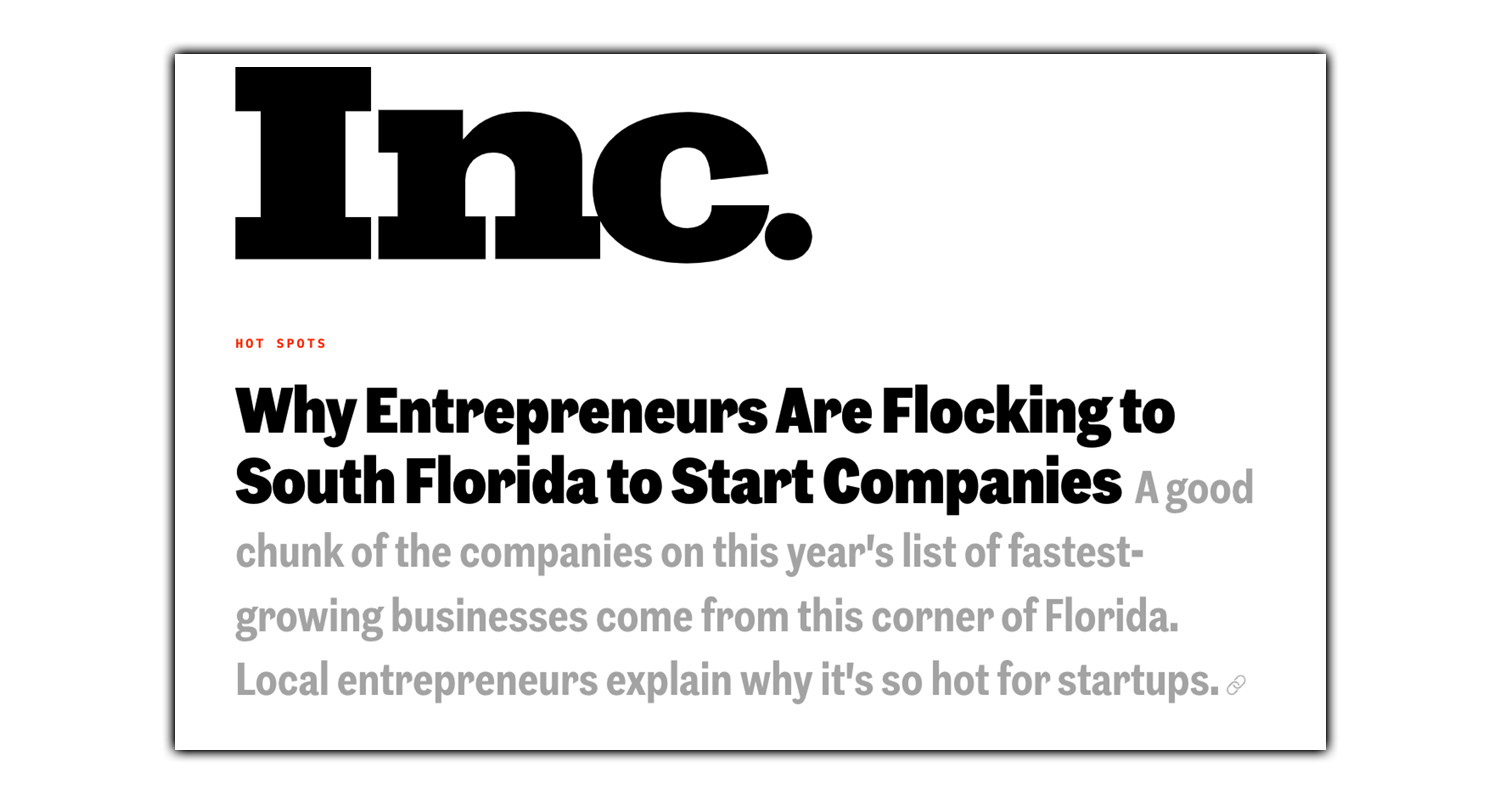 South Florida is hot for startups
Entrepreneurs are flocking to South Florida to start companies, Kerry Close of Inc.com claims.
The region is emerging as a hotbed for startups, local entrepreneurs say, with 139 companies on the Inc. 5000 list based in the Miami-Fort Lauderdale-Pompano Beach metro area. No one particular industry is flourishing in the region–everything from health technology to media to food boast fast-growing companies.
There are also economic benefits to relocating to South Florida, such as the lack of income tax in the state, and cheaper living costs than can be found many other startup hubs around the country.
While GameStop Corp. isn't a startup, the transformation story isn't far from one.
Past Success
It's worth noting that Chewy started in South Florida and still operates the business from the Fort Lauderdale area. Chewy employs over 17,000 people nationwide, with 3,000 in South Florida, making it one of the largest locally based employers in the region.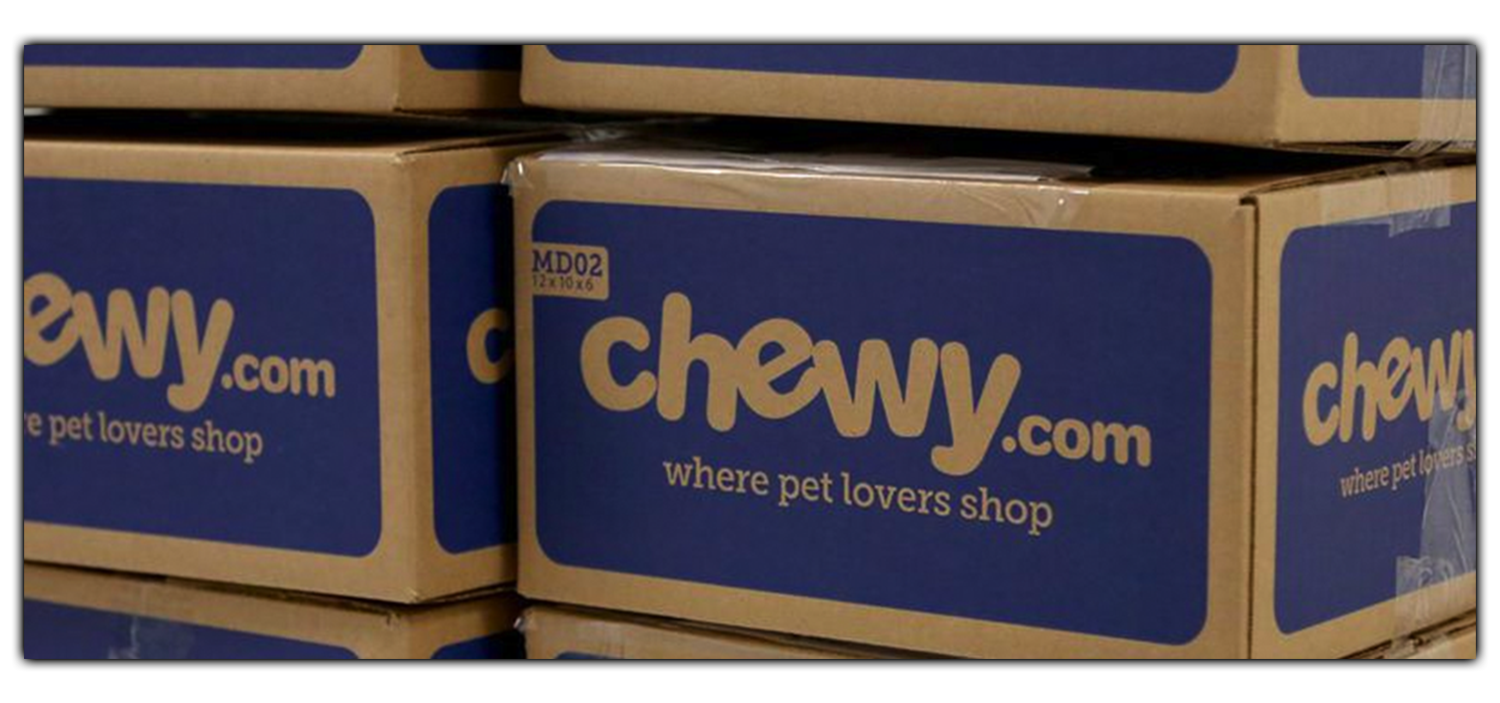 Ryan Cohen co-founded Chewy in 2011. In 2017, Chewy was acquired by PetSmart for $3.35 billion, which was the largest ever acquisition of an e-commerce business at the time.
With an office nearby, GameStop could easily tap into Chewy's talent pool. GameStop has been recruiting hordes of former Chewy employees, and it is possible that the lack of forced relocation has been a major incentive.
Sources: GameStop News Room, Inc.com, Inc.com, Reddit, Kelli Durkin on Twitter, Margerum on LinkedIn