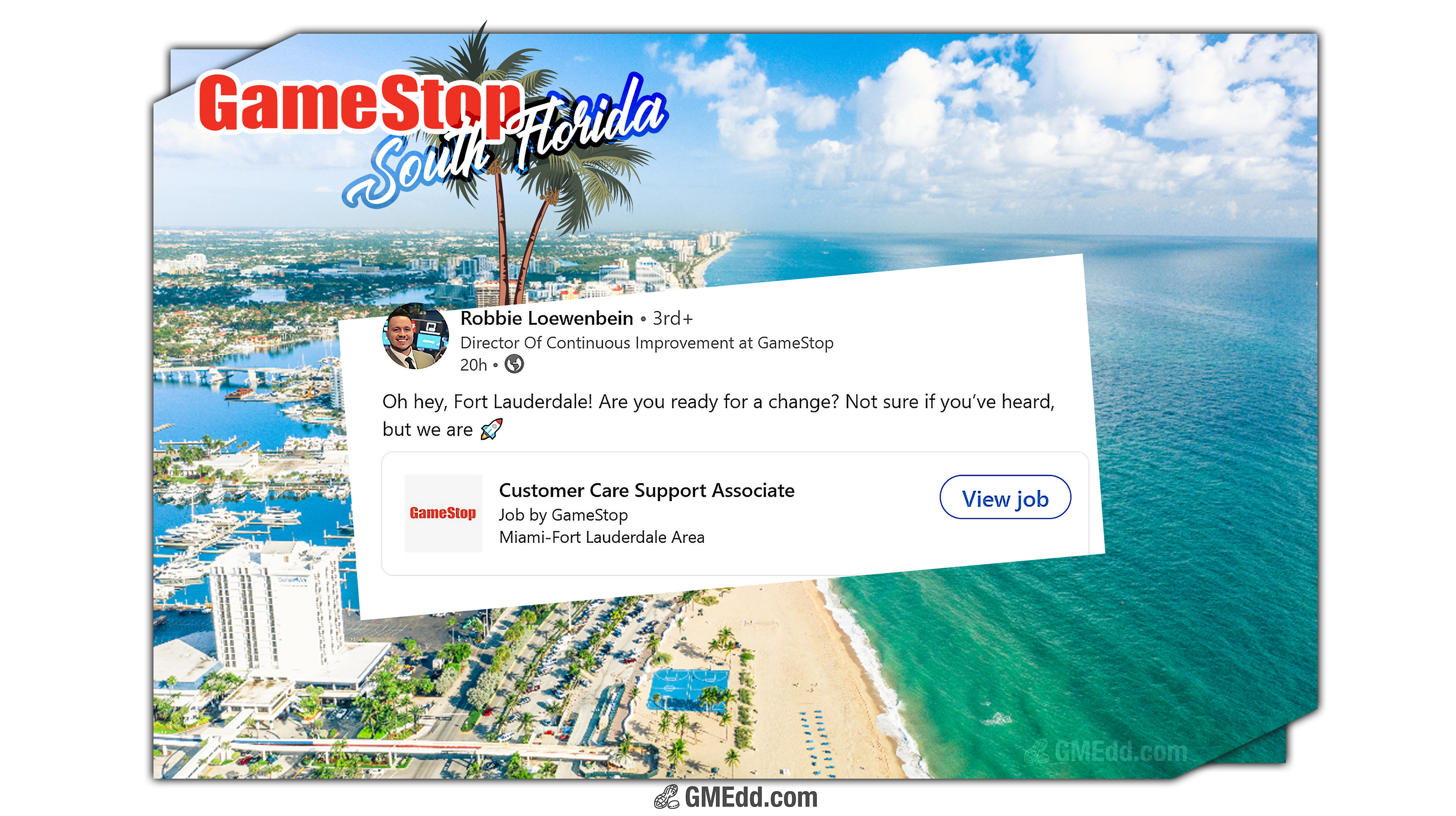 While investors speculate whether or not GameStop is going to the moon, GameStop packs its bags for a trip to Florida.
Job postings on GameStop's website, along with activity on LinkedIn and Twitter from employees, seem to be hinting towards a South Florida-based customer support center for GameStop.
Career Listings
On April 28th, Kelli Durkin, SVP of Customer Service, shared a job posting on Twitter for a Customer Care role based in Grapevine, TX, where GameStop headquarters is located. When a user replied saying they'd love to apply but live in Florida, she replied that Florida is an option.
Just six days later on May 4th, GameStop posted a job listing for a Customer Care Support role based in Fort Lauderdale, Florida.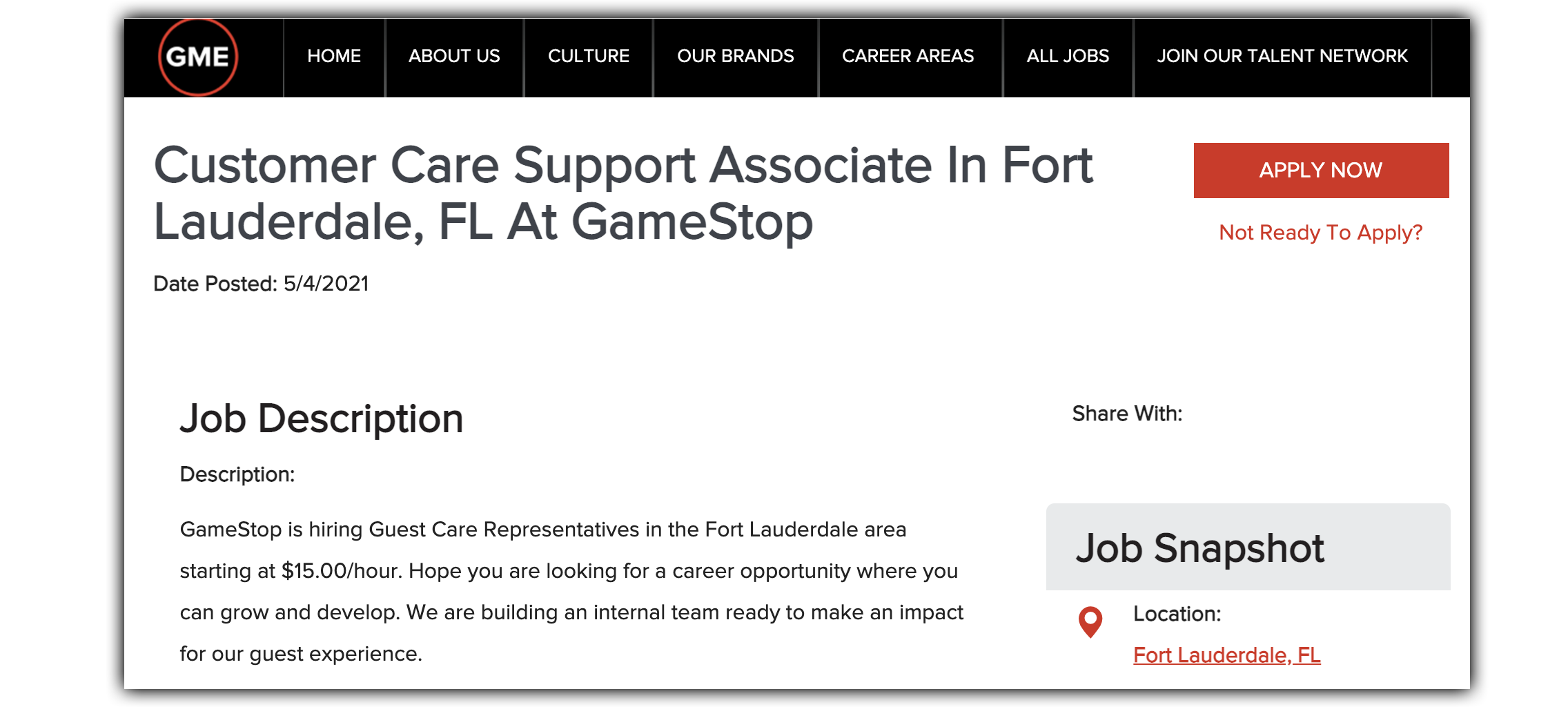 We are looking for individuals to manage multiple contact channels simultaneously, phone calls, email, chat and possibly social media. You may also help our store and field leaders via phone. The right candidate will have an infectious personality, a desire to engage in meaningful conversation, the ability to think critically on-their-feet, and a passion for genuinely helping others. Having love for gaming is an added bonus!
On May 8th, Ryan Cohen retweeted the post from Durkin, his first retweet since joining the board of GameStop.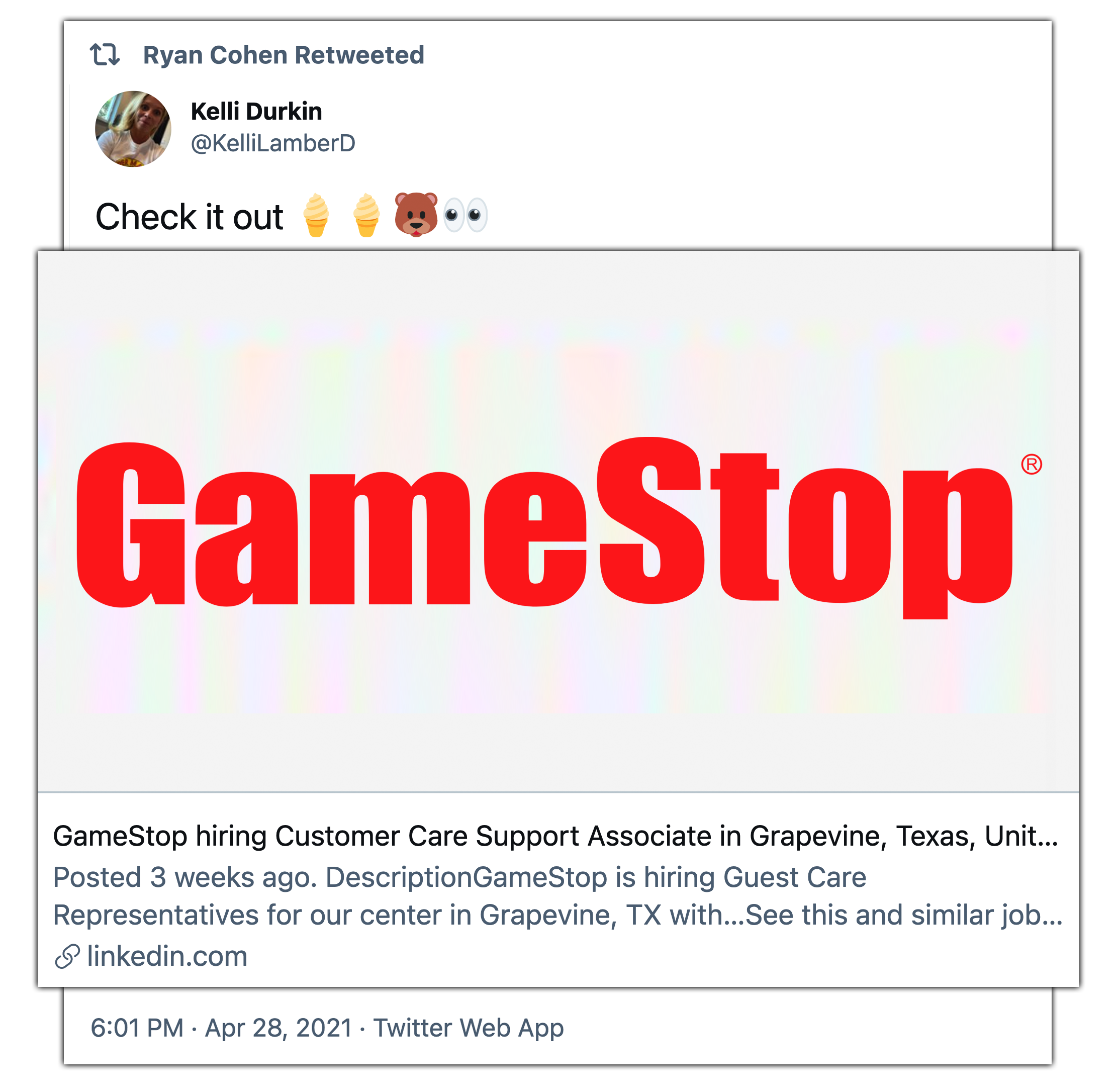 On May 17th, job listings for Training Specialist I & II in Grapevine appeared, noting the positions may be remote but must be in the South Florida area if so.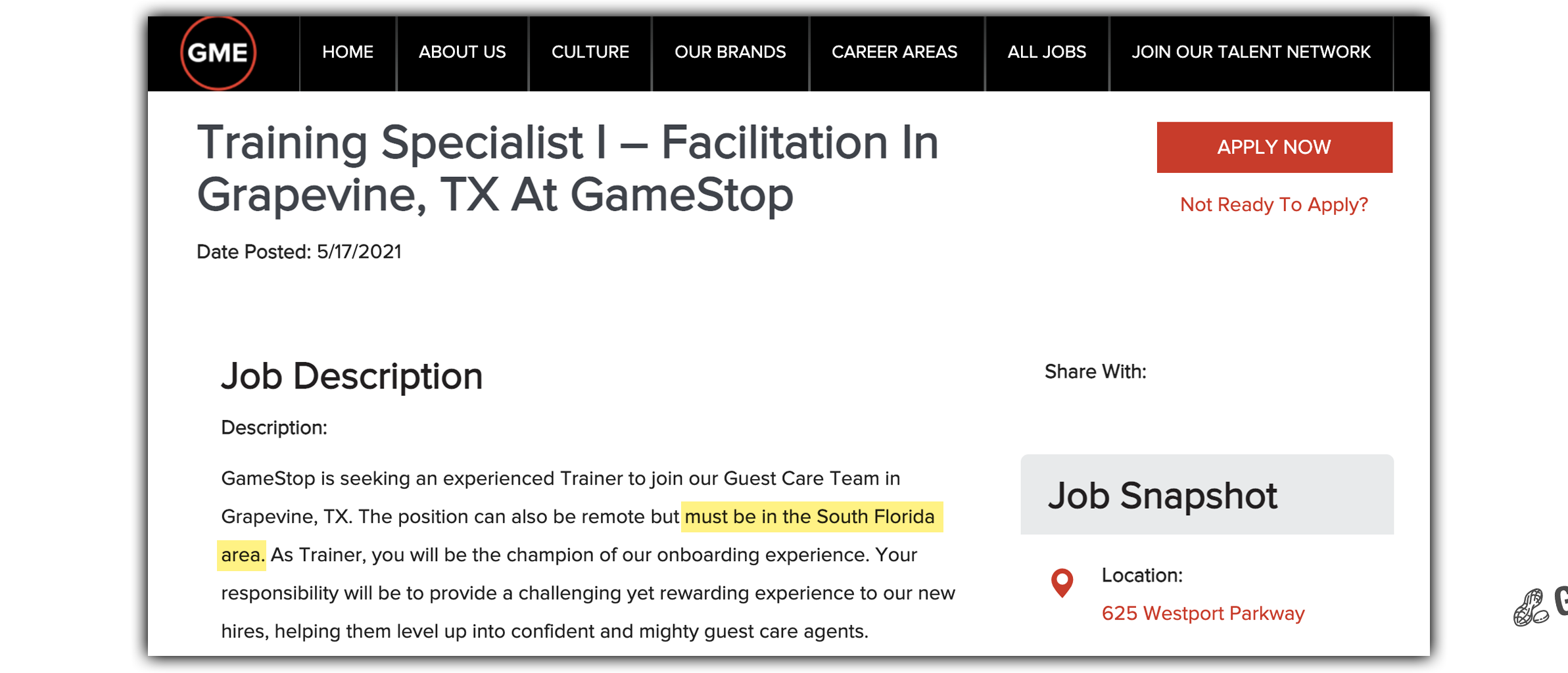 Sometime later in the day, the same two positions were added again to the careers page, but with a Tallahassee address.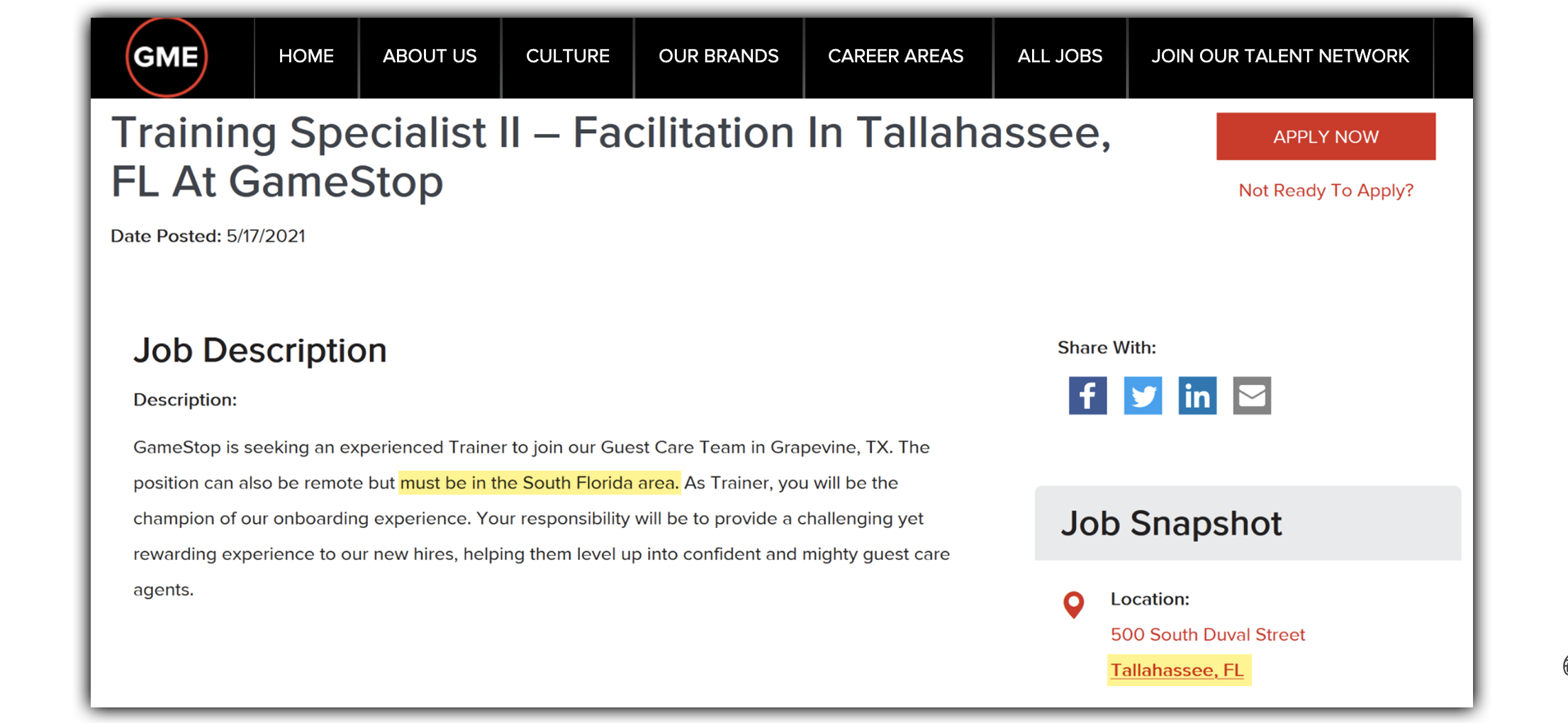 LinkedIn Activity
When Ryan Cohen was asked how he finds his management teams during a 2018 Miami Herald interview, he gave his endorsement for LinkedIn.
We use a special proprietary tool called LinkedIn and we look for people with very relevant experience at companies we respect and we shoot them a message. … We hand-picked these people. They are the best of the best, the Navy Seals of management teams.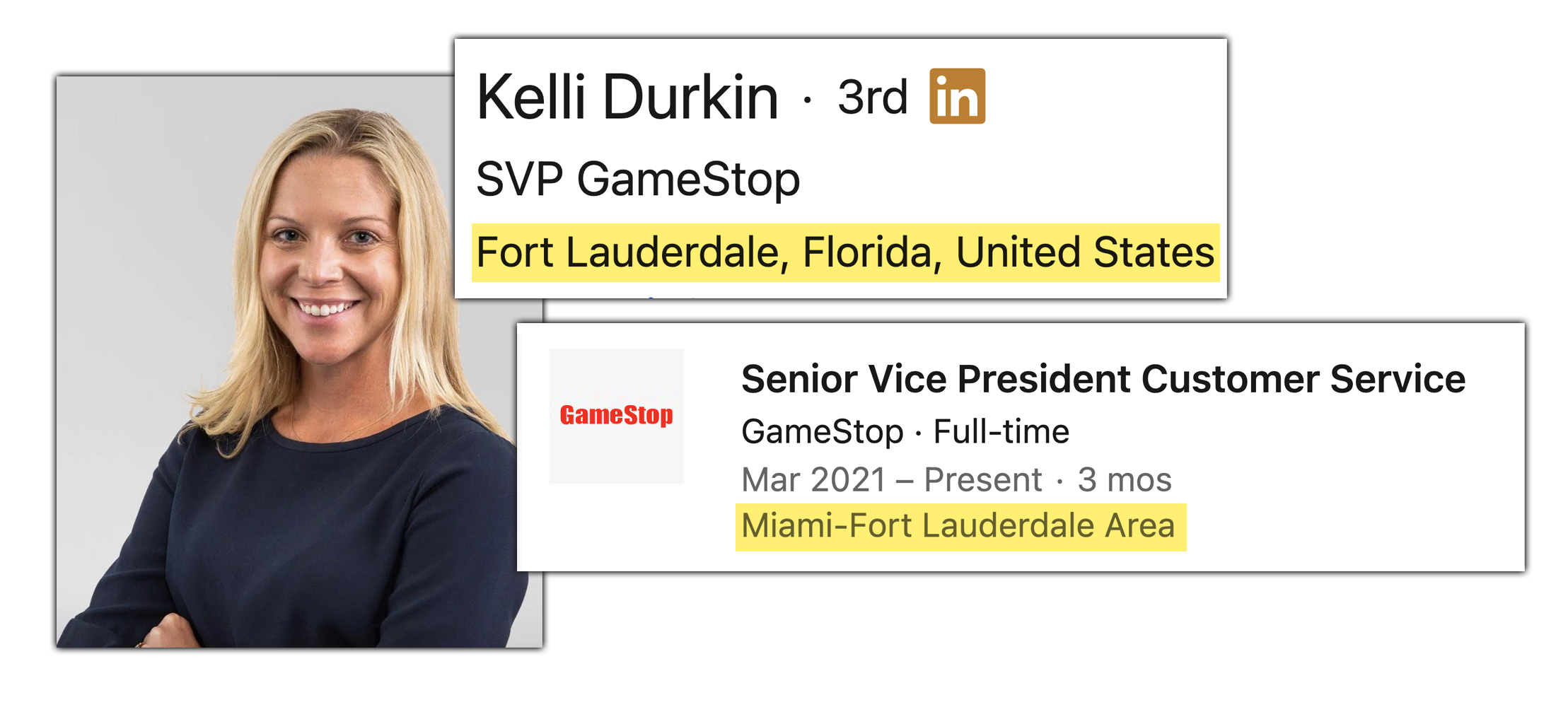 Kelli Durkin, SVP of Customer Service for GameStop and the woman responsible for building Chewy's brand reputation into what it is today, still has Miami-Fort Lauderdale Area listed as her LinkedIn location despite working for Texas-based GameStop since March and being active on the platform.

Robbie Lowenbein, Director of Continuous Improvement at GameStop and former Chewy employee, has Tampa FL as his LinkedIn location for GameStop, and recently posted a customer support role for the Miami-Fort Lauderdale area.

Wes Burke, GameStop's Vice President of Human Resources, has also shared a bullish post on LinkedIn describing the customer care team as located in Dallas/Fort Worth as well as Fort Lauderdale, FL.
Want to join the biggest transformation in retail history!?! ????????????
Chewy
It's worth noting that Chewy started in South Florida and still operates the business from the Fort Lauderdale area. Chewy employs over 17,000 people nationwide, with 3,000 in South Florida, making it one of the largest locally based employers in the region.
With an office nearby, GameStop could easily tap into Chewy's talent pool. GameStop has been recruiting hordes of former Chewy employees, and it is possible that the lack of forced relocation has been a major incentive.
GameStop has not made any announcements regarding a Florida-based customer center, despite job postings and LinkedIn activity pointing to it.
Jenna guest wrote this article exclusively for GMEdd, Toast contributed
Sources: Kelli Durkin on Twitter, GameStop on LinkedIn, Wes Burke on LinkedIn, Robbie Loewenbein on LinkedIn, MiamiHerald