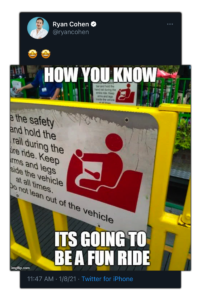 Founder of Chewy and GameStop saviour Ryan Cohen has dropped another cryptic tweet on us.
What could a "fun ride," entail? We can't help but think that it's intentional that the man appears to be fucking someone. Could that someone be the shorts?
All that I know is that if I was Gabe Plotkin of Melvin Capital right now I would be terrified. Good thing we know they don't do their due diligence.