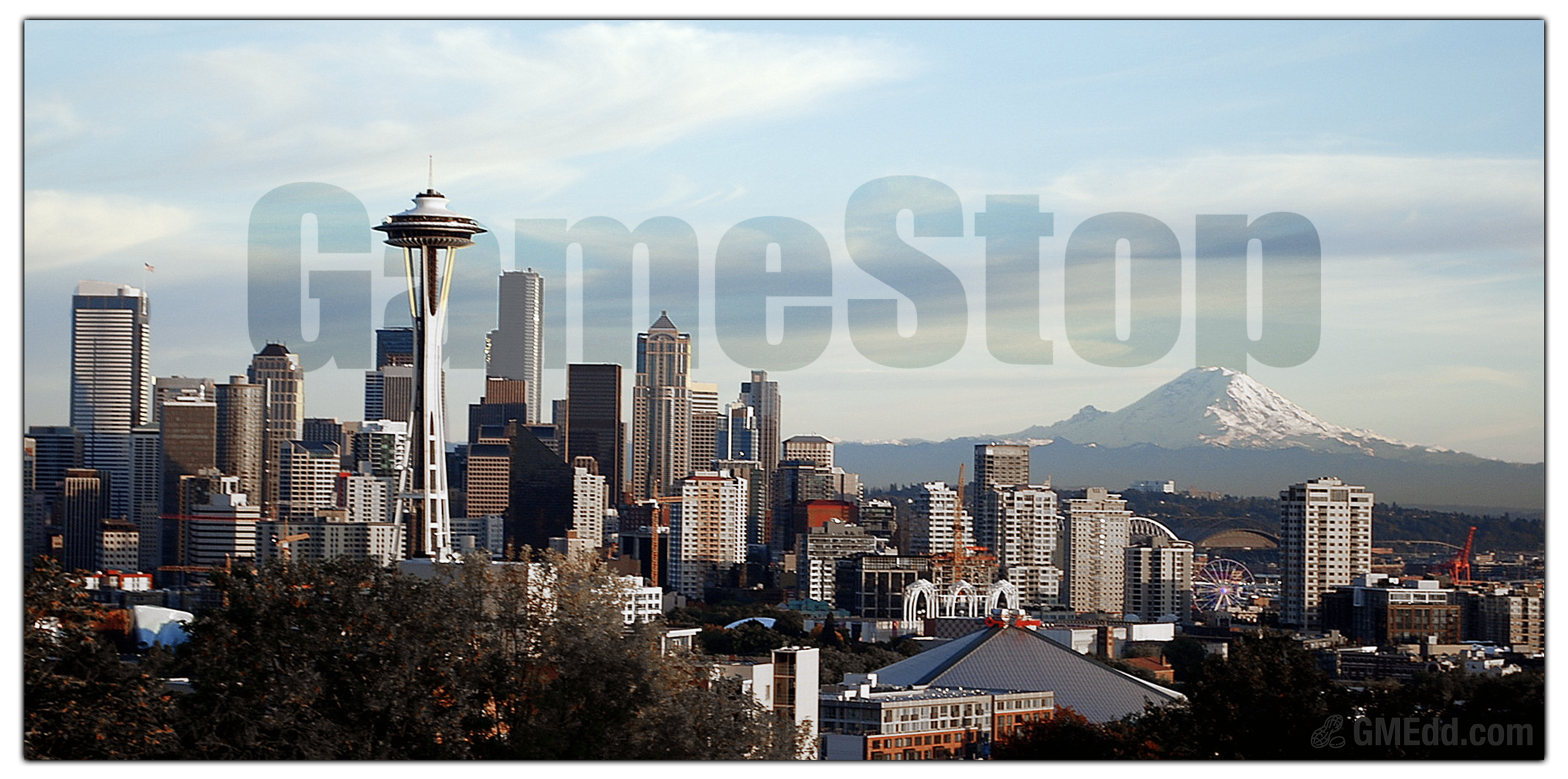 GameStop's digital-first transformation pinpoints the company to the tech hub of Seattle, Washington for fresh talent in the physical world.
Back in May, GMEdd revealed that GameStop was hinting towards a new corporate location in Florida. While nothing has been officially announced regarding Florida, the appearance of Florida-based hires on LinkedIn as well as Florida-based positions on GameStop's careers page have only increased.
All your base are belong to us.
During Ryan Cohen's brief speech at The Annual Shareholders Meeting, the GameStop Chairman made it clear that the company may not ever announce these strategic decisions.
We know some people want us to lay out a whole detailed plan today, but that's not gonna happen. You won't find us talking a big game, making a bunch of lofty promises, or telegraphing our strategy to the competition. That's the philosophy we adopted at Chewy.
Without official word from the gaming retailer, investors are left to analyze breadcrumbs to learn what comes next for the public company.
For the last few weeks the breadcrumbs have pointed to GameStop branching out to the rapidly-growing tech hub of Seattle, Washington.
Career listings
Over on the GMEdd Discord Server, a bot has been developed to track all of GameStop's public job postings. Readers can join the server via GMEdd.com/Discord to keep tabs themselves.
A search for career postings in Seattle on GameStop's website shows a variety of corporate level openings, with categories ranging from Data Science to Merchandising, posted just within the past week: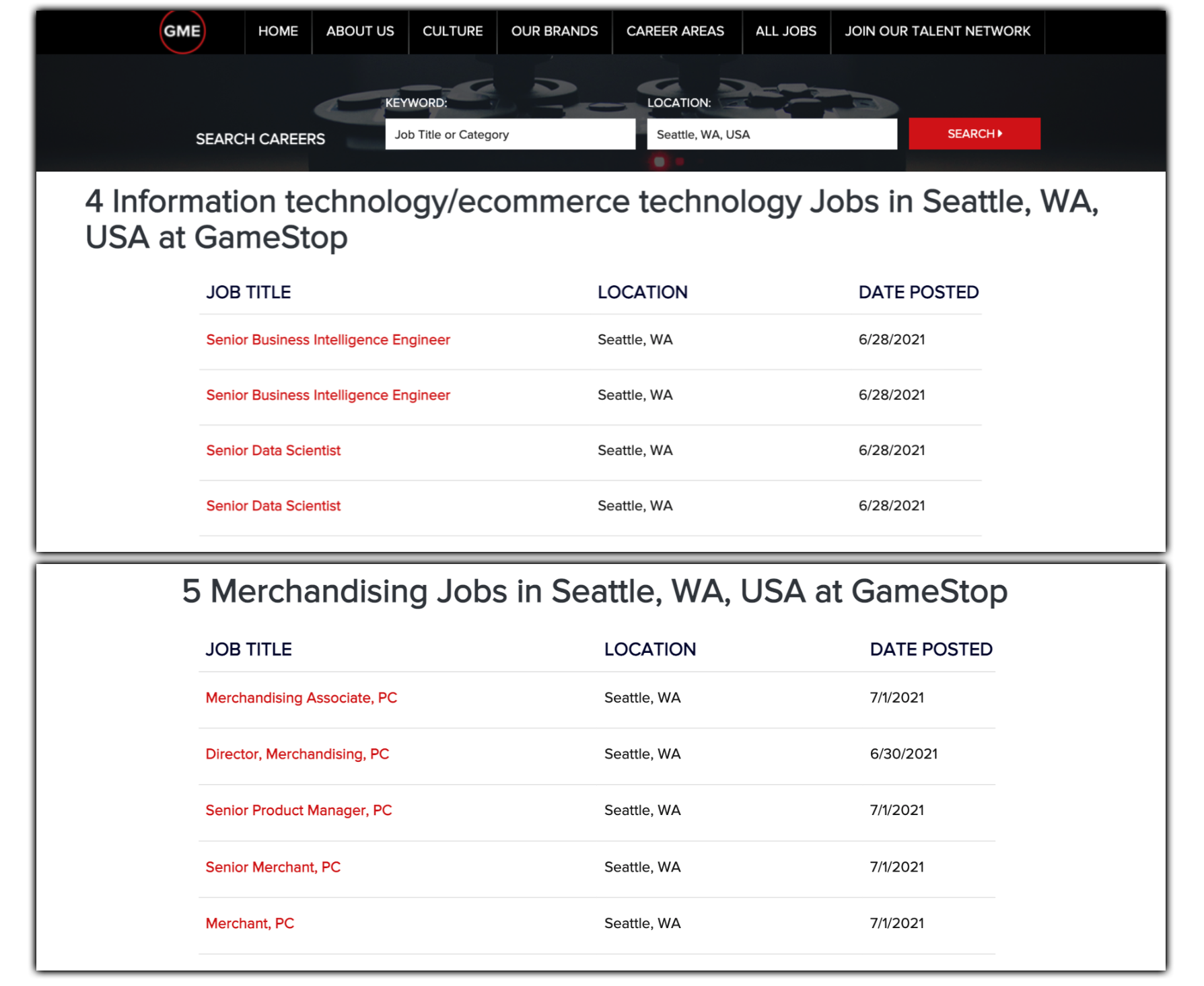 It is important to note that while the GameStop Careers platform only goes back to mid-June, GMEdd began taking note of Seattle jobs making their starting appearances in May. Several Merchandising and Data Science jobs have already been filled in the rainy city, making their mark on GMEdd's GameStop Tech and E-commerce Hires Spreadsheet.
GameStop's decision to expand corporate to Florida could be easily explained through Ryan Cohen's deep roots in the palm tree state, along with many former Chewy execs remaining in the area — but what reason would the gaming retailer have to expand to Seattle?
Home to Tech & E-Commerce Giants
According to Statista, nearly 11% of Seattle's workforce is employed in tech. Jacqueline McGraw of sf.citi believes that Seattle's tech scene looks a lot like San Francisco's did nearly a decade ago.
Even with remote work on the rise, the number of tech jobs in Seattle is growing and tech companies are expanding their footprint in the Pacific Northwest. Seattle appears to be following a similar tech policy trajectory to that of tech giant San Francisco.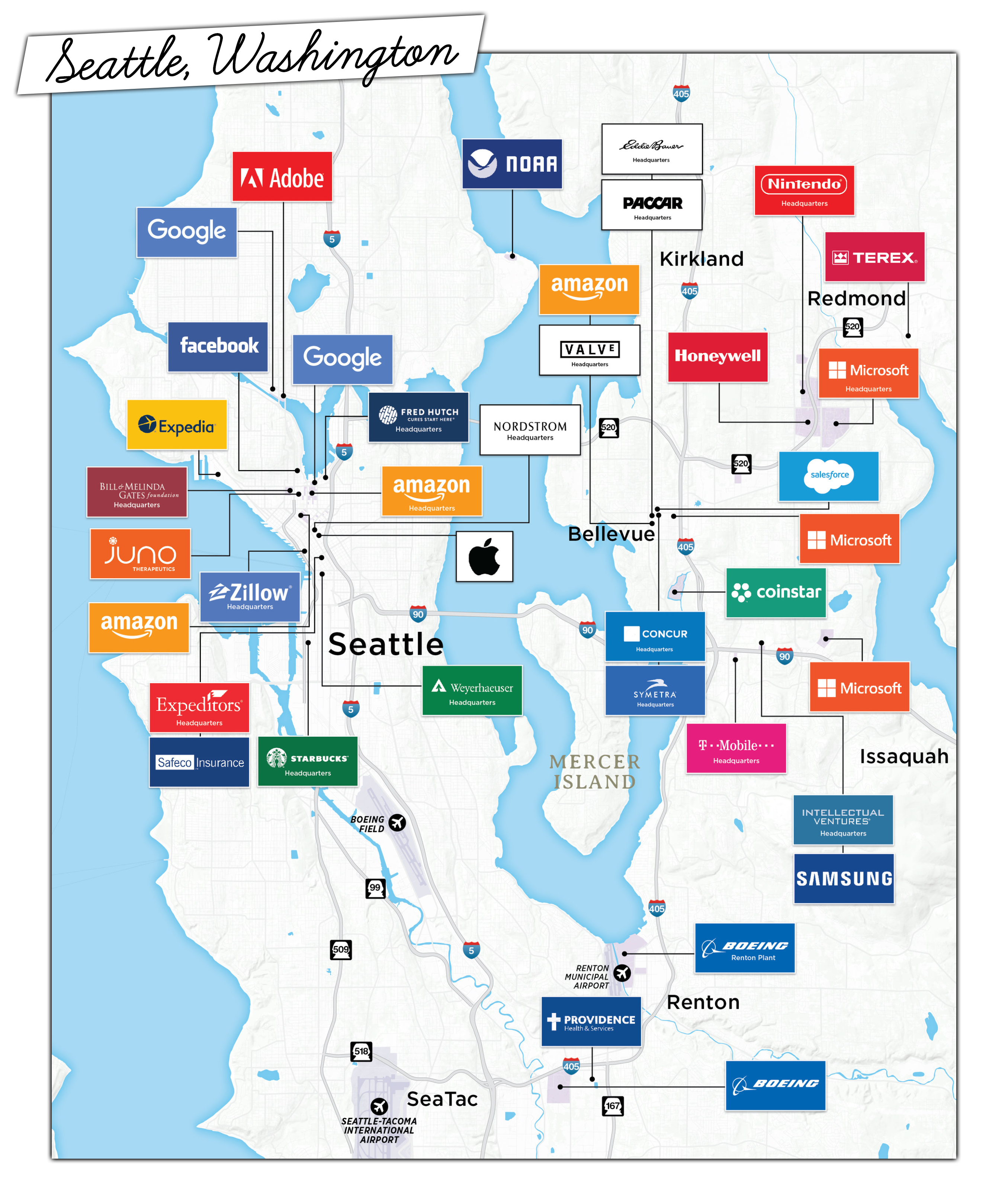 Behind Chewy, Amazon and Zulily are two of GameStop's favorites to poach from; 31 of the recent public hires come from Chewy, 22 from Amazon, and 19 from Zulily.
Both Amazon and Zulily have established headquarters in Seattle. LinkedIn and Crunchbase reveal that 17 of the hires have indicated Seattle as their primary location.
With Cohen heavily influenced by Amazon's customer-obsessed mantra and Amazon remaining one of the biggest threats to e-commerce retailers, it's also no surprise that GameStop is poaching more senior executives, including new CEO Matt Furlong and incoming CFO Mike Recupero, from the e-commerce giant.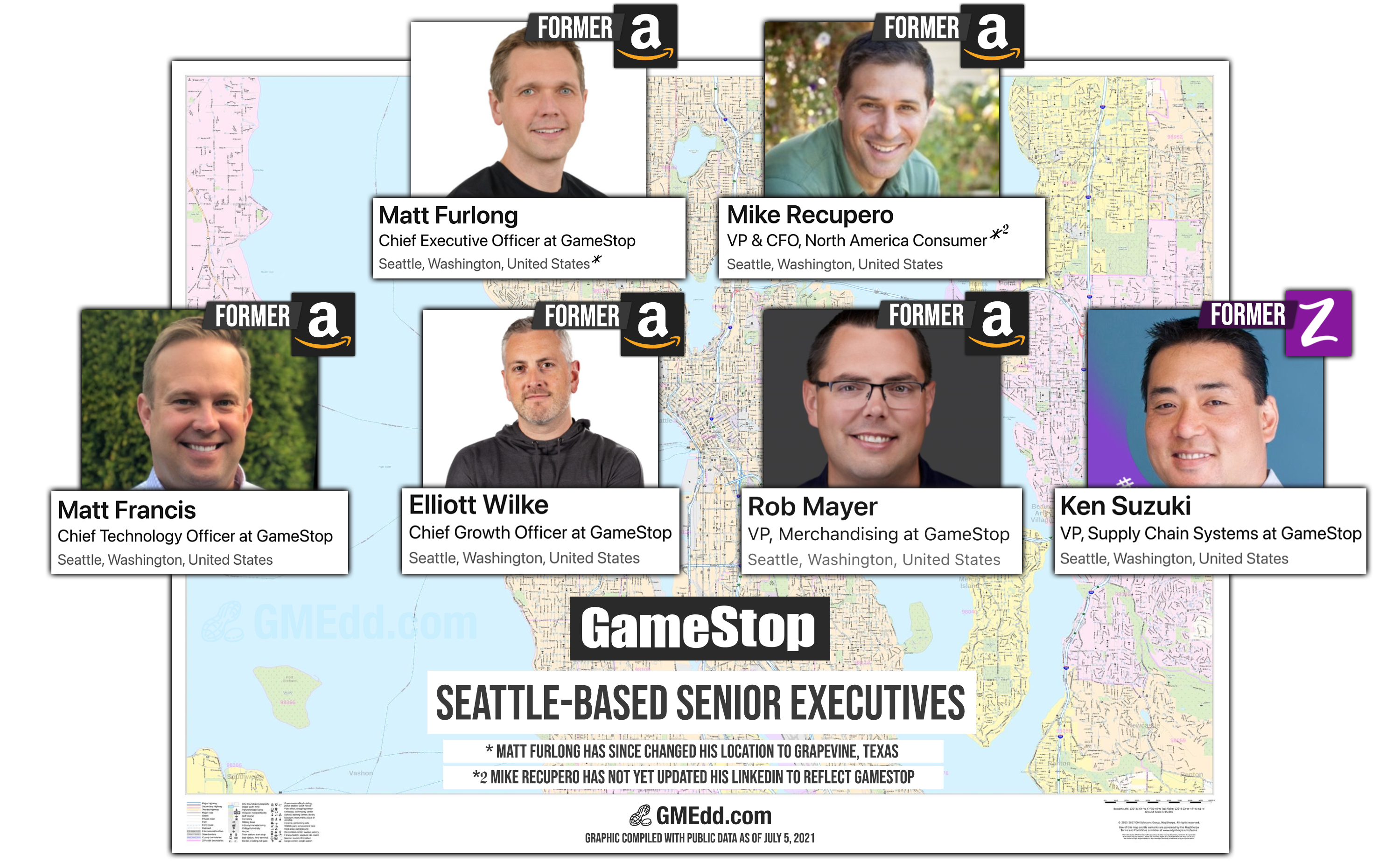 GameStop's known Seattle-based senior executives include: Matt Furlong, Chief Executive Officer, [Former Amazon] · Mike Recupero, Chief Financial Officer, [Former Amazon] · Matt Francis, Chief Technology Officer, [Former Amazon] · Elliot Wilke, Chief Growth Officer, [Former Amazon] · Rob Mayer, SVP of Merchandising, [Former Amazon] · Ken Suzuki, VP, Supply Chain Systems, [Former Zulily]
At first glance, it may seem odd that GameStop is poaching from Zulily; an e-commerce company that sells clothing, footwear, toys, and home products isn't a competitor to GameStop.
However, it shouldn't come as much of a surprise to those who have studied the prologue to this entire saga.
When I left you, I was but the learner
A look into the past tells us that the Co-Founder and Former Chairman of Zulily, Mark Vadon, was previously hand-picked by Ryan Cohen to serve as Chewy's first Chairman of the Board.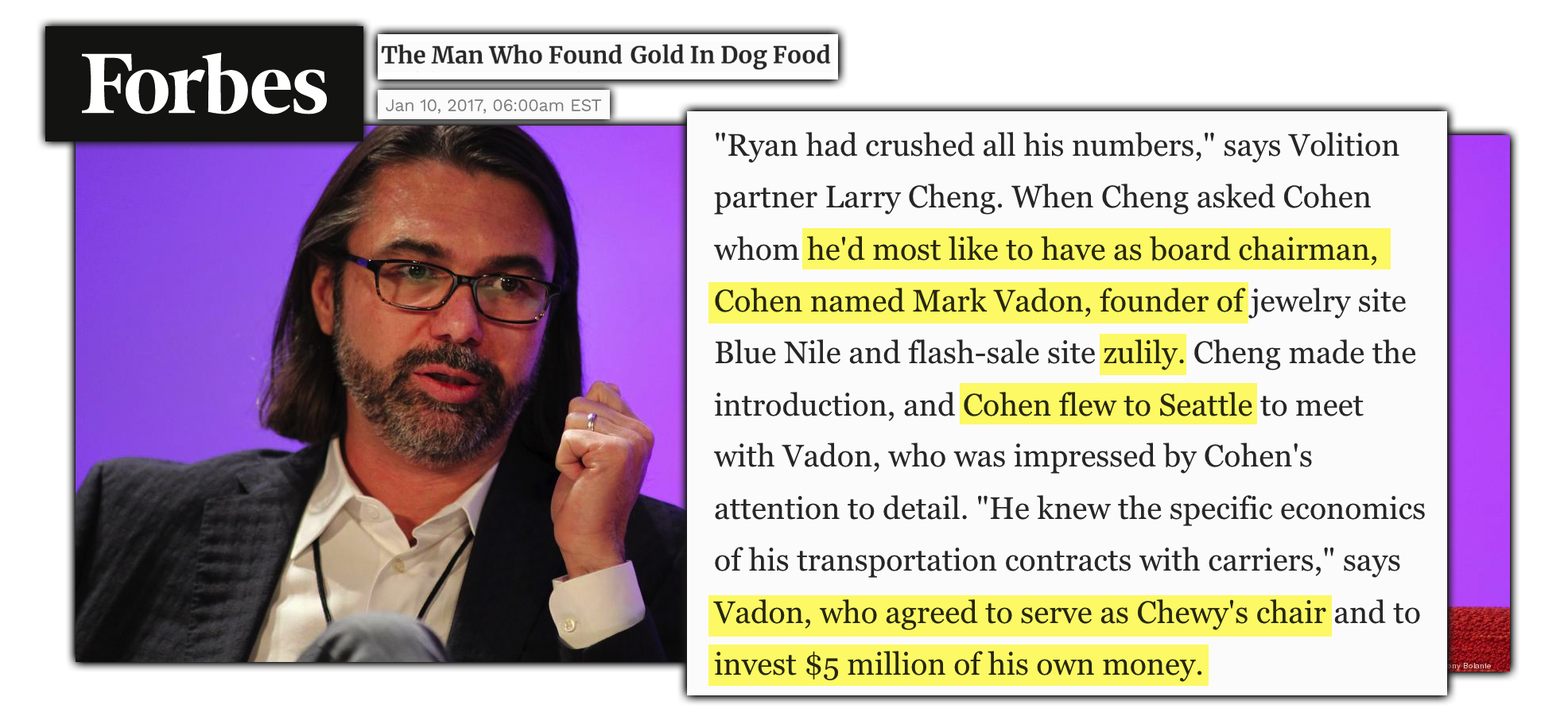 The Man Who Found Gold In Dog Food, published by Forbes in early 2017, details the story of Chewy's past told through Ryan Cohen's experience building the e-commerce giant.
Cohen flew to Seattle to meet with Vadon, who was impressed by Cohen's attention to detail. Not only did he agree to become Chair, but also to invest $5 million into Chewy after meeting Ryan.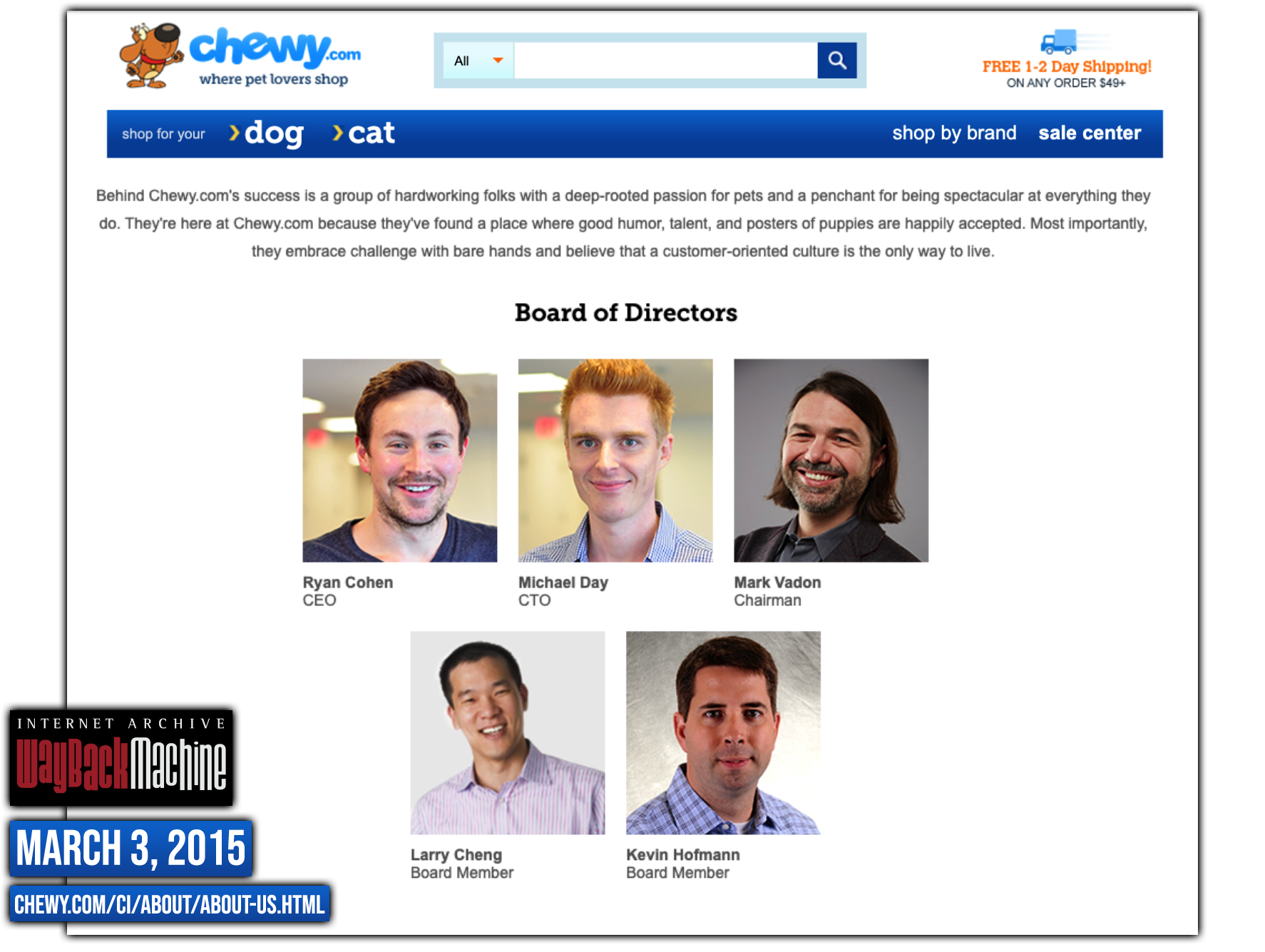 Chewy's About Us page on March 3, 2015 featured Ryan Cohen as CEO and Mark Vadon as Chairman
Mark Vadon and Ryan Cohen share a similar lay-low strategy when it comes to running their online-based businesses, as revealed in a rare October 2014 GeekWire summit interview with Vadon.
It turns out that Vadon — who has built one of the most powerful e-commerce companies in Seattle since Amazon.com — consciously avoided press in the early days so as not to tip off competitors to the success they were seeing in the business.
The Zulily Chairman joins GeekWire to talk about building big technology companies, the future of e-commerce and more. Vadon had just begun his role as Chewy's Chair at the time of this interview.

Vadon draws an analogy to oil drilling to explain this philosophy.
When you are drilling and you hit an oil patch, the last thing you want is people coming and drilling right next to you… It is important to put press off as long as you can.
In a separate TechCrunch article from 2017 post the sale of Chewy to PetSmart, Vadon is quoted as giving advice on staying low profile directly to Ryan Cohen and the Chewy team "to better avoid competition".
Big Sky Ahead
Vadon's latest venture is Big Sky Growth Partners – a blank check company or special purpose acquisition company (SPAC) incorporated on February 11, 2021, immediately following the GameStop frenzy in late January.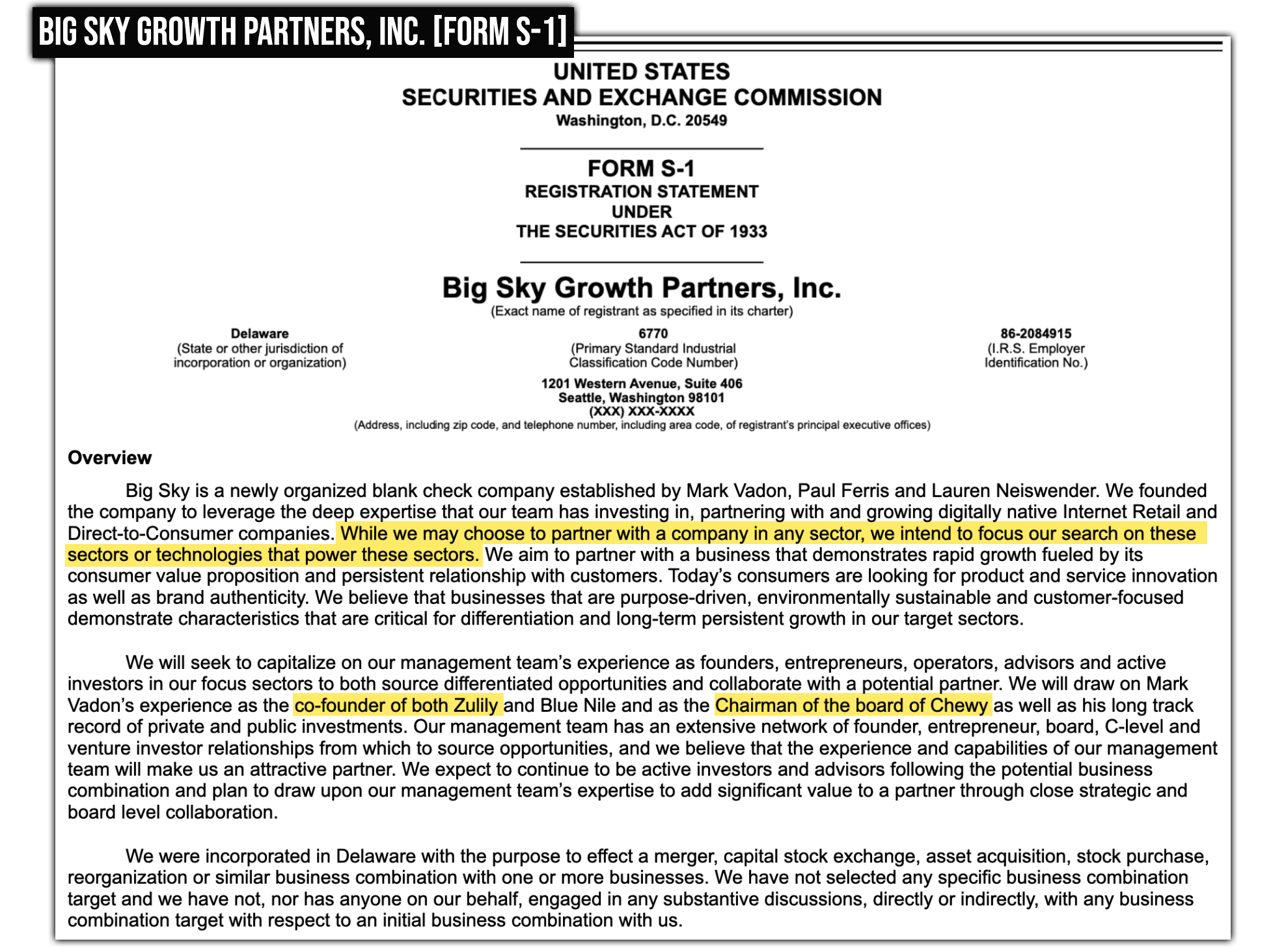 Not much is known about Big Sky's intentions, however SEC filings suggest they intend to leverage the deep expertise their team has in growing digitally native Internet Retail and Direct-to-Consumer companies. Big Sky intends to focus their search on these sectors or technologies that power these sectors.
LinkedIn activity suggests that Vadon was following the GameStop frenzy in late January, liking content relating to Reddit-fueled short squeeze events. Could it be that, like fellow former Chewy board member Larry Cheng, Vadon is continuing to mentor and support Ryan Cohen?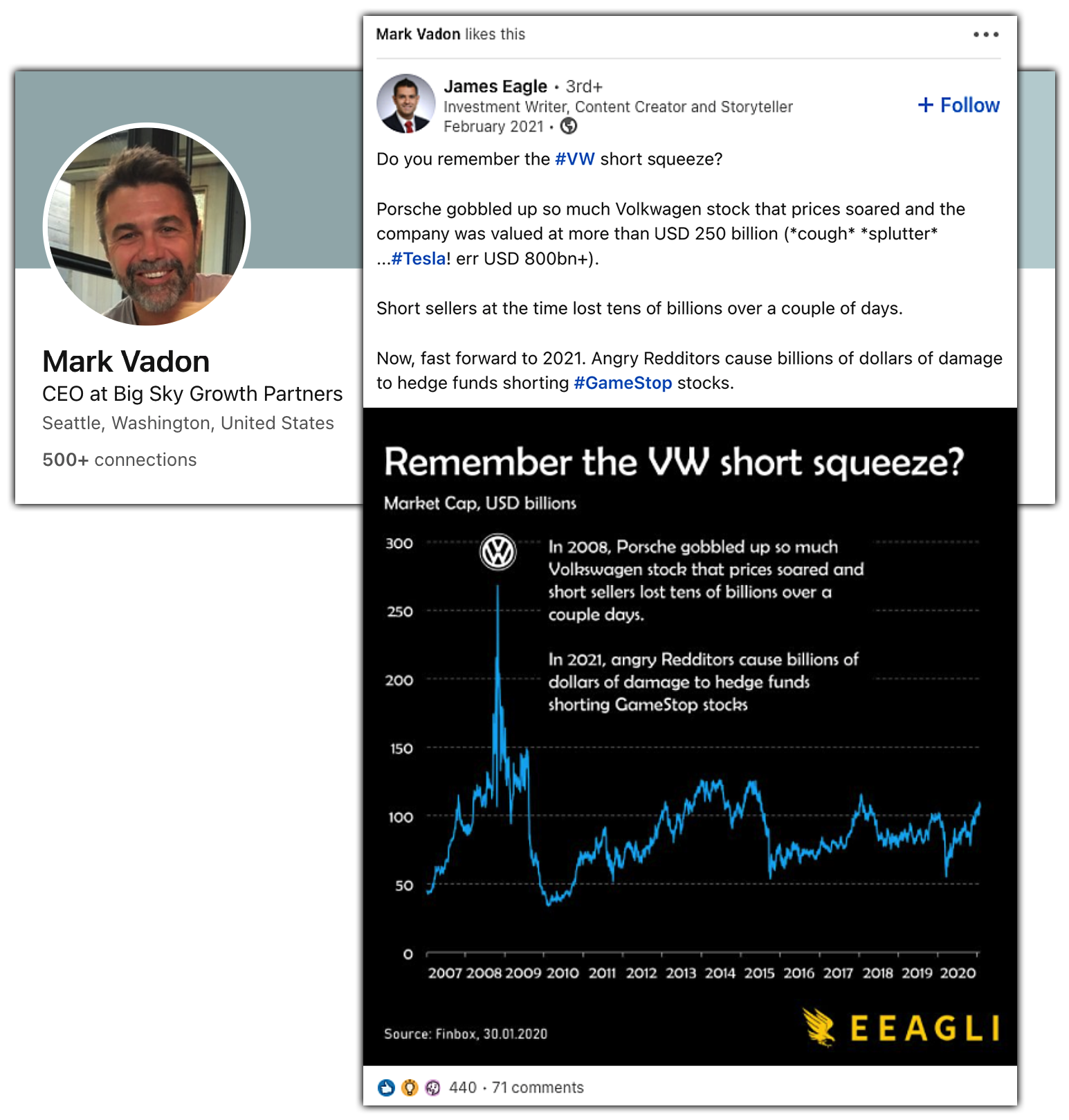 After all, GameStop's first significant tech hire under Cohen's direction was Matt Francis to the role of Chief Technology Officer. Francis, a Zulily veteran, was formerly Chief Technology Officer at Seattle-based Flyhomes, a company Vadon is both a board member of and investor in.
It is possible that Francis was recommended to Cohen by Vadon given their extensive history together.
Seattle silence
There isn't much Seattle chatter on LinkedIn yet, but we think that may change soon. Rob Mayer, SVP of Merchandising and Amazon vet, shared a post on July 2nd on LinkedIn highlighting new roles in Seattle and that there would be more to come.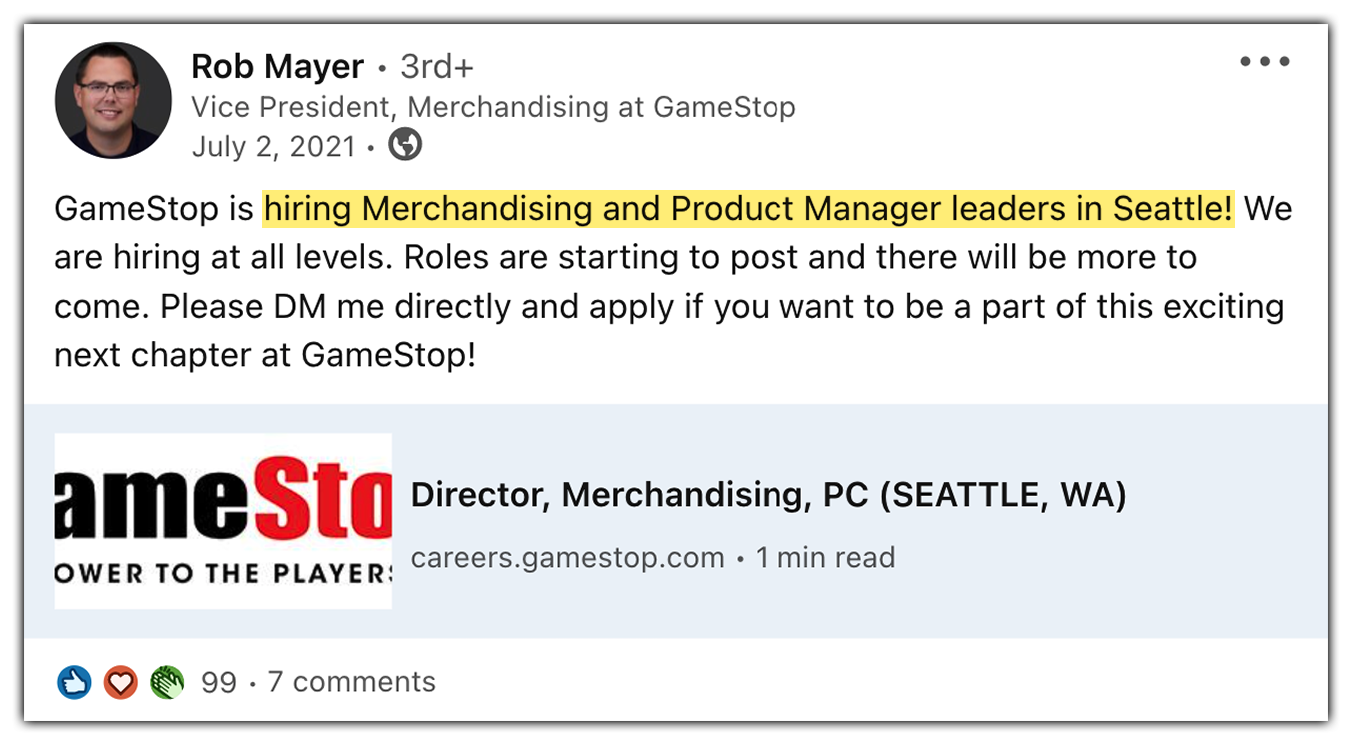 Jordan Holberg, the eccentric Principal Engineer at GameStop GMEdd uncovered only days ago, shared a tweet on May 11, 2021 where he polled his followers on whether to move to Washington or Florida.
Could these be two relocation options he was given as part of his employment contract at GameStop?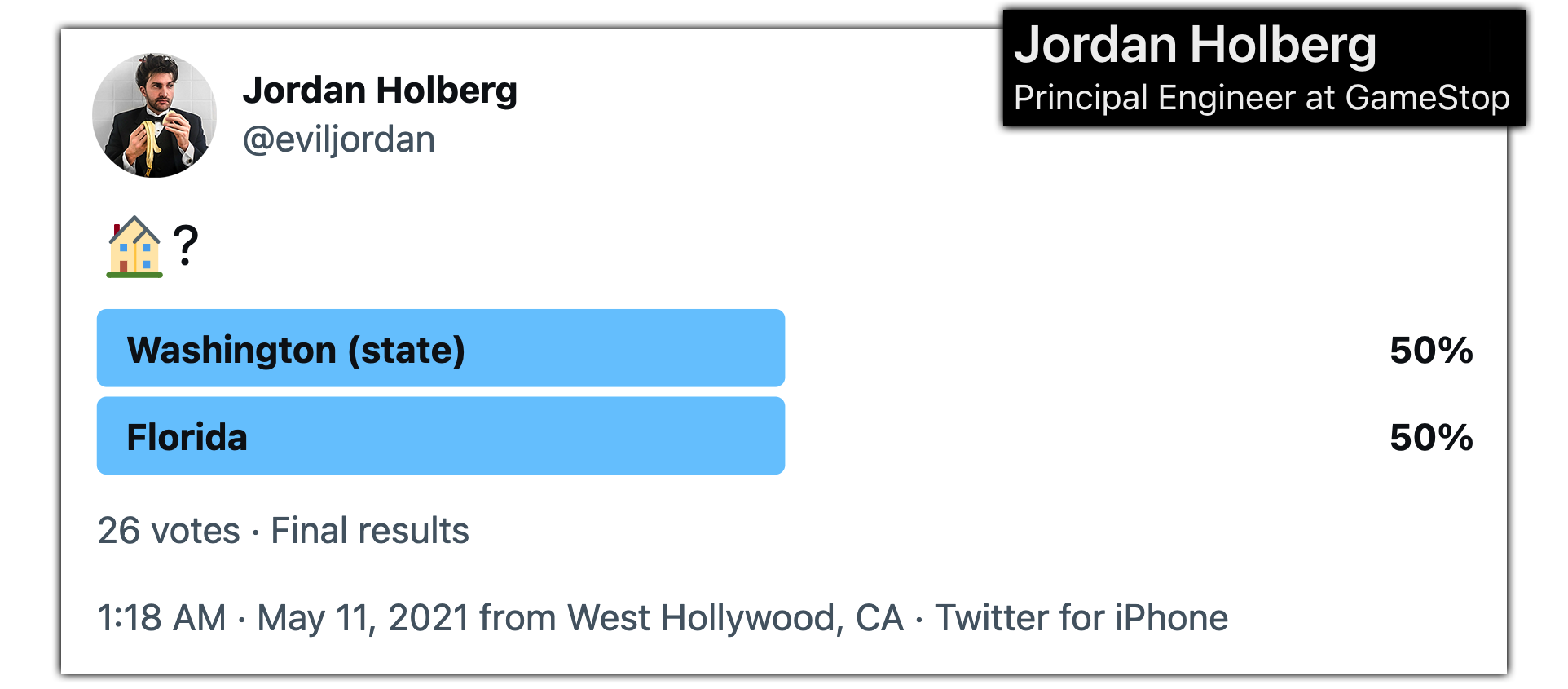 Why does it matter?
Of course, Amazon and Zulily are not the only major companies based in Seattle. It's also home to countless other major players in the tech and gaming space including Microsoft and Valve, the company behind PC gaming giant Steam.
We already know GameStop has formed strategic partnerships with Microsoft, and the gaming retailer plans on expanding more into PC hardware. Nintendo has offices in Seattle as well.
GameStop expanding out to Seattle could indicate that the company is, in fact, evolving into a technology company, which Cohen pointed out as a need back in his November letter to the board.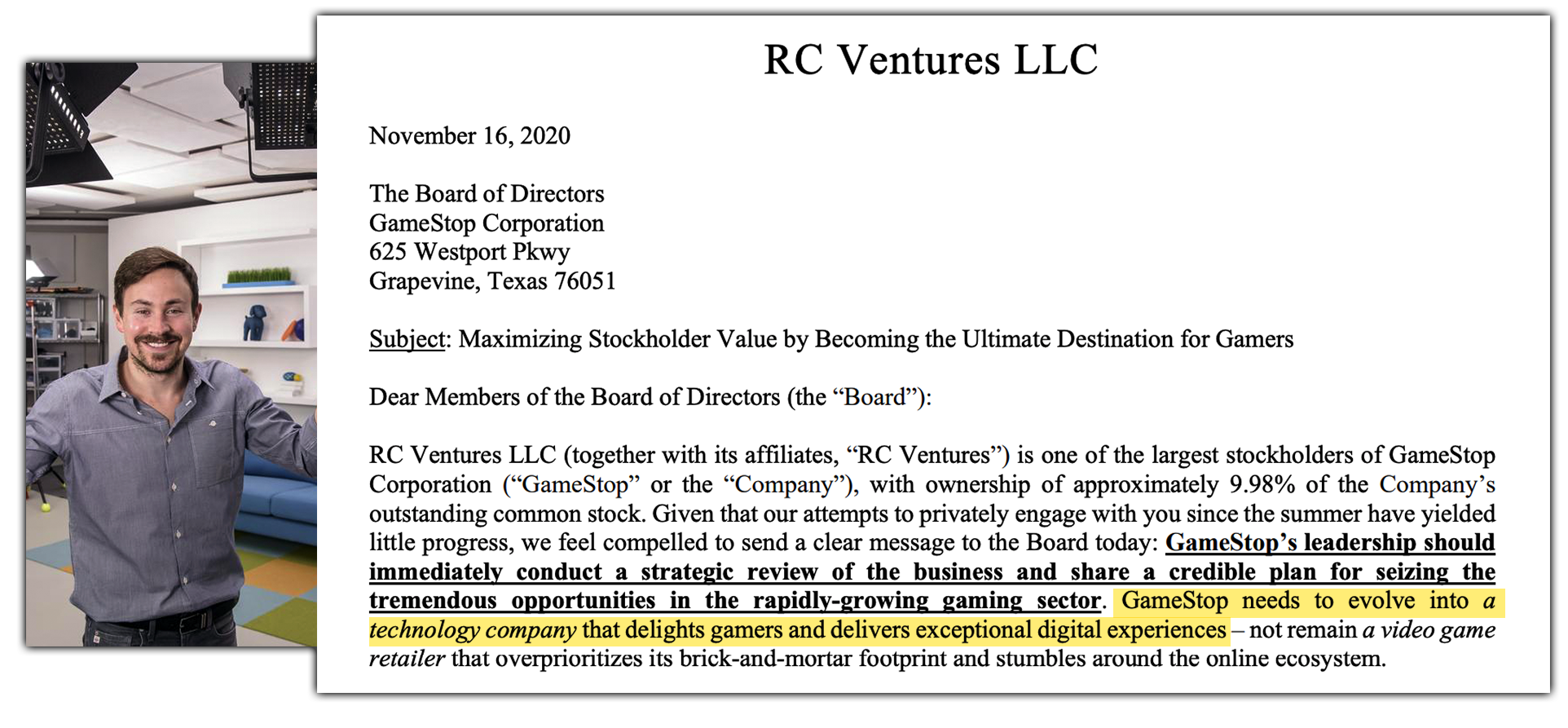 Career postings and activity on LinkedIn continue to provide clues to what the future of GameStop will look like. GMEdd has now counted over 70 key tech hires under the new leadership, and that's just from what we can see publicly on LinkedIn.
Based on current information, investors can expect to see an influx of new hires coming from the Seattle area and LinkedIn posts pointing to more Seattle-based job openings from GameStop.
New hires and new career listings are evidence that GameStop is undergoing a transformation under Ryan Cohen's leadership. The company, which was founded in 1996, has always been based in Texas.
With chatter heating up around South Florida developing into the next best tech hub, and Seattle already being home to many FAANG offices and dubbed "Silicon Forest", GameStop expanding to these cities in particular shows us that it's taking big steps towards its evolution to a technology company.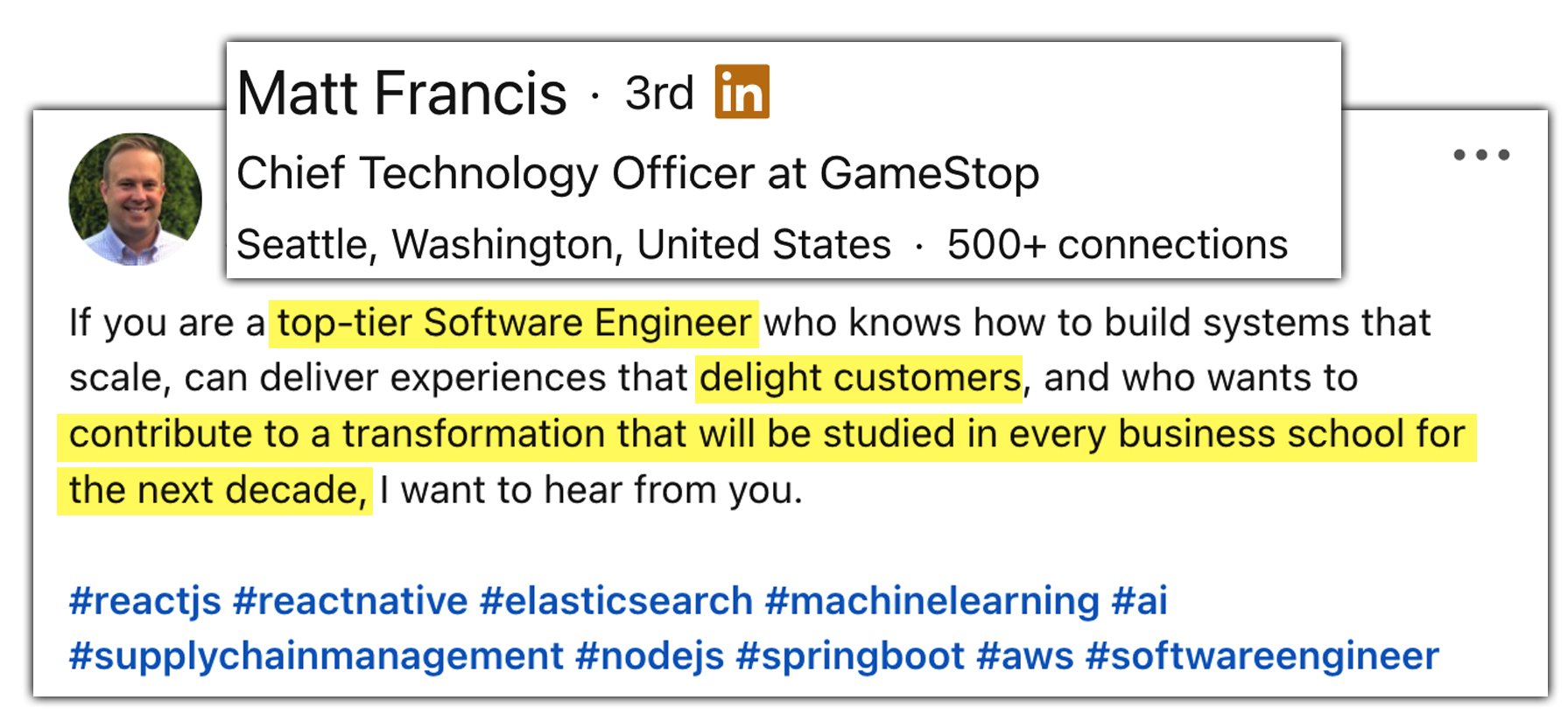 Recall new Seattle-based Chief Technology Officer Matt Francis's optimistic LinkedIn post from April, where he declared GameStop's transformation will be studied in every business school for the next decade.
Perhaps establishing roots in Seattle is part of the prologue of a groundbreaking transformation story taking place at GameStop.
Jenna and vestro contributed. Toast edited and contributed.
Sources: Big Sky Growth Partners Form S-1, Mark Vadon on LinkedIn, Jordan Holberg on Twitter, GeekWire, Chewy.com About Us (May 2015), sfciti.org