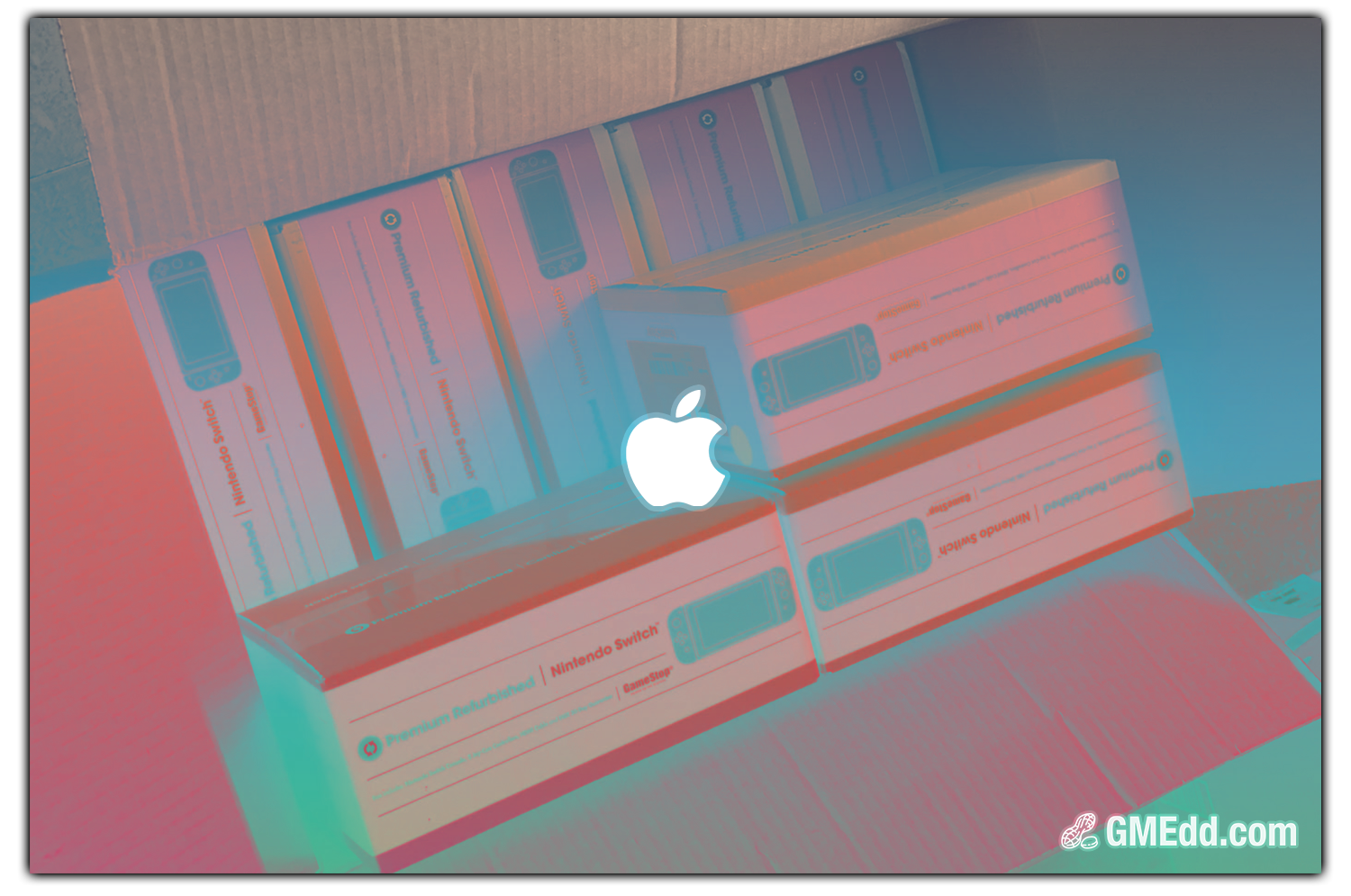 Since GameStop's favored Amazon and Chewy don't refurbish technology, who better to recruit from than Apple? It's only fair, considering Ryan Cohen remains the company's largest individual shareholder.
In the year 2000, GameStop started refurbishing games and consoles with just 20 employees in a different building down the street. Just over a decade later, 1,100 worked in a plant formerly used to build wire harnesses for an automotive company, and consoles were just the beginning.
The Verge states that at the time of reporter Sean Hollister's visit in 2012, factory workers were testing iPads, iPods, and iPhones for basic functionality: the buttons, the screen, the microphone, the headphone jack, the charging port, and software features.
It all happens fast: "Every 42 seconds, a unit will be rolling off this cell," a factory worker says.
Think Different
On June 24th 2010, the much-anticipated iPhone 4 was launching in the United States and Apple Inc. had just rehired Randy Teele to his prior position as the company's Senior Manager of AppleCare Planning and Procurement after a brief one-year hiatus to work for semiconductor producer Micron Technology.
After persevering through the "Antennagate" scandal, Randy Teele would go on to serve the company through multiple promotions over eleven more years, as the tech pioneers changed the world and reinvented the smartphone, achieving over 40% market share.
Randy was at Apple for every iPhone launch except for the 3GS on June 19th, 2009. He came back to the California-based company just in time for the 4.
In November of 2021, Randy Teele's decade-long commitment to the $2.6T company was foregone to take up an opportunity to deliver Ryan Cohen's vision.
Revealed via LinkedIn, Randy Teele departed his position as Apple's Senior Director of AppleCare Service Operations to begin a new role as GameStop's Vice President of Worldwide Refurbishment and Warranty.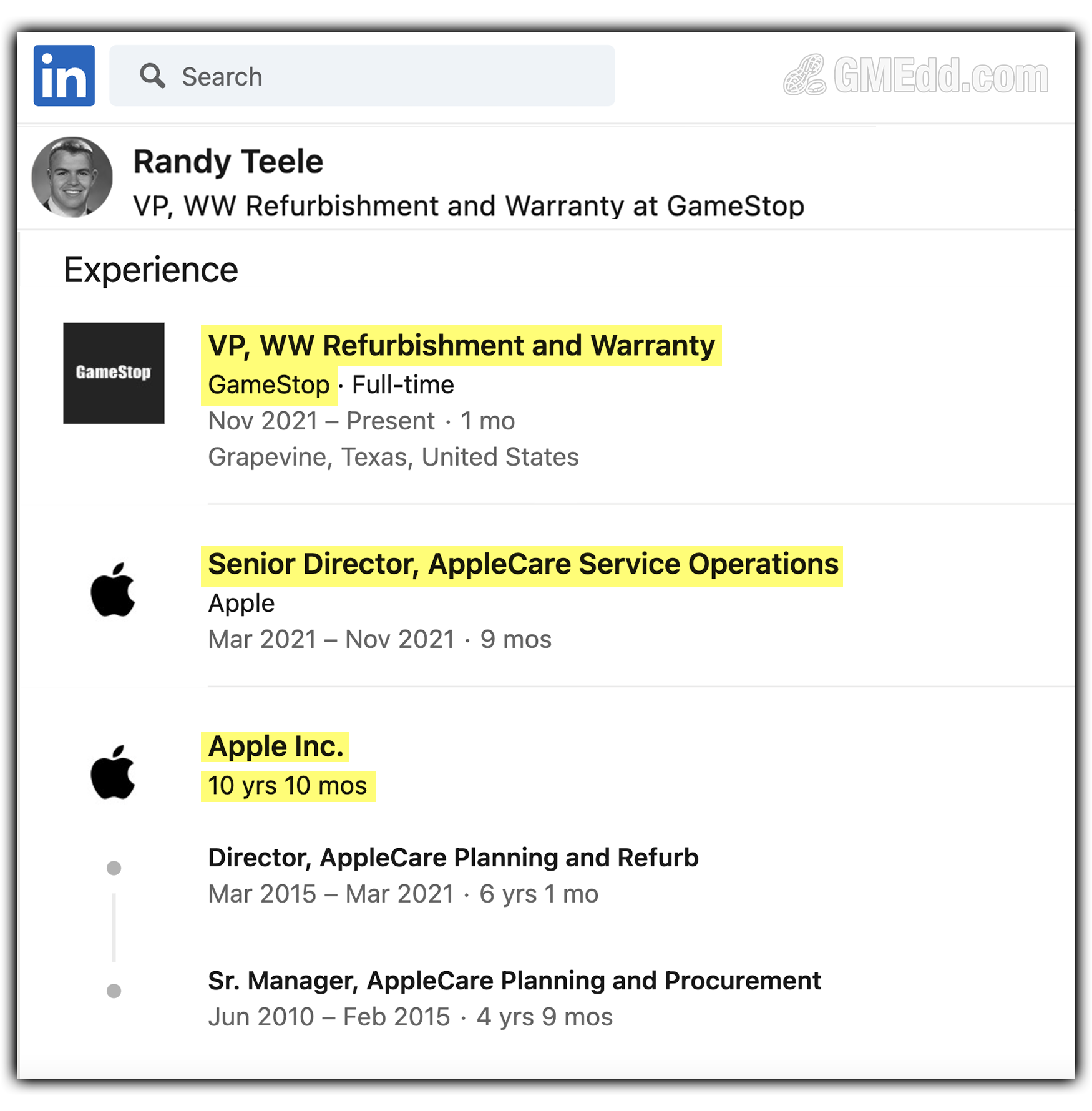 Randy Teele's LinkedIn as seen on November 22, 2021.
Having relocated from San Francisco to Grapevine, the experienced supply chain professional is now in charge of overhauling GameStop's Premium Refurbished Program.
The Core of It
Apple has continuously topped LaptopMag's comprehensive support rankings for the last few years, through a combination of speed, friendliness, and knowledgeable agents aligning with GameStop Chairman Ryan Cohen's emphasis on delighting customers.
Stanley "Randy" Teele doesn't have much of a digital presence, but GMEdd.com was able to find that while working at Cisco in his early career, the global demand planning manager was referred to by an intern from MIT as part of a collective of very smart, dynamic, and driven individuals.
[My manager] has also helped me to work with a very smart, dynamic, and driven set of individuals at Cisco, including Mark Still, Randy Teele, Tom Bomberg, and Kyle Nolan.
And with an MBA from Harvard Business School in 2001 alongside over a decade of growth at Apple, it's safe to assume that the esteemed executive didn't leave behind a blue chip to oversee replacing broken Xbox disk drives in Texas.
GameStop must be up to something bigger.
Sources: MIT.edu, The Granite – 1993, The Verge, Randy Teele on LinkedIn, 9to5Mac
Join GMEdd.com's Official Discord Server to chat about this article, GameStop's transformation, and more.