Despite widespread brick-and-mortar closures due to economic unrest caused by COVID-19 in 2020, GameStop's new Chairman is infuriated by dusty shelves and untrained employees and has committed to a plan to revive stores in tandem with a massive e-commerce push.
Three sources with apparent first-hand knowledge of Ryan Cohen's strategy spoke with Reuters for an article titled Flush from Reddit rally, GameStop plots store revival, revealing the Chairman's thoughts on the gaming giant's retail store footprint and his ideal cohesive transformation.
While the identity of these sources is not known, Svea Herbst-bayliss at Reuters has been in contact with executives at the company for some time, reporting GameStop's inability to deploy an offering during January's frenzy in February, the email string between Cohen and a dissatisfied customer in March, and the CEO search initiation in April.
Undercover Boss
As GMEdd has previously reported, Ryan Cohen has been visiting GameStop retail stores around the United States and sharing photos on Twitter inside some locations.
The unnamed source claims that the purpose of these unannounced visits by the Chairman have been to "ghost-shop," to better understand the retail situation.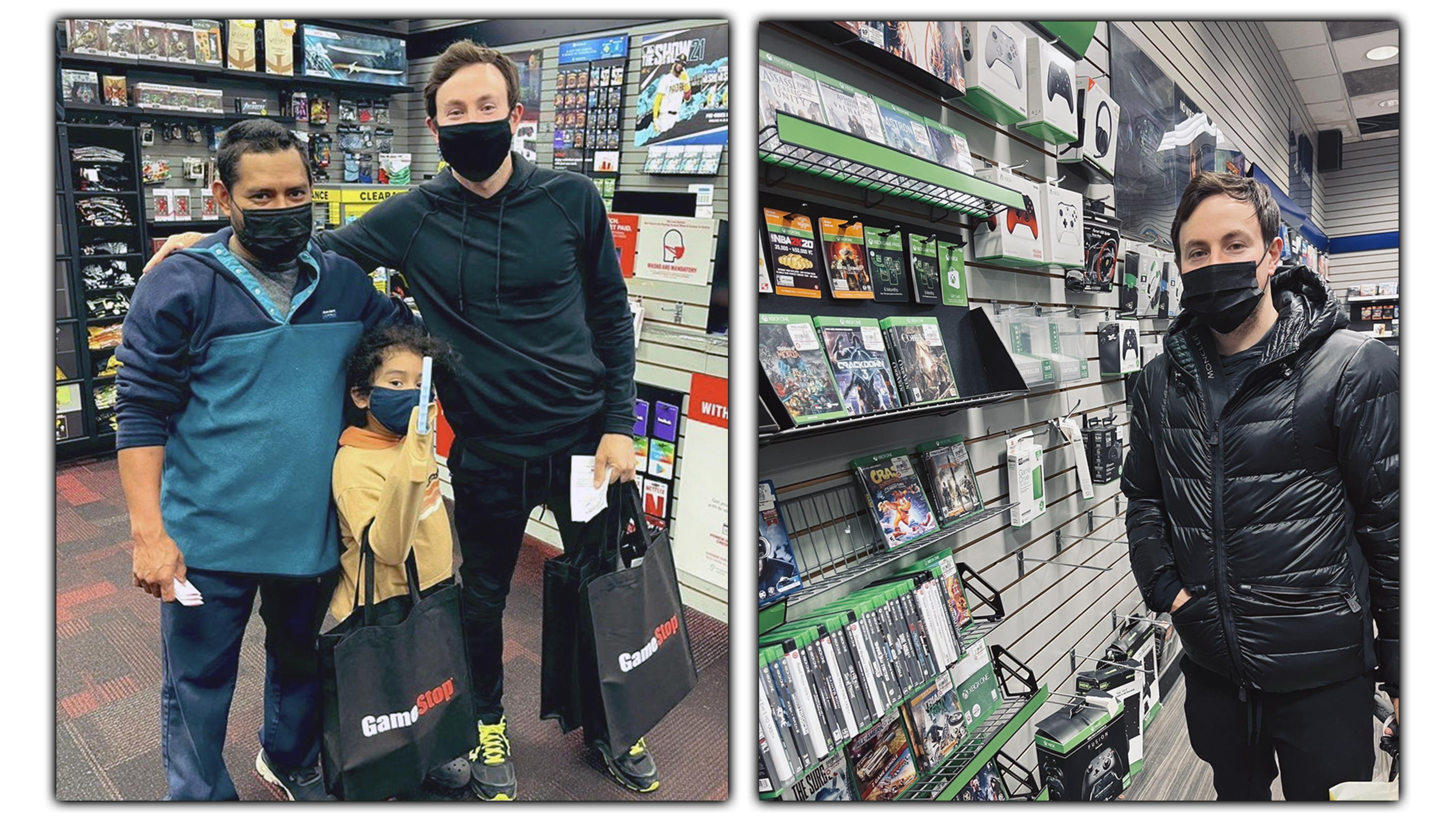 Cohen was often infuriated by the dusty shelves and empty racks he found, as well as by some employees who did not greet customers properly or offer to help them, the sources said.
The source also claims that Cohen has found that GameStop's brick-and-mortar stores need to improve the customer experience by stocking the basics and the most popular items, plus creating sections to cater to specific categories of customers, from video game fanatics to mothers seeking puzzles for their children.
Cohen has also reportedly told executives and staff that the "only differentiator" for GameStop was customer service and that needed to improve.
Investing in Retail
Recent statements from the executives along with Cohen's "ghost-shopping" seem to indicate the company is planning to do more with its retail locations other than just reduce the overall footprint, countering the previous strategy directed by former CEO George Sherman.
While store closures to date have lead to improvements in cash flow, GameStop stating last year it was able to capture 40% of closed store sales through online channels and other nearby stores reveals there is still value to be extracted from the considerable store fleet that remains.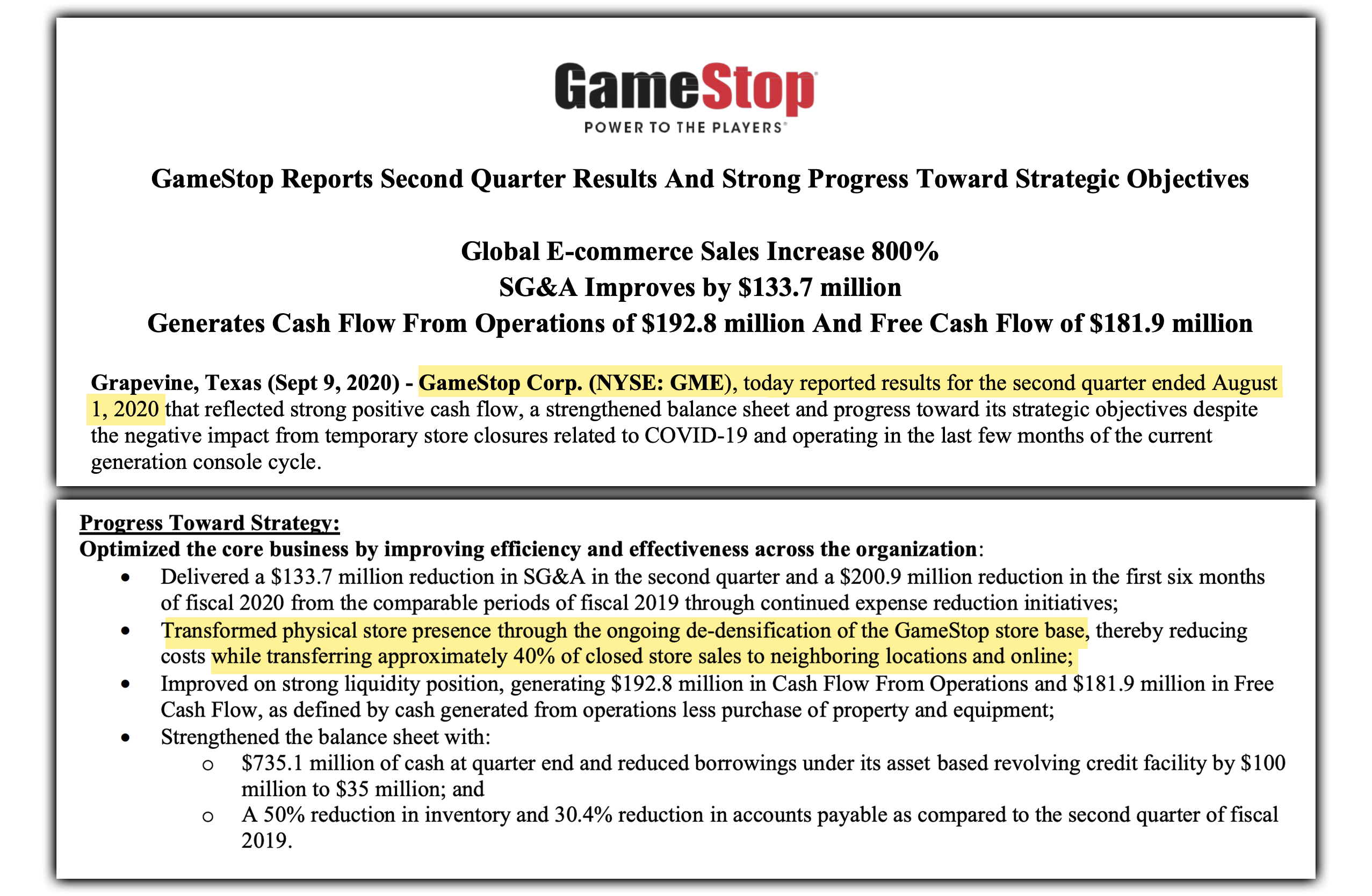 Ryan Cohen has reportedly become increasingly bullish about the stores and plans to allocate some of the share offering proceeds to redesign and restock stores, alongside training staff.
The piece also answers what some of the recent capital raises will pay for.
Included in Cohen's goals are better product selection in stores, extended hours to serve gamers who tend to be night owls, and price matching against Amazon and Walmart.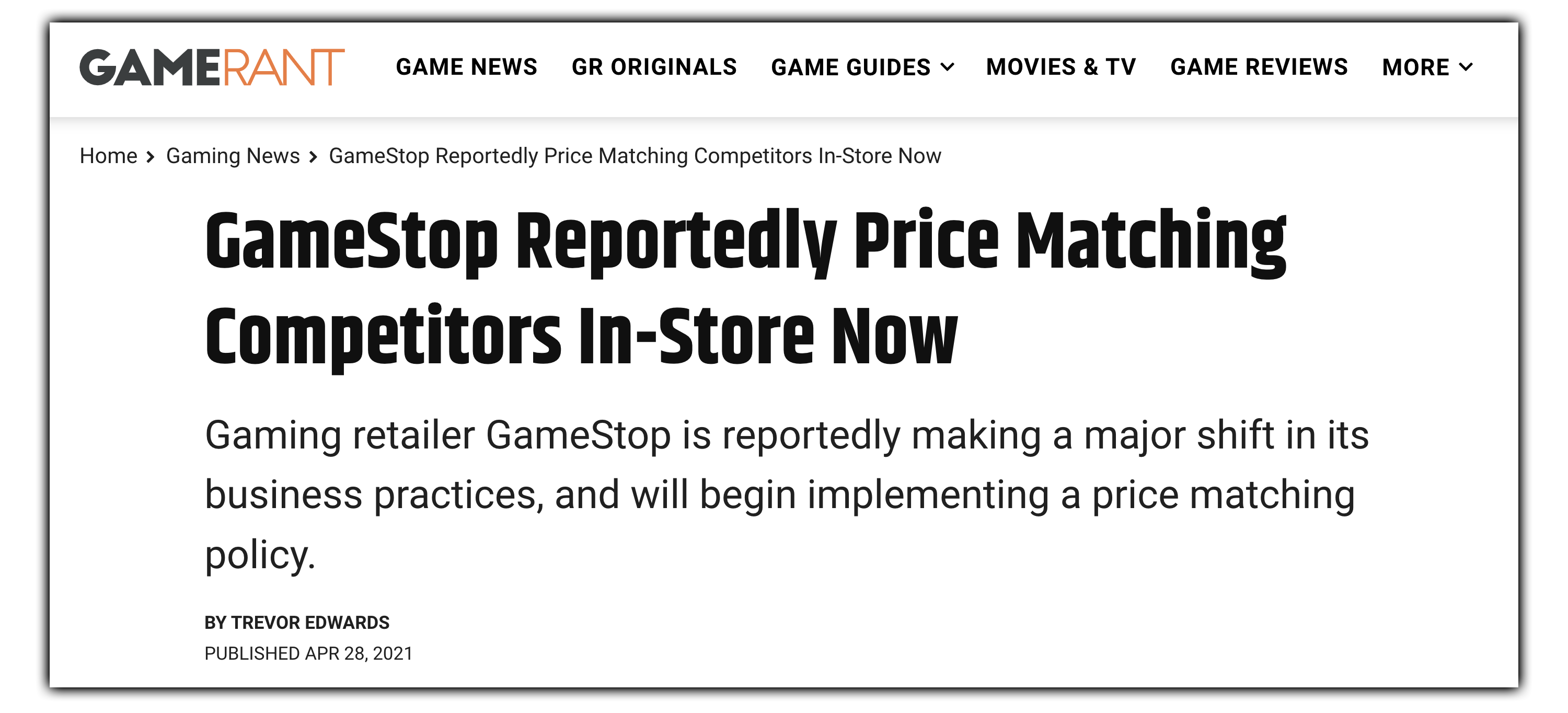 Reuters also claims that GameStop, which is debt-free after its capital raises, also plans to hire new people at the stores and meet long-standing requests by many store managers for refurbishment, sources said.
Since Cohen's arrival, GameStop's board and executive ranks have been overhauled and these newcomers are concentrating on the stores.
GameStop Chief Operating Officer, Jenna Owens commented on LinkedIn shortly after joining the company that spending time training in stores would be her first priority.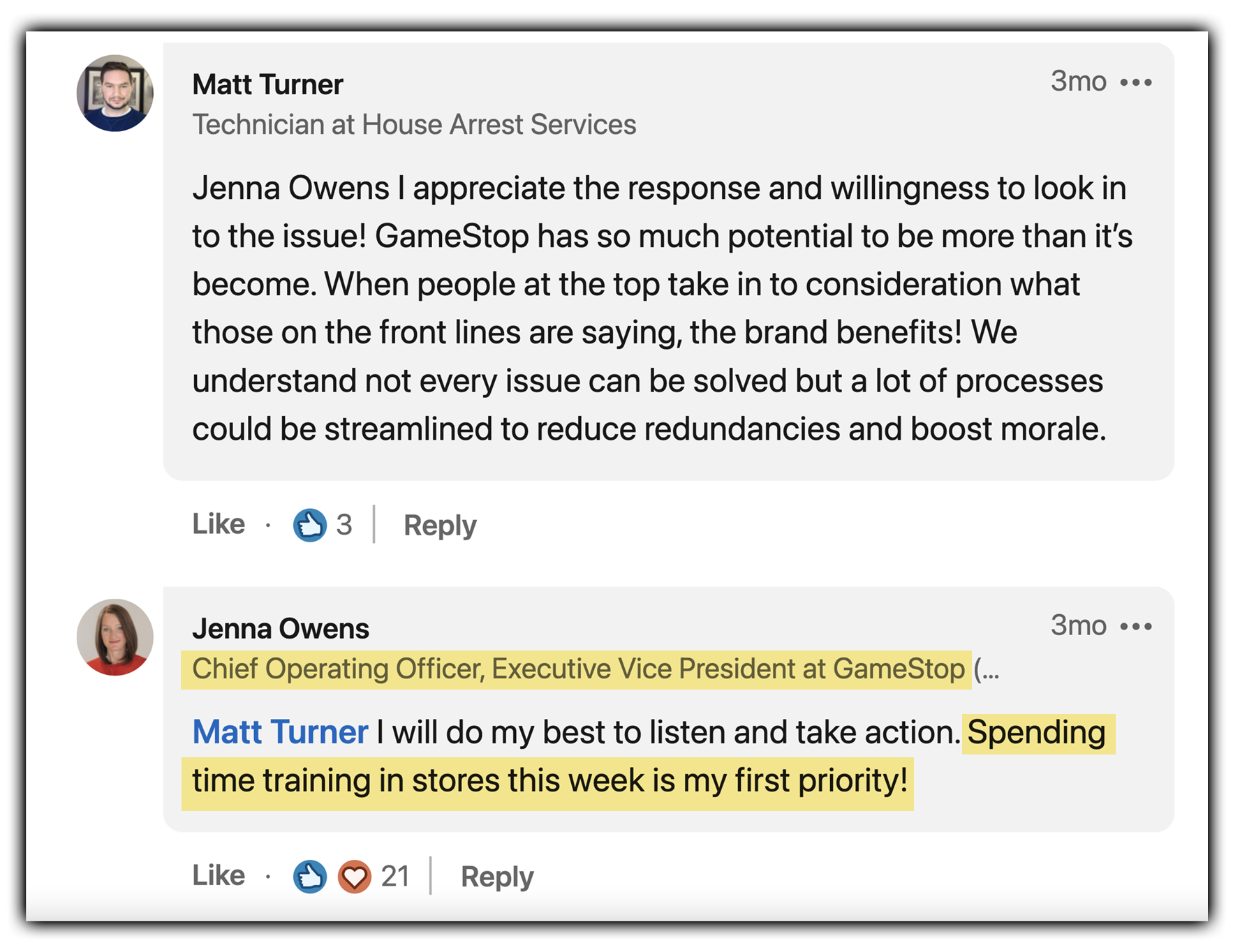 It seems Cohen's transformation strategy may be more focused on an omnichannel angle rather than a pure ecommerce play.
Questions still remain as to the fate of international stores, namely stores in Europe, Canada, and Australia carrying the EB Games, Zing, and Micromania brands.

Will these be retained as is, sold off to generate further cash, or rebranded into GameStop stores?
Stores in each region are all within striking distance of profitability, with Australian stores (branded as EB Games), the region least impacted by COVID-related operating restrictions during 2020, generating positive earnings in the latest fiscal year.
GameStop, over the last 15 months, has closed 811 stores, leaving it with about 3,000 U.S. stores and 1,600 stores abroad.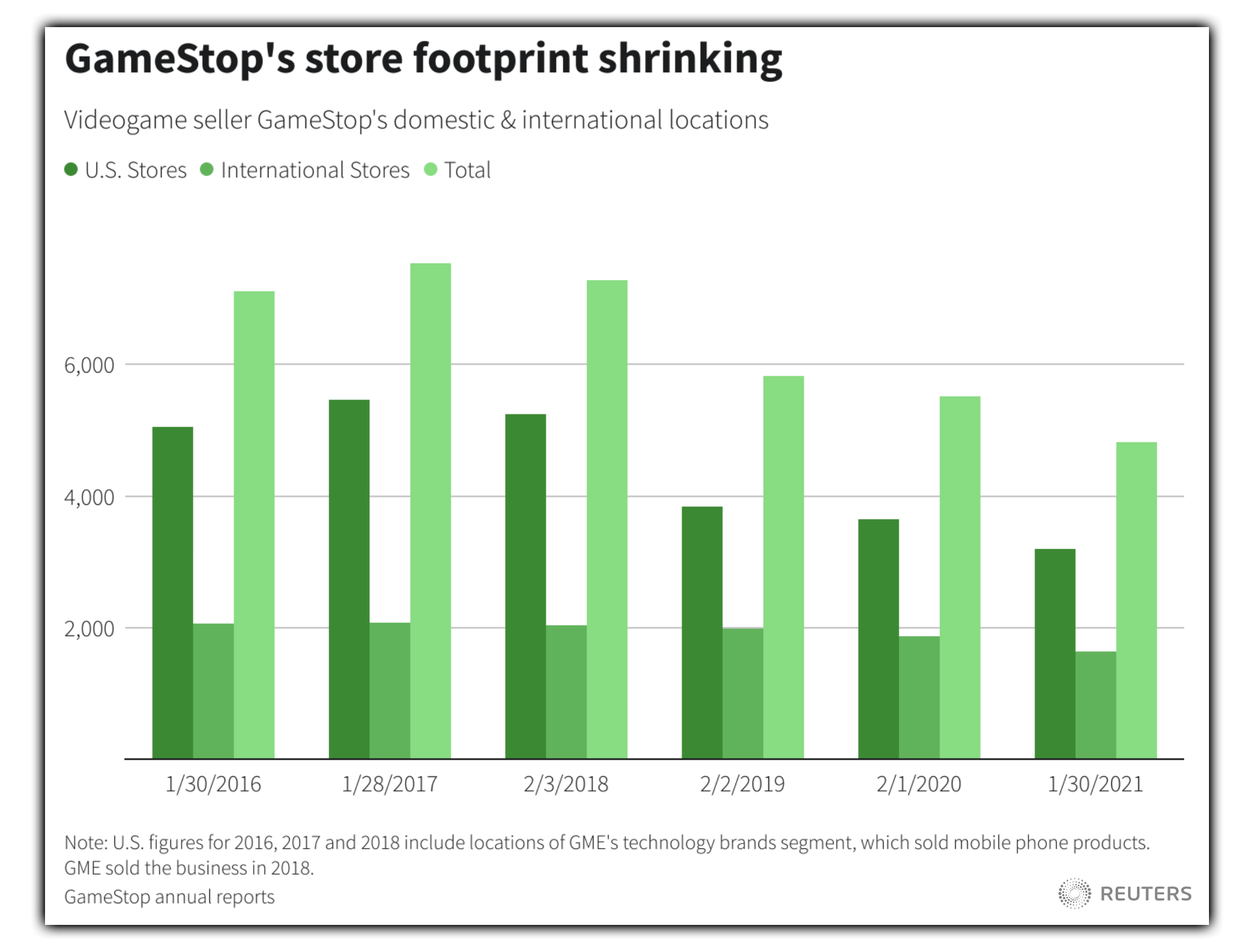 GameStop's store footprint has shrunk over the past 5 years, citing data from GameStop's annual reports
Florida Confirmed, Rapid expansion
Back in May, GMEdd.com speculated in a piece titled GameStop Hints at New Florida Office that the fast-paced e-commerce initiatives warranted the company soon opening a Florida-based call center.
Job postings on GameStop's website, along with activity on LinkedIn and Twitter from employees, seem to be hinting towards a South Florida-based customer support center for GameStop. [GMEdd.com, May 18th 2021]
The unnamed sources close to matters within GameStop have now confirmed the incoming lease of a Florida call center to Reuters, stating that GameStop is close to signing a lease on a 30,000-square-foot call center in Southern Florida.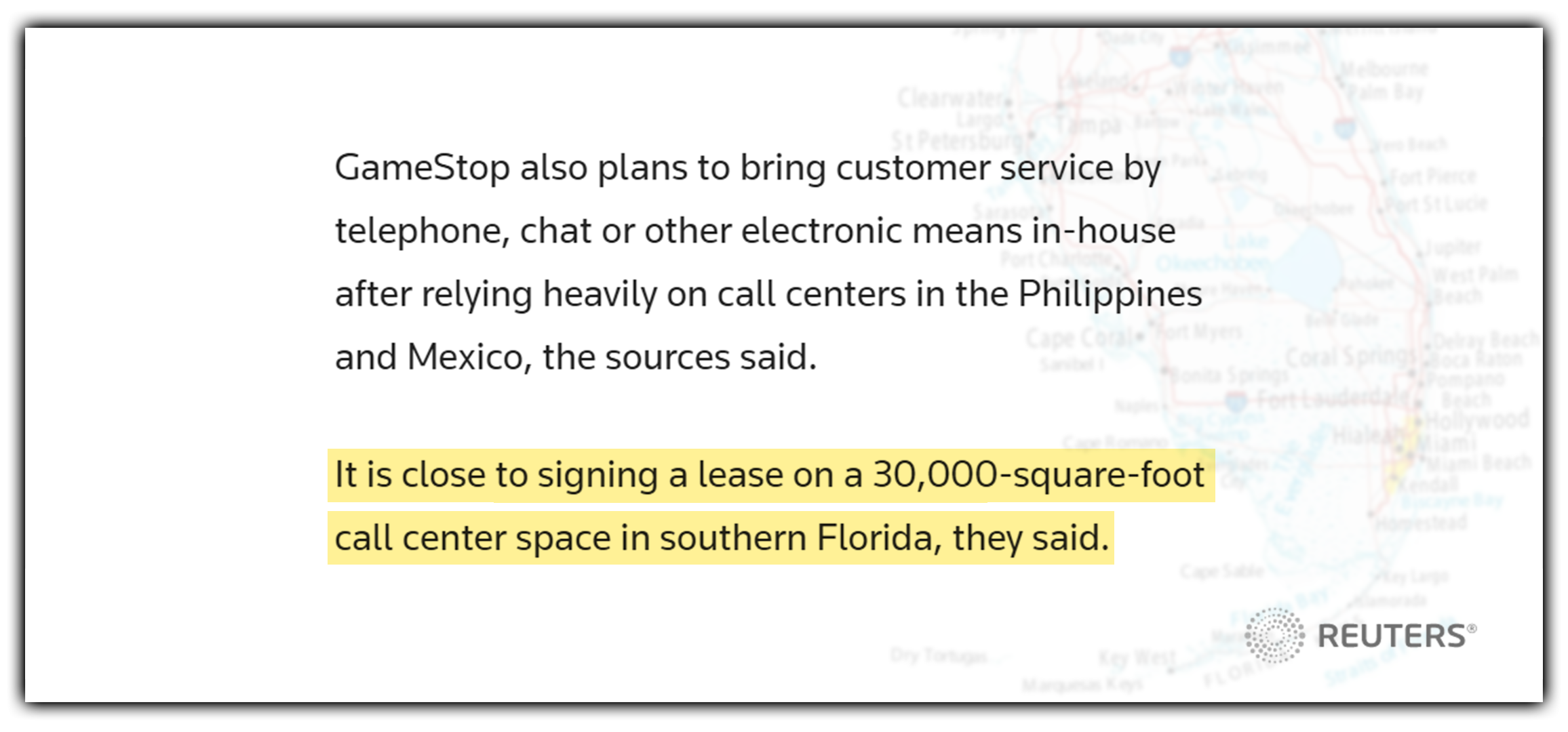 This adds credibility to hints that GameStop's corporate footprint is increasing at a rapid pace.
Since RC Venture's agreement with the board 6 months ago, GameStop has announced the leases of two fulfillment centers: one in Pennsylvania and one in Nevada.
With the new customer service center in Florida appearing to be coming soon, the claim that the company's transformation will be studied for the next decade may not be far from the truth.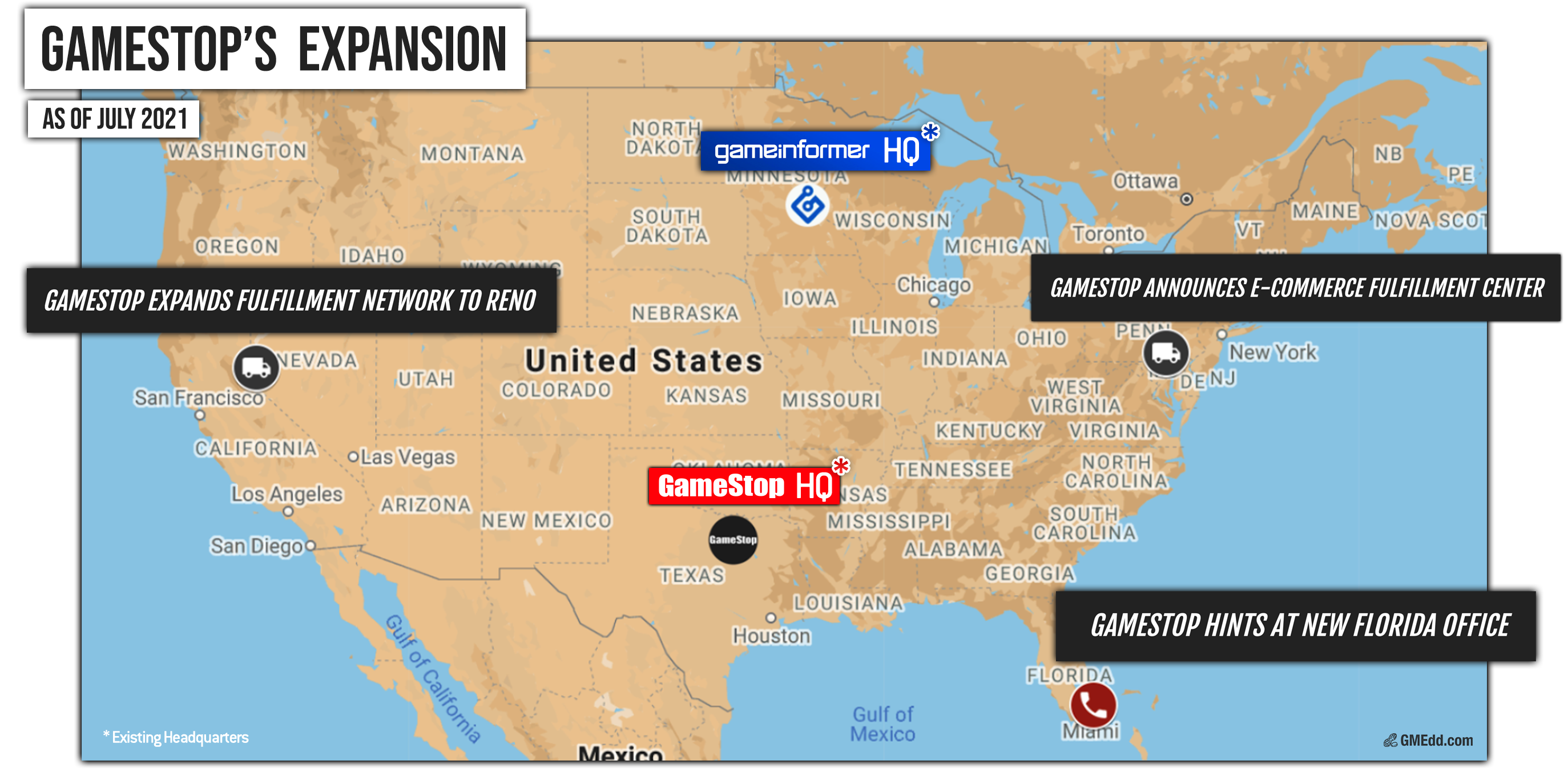 GameStop has rapidly expanded since Cohen's arrival. The retailer has an existing fulfillment center in Kentucky that is not pictured.
moving forward
While GameStop has, in recent history, emphasized reducing brick-and-mortar locations, it remains unclear how Ryan Cohen and the new team at GameStop now view an optimized physical store footprint.
Operating under prior Chief Executive Officer George Sherman's GameStop Reboot strategy, the company noted in their 2Q20 earnings that the United States represented the greatest de-densification opportunity.
Sherman cited that the company has seen closed store sales volume transfer to neighboring locations and online well in excess of profit breakeven levels.

So long as transfer rates remain high enough to improve profitability, continued de-densification makes economic sense for the brick-and-mortar stores.
The company's 10-K language aligns with this, stating the belief that, as current leases expire, the retailer will be able to obtain either renewals at present locations, leases for equivalent locations in the same area, or be able to close the stores with expiring leases and transfer enough of the sales to other nearby stores or e-commerce properties to improve, if not at least maintain, profitability.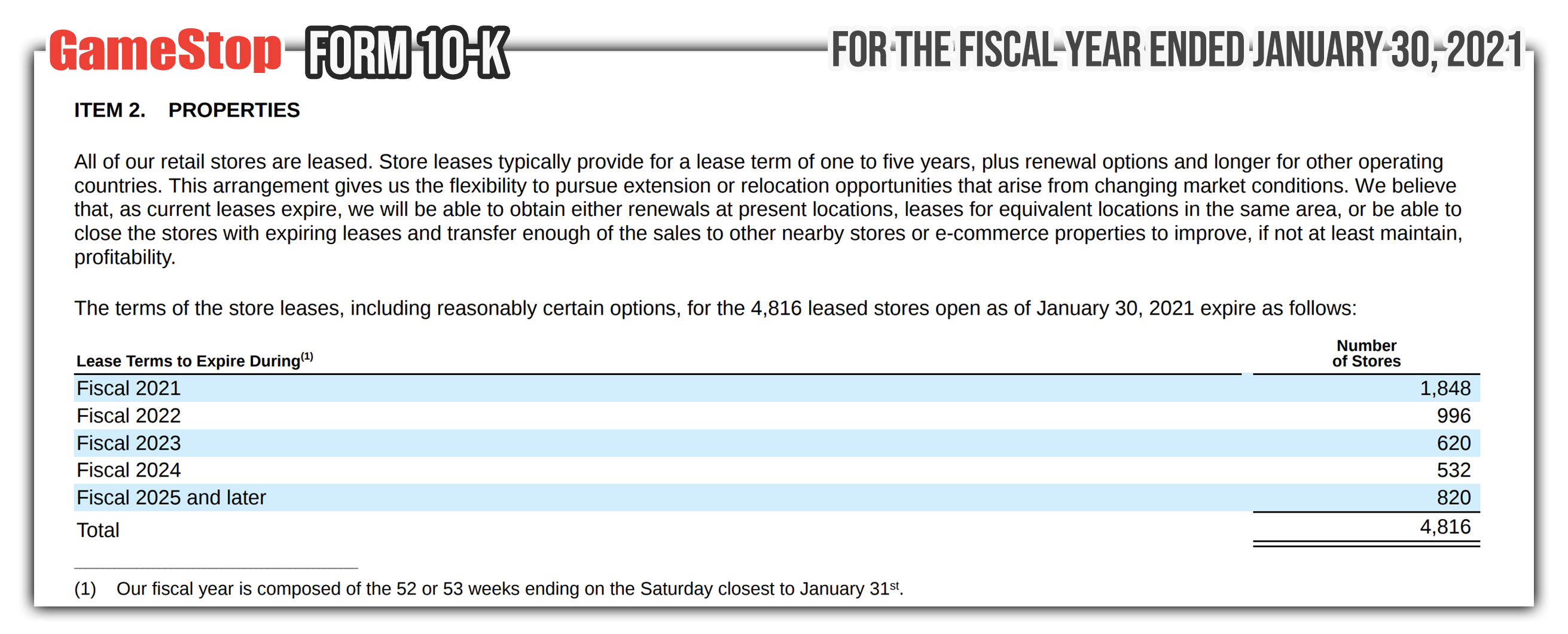 All of GameStop's retail stores are leased. This arrangement gives the company maximum flexibility.
Fortunately, the leases for the majority of GameStop stores expire within the next two years, affording maximum optionality for the company as the new console cycle shifts into high gear.
The stock market phenomenon surrounding GameStop shares that shook financial markets in January 2021 can work as a groundwork for the perfect, free, consumer awareness campaign required to rebrand international stores, such as EBgames, into a cohesive GameStop identity.
While Ryan Cohen seeks to revitalize existing brick-and-mortar stores, the path forward is largely unknown as the Chairman has indicated he has no plans to "telegraph GameStop's strategy to the competition."
Rod Alzmann, Jenna Dauzat, and Chris Silvestro contributed, Joe Fonicello edited and contributed.
Sources: Reuters, GameStop Q2 2020 Earnings Call Transcript, GameStop Form 10-K, Jenna Owens on LinkedIn