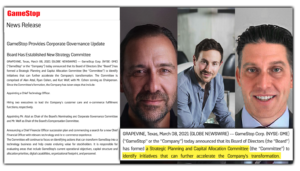 GameStop has announced that the board has formed a Strategic Planning and Capital Allocation Committee to identify initiatives that can further accelerate the Company's transformation.
The Committee is comprised of Alan Attal, former Chief Operating Officer of Chewy, Ryan Cohen, former CEO of Chewy, and Kurt Wolf, chief investment officer of Hestia Capital Management, with Ryan Cohen serving as Chairperson of the committee.
The statement goes on to claim credit for some of the recent hirings and forward thinking initiatives
Appointing a Chief Technology Officer.
Hiring two executives to lead the Company's customer care and e-commerce fulfillment functions, respectively.
Appointing Mr. Attal as Chair of the Board's Nominating and Corporate Governance Committee and Mr. Wolf as Chair of the Board's Compensation Committee.
Announcing a Chief Financial Officer succession plan and commencing a search for a new Chief Financial Officer with relevant technology and/or e-commerce experience.
In the final paragraph, the news release states that the Committee will continue to focus on identifying actions that can transform GameStop into a technology business and help create enduring value for stockholders.
The committee is responsible for evaluating areas that include GameStop's current operational objectives, capital structure and allocation priorities, digital capabilities, organizational footprint, and personnel.
If the committee is responsible for evaluating digital capabilities, that essentially places Ryan Cohen as GameStop Chairperson of E-Commerce.