GameStop has announced the long-awaited debut of its online marketplace for non-fungible tokens (NFTs).
Video game retailer GameStop has spent the last year undergoing a tech-centric transformation, with a premium NFT marketplace being at the core of this transition. This newfound interest for the brick-and-mortar was initially revealed through job postings alluding to blockchain developments at the company dating back to April of 2021.
GMEdd.com first unearthed the existence of GameStop's Official NFT project one month later, in May 2021, upon discovering a website that didn't detail much besides a potential slogan for the project, and ever since then investors have speculated what GameStop NFT entails.
By October 27th, 2021, GMEdd.com published source code that revealed Loopring, an Ethereum Layer 2 Protocol, had been hard at work building GameStop an NFT Marketplace of their own.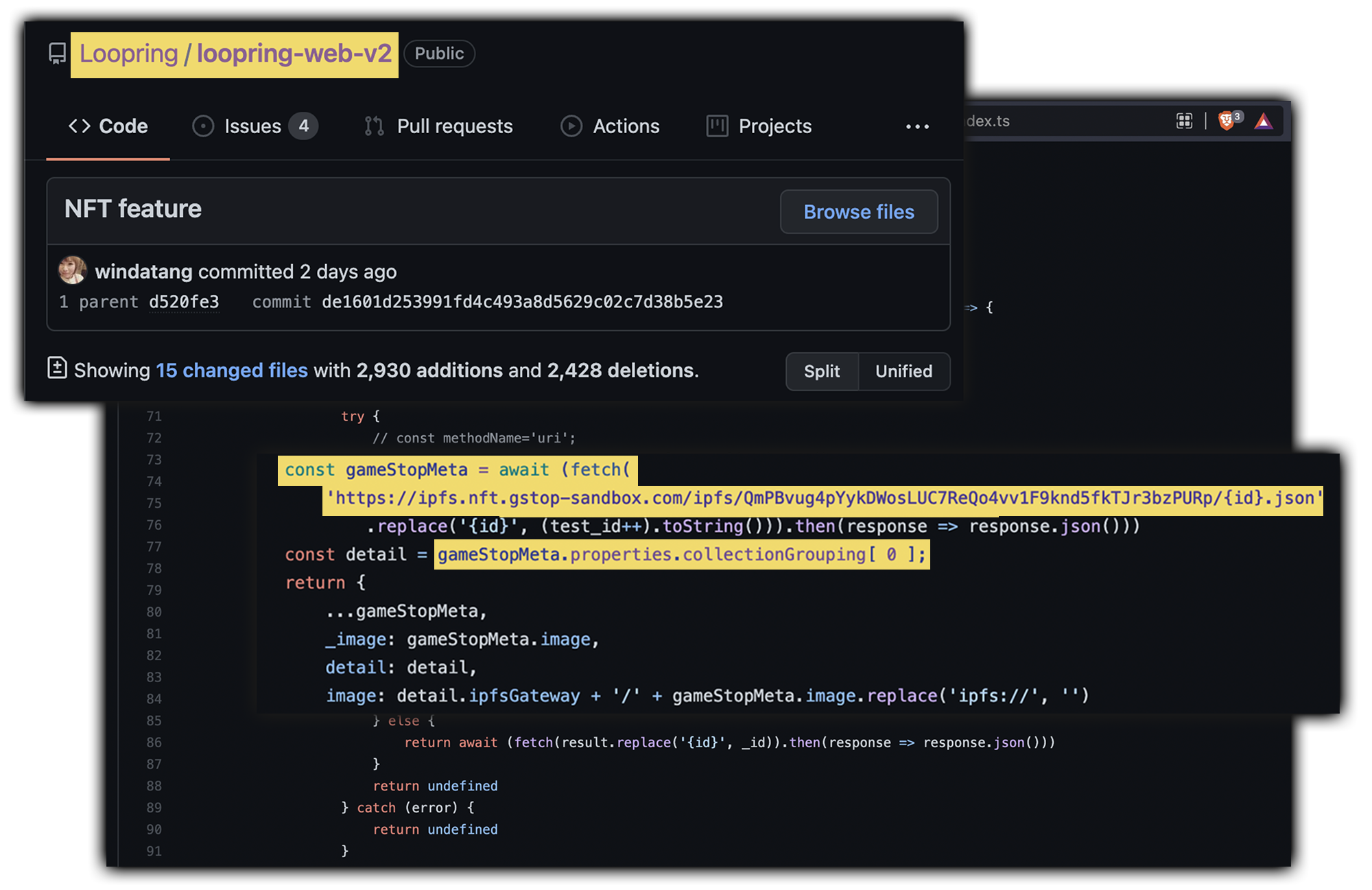 Loopring's GitHub Code from October 2021.
Prior to this, digital breadcrumbs had led us to that same point, detailing how Loopring's technology could power a bridge of traditional e-commerce and blockchain and engineer the revolution of gaming.
Power to the Players
On Monday, GameStop launched a feature-packed NFT Marketplace. The platform, which is now open to the public for beta testing, allows users to connect their own digital asset wallets, including the recently launched GameStop Wallet, the company said in a press release.
GameStop NFT's wallet selection page.
Users will now be able to buy, sell and trade NFTs of virtual goods with near-zero fees. Over time, the marketplace will expand to offer other features such as Web3 gaming, GameStop said.
Since the GameStop Wallet and NFT Marketplace is still in beta, users might find performance issues or bugs which they can report to the blockchain team.
Creators can apply to sell their art on the NFT Marketplace by clicking the "create" button on the homepage. GameStop states the team typically replies to applicants within 2 weeks, and if not, creators can re-apply.
For beginners, the GameStop NFT marketplace has a detailed learn page with FAQs & video tutorials.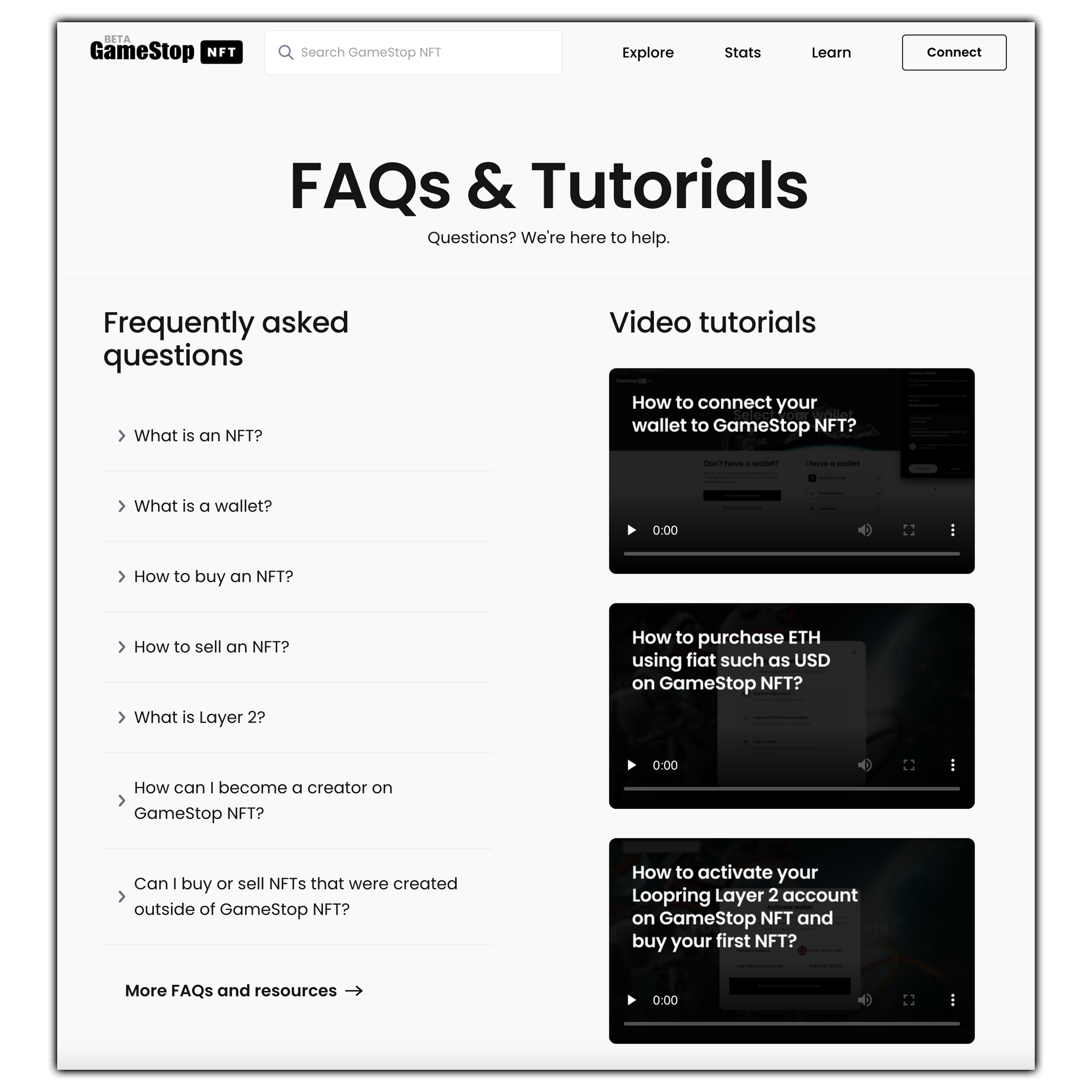 GameStop NFT's Frequently Asked Questions Page
The marketplace currently features 239 NFT collections and 53.3k NFTs, which were manually approved in advance by GameStop's blockchain department to ensure originality and quality.
When exploring the newly-released marketplace, users can filter by four NFT types: html, image, model, or video.
The html category includes NFTs that are interactive. For example, art that changes color or makes sounds when clicked, interactive story books, and mini-games.
GameStop NFT's selection of interactive NFTs
The image category is what most NFTs are right now, featuring art that people can buy, sell, and trade, while supporting the creators.
The model category features 3D art and provides all the files you will need to use them with AR software, while the video category is more self-explanatory.
To celebrate the launch, GameStop NFT gave a commemorative NFT to the 34 blockchain team members designed by Spike.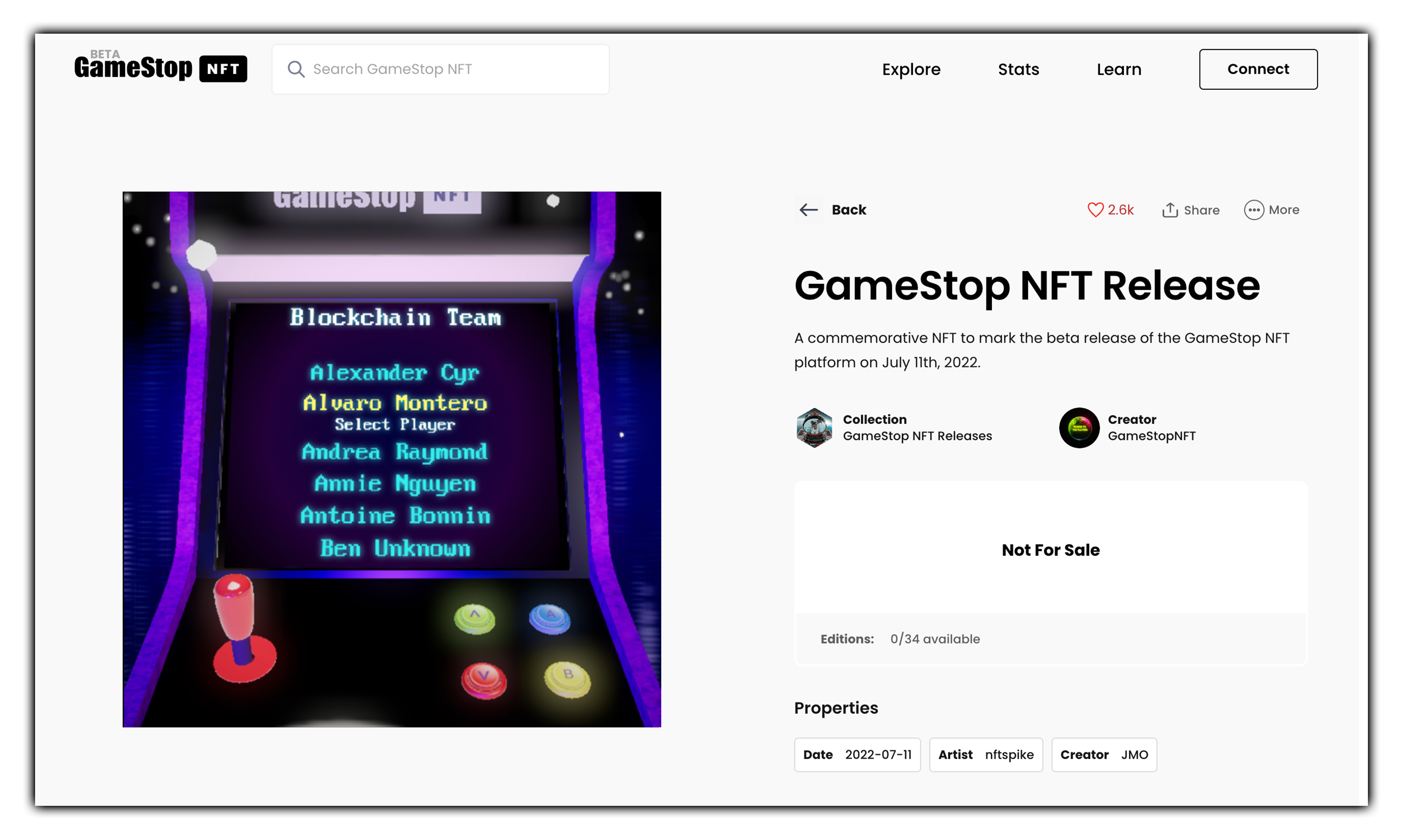 GameStop NFT's commemorative NFT to mark the beta release.
The numbers
Within 24 hours of launching, GameStop NFT achieved over $1,500,000 in volume across 45,000 transactions.
GameStop NFT's top 10 collections are MetaBoy, Ordinary NFT Cards, Power 2 The Apes!, CYBER CREW, Genesis, Player Gloves, PXL Toys, The Roaring 20s, Bombatomics, and Animal Arcade.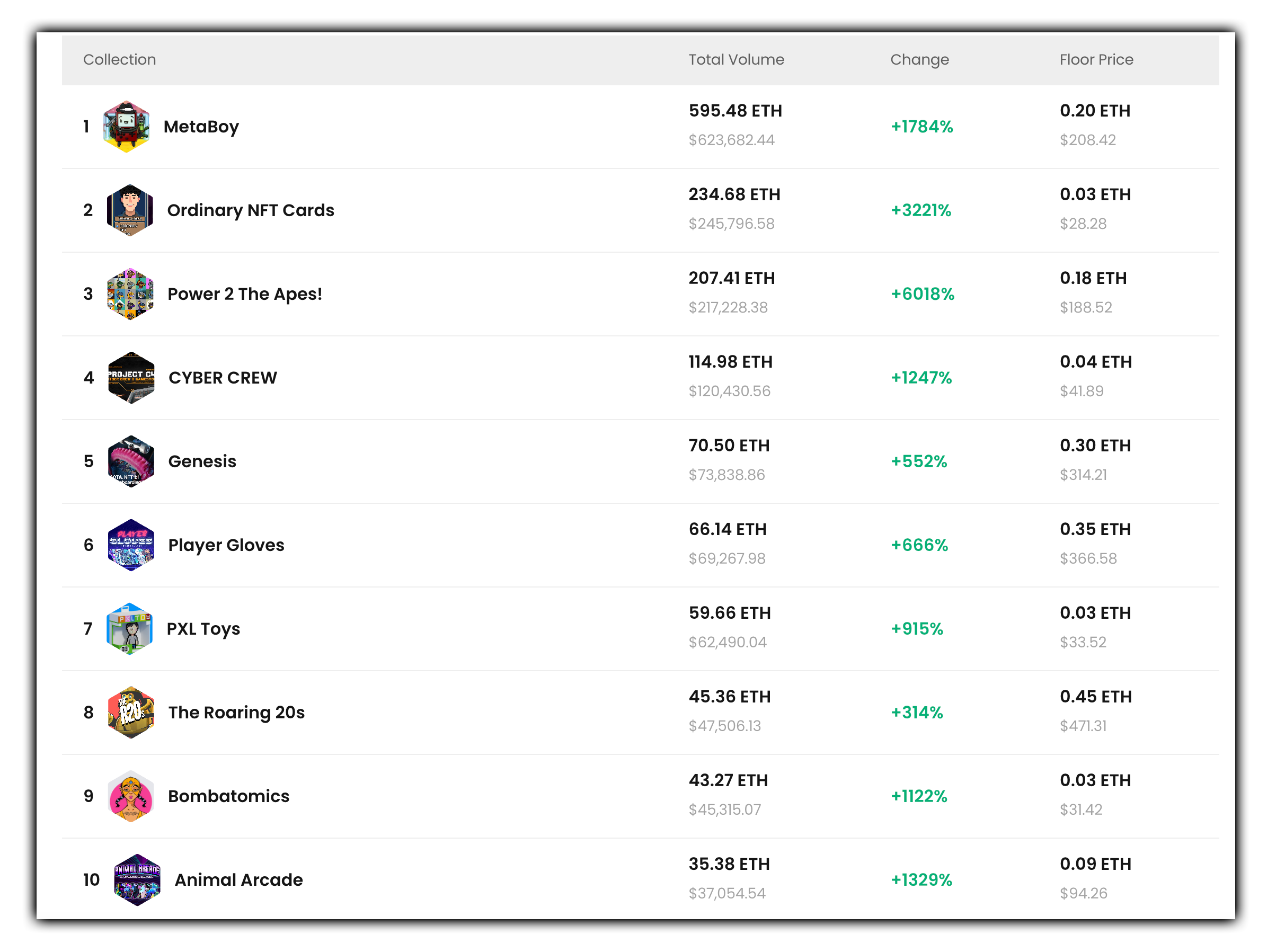 GameStop NFT's Stats Page
The most popular collection has been "MetaBoy," a collection of 10,000 unique algorithmically generated characters that bring the love of gaming, pixel art and technology together.
Similar to trading cards, MetaBoys are pixel figures with differing traits that merge together to create unique avatars.
Since launch, MetaBoy has sold over $600,000 in volume, selling out of the initial primary price of ~$55. Now, MetaBoys are trading with a $250 floor as gamers and collectors alike join in on the craze.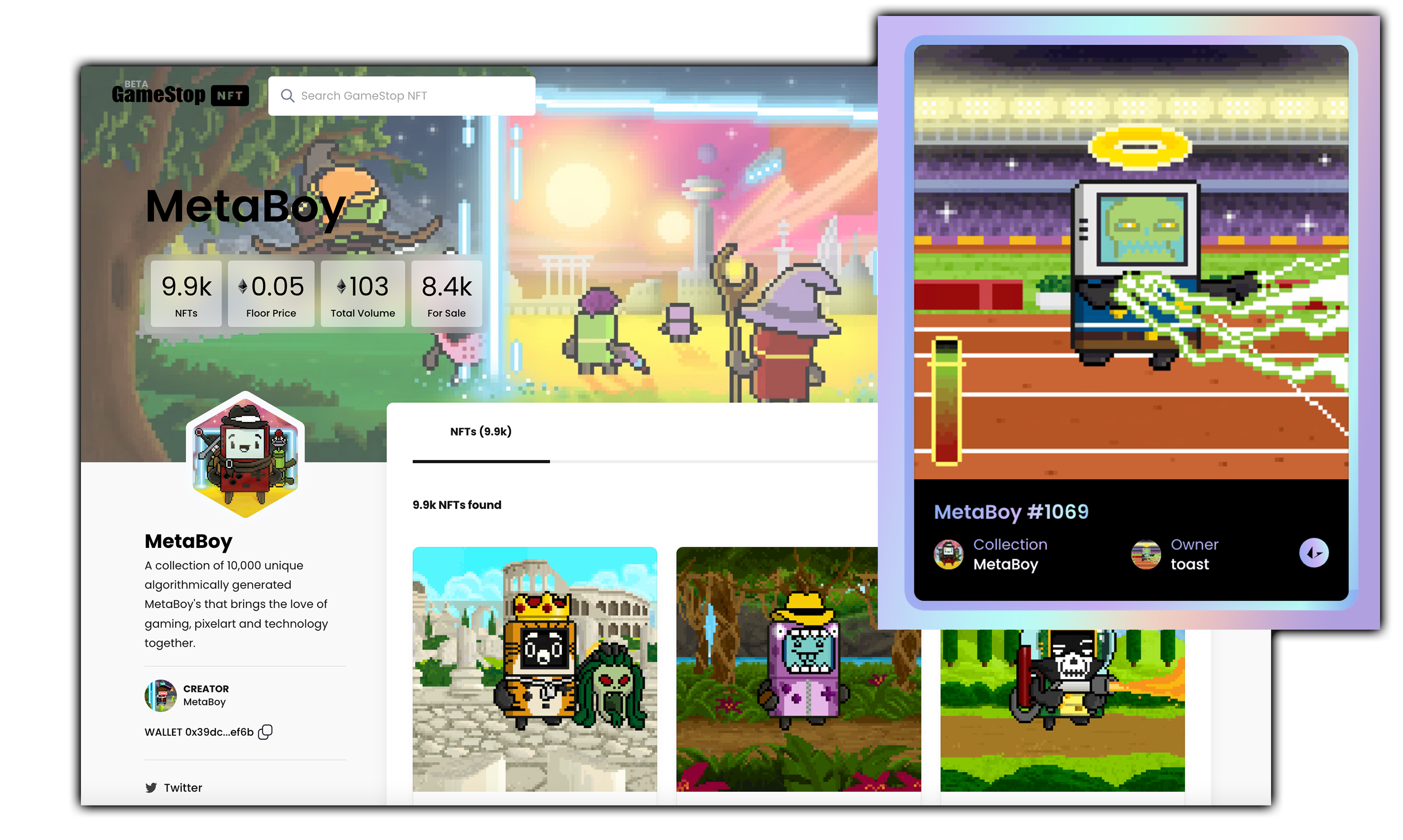 GameStop NFT's MetaBoy Page
Explore
GameStop NFT is finally here, and readers should explore the platform themselves to see what the wait has all been for.
With more integration to come, the GameStop blockchain group's work is far from over, and GMEdd will continue to cover the latest news and research.
Sources: GameStop NFT