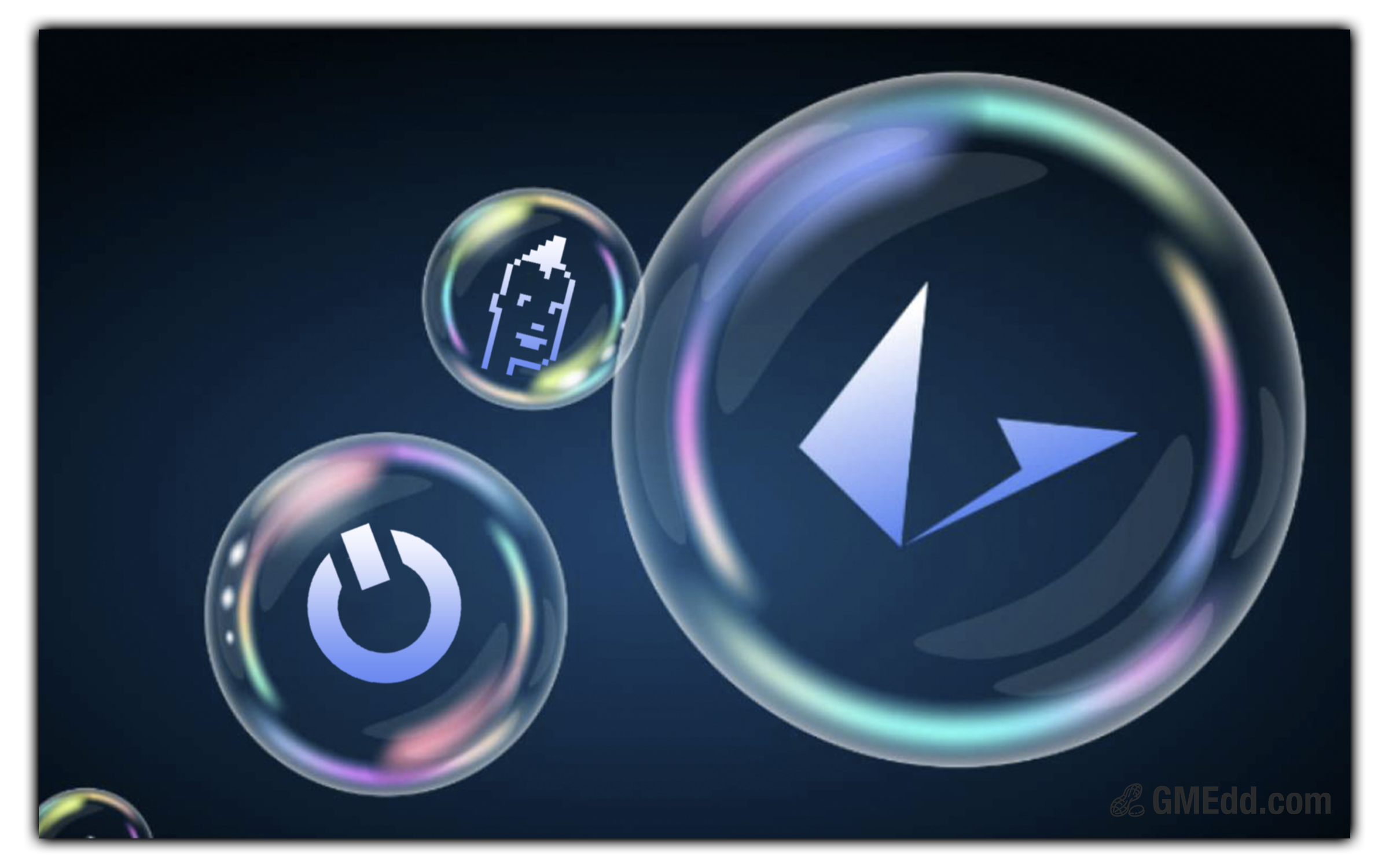 GameStop and Loopring are both working on strikingly similar confidential NFT projects and the evidence towards a partnership between the giants is glaring.
GMEdd.com first unearthed the existence of GameStop's Official NFT project in May 2021 upon discovering a website that didn't detail much besides a potential slogan for the project, and ever since then investors have speculated what GameStop NFT entails.
Power to the players. Power to the creators. Power to the collectors.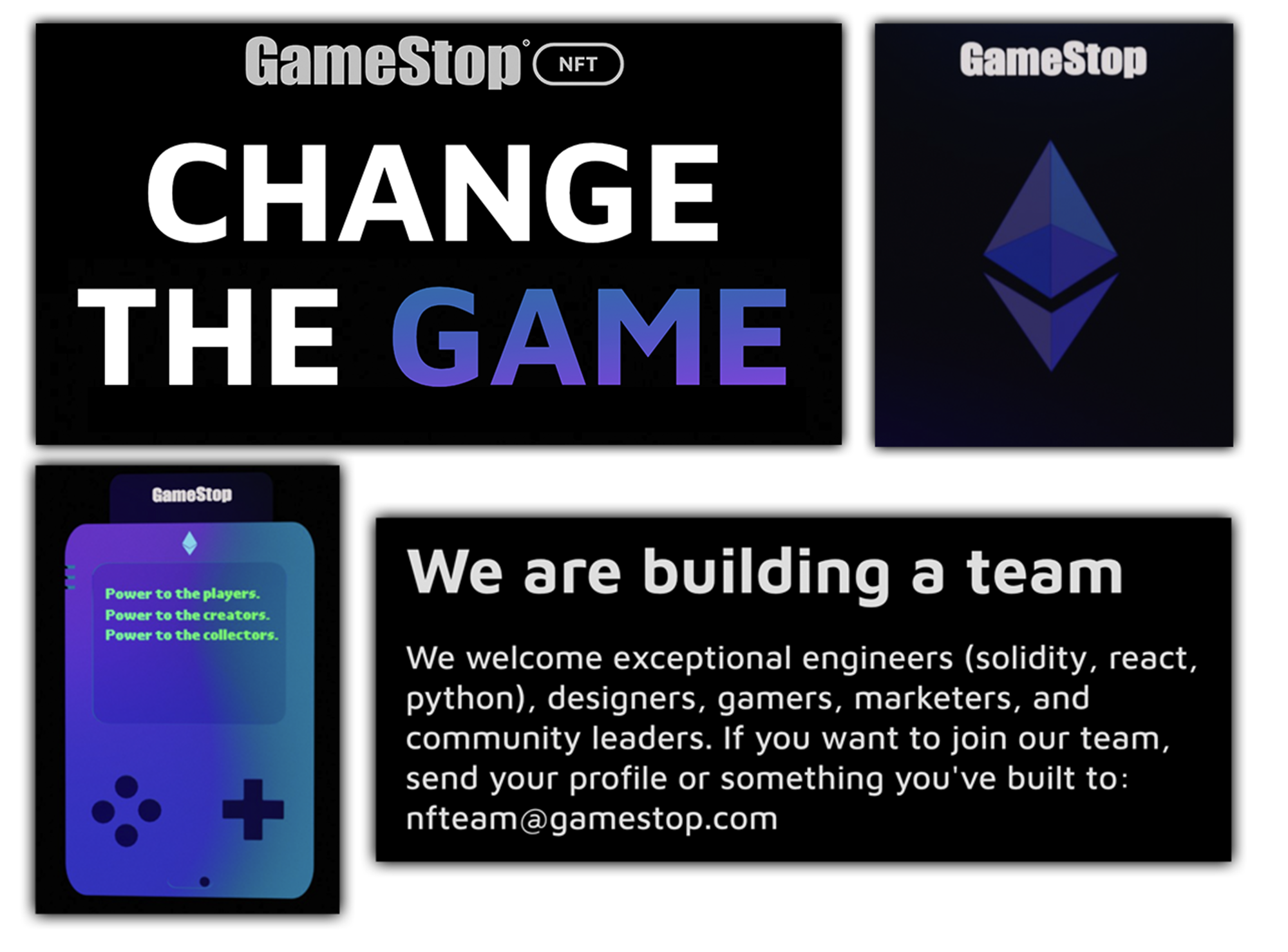 GameStop's NFT landing page remains unchanged since the May posting.
In June, GMEdd.com covered GameStop's hiring of Jordan Holberg, an eccentric geek, gamer, decentralist, and now GameStop's Principal Engineer. We recommend reading that piece before this one, if you haven't already.
"As Principal Engineer for GameStop, and … with my analog childhood and digital adolescence, I am the bridge between the old and the new — traditional "legacy" ecommerce and the next generation of blockchain."
Since the RC Ventures settlement with GameStop, the brick-and-mortar focused retailer has hired at least a dozen individuals in the pursuit of establishing an "NFTeam," tasked with envisioning a future where traditional e-commerce is bridged with blockchain.
GMEdd's full tech hire sheet can be seen on our Report and Models page.
Some NFTeam members are publicly-known on LinkedIn, but it is easy to assume that the division does not end here.
What is the company building?
All Roads Point to Finestone
At the center of this crypto task force is Matthew Finestone, CFA, who was granted the title Head of Blockchain at GameStop in April 2021, departing his position as Head of Business for Loopring.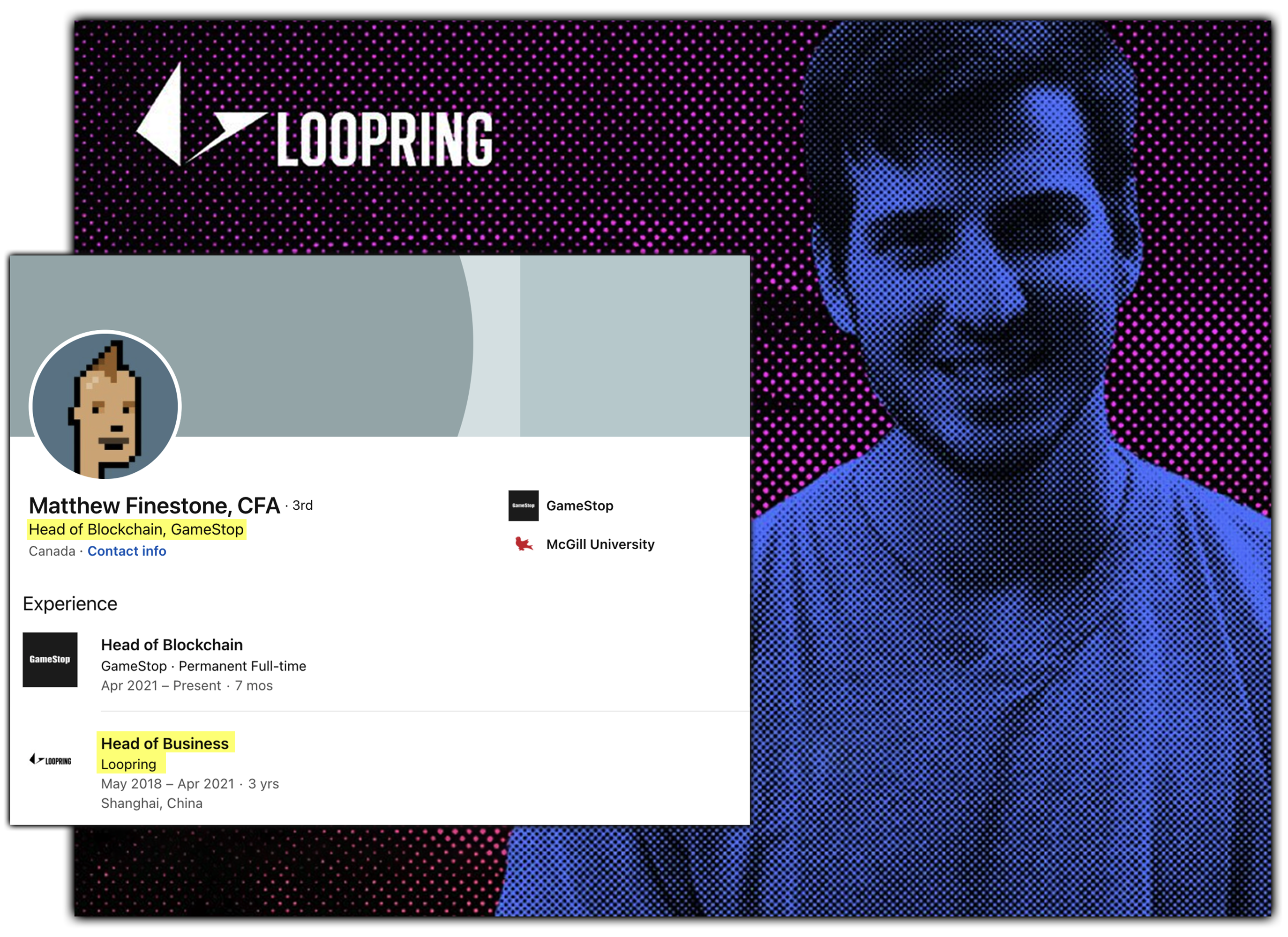 LinkedIn indicates Matthew Finestone transitioned from Loopring to GameStop in April 2021.
Matthew Finestone was one of Loopring's first employees, and largely worked to advocate for the company's revolutionary technology, making his departure all the more mysterious.
When Finestone left his position at Loopring, he signed off with a resignation letter titled, "Thank you, Loopring," still readable on Medium.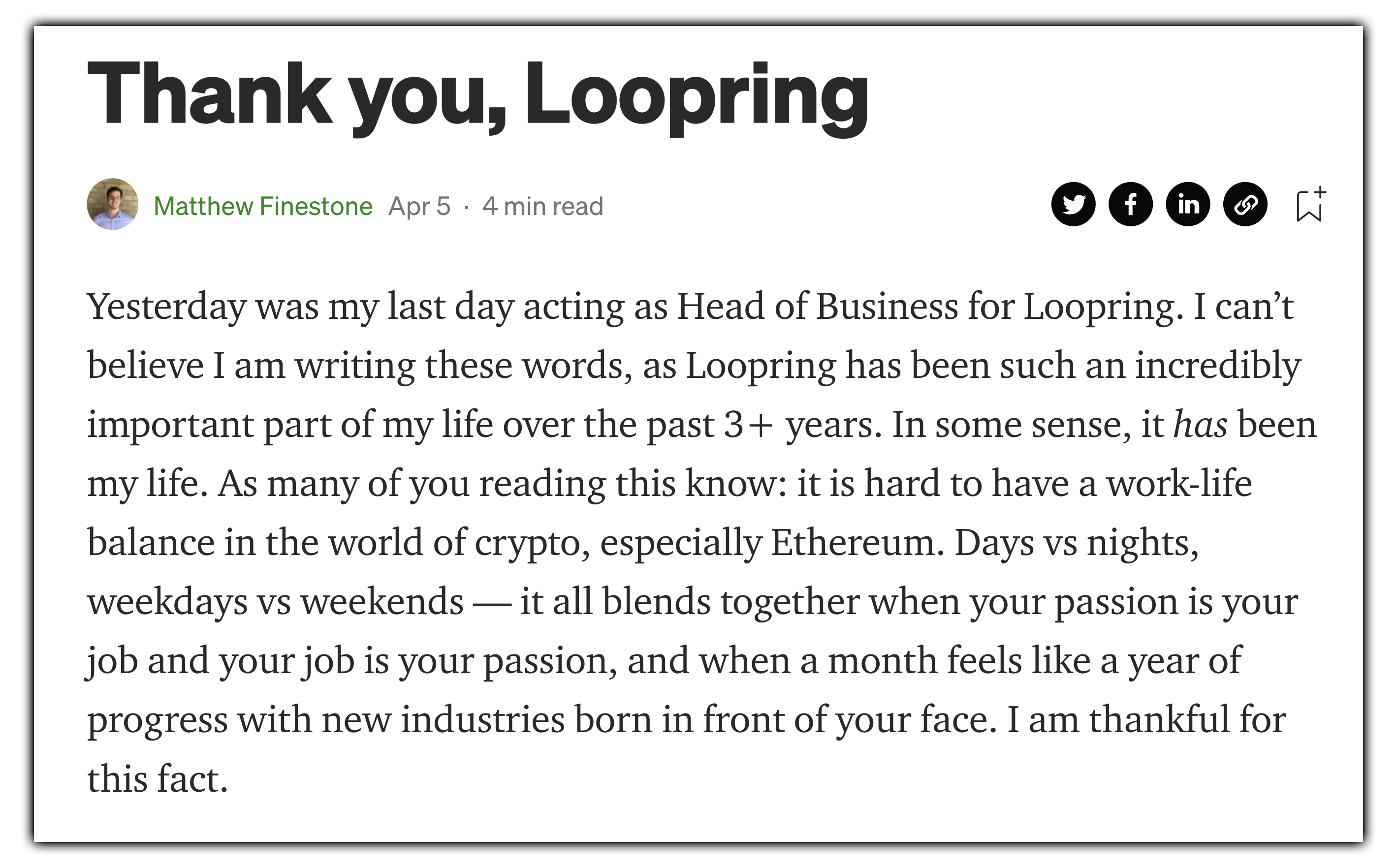 Finestone's departure letter was posted on April 5th 2021.
This letter details Finestone's years of commitment to Loopring, and states that it has been his life's work.
Finestone believes that it is hard to have a work-life balance in the world of crypto, and that it all blends together when your passion is your job and your job is your passion.
Most interestingly, Finestone states that he views his next project as a once-in-a-lifetime, perfect-timing, far-reaching opportunity/challenge that he needs to pursue for its own sake, and for his own personal development.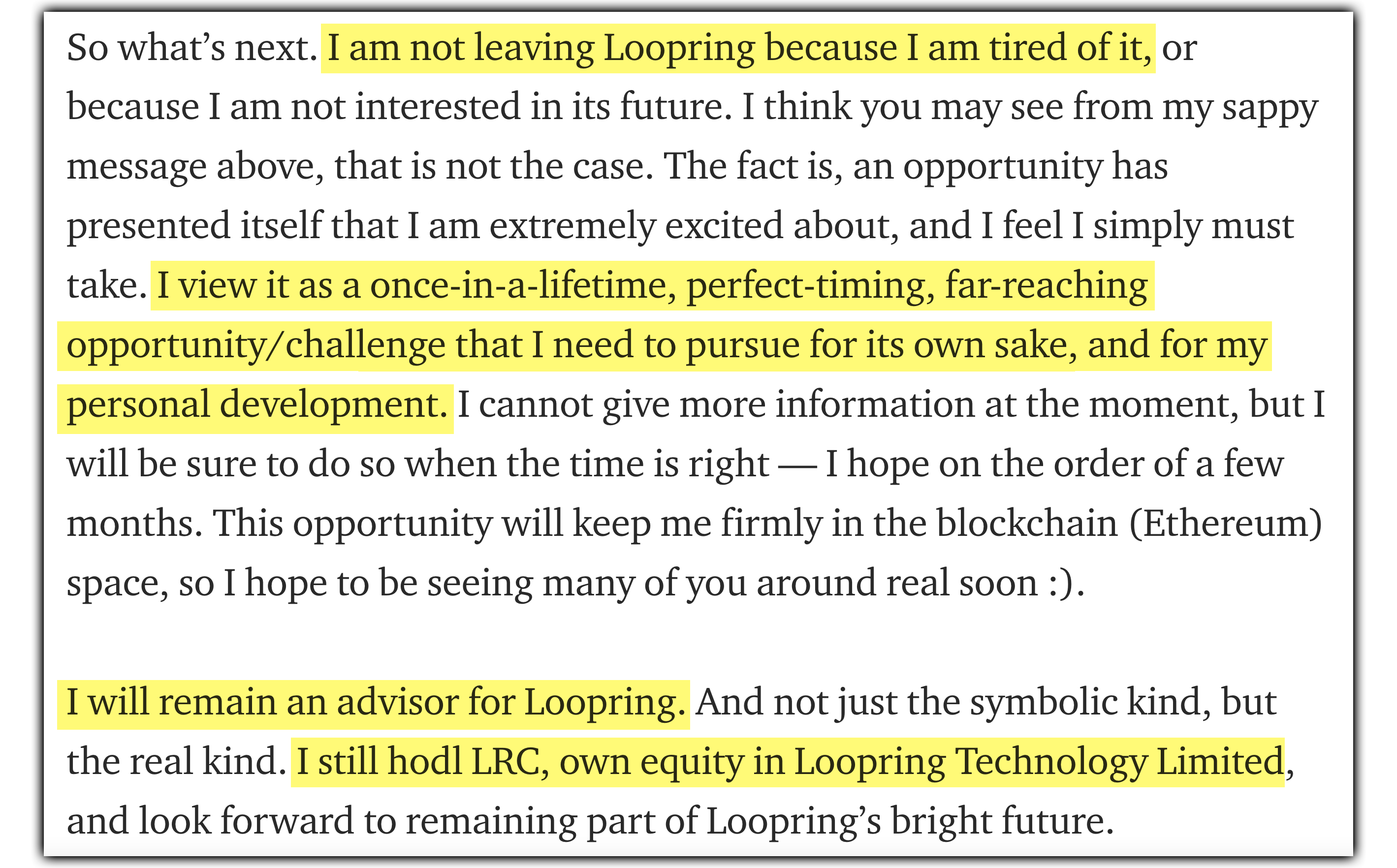 Finestone details his reasons for departure.
Finestone also states that he will not only remain an advisor for Loopring, but he still owns equity in Loopring Technology Limited, and looks forward to remaining a part of the company's bright future.
Once at GameStop, Finestone began sharing hints that his new gig will bring tens of millions onto Ethereum, through a "stealth startup unit" within a large public corporation.
Finestone seems as enthusiastic about his new project as his last.
What is Loopring? What's the company building? Grab some popcorn and buckle up, it's going to be a fun ride.
Ring Ring Ring Ring, Bananaphone
Loopring is a zkRollup Layer 2 protocol on Ethereum that describes itself as "an open-sourced, audited, and non-custodial exchange protocol." It aims to allow anyone to build non-custodial, order book-based exchanges on Ethereum by leveraging zero-knowledge proofs.
Now, an explanation for all us smooth brains… What you need to know is that Loopring is aiming to leverage blockchain to become the leading user-facing financial services application in the world. Revolutionizing trading, investing, payments, 'banking', to become the gateway of choice for users to experience the parallel financial system of Ethereum — in all its glory and security.
GameStop's hire of Jordan Holberg, who previously founded Hodlberg Financial, a project that would allow their users and traders to easily interact with a wider range of decentralized, authenticated applications without compromising any privacy, is starting to make sense.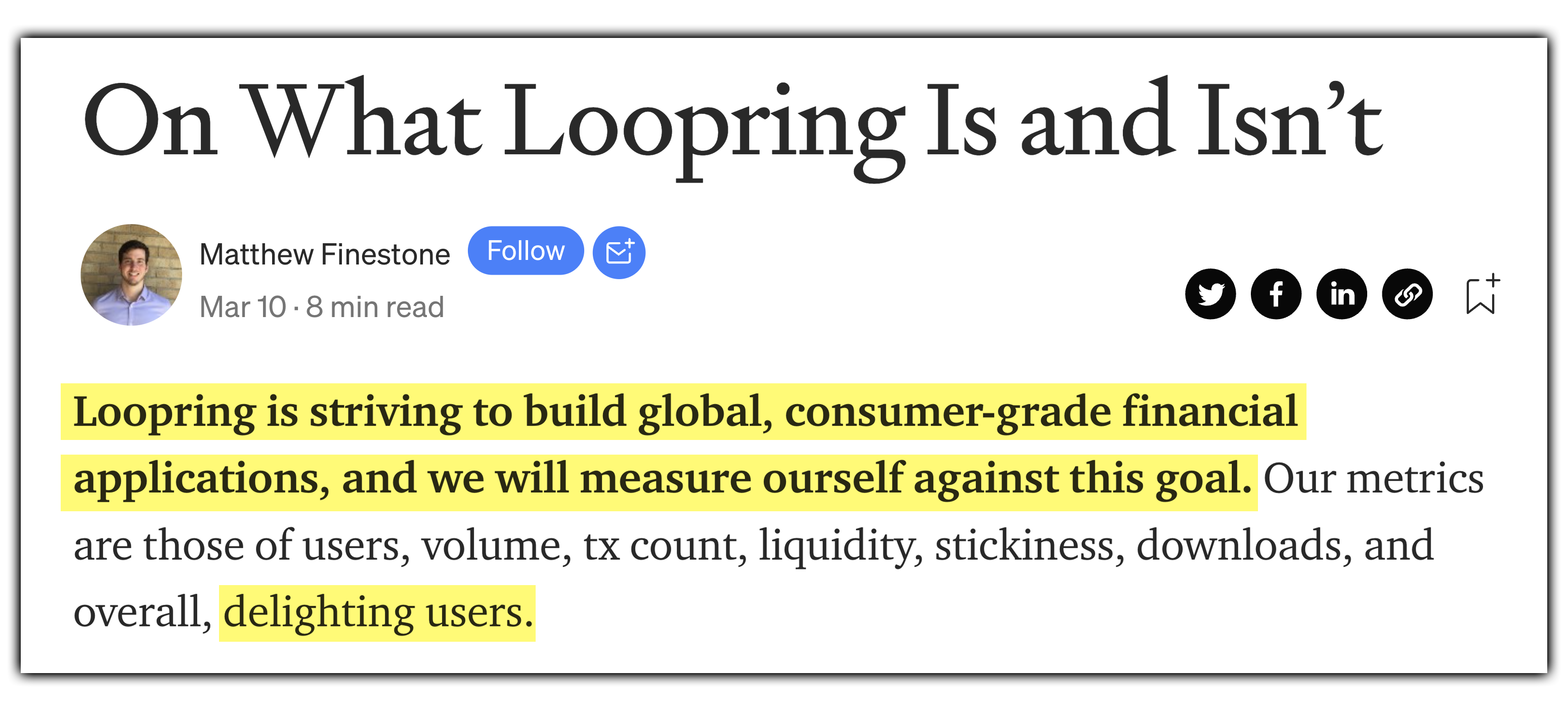 Matthew Finestone discussed his work with Loopring in March of 2021.
Matthew Finestone himself states that Loopring is striving to build global, consumer-grade financial applications. Their focus is, overall, delighting users. Who does this remind you of?
The Founder's Quarters
On August 29th, 2021, Loopring founder Daniel Wang was invited to participate in EDCON 2021 and gave a speech on the theme of "Counterfactual Wallet & NFTs on Loopring".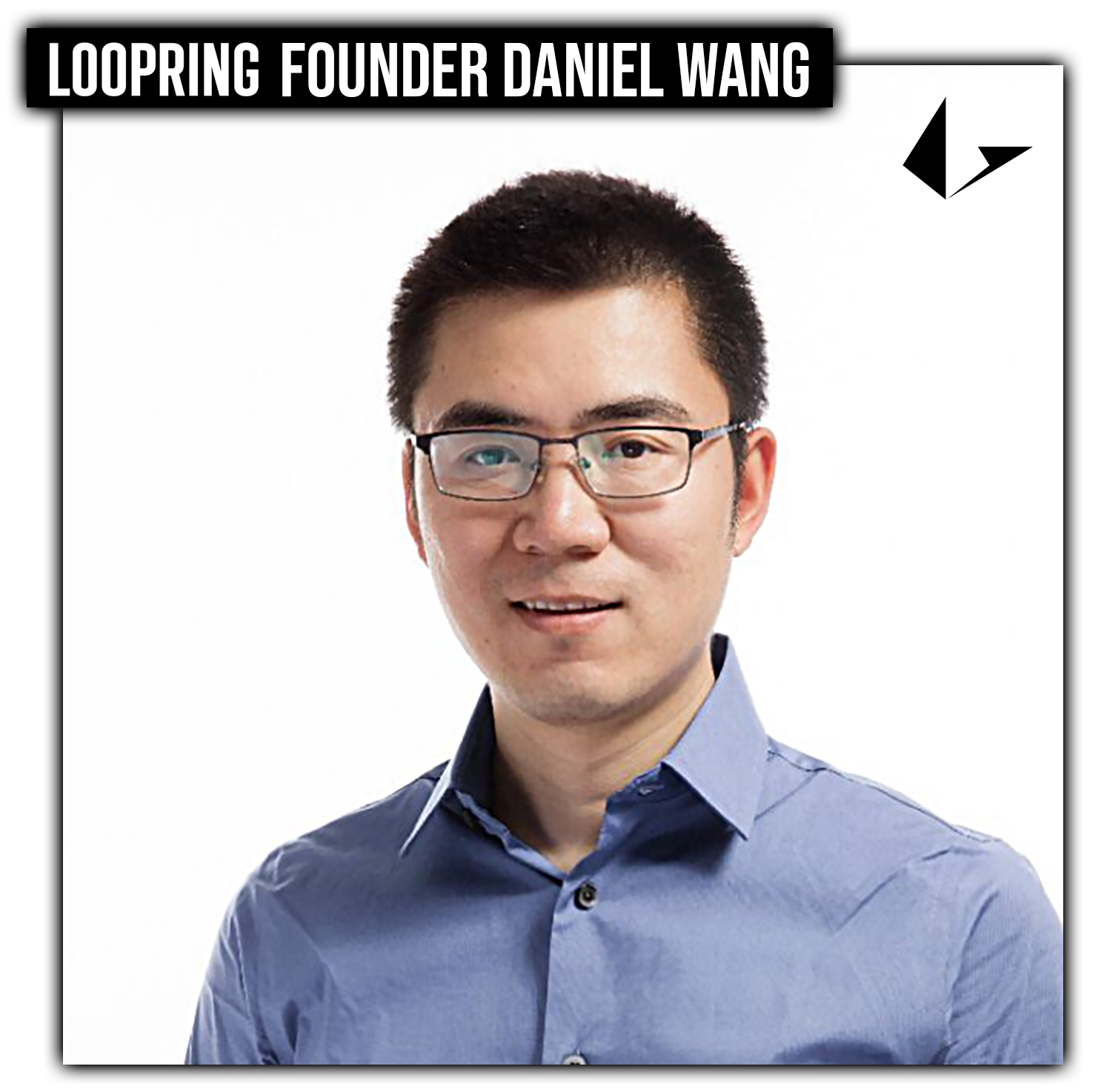 Loopring was founded by Daniel Wang, a software engineer based in China who previously worked at internet companies including JD.com and Google.
At EDCON 2021, Daniel Wang stated that Loopring has no plans to launch their own marketplace, but the company is working with a premium owner to make sure they can launch theirs.
Some people ask me a question whether Loopring will launch our own marketplace. The answer is no. We don't have a plan to launch our own NFT marketplace, but we are working with a premium owner to make sure they can launch their marketplace successfully and very soon, probably in Q4 and with a lot of other stuff.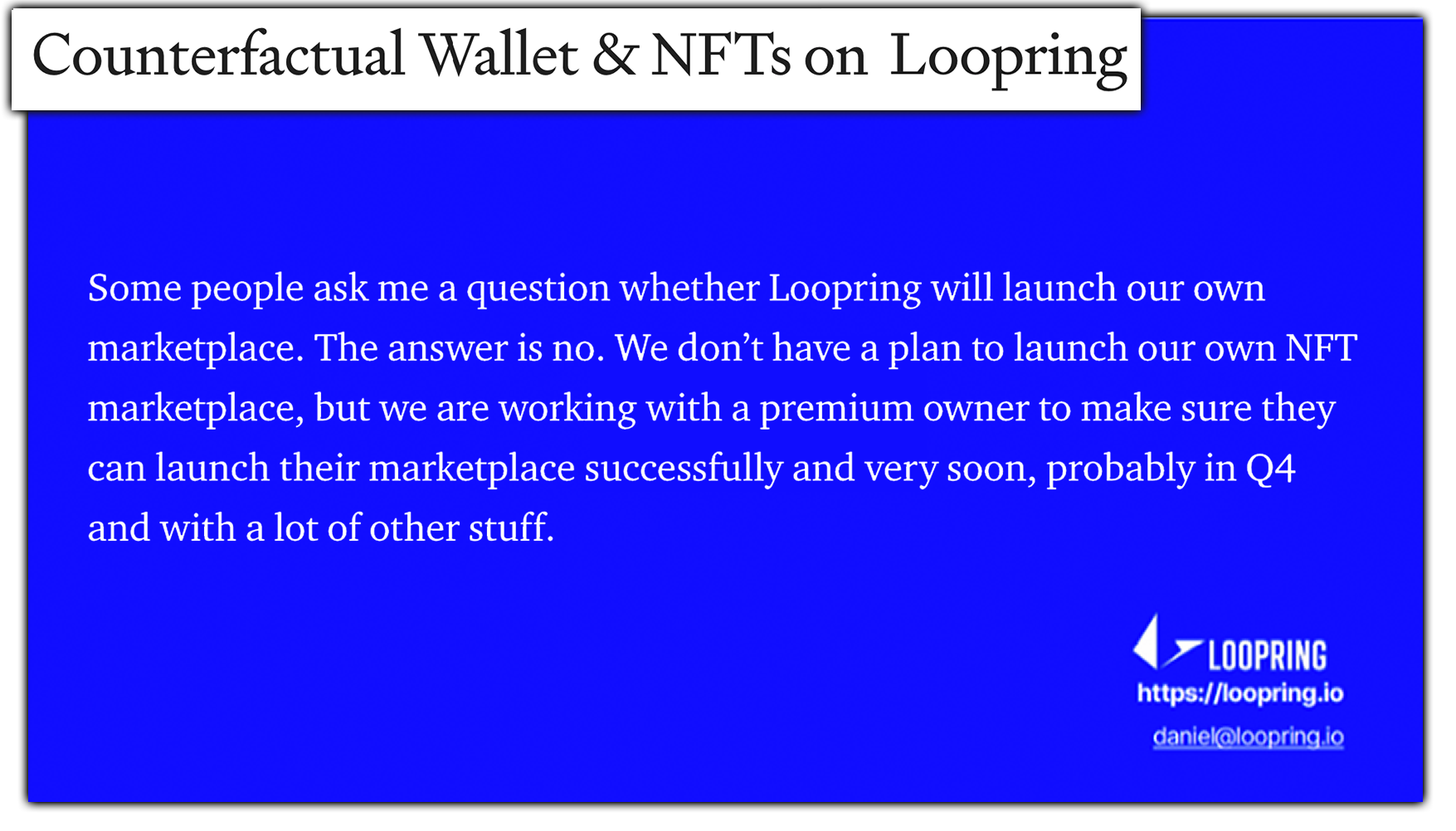 The transcript was posted on Medium.com.
Every 3 months, Loopring releases a Quarterly Update, where the team details progress towards major product launches and what to expect in the months ahead.
With only days until the team's much-anticipated 2021 Q3 Update, Loopring CEO Daniel Wang expressed overwhelming concern towards his inability to provide any details on the company's secret NFT partner on his Official Loopring Discord server.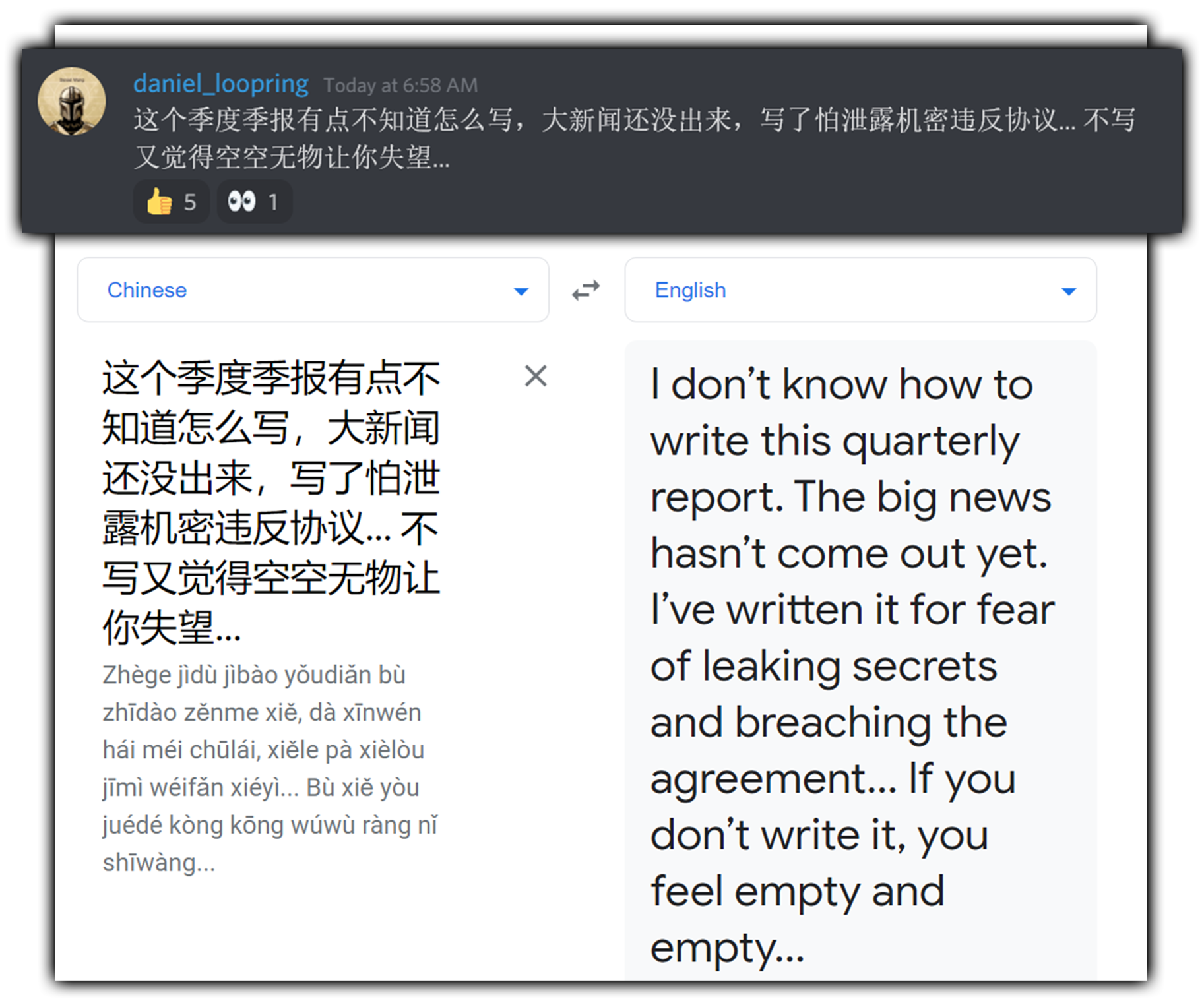 Daniel Wang sent several messages on Discord on September 27th, 2021
Translated from Chinese, albeit poorly, Daniel Wang states he is struggling to write the quarterly report with fear of leaking secrets and breaching a non-disclosure agreement.
I don't know how to write this quarterly report. The big news hasn't come out yet. I've written it for fear of leaking secrets and breaching the agreement… If you don't write it, you feel empty and empty…
All of what the Loopring team has been working on for months relates to their premium NFT marketplace partner, and this partner won't allow Wang to disclose anything about it.
Sound familiar?
At GameStop's Annual Shareholders Meeting, Ryan Cohen stated,
We know some people want us to lay out a whole detailed plan today, but that's not gonna happen. You won't find us talking a big game, making a bunch of lofty promises, or telegraphing our strategy to the competition. That's the philosophy we adopted at Chewy.
If Wang doesn't state Loopring's progress, he will let down his investors, but if he does, he will break the contract.
Daniel Wang sent several Discord messages before the Loopring Q3 Update
A few hours later, the Loopring CEO returns to Discord to urge his supporters to remain patient. Wang states, "just wait guys, the stuff that will be announced, will be worth 10 quarterly reports."
Loopring has since teased the Q4 announcement, with several tweets on their @loopringorg Twitter profile.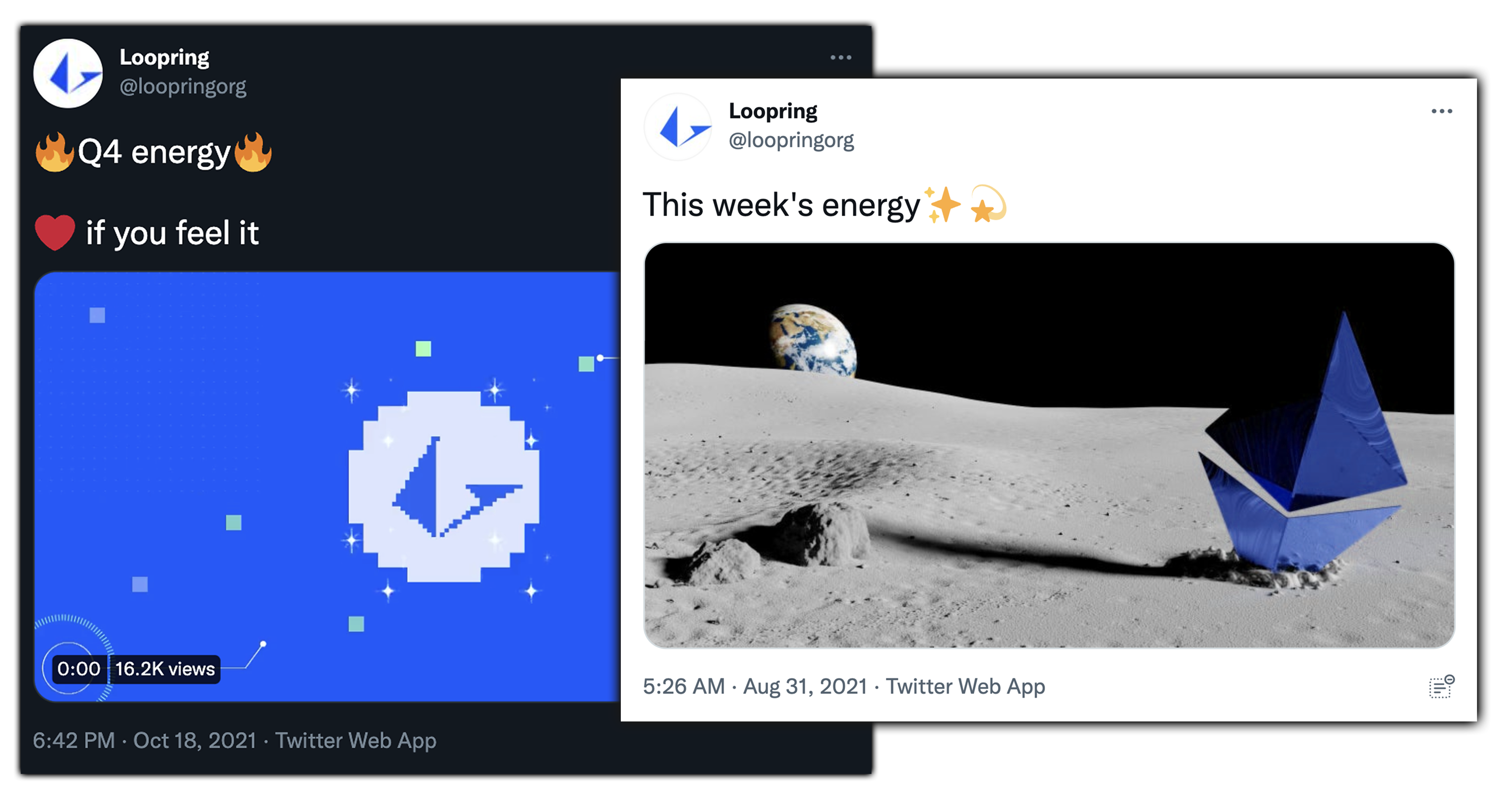 Loopring's tweets have a familiar energy.
GameStop.Loopring.Eth
Etherscan is a Block Explorer and Analytics Platform for Ethereum.
Essentially, Etherscan allows anyone to explore and search the Ethereum blockchain for transactions, addresses, tokens, prices, and other activities taking place.
One search of the Ethereum Name 'gamestop.loopring.eth' resolves to the address '0x269635DF1C17f24e15E27786f0C28C3DD409B3D2'.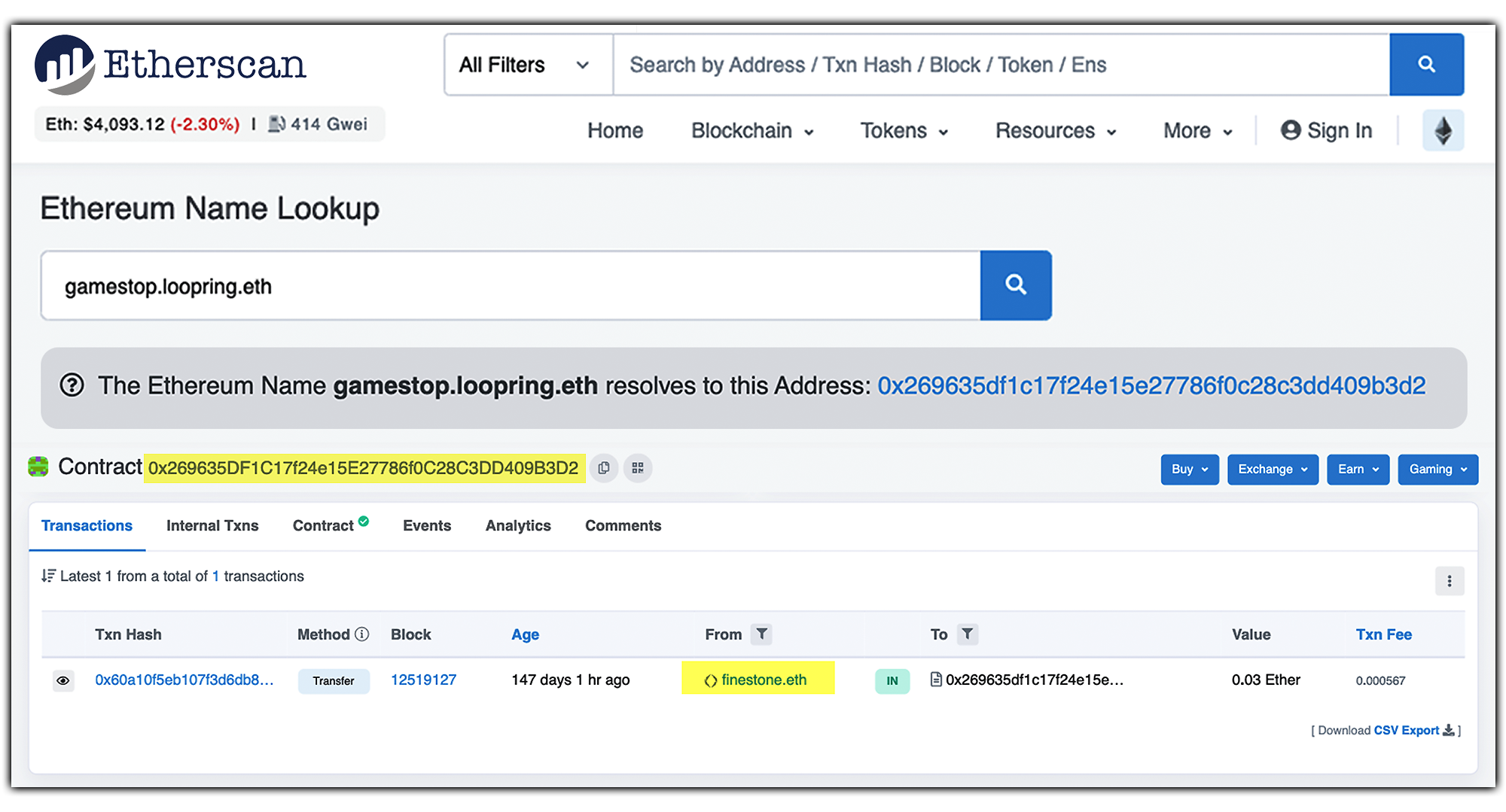 gamestop.loopring.eth is a product of Matthew Finestone.
The only transaction sent to this smart contract wallet is from '0x381636d0e4ed0fa6acf07d8fd821909fb63c0d10', an address owned by Matthew Finestone, Head of Blockchain at Gamestop, on May 27th, 2021, over a month into his GameStop employment.
Why would finestone.eth fund the wallet 'gamestop.loopring.eth'?
GMEdd.com was able to confirm that finestone.eth is owned by Matthew Finestone of GameStop.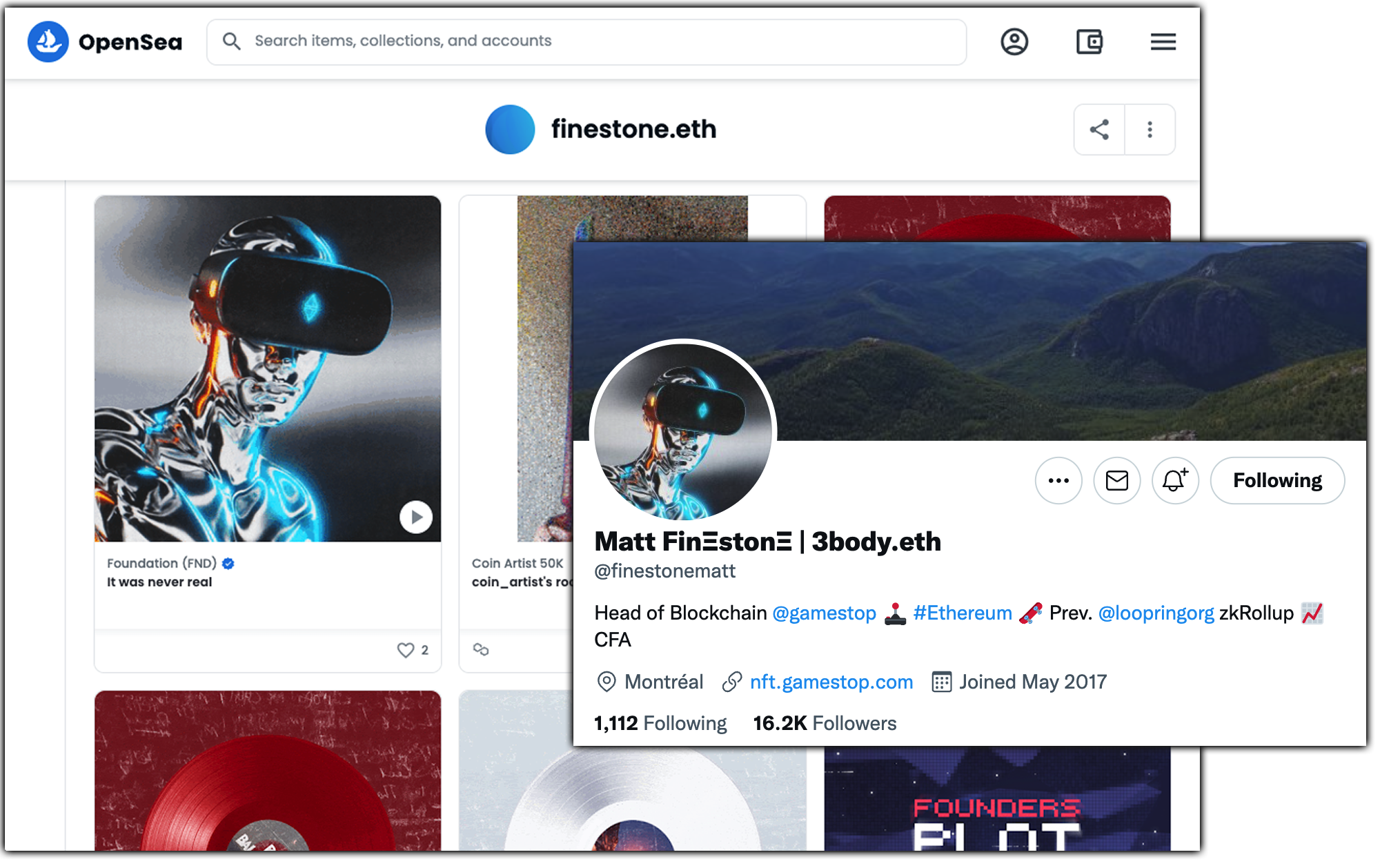 Finestone even uses one of the NFTs held by his finestone.eth account as his profile picture on Twitter.
New Subdomains, too
Through tracking GameStop's subdomains as they emerge, internet sleuths can reveal a lot about what a company is working on.
GameStop has created a new NFT subdomain: support.nft.gamestop.com, as of October 22, 2021.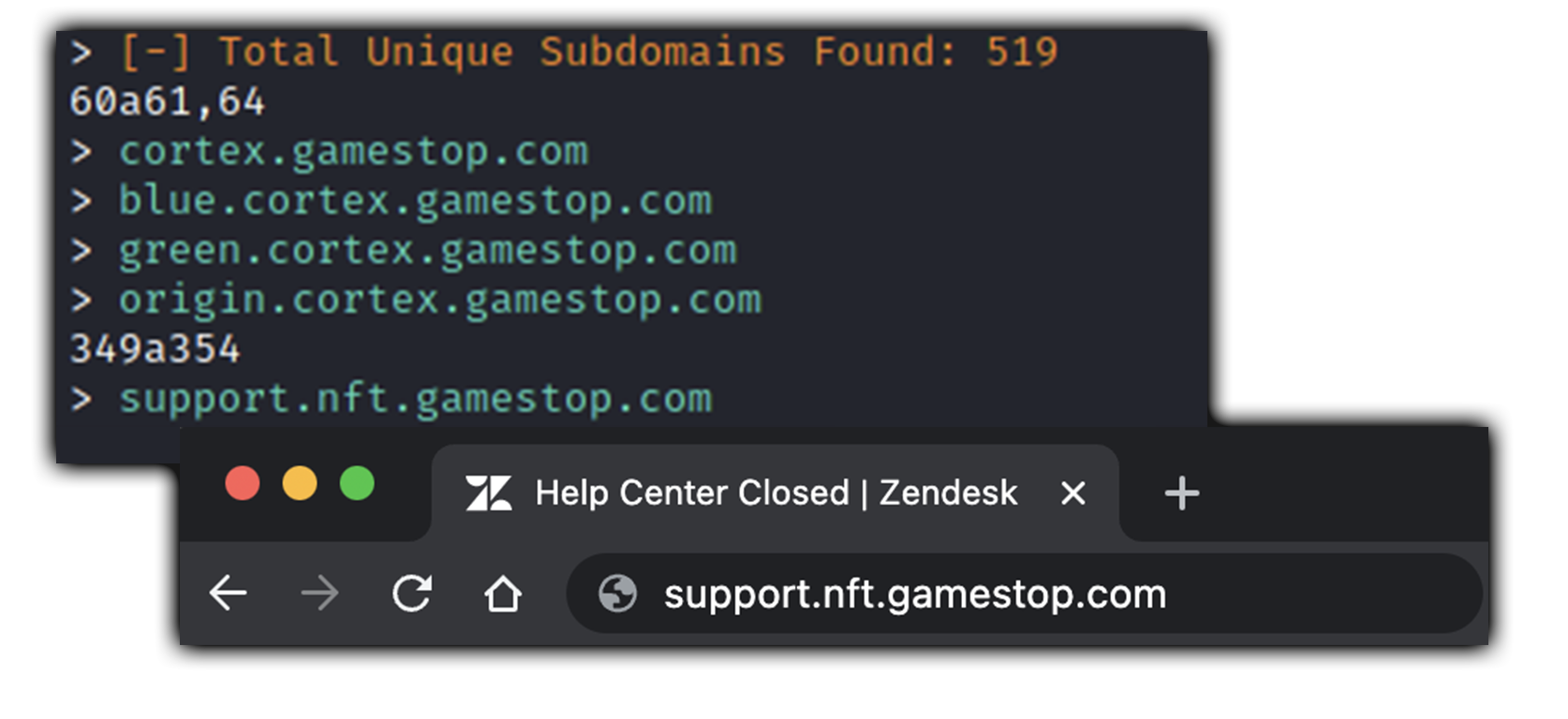 gamestop.com has 519 unique subdomains as of today.
While it currently redirects to a Zendesk page stating that the support center does not exist, it shows GameStop is in the process of building a customer service platform directly for their NFT offering.
Getting started on a support center possibly indicates how soon the GameStop NFT project will be launching. If there wasn't a product announcement imminent, would the company be concerned with providing support?
Family Ties
It was a night of cocktails, shopping and beats at the brand new Aventura Mall hotspot Jared Lang. The shirts, shoes, swim, outerwear, and hosiery designer Jared Lang celebrated his eponymous store opening with a select group of VIP's and fashionistas who checked out the brand new brick and mortar hotspot situated in between Tiffany & Co. and Givenchy in the luxury wing of Aventura Mall.
Ashley Finestone was photographed at Jared Lang's grand opening celebration.
The lavish event was on March 15, 2018 in Aventura, Florida. Thanks to photography by Andrew Stankus, we can see that Ashley Finestone was in attendance, photographed alongside designer Jared Lang.
Finestone… where have we seen that name before?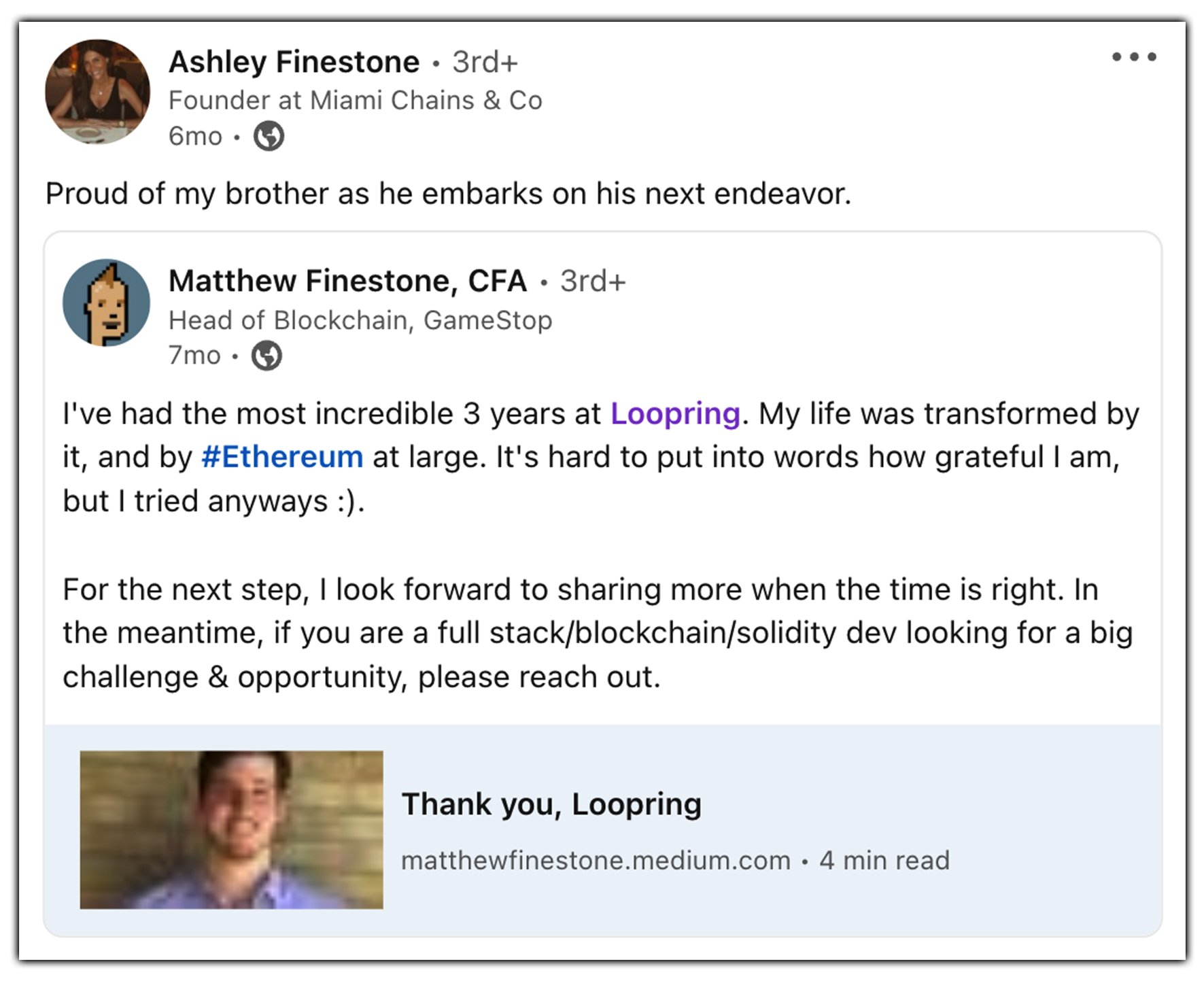 Ashley Finestone shared Matthew Finestone's LinkedIn Post in May 2021.
"Proud of my brother as he embarks on his next endeavor," says Ashley Finestone, as Matthew Finestone departs his position as Head of Business at Loopring for a project seeking full stack/blockchain/solidity developers "looking for a big challenge and opportunity…." later revealed to be GameStop.
Who else was photographed at this grand opening celebration?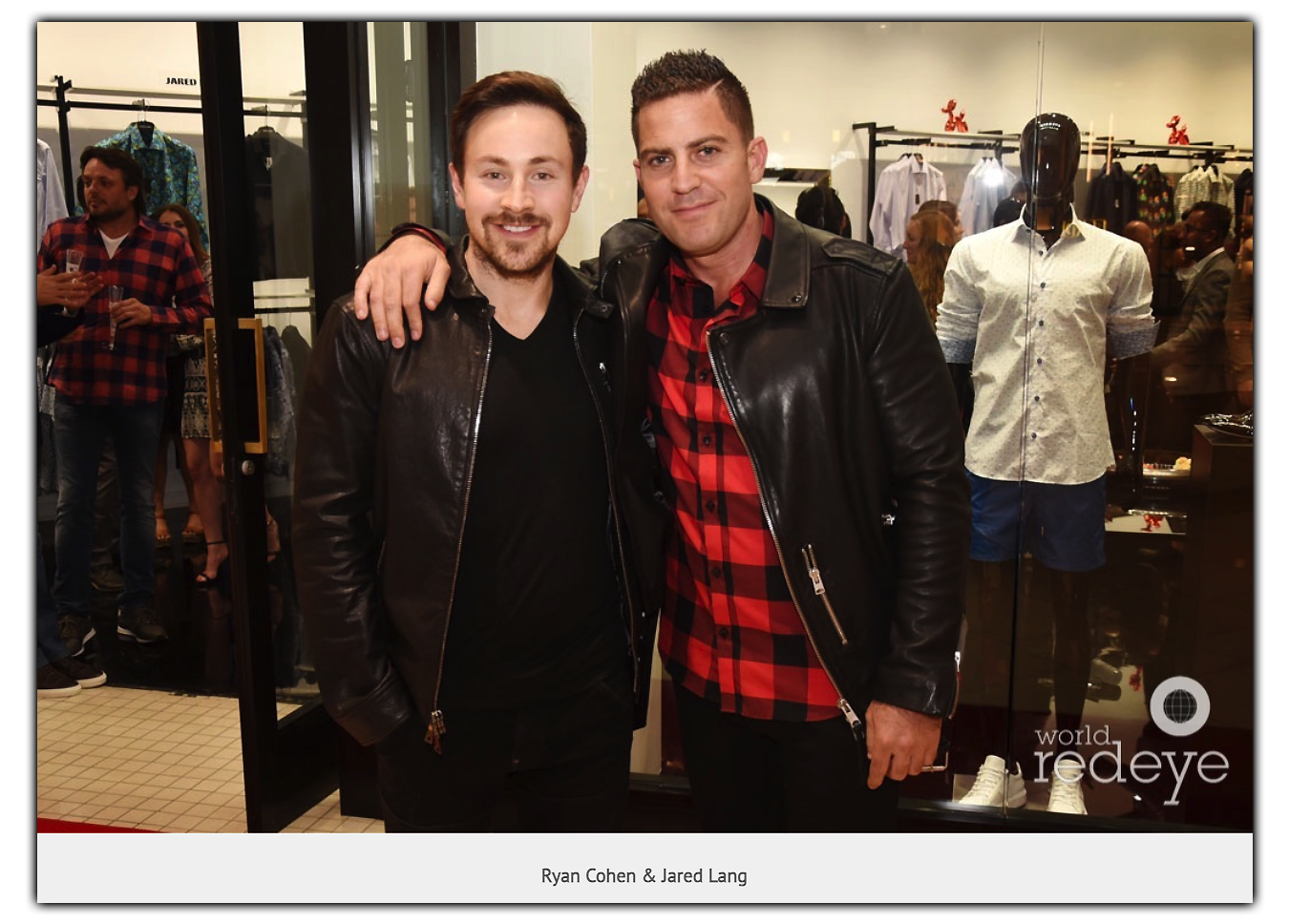 Ryan Cohen was photographed at Jared Lang's Grand Opening.
The man who brought dog food onto the internet himself, Ryan Cohen, co-founder of Chewy and Chairman of the Board at GameStop.
This shouldn't be a surprise, as Jared Lang proclaims Ryan Cohen is his closest friend and brother-in-law.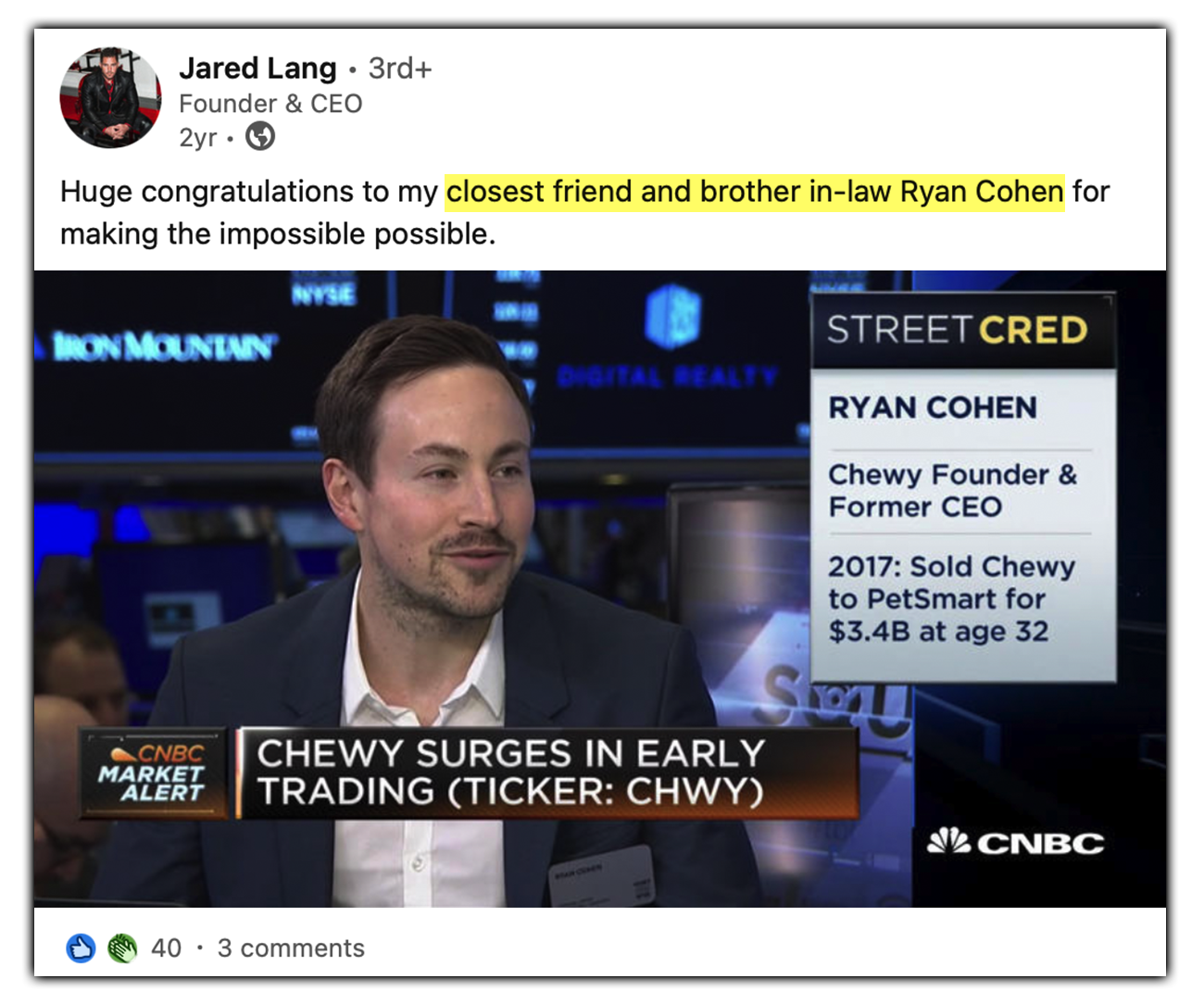 Jared Lang on LinkedIn in 2019
So, GameStop's future Chairman and the sister of GameStop's future Head of Blockchain both happen to be "Select VIPs" at a small opening party all the way back in 2018?
The Cohen family ties seem to extend past Jared Lang, possibly even to Finestone.
If you think this may just be one hell of a cohencidence, look no further than Facebook.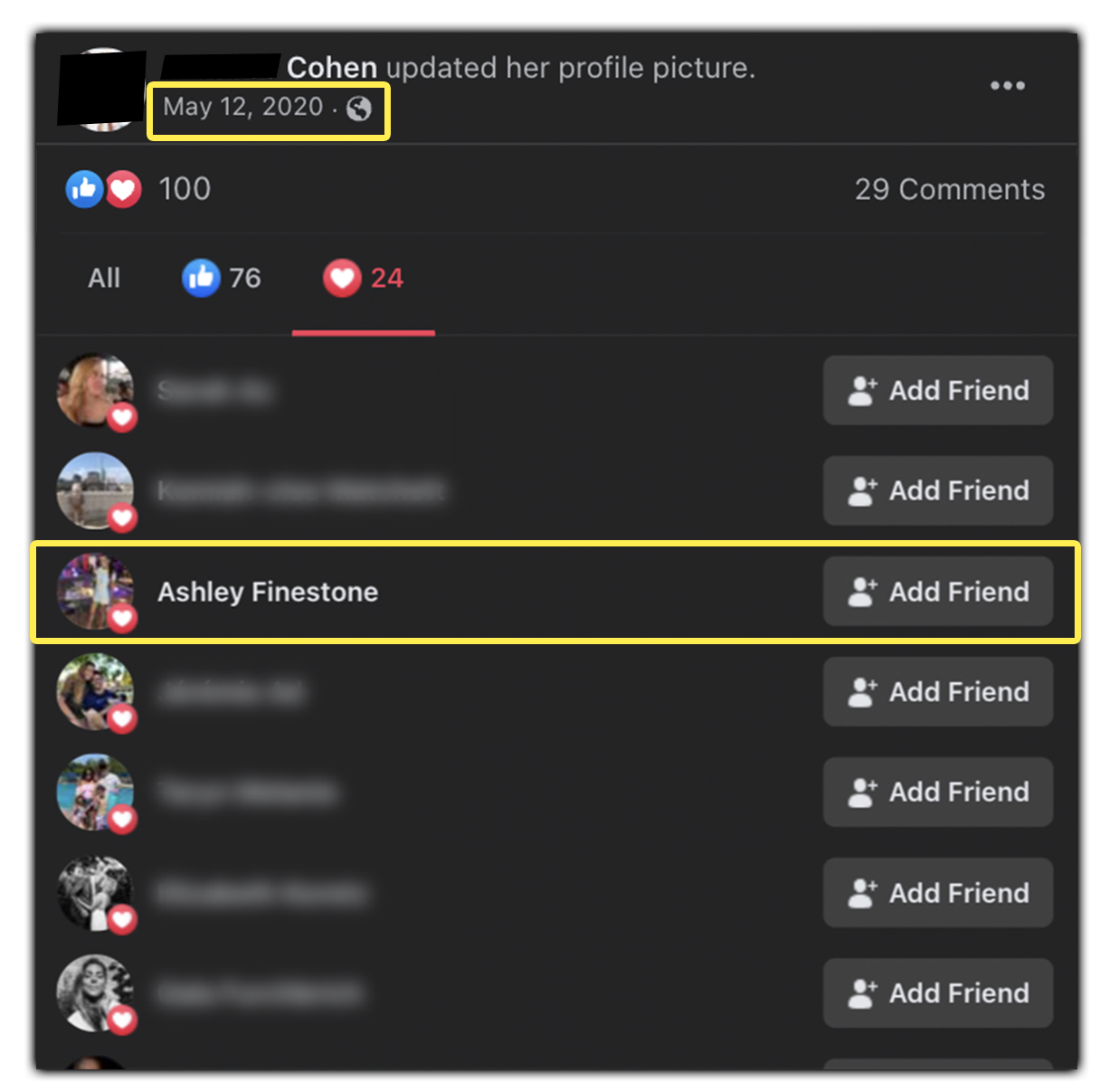 Ryan Cohen's wife updated her profile picture on May 12, 2020.
On a May 2020 profile picture update by Ryan Cohen's wife¹, Ashley Finestone reacted with a heart.
We would never want to invade anyone's personal privacy here at GMEdd.com, even in the pursuit of investigation, so do note that these are public posts, shared on social media.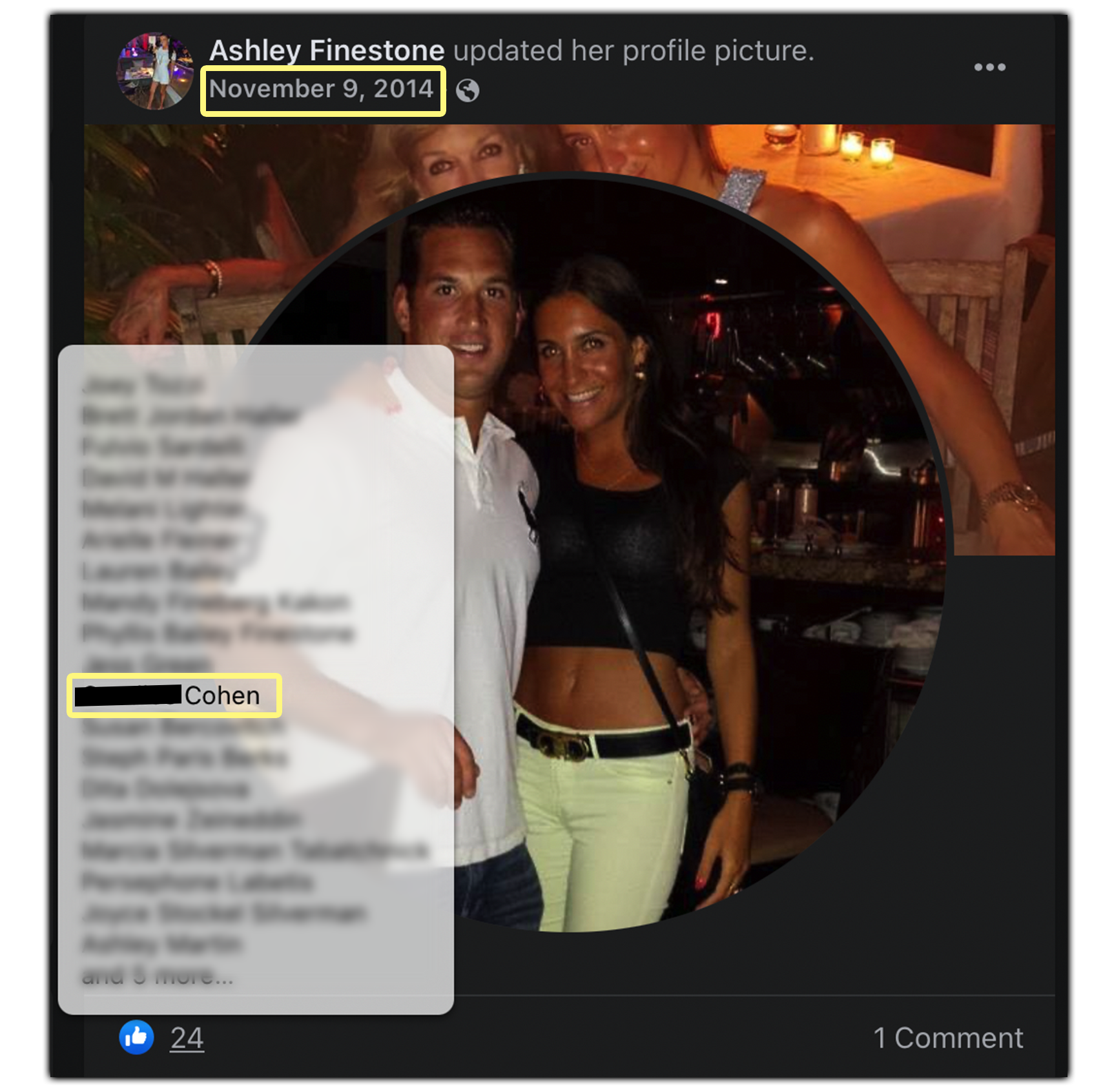 Ashley Finestone has updated her profile picture too.
Another updated profile picture, this one by Ashley Finestone on the 9th of November, 2014, was liked by Ryan Cohen's wife. 2014.
We can also recall that Ryan Cohen is a college dropout from Montreal, Canada per a Forbes article from 2017. Matthew Finestone, however, graduated from McGill University, a school in Montreal, Canada.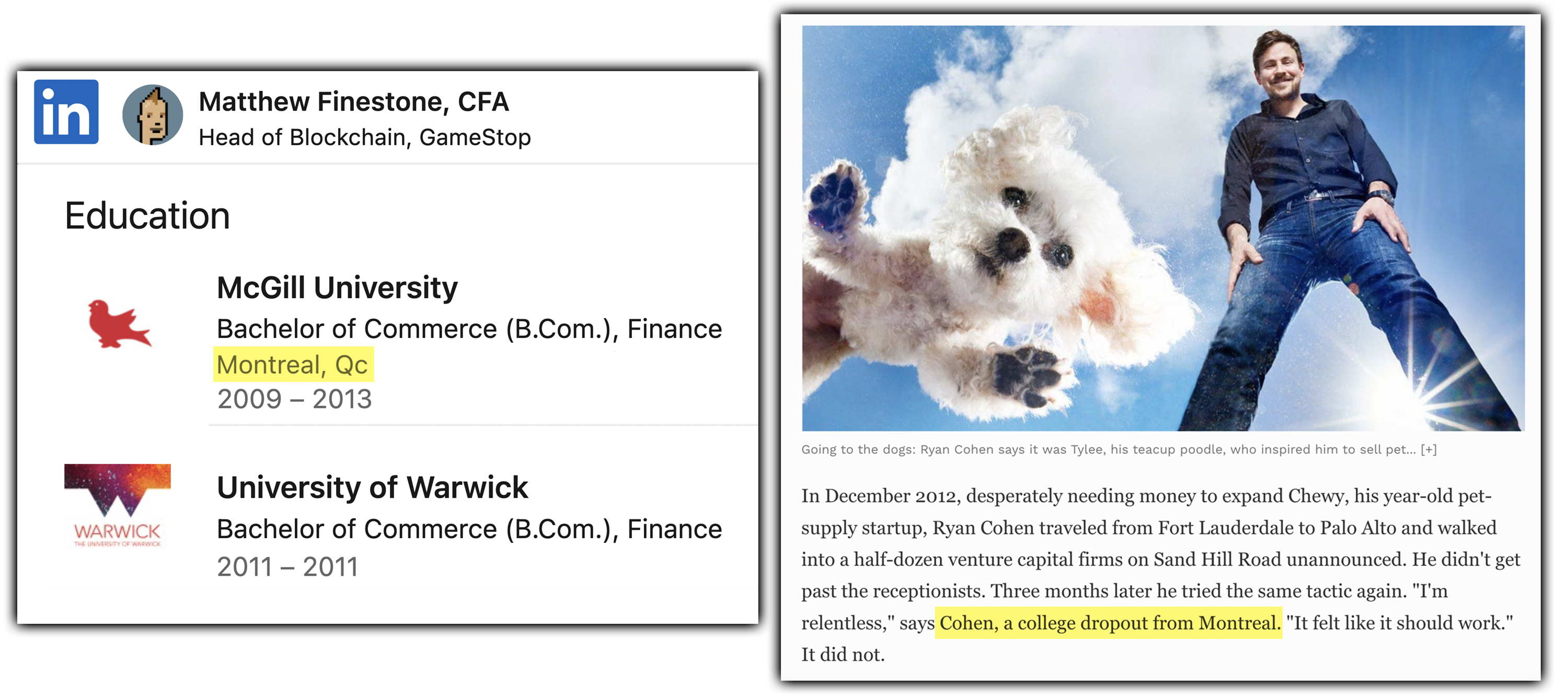 Both Matthew Finestone and Ryan Cohen have roots in the Canadian city of Montreal.
It seems the relationship of Ryan Cohen and Matthew Finestone dates back much, much, further than the April 2021 hiring of Finestone as GameStop's Head of Blockchain.
Is it possible that recruiting Matthew Finestone to lead an NFT division was part of Ryan Cohen's transformation plan from the beginning?
Rolling it all back up
Nobody knows for certain what GameStop's extensive NFT division has been working on.
Loopring is keeping secrets as well, with the CEO disclosing that the Ethereum-based technology company is working with a premium partner who demands they keep quiet.
GameStop's Head of Blockchain speaks with incredible passion about his time at Loopring, even a month after transitioning to working for GameStop.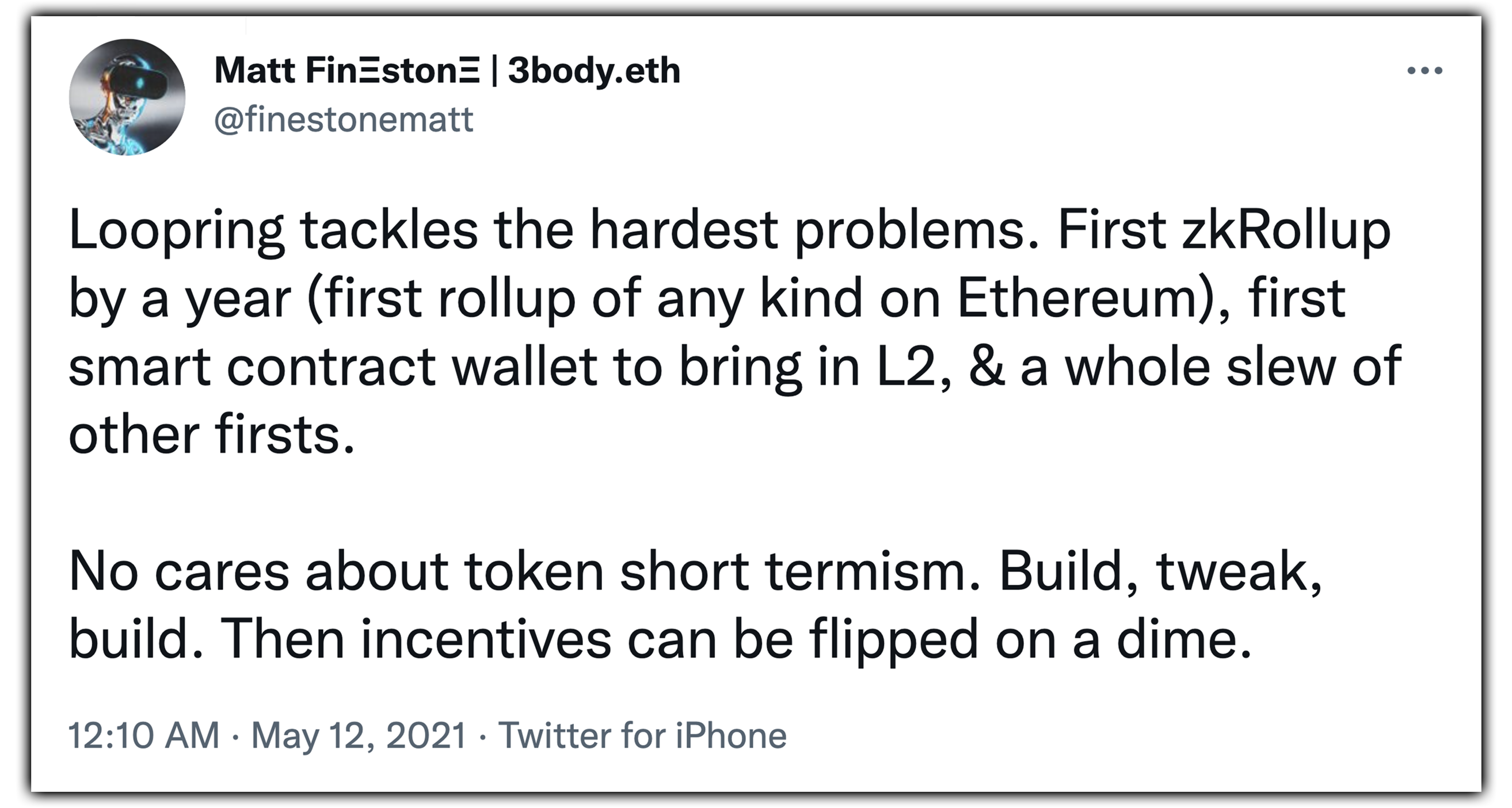 Matthew Finestone sent out this tweet on May 12, 2021.
Although Matthew Finestone was formerly listed on LinkedIn as an Advisor to Loopring while simultaneously maintaining his employment at GameStop, he has since departed his advisory role at Loopring, possibly to stay in good corporate governance amid a partnership between both companies.
In Finestone's Loopring departure letter, the former Head of Business left a heartfelt message to the engineering team, stating that he has absolutely zero doubt that Loopring's future is bright.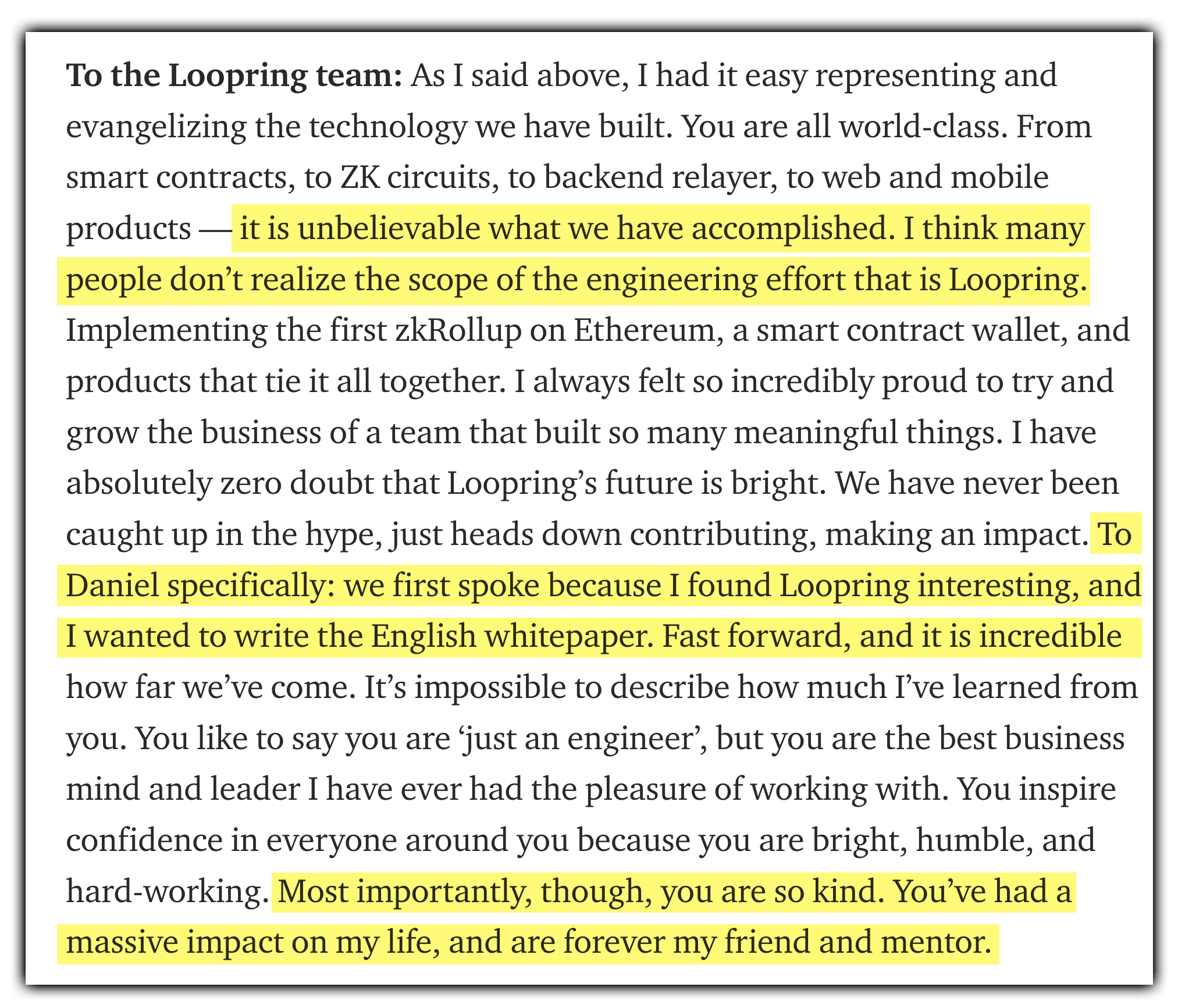 Finestone's Loopring departure speaks directly to the team he worked alongside.
Digital breadcrumbs allow for reasonable assumptions to be made, as it seems Loopring has the technology that GameStop would require to bridge traditional e-commerce and blockchain and engineer the revolution of gaming.
With Q4 of 2021 already underway, it is only a matter of time until Loopring's NFT Marketplace partner is announced, and we can expect GameStop investors will be on the edge of their seats until then.

Toast and vestro researched and contributed. Toast edited and contributed.
Sources: Finestone on Medium, About Loopring, Facebook, Jared Lang on LinkedIn, Finestone on Twitter, Finestone on Twitter, Ashley Finestone on Facebook, World Red Eye, Loopring on Twitter, Loopring on Twitter, Forbes, Matt Finestone on LinkedIn, Ashley Finestone on LinkedIn, Finestone on Medium
Join GMEdd.com's Official Discord Server to chat about this article, GameStop's transformation, and more.
Consider donating to support research and buy our contributors a coffee.
¹Personally identifiable information on a private individual has been redacted.