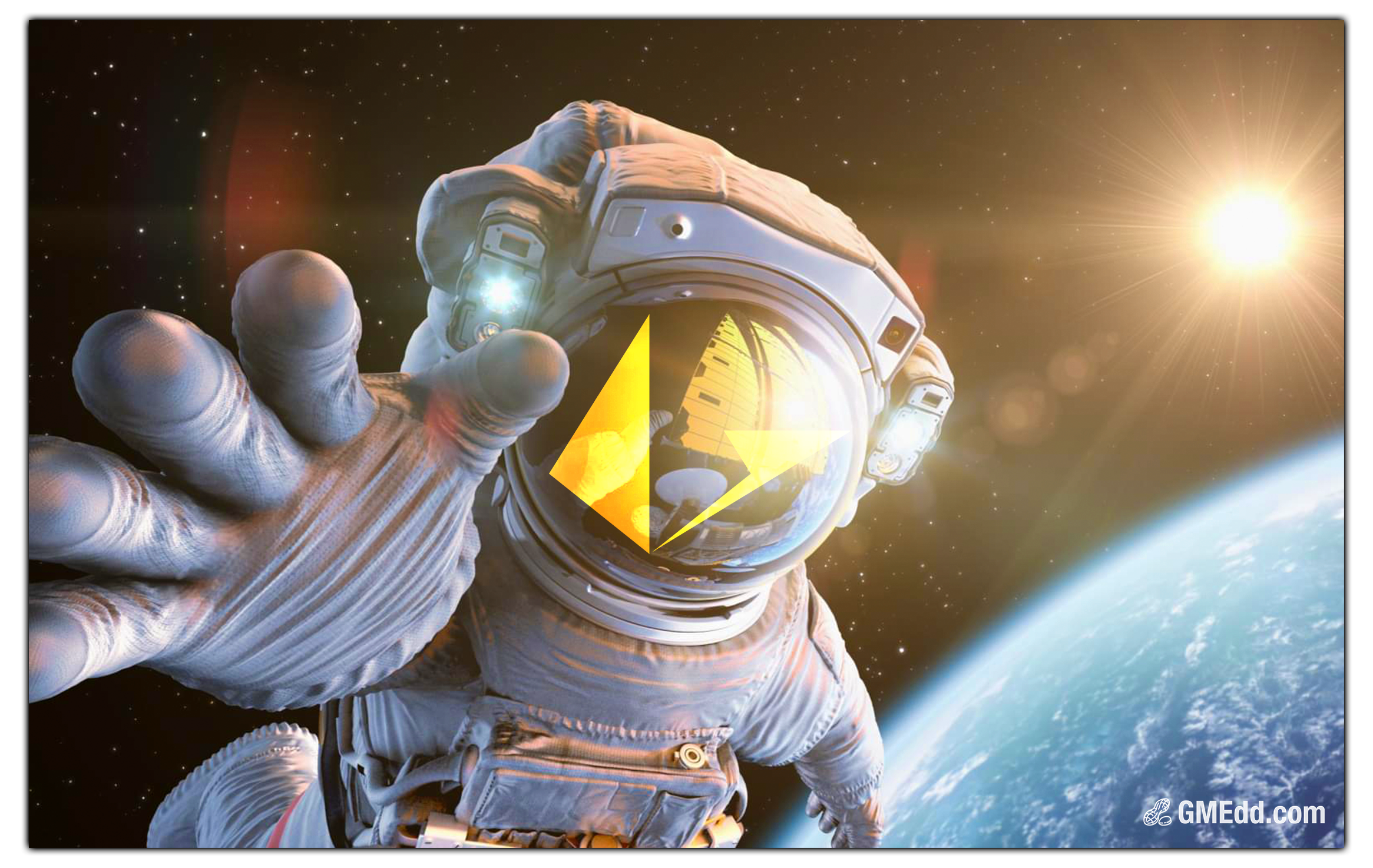 The new GameStop NFT Beta landing page now states the marketplace is almost here, and invites users to beta test now.
Video game retailer GameStop has spent the last year undergoing a tech-centric transformation, with a premium NFT marketplace being at the core of this transition. This newfound interest for the brick-and-mortar was initially revealed through job postings alluding to blockchain developments at the company dating back to April of 2021.
GMEdd.com first unearthed the existence of GameStop's Official NFT project one month later, in May 2021, upon discovering a website that didn't detail much besides a potential slogan for the project, and ever since then investors have speculated what GameStop NFT entails.
By October 27th, 2021, GMEdd.com published source code that revealed Loopring, an Ethereum Layer 2 Protocol, had been hard at work building GameStop an NFT Marketplace of their own.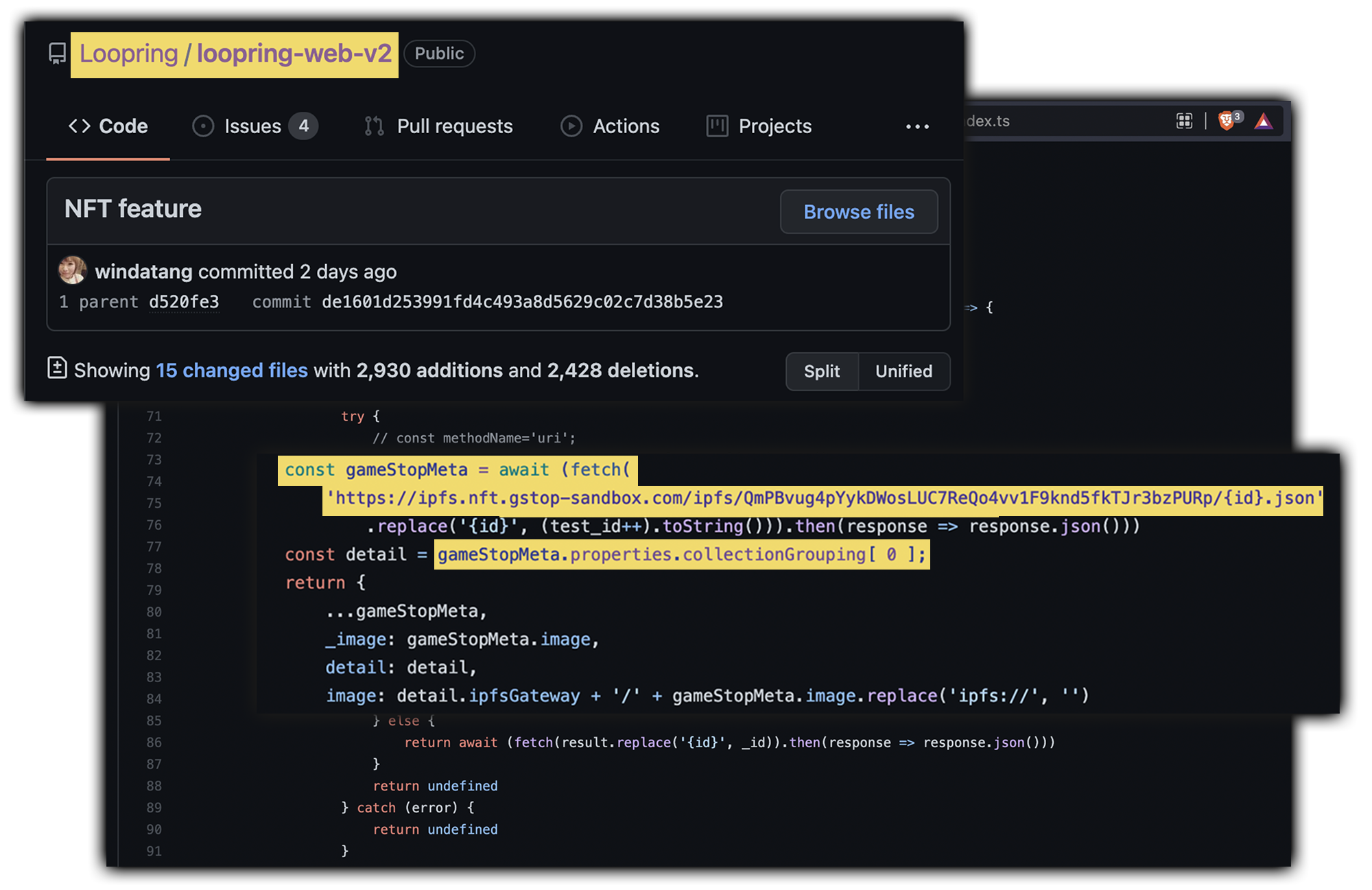 Loopring's GitHub Code from October 2021.
Prior to this, digital breadcrumbs had led us to that same point, detailing how Loopring's technology could power a bridge of traditional e-commerce and blockchain and engineer the revolution of gaming.
With Immutable, another Ethereum Layer 2 NFT Marketplace provider, announced as a preferred partner in January 2022, GameStop investors were uncertain what role Loopring still held in this deal.
Now, GameStop has launched a new beta page for the incoming NFT Marketplace. Alongside this, an announcement by Loopring answers some questions, as well as allows users to connect their wallets and beta test features for a launch that is coming soon.
Loopring Does the Honors
In a Medium.com post on March 23, 2022, at 4:29 AM EST, the Loopring Protocol announced that the future of NFTs are here and they're powered by Ethereum's second layer.
Loopring states that they are thrilled to announce that the long-awaited GameStop NFT Marketplace (beta) is now LIVE, with the full NFT Marketplace coming shortly, built atop none other than Loopring L2.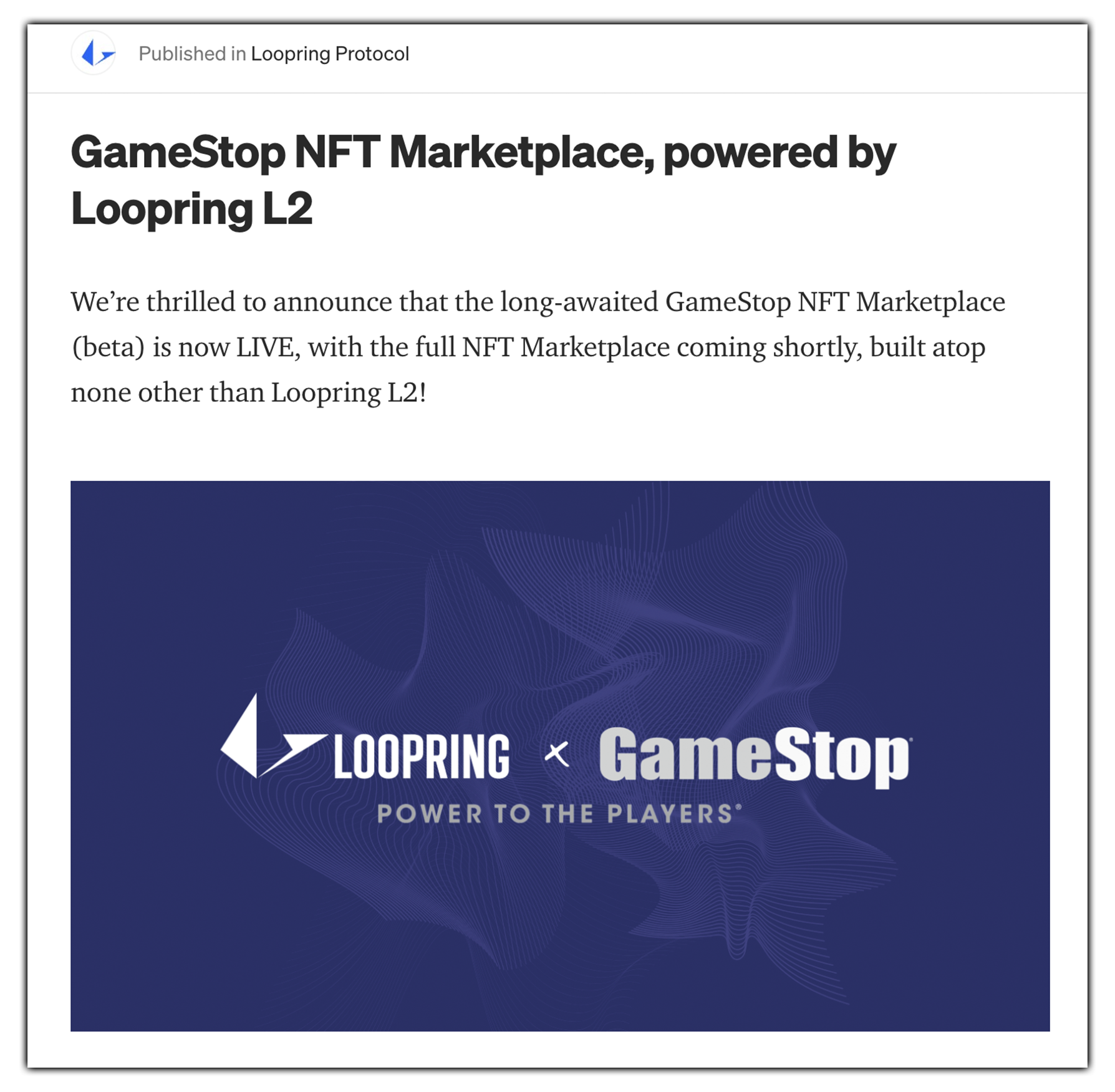 Loopring Protocol's Medium Post on March 23rd, 2022.
"GameStop, in partnership with Loopring, has the opportunity to cement itself at the forefront of this new NFT + gaming paradigm and become THE destination for new global digital economies."
To accomplish this, the new GameStop NFT Marketplace is reportedly built atop the second layer of Ethereum, specifically Loopring L2, to ensure that users receive the strongest digital property rights, anchored by a secure, decentralized, and a credibly neutral environment, like Ethereum.
Loopring L2 inherits Ethereum's self-custodial security while abstracting away costly gas-fees, leaving no one priced out.
Loopring also acknowledges that GameStop choosing to build on L2 first, bypassing L1 altogether, marks a huge step forward for the future of NFTs and an important moment for Ethereum scaling.
"Loopring has built the rails for creators to deliver high performance applications that rival the speeds and scalability of Web2, while also empowering users to receive provable ownership and control over their assets in Web3. These massive speed improvements and lower costs open up the design space to create all sorts of new use-cases for NFTs + gaming that were unimaginable prior."
To wrap up the announcement, Loopring invites fans to get early beta access at beta.nft.gamestop.com, to set up usernames + profiles, make deposits, and be prepared for the full launch of the official marketplace coming soon.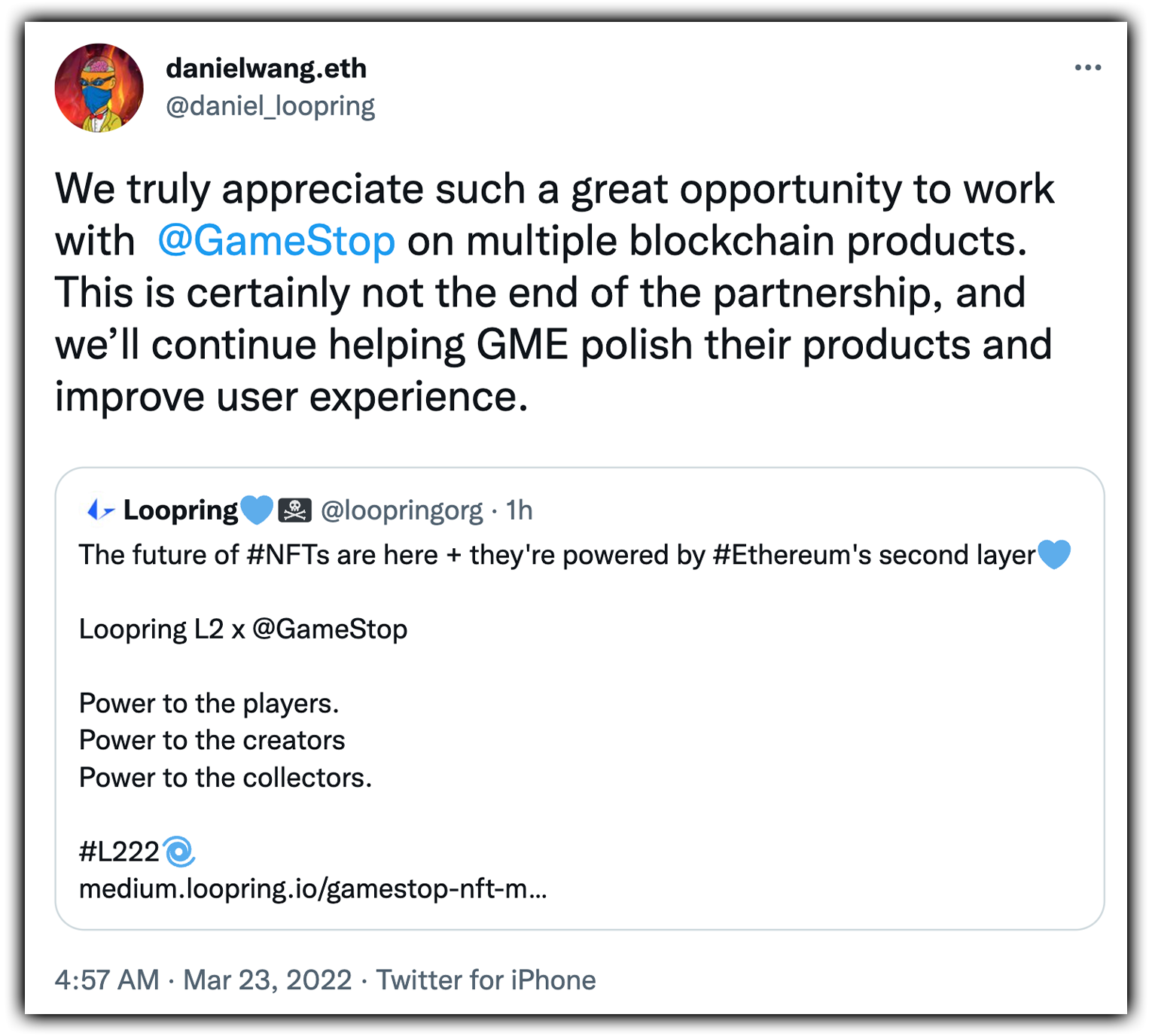 Daniel Wang's tweet on March 23rd at 4:57 AM EST.
The founder of Loopring, Daniel Wang, also took the opportunity to thank GameStop for the opportunity to work on multiple blockchain products. He states that this is certainly not the end of the partnership, and Loopring will continue to help GME polish their user experience.
A first look
GameStop, rockets, and the moon are three things very well-known to retail investors and GME aficionados alike. The GameStop NFT Beta landing page begins by marking three key elements that have become staples in the minds of traders across meme stocks and crypto for years.
Upon first glance, the user is hinted towards a "Connect" button highlighting the opportunity to link a cryptocurrency wallet, which is fairly typical of existing NFT platforms such as OpenSea and Coinbase.

Following a wallet connection (we opted for MetaMask), users are invited to customize their profiles and make deposits.

GameStop NFT's profile page.
The profile customization page allows users to set a username, choose an NFT profile picture, write a short bio, and attach an email address along with Twitter and Reddit usernames.
Users can also navigate to their owned, liked, and hidden NFT collections.
When depositing funds, the options are to buy ETH with a card, deposit ETH from your wallet, or ask a friend to transfer to your account.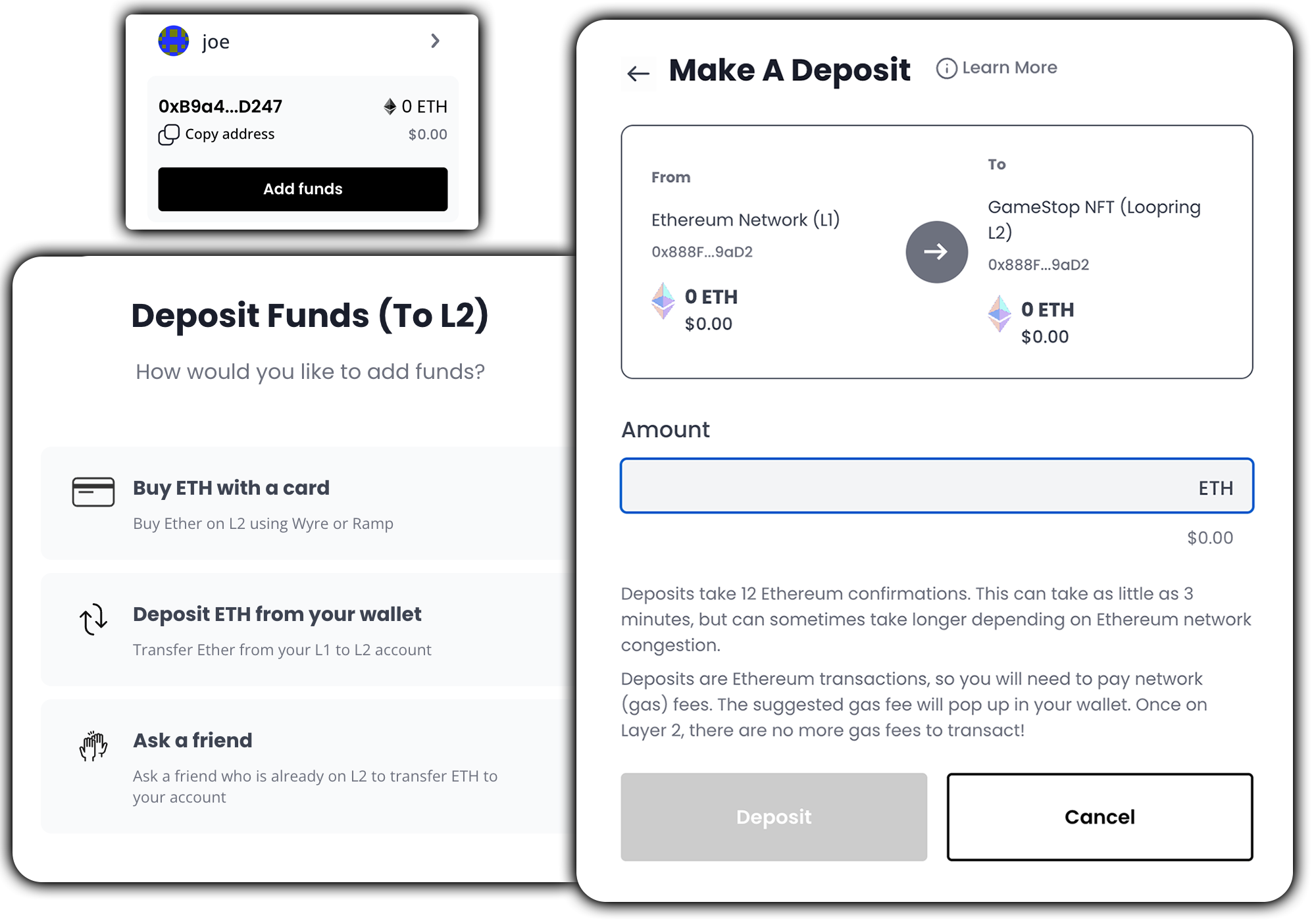 The process of starting a deposit on the GameStop NFT Beta
Notably, deposits from Ethereum L1 are converted into Loopring L2 by default.
"Once on Layer 2, there are no more gas fees to transact!"
When users visit their account history, they will likely see a screen that shows "Nothing here yet," we can assume this will display transaction history in the future.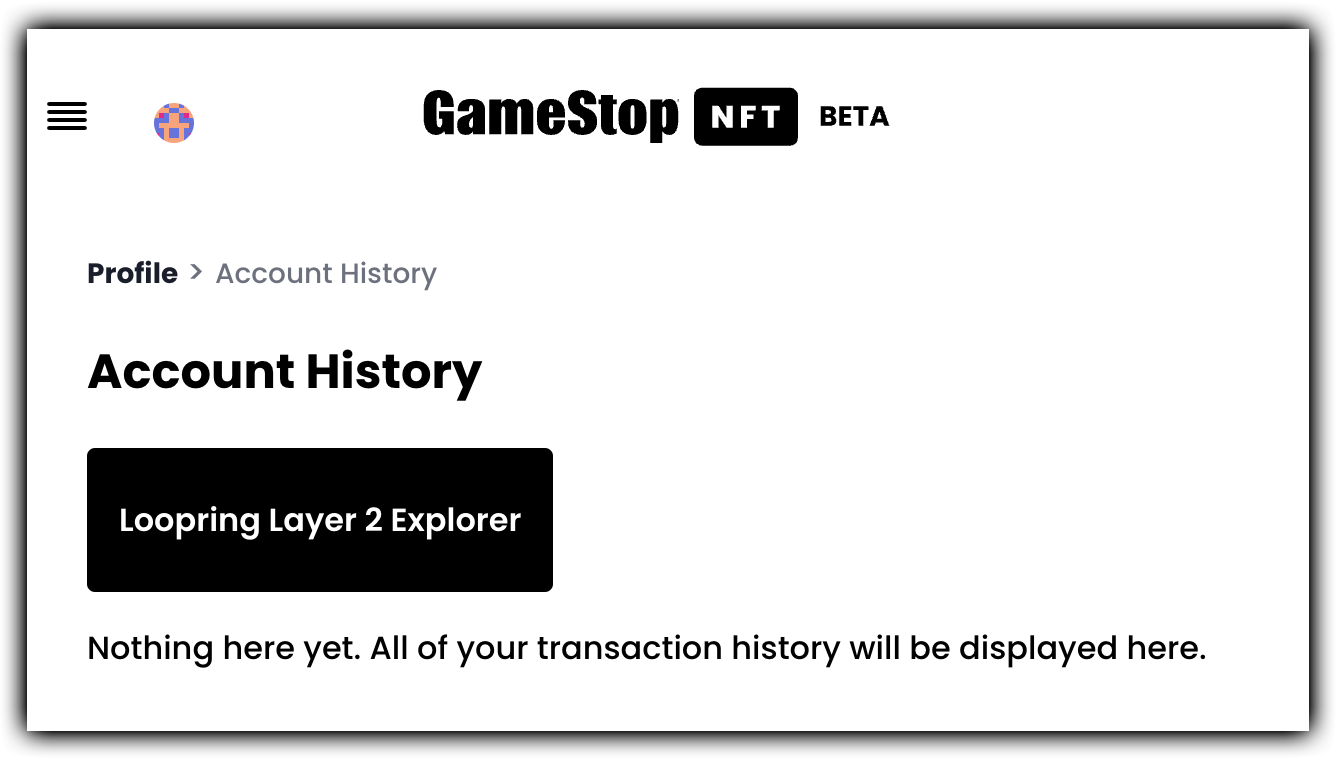 GameStop NFT Beta's Account History page
With over 1 million NFTs minted on Loopring L2 since early 2022, the page invites users to check the Loopring Layer 2 Explorer, further indicating the involvement of Loopring in this NFT Marketplace.
Besides this, no other notable features are currently visible in the beta.
While the marketplace itself remains hidden, digital sleuths can tweak the code a bit to start showing listings, revealing what the final product may look like.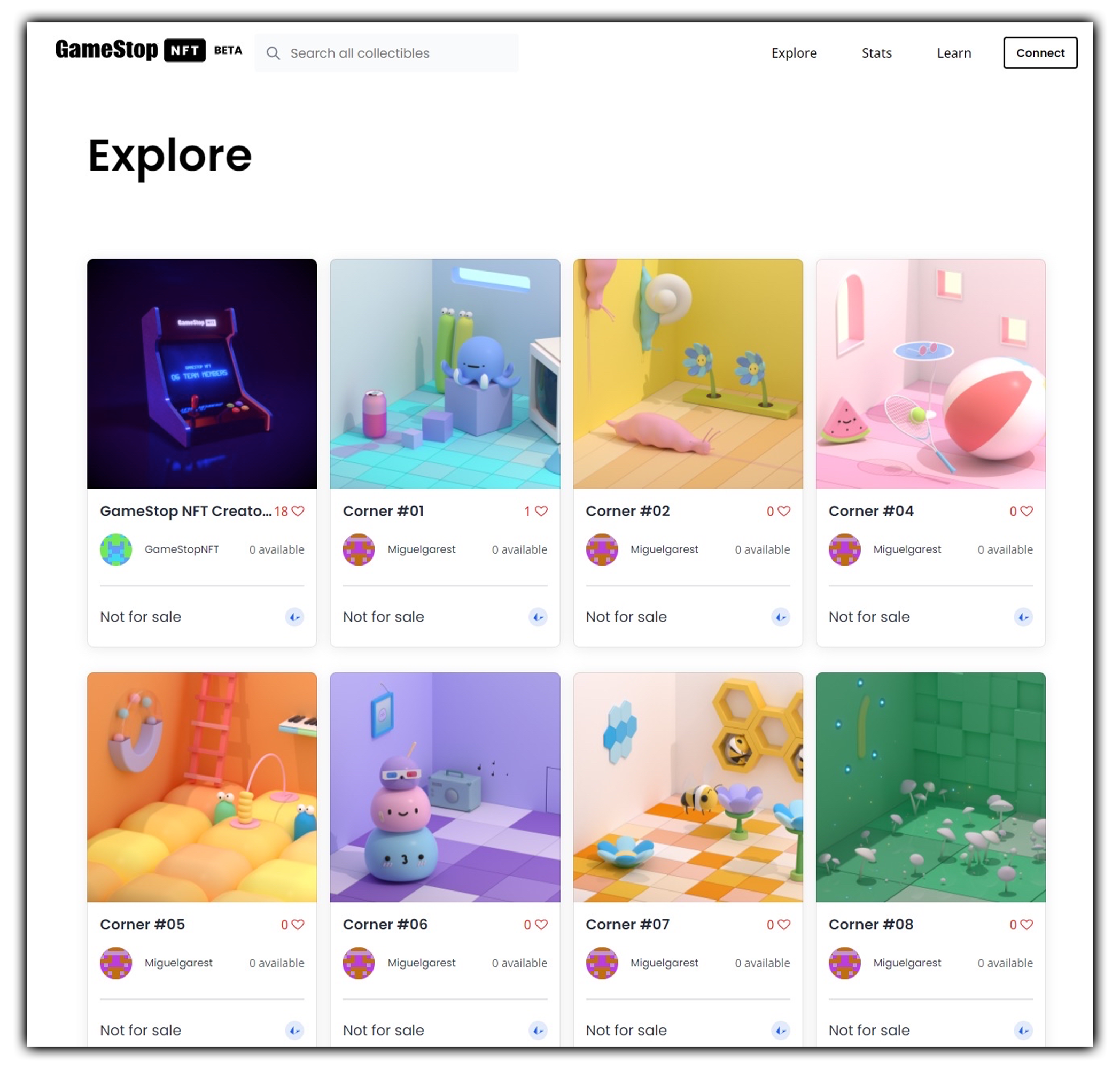 GameStop NFT's hidden Explore page on March 23rd.
Some NFTs by Miguelgarest are displayed, an NFT artist who has been quietly working on new projects, alongside the GameStop NFT Arcade Machine, all of which are listed as not for sale.
some things aren't so immutable
With nods to Loopring all over the GameStop NFT Beta, investors are left in the dark on Immutable's role, as many thought the Australia-based Ethereum Layer 2 NFT Marketplace would be taking over the project entirely.
On the issue, Byron Wiebe, Loopring's Head of Community, has again shared his personal thoughts on Loopring's Official Discord server.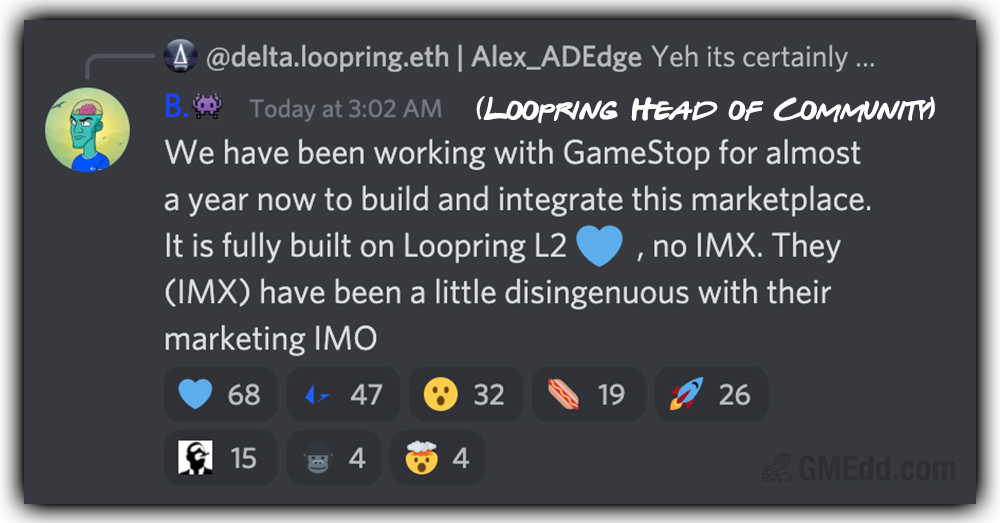 Byron Wiebe on Discord on March 23rd at 6:02 AM EST.
Byron states that Loopring has been working with GameStop for almost a year now to build and integrate this marketplace, fully built on Loopring L2.
"No IMX."
Byron goes as far as to share that he believes Immutable (IMX) has been a little disingenuous with their marketing.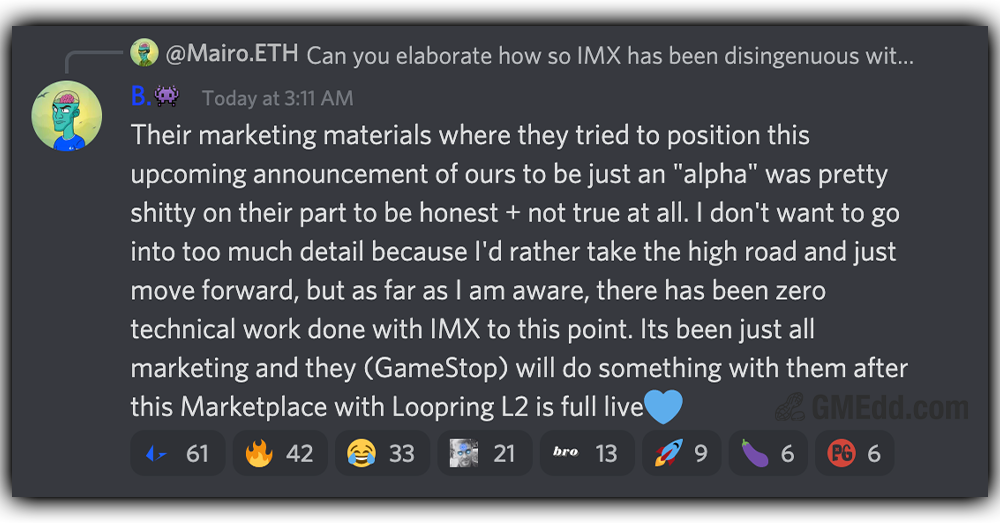 Byron Wiebe on Discord on March 23rd at 6:11 AM EST.
The Loopring Head of Community believes that Immutable's marketing materials were "pretty shitty" and not true at all.
"Their marketing materials where they tried to position this upcoming announcement of ours to just be an "alpha" was pretty shitty on their part to be honest."
According to Byron, as far as he is aware, there has been zero "technical work" done with IMX to this point, and it has just all been marketing, with GameStop doing "something" with them after the Loopring L2-based marketplace is fully live.

Byron Wiebe on Discord on March 23rd at 6:37 AM EST.
Byron also states that while he does not want to speak on behalf of GameStop, the marketplace was "genuinely supposed to be Q4, but had some unfortunate delays at the last minute."
Over on the Immutable Discord, investors in the Ethereum Layer2 with 88% of it's supply uncirculated are demanding the truth.
Nigel Lee, Immutable's Strategy and Operations Lead, is trying to fan the flames, stating that Immutable has never denied that Loopring was involved.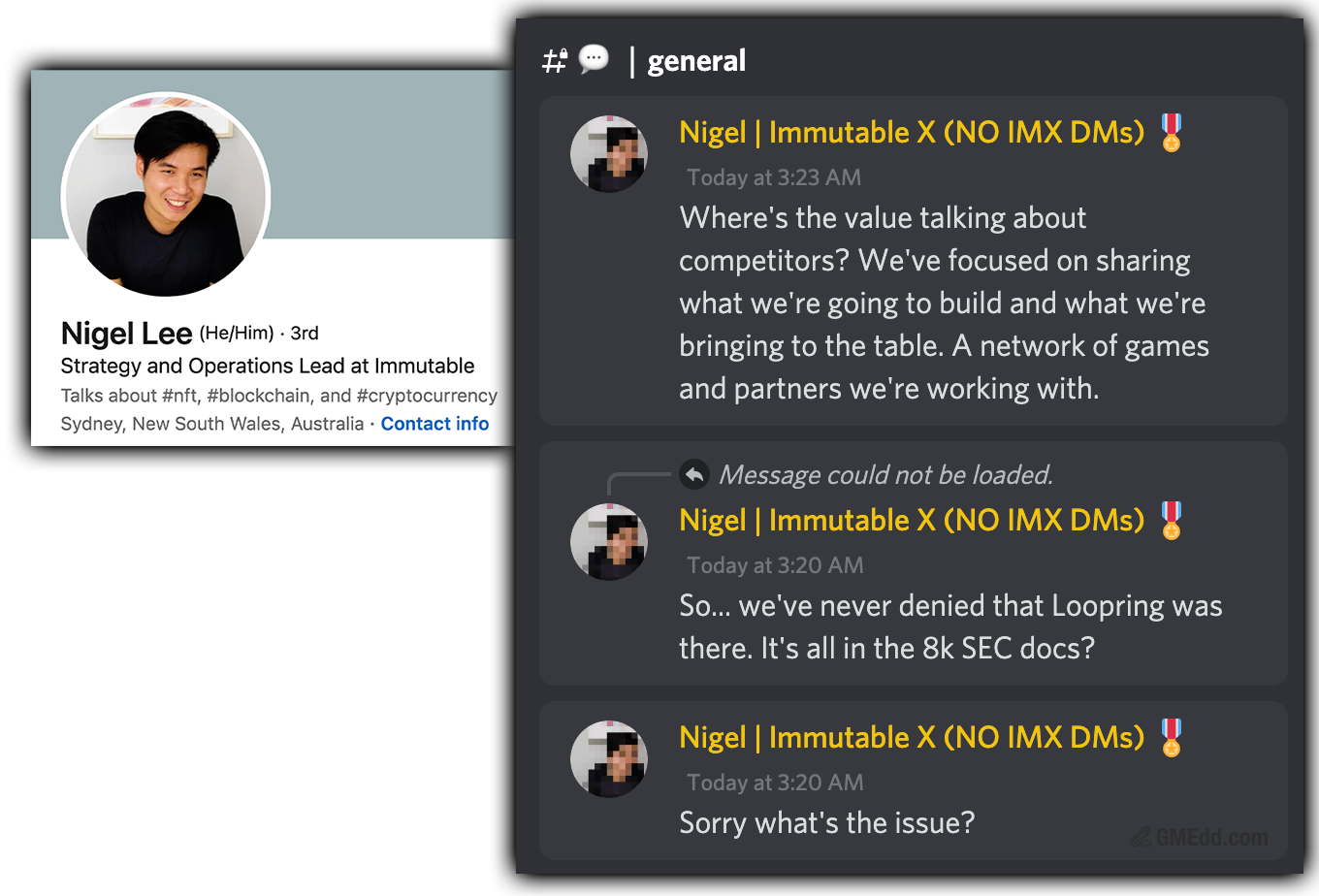 Nigel Lee on Discord on March 23rd at 6:20 AM EST.
Nigel even asks the naysayers, "Where's the value talking about competitors?" in regards to questioning over Loopring's clear involvement in GameStop NFT.
Immutable's Strategy and Operations Lead claims that IMX brings a network of games and partners they are working with to the table, and that the team has never denied Loopring's involvement.
In a Discord Stage hosted at 7:45 AM EST, Robbie Ferguson, the Co-Founder and President of Immutable, was quick to insist that GameStop approved all of their marketing materials and nothing nefarious was at play.
GMEdd.com did not have any overpriced consultants available to ask whether this was the right strategy for Immutable.
What now?
GameStop's retail investors will almost certainly spend the remainder of the week scouring through the GameStop NFT Beta, searching for clues as to what the marketplace will be like.
Some are even speculating that the website's code may have accidentally revealed the launch date for GameStop NFT as "Astronaut day," a national holiday on May 5th.

Code revealed on the GameStop NFT Beta on March 23rd, 2021.
Although this date does fall within with the recently announced launch before the close of Q2 2022, veteran GameStop investors are experienced enough to know to not rely on dates hidden within code.
While GameStop's NFT Beta only allows users to create accounts, deposit funds, and claim usernames at the moment, we urge those curious to check the platform out themselves, as GameStop gears up to soon deliver power to the players.
Source: Loopring on Medium, GameStop NFT Beta, Loopring on Discord, Immutable on Discord