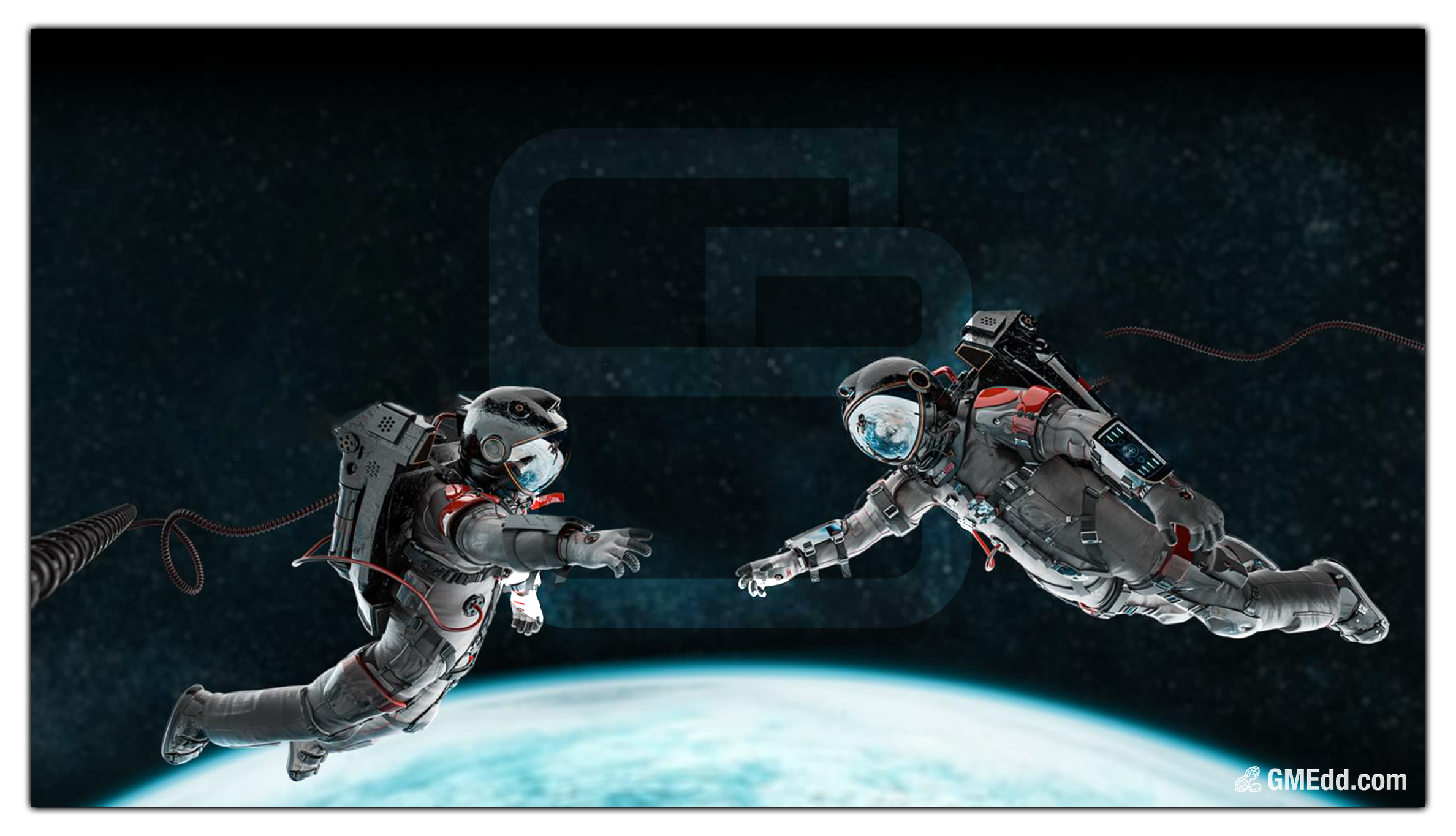 GameStop's crypto wallet is here, marking the company's realization of the transition from a retailer into a technology company.
GameStop has announced the company's much-anticipated release of the GameStop Wallet, a digital asset wallet that allows gamers and others to store, send, receive and use cryptocurrencies and non-fungible tokens across decentralized apps without having to leave their web browsers.
GMEdd.com's Discord was first to notice the release of the GameStop Wallet at 7:05 PM EST on Sunday, thanks to a bot that searched the Chrome Extension Store every 5 minutes for new search results under 'GameStop'. Readers can join the GMEdd.com chatroom to be at the forefront of crowdsourced research by visiting GMEdd.com/chatroom.
The GameStop Wallet is a self-custodial Ethereum wallet. The wallet extension, which can be downloaded from the Chrome Web Store, will also enable transactions on GameStop's NFT marketplace, which is expected to launch in the second quarter of GameStop's fiscal year.
The GameStop Wallet Beta allows users to trade and transfer digital assets on both Loopring Layer 2 (L2) and Ethereum Layer 1 (L1) under the same wallet address. L2 offers users transaction fees as low as 0.1% of Ethereum L1's exorbitant gas fees.
What does the GameStop Wallet do?
The GameStop Wallet isn't just an ordinary crypto wallet.
Harnessing the power of Loopring's zkRollup – an Ethereum Layer 2 scaling protocol – GameStop gives users low cost and fast transactions, with Ethereum security, opportunity, and global reach. This allows users to reduce gas fees and network congestion, while always remaining in control of their funds.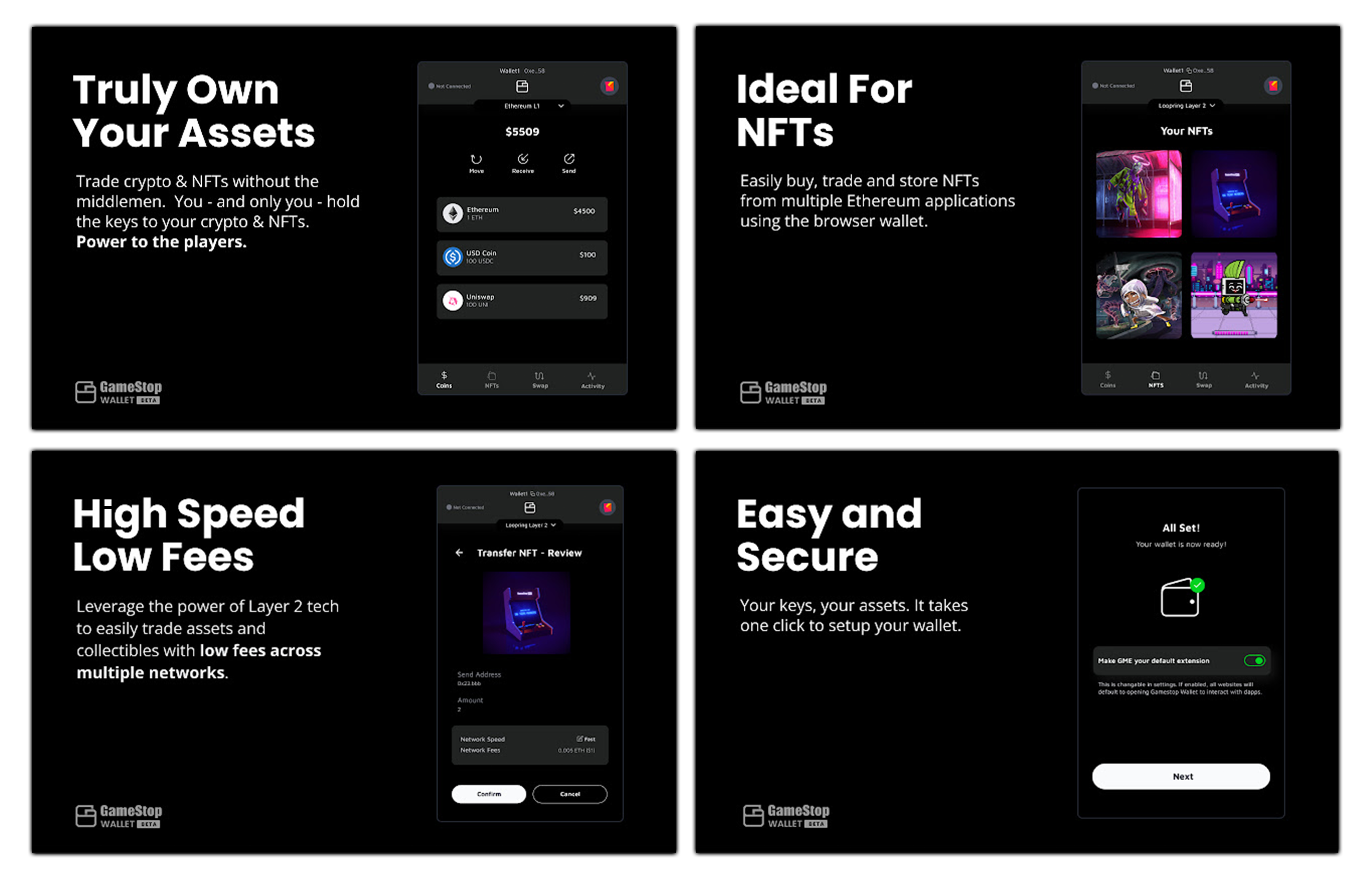 Images from GameStop Wallet's Chrome Extension Store page
GameStop states that the Wallet is "great for n00bs and power-users alike," and that GameStop Wallet can be your homebase and portal into the world of Ethereum.
The wallet is also connectable to the wide ecosystem of Ethereum dApps, "including GameStop NFT – a marketplace to buy digital goods!"
Available now at wallet.gamestop.com, users are prompted to create a new wallet or recover an existing wallet with their 12 word seed phrase.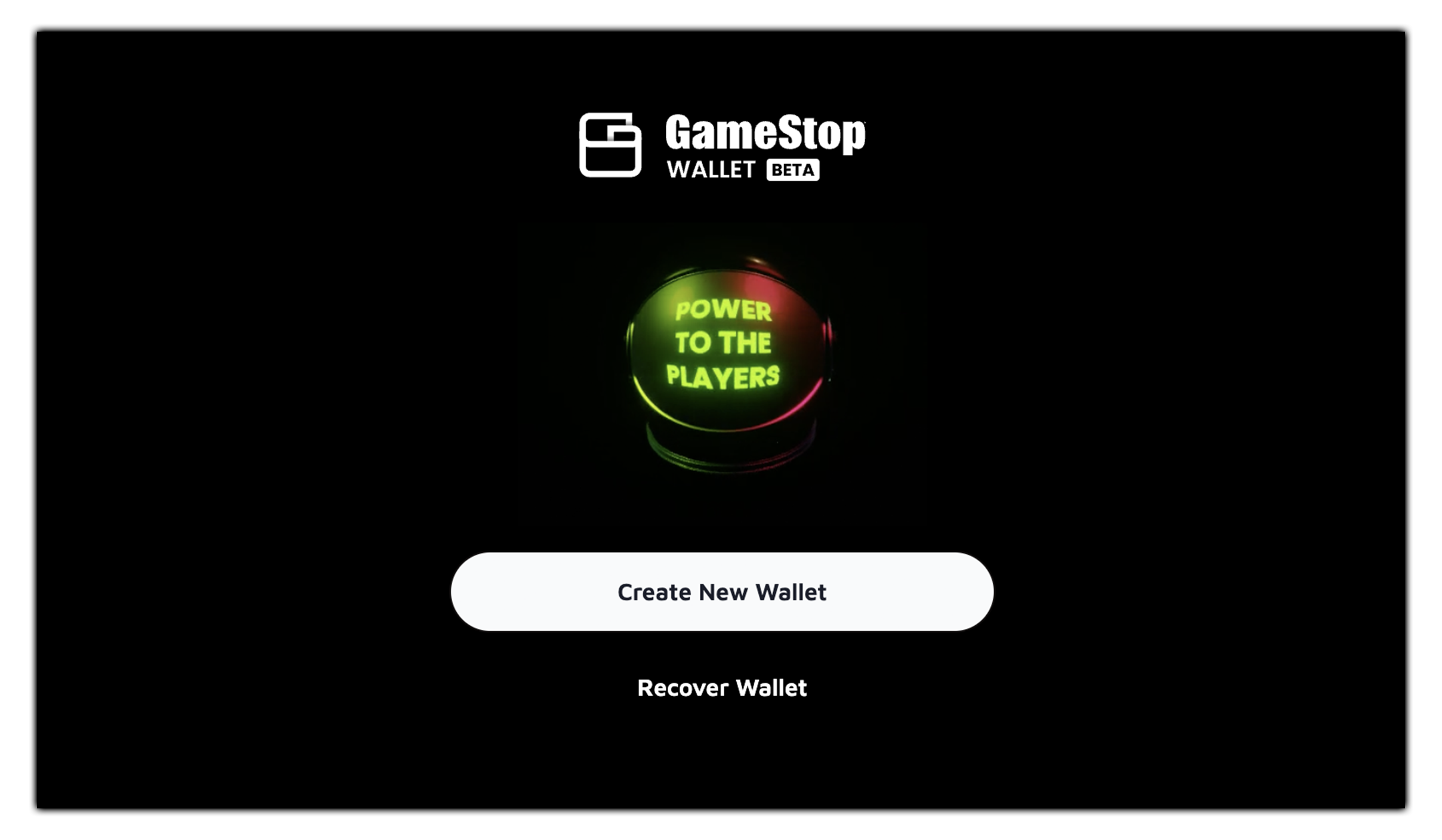 Screenshot of GameStop Wallet Beta's launch screen as of May 23rd 2022.
During the four step wallet creation process that involves writing down a 12 word seed phrase and setting a password, the Wallet states that "Loopring Layer 2 is preferred for higher transaction speeds and lower fees."
In October 2021, GMEdd.com first followed digital breadcrumbs to conclude that GameStop was partnering with crypto technology company Loopring to power a bridge of traditional e-commerce and blockchain. Days later, GMEdd.com published source code that revealed Loopring was in-fact hard at work building GameStop an NFT Marketplace of their own.
Now, the speculation becomes reality.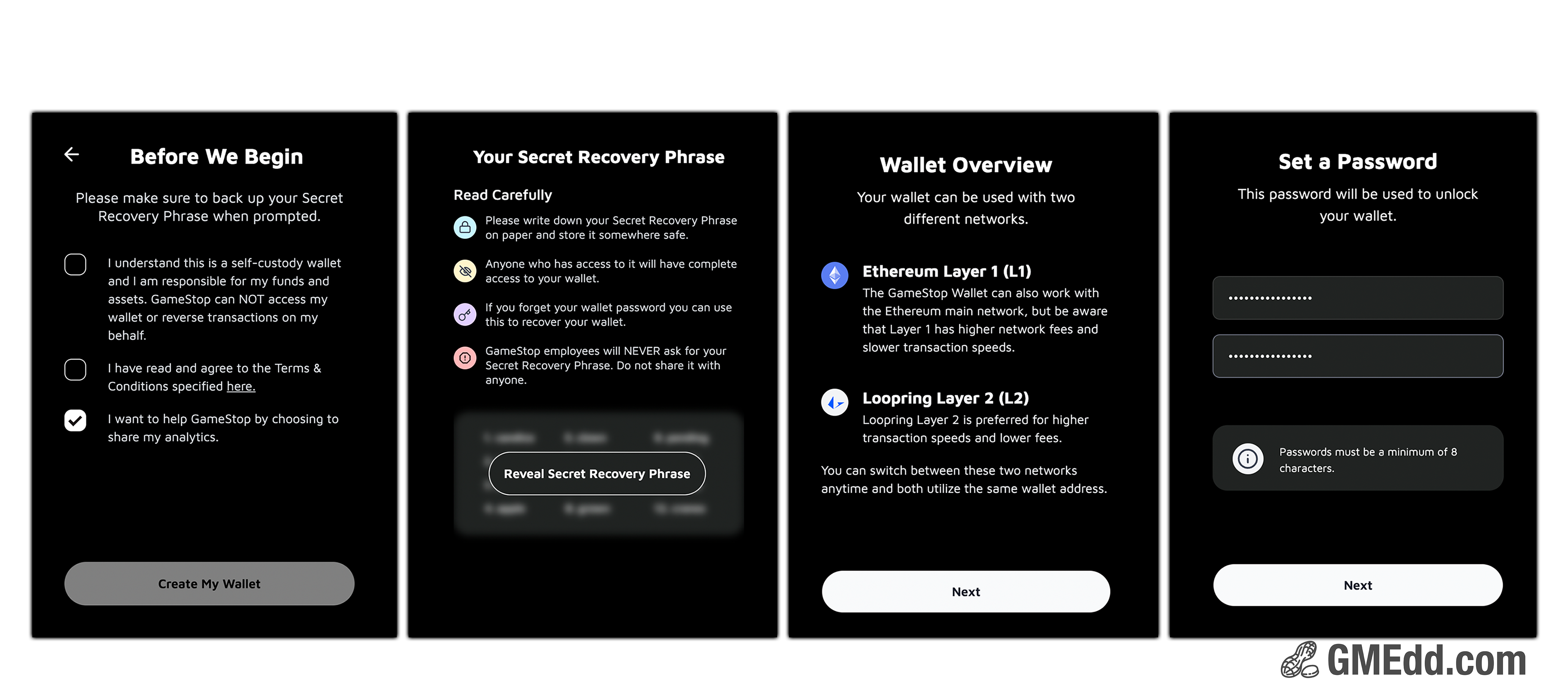 Screenshots of the wallet creation process from the GameStop Wallet Beta Google Chrome extension.
Once the wallet is set up, users are prompted to deposit funds by buying with a card or transferring funds from an existing L1 or L2 wallet.
GameStop Wallet is GameStop's Metamask replacement, currently the most popular hot wallet. GameStop's offering, though, is much more complete than it's rival's, as GameStop recognized the value in creating a blockchain ecosystem where users don't need to rely on third-party services.
The GameStop Wallet enables anyone to easily swap fiat into crypto and then use that crypto to purchase digital assets on GameStop NFT, all in one place, making it easier for newcomers to adopt the technology.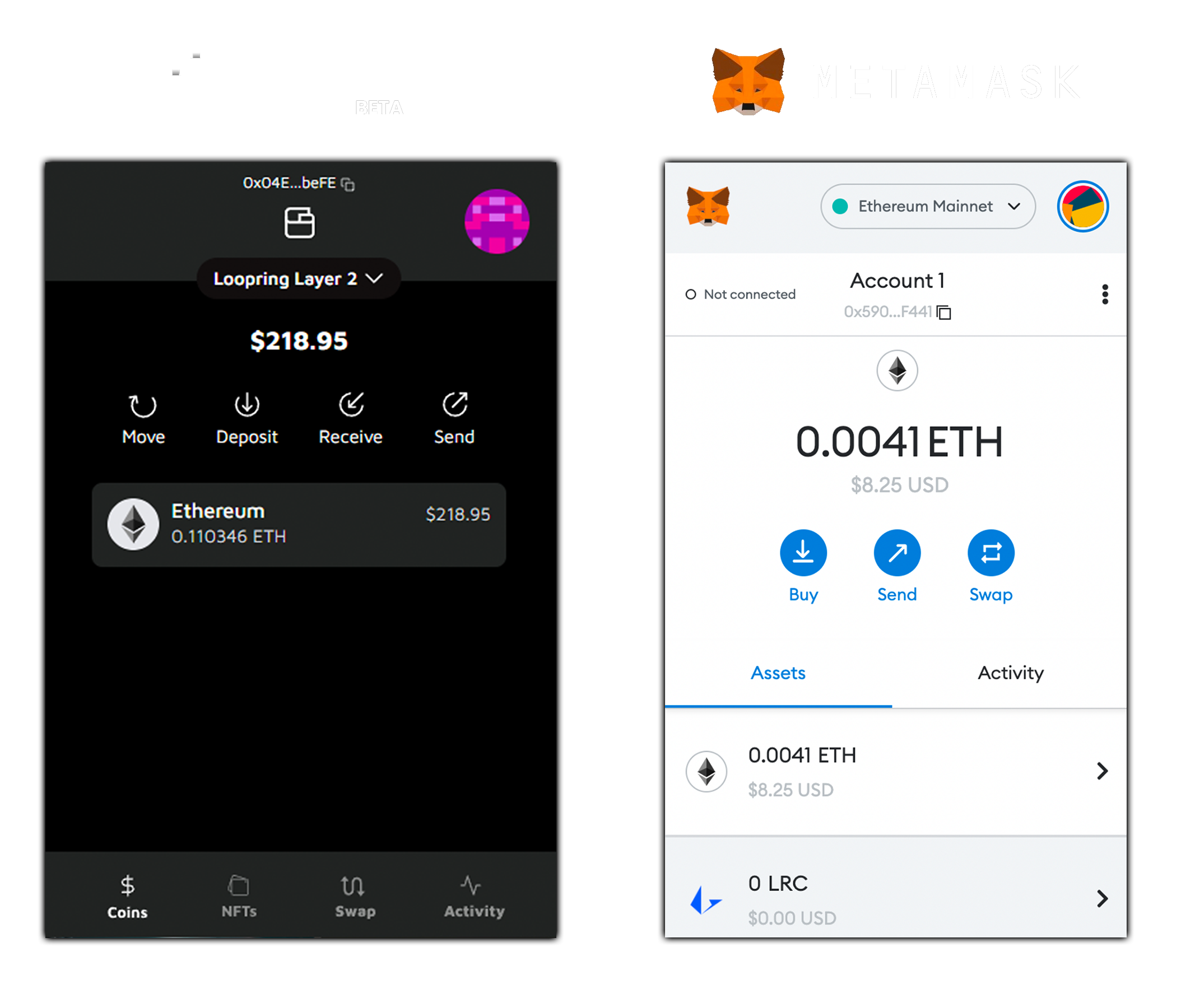 GameStop's wallet and Metamask's wallet side by side.
A quick analysis of the user interface and design of the two wallets reveals why GameStop is advertising their wallet as "easy-to-use."
While Metamask's wallet shows all of its features on one screen, GameStop's wallet has an intuitive navigation bar that allows each of its four main features to have their own screen. This includes viewing of NFTs, which isn't available in Metamask.
Two of the biggest barriers of NFT mass adoption is the complicated wallet set up process and high gas fees; GameStop's new wallet solves both of these problems with its user friendly onboarding design and native L2 integration that eliminates gas fees.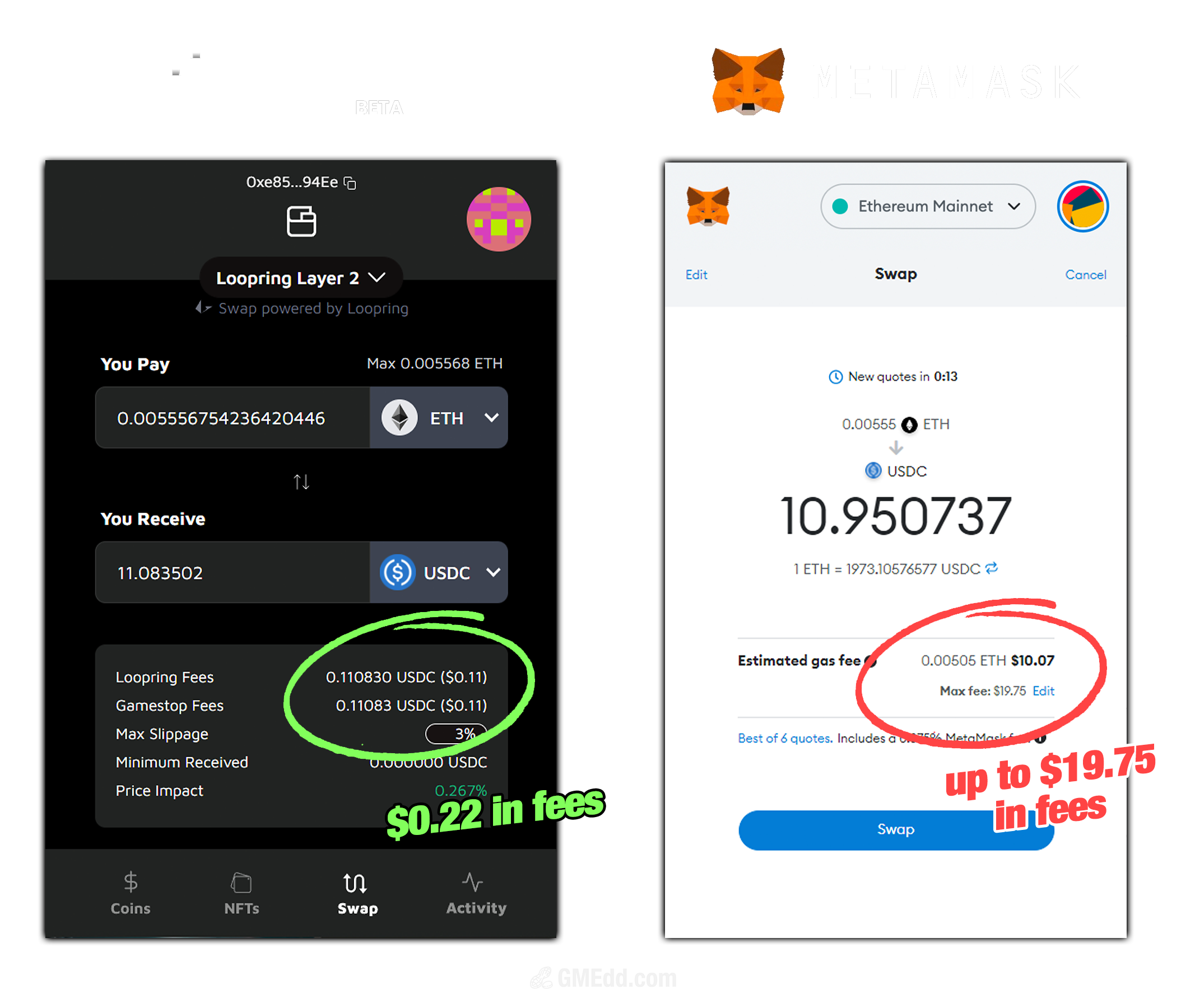 A comparison of fees on GameStop Wallet versus MetaMask.
At the time of publication, an $11 transaction executed on Layer 2 through GameStop Wallet only costs the user $0.22 in fees, while the same transaction on Layer 1 through MetaMask costs the user between $10.07 and $19.75 in gas fees.
While MetaMask's gas fees translate to a 91% to 179% transaction fee in this instance, GameStop is charging only 2% to complete that same transaction on Layer 2, with 1% going to Loopring and 1% to GameStop.
The development
Cyberhorsey, GameStop's lead engineer for the GameStop Wallet, states that the app has been his baby and he's so glad everyone loves the beautiful UX that simplifies "complicated L2 shit," into several easy-to-follow buttons.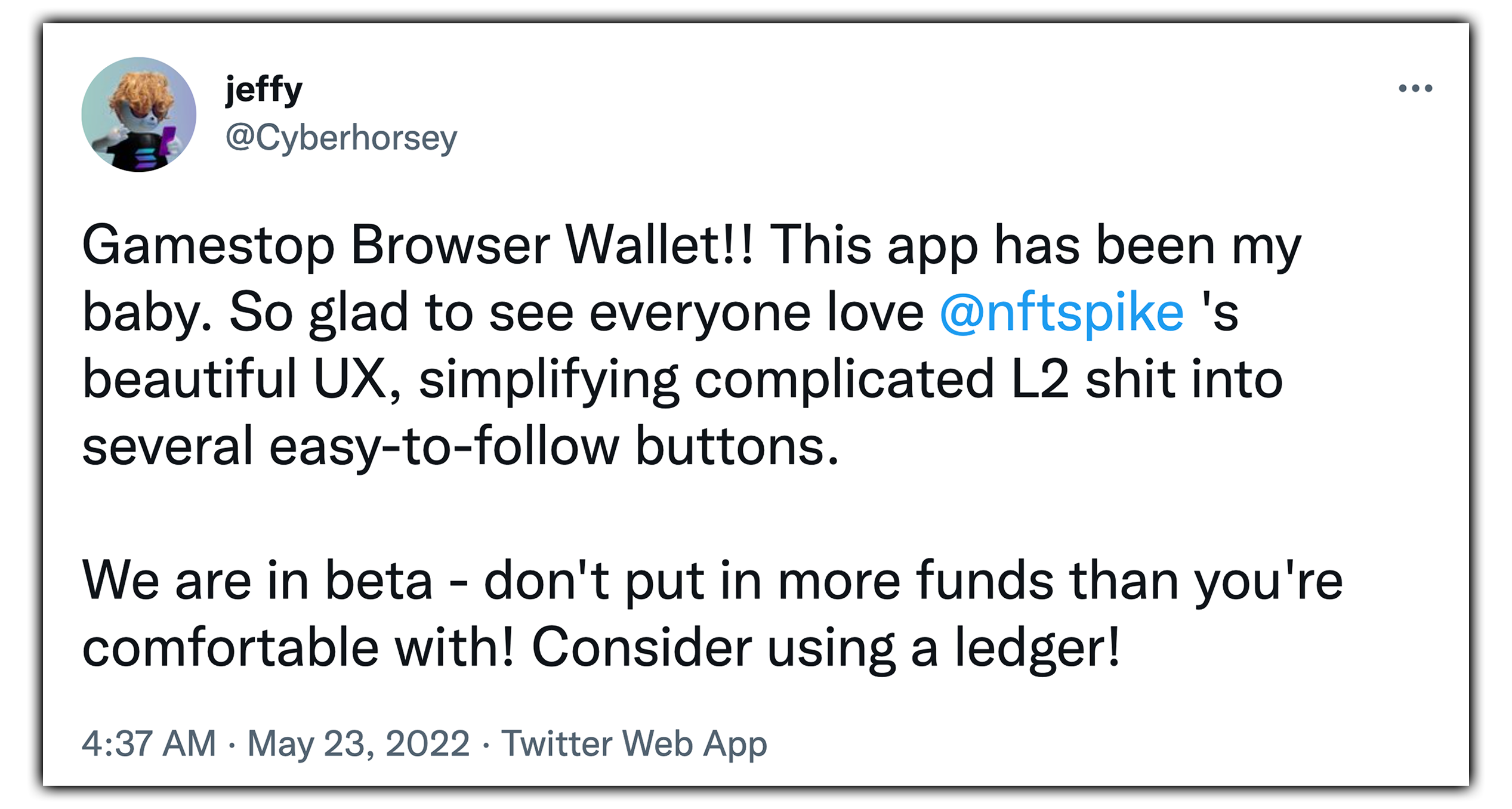 Tweet from Cyberhorsey on May 23rd, 2022.
GameStop had teased their Google Chrome wallet and their yet to be released iOS wallet on May 5th, when the wallet's landing page first went live.
Prior to the wallet extension's launch, GameStop tweeted from their new Twitter account GameStopNFT to educate their audience on the purpose of wallets, stating that "wallets are where your crypto journey begins."
? What is a wallet? #GameStopNFT pic.twitter.com/J08EPnzwg0

— GameStopNFT (@GameStopNFT) May 22, 2022
GameStop NFT's tweet from May 22, 2022.
On Monday morning, the official GameStop Twitter account promoted the new wallet alongside GameStop's new Twitter handle, and the announcement was met with positive responses from the GameStop community.
In preparation of the wallet's launch, GameStop had released a new blockchain support site that contains educational articles about web3 and a contact form to open an official support ticket for questions about the new wallet.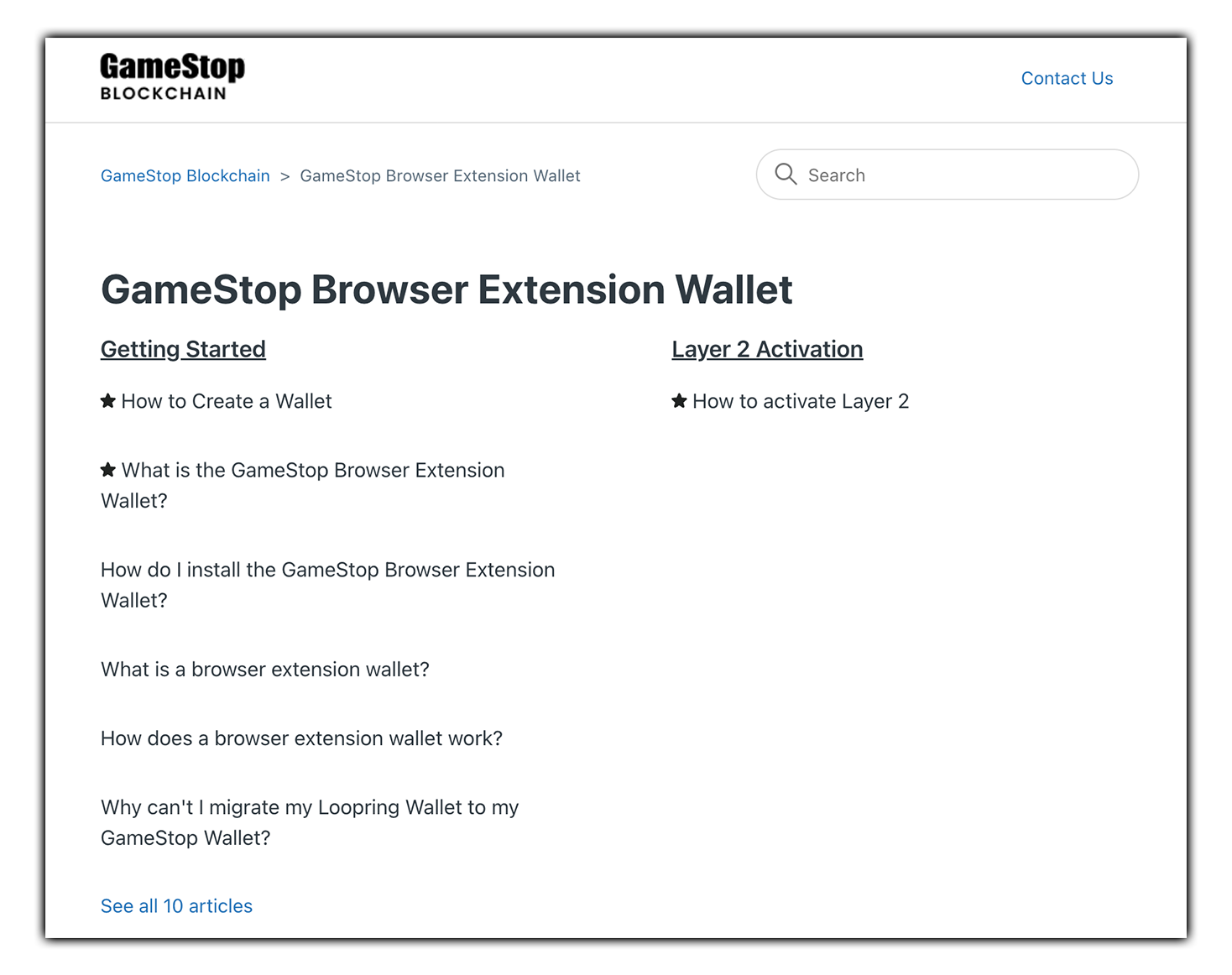 Screenshot from support.blockchain.gamestop.com
The site answers questions such as, "What is a browser extension wallet," and "How do I activate Layer 2?" written by GameStop Blockchain Community Manager Ryan Kagy.
GameStop also notifies users to beware of impostor profiles and websites setup to mimic GameStop Support. GameStop will only ever offer support via their Zendesk Help Center and will NEVER ask users for their Secret Phrase.
I'm new here. What is Layer 2?
If you're wondering what all the talk about L1 and L2 is about, here's a simple metaphor that avoids technical terms such as "zero knowledge roll ups."
Imagine that layer 1 blockchains, such as Ethereum, are digital cities. Imagine that blockchain transactions are persons sitting in cars trying to go somewhere in the Ethereum city. Cars reaching their destination represent verified transactions.
If there's lots of cars, congestion and traffic starts building up, so the city starts increasing gas prices to discourage people from driving. During high congestion, buying a $50 Ethereum NFT on layer 1 might cost you an additional $200 in gas fees.
Then, imagine an Ethereum layer 2 scaling solution, such as Loopring, building an elevated bullet train above the city. This elevated bullet train represents layer 2 scaling solutions which are built atop layer 1 blockchains. Individuals who were previously stuck in traffic on layer 1 can now choose to ride the bullet train that can fit thousands of people instead.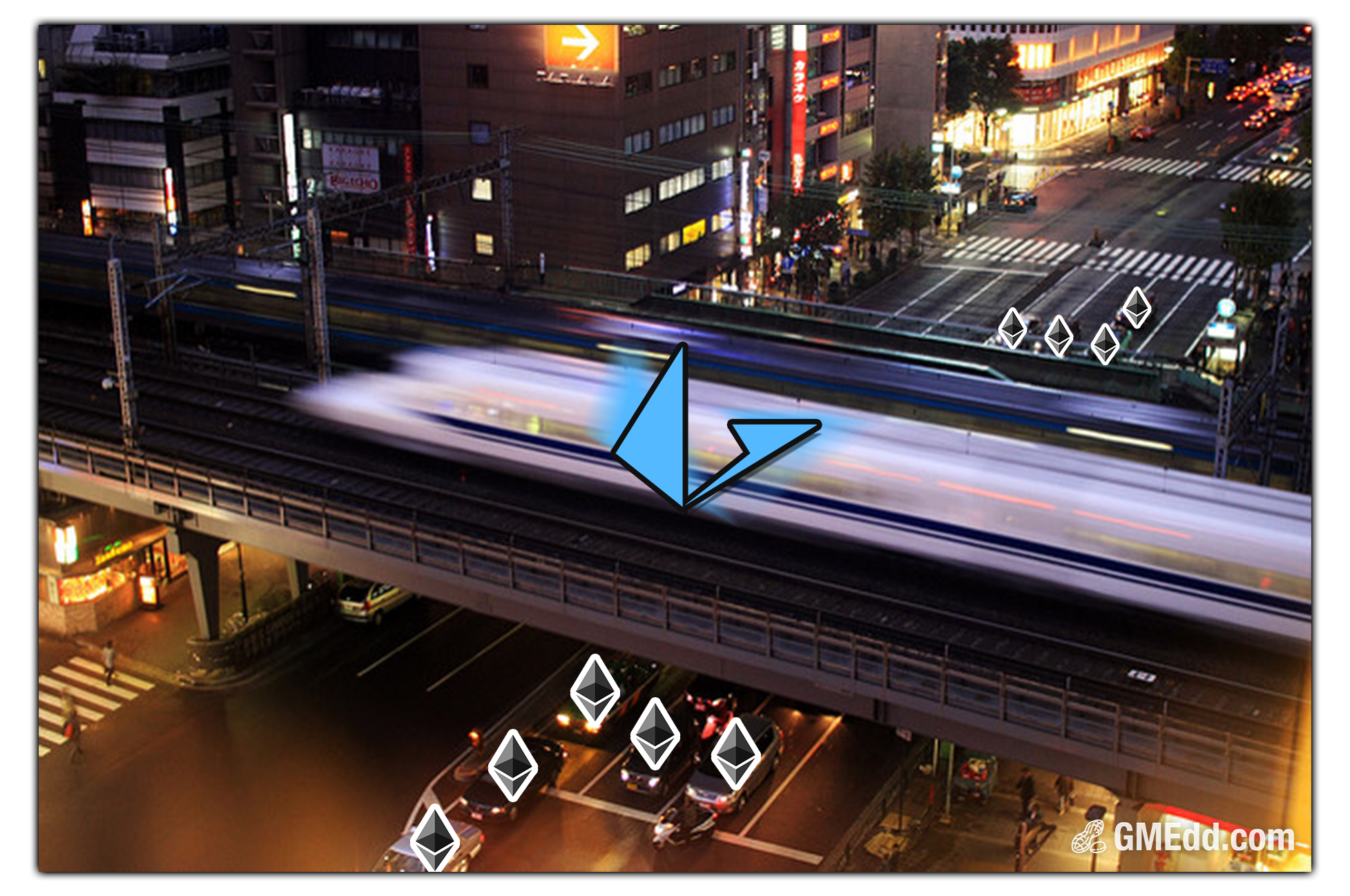 Loopring is the bullet train above the blockchain city
Since the train is fast and experiences no traffic, they all reach their destinations faster. Plus, multiple people can fit inside the bullet train, so everyone shares the costs of the ride resulting in each individual paying significantly less in fees.
There's also the added benefit that the more people who use layer 2 scaling solutions, the less congested layer 1 becomes as well.
What now?
GameStop investors should consider downloading the chrome extension and trying it themselves. As the platform is still in beta, users are encouraged to only put in funds they are comfortable with, and consider using a ledger.
With only 69 days left for GameStop keep their promise of launching their highly anticipated NFT Marketplace by the end of Q2 on July 31, investors shouldn't have to wait long to see the result of a year of building the most innovative offering the company has ever released.
joecomotion wrote this piece for GMEdd.com. Toast edited and contributed.