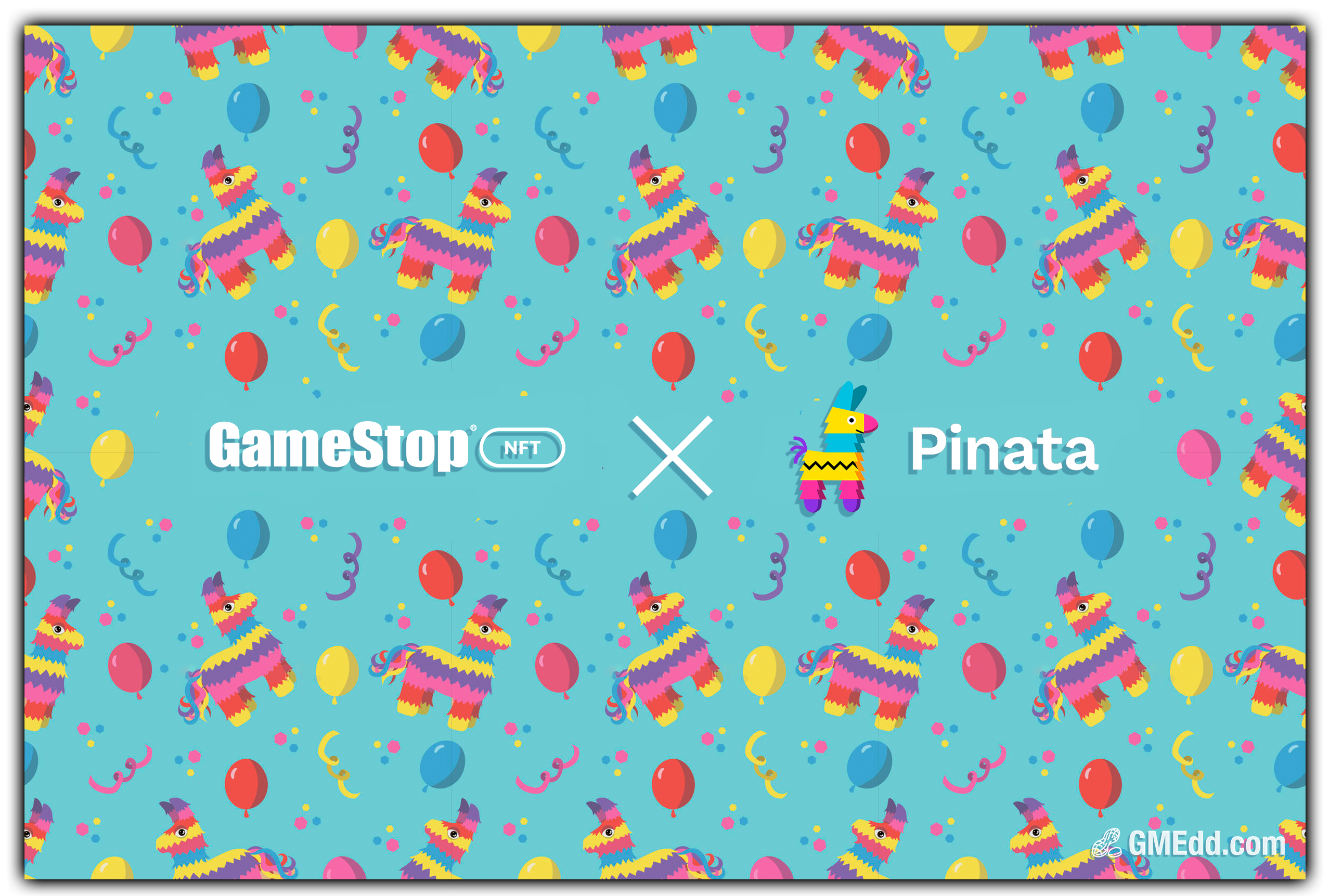 Who's going to be the host for all these files?
It's no secret that GameStop has been building a premium NFT marketplace, with job postings alluding to blockchain developments at the company dating back to April of 2021.
After a year of cat and mouse chases searching for clues as to who GameStop is working with, the aspiring technology company's latest known technology vendor has been uncovered in what could be seen as an intentional Freudian slip.
The Pinata Broke
Pinata's very own Head of Product, Justin Hunter, confirmed that Pinata is providing backend distributed storage for the emerging retailer turned-NFT Powerhouse during a speaking event with Texas Blockchain.
The Head of Product for @pinatacloud spoke with @txblockchain and claimed that GameStop is working with the NFT media management tool.

"GameStop is using us for the storage of the assets and serving the content back." — Justin Hunter, @polluterofminds pic.twitter.com/A6uJH3HaFj

— GMEdd.com (@GMEdd) March 3, 2022
The Head of Product at Pinata commented that the shadow vendor-client relationship hadn't been intended for public scrutiny, but that Twitter had spread the message after a user dug into GameStop source code.
"[GameStop] is using us both for the storage of the assets and then serving the content back." — Justin Hunter
Before this spill, investors were already clued into the relationship between GameStop and Pinata.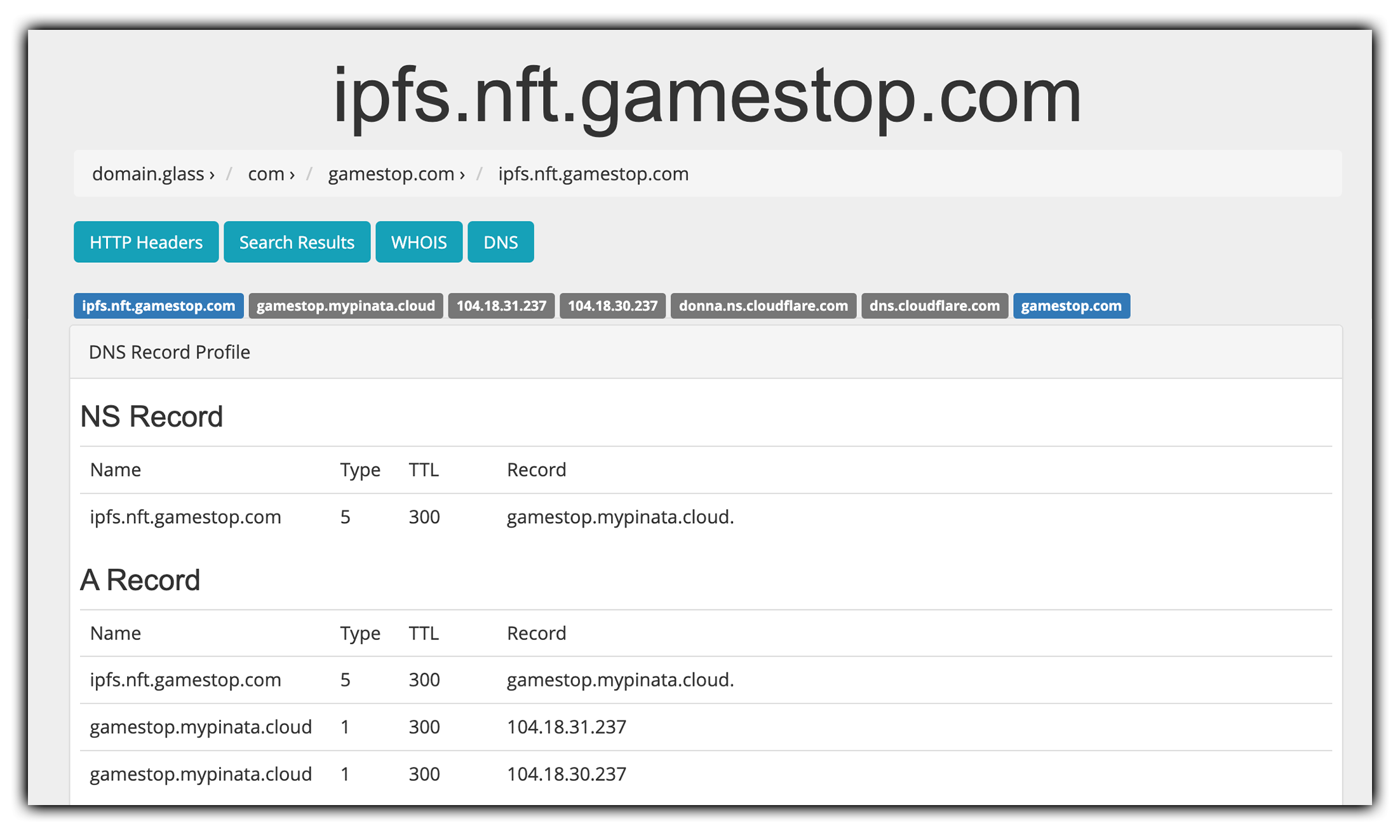 The DNS records of ipfs.nft.gamestop.com
GameStop's own DNS records have long referenced gamestop.mypinata.cloud, revealing that the gaming retailer has been using their hosting services for some time now.
So what is Pinata?
Pinata claims they're "the home for NFT media", and trusted by well-known non-fungible pioneers such as Rarible, Autograph, Protocol Labs, and sorare.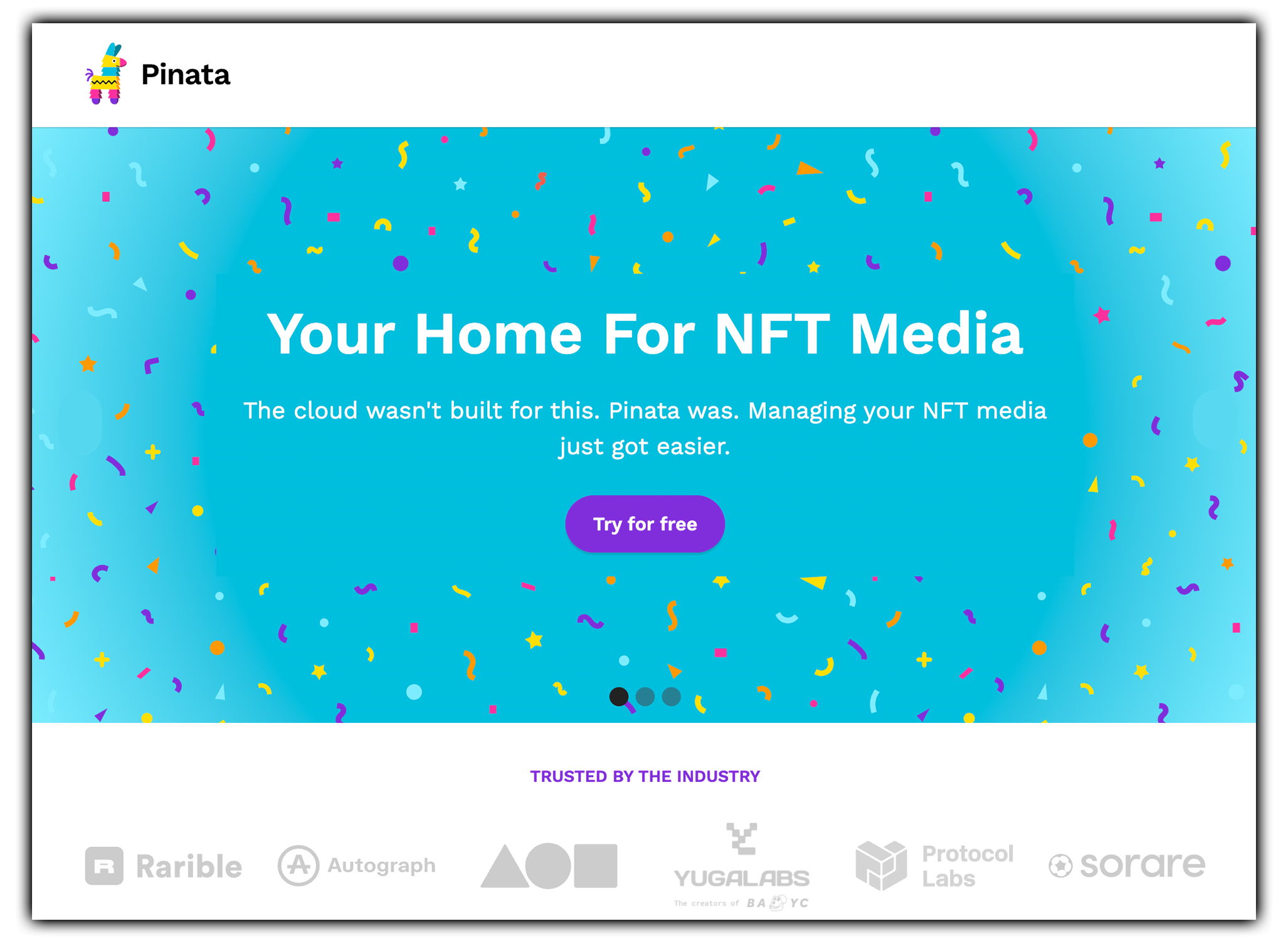 Screenshot of pinata.cloud's homepage as of March 5th 2021.
Pinata is a cloud based InterPlanetary File System (IPFS) service provider offering users the ability to host their NFT content on the decentralized Web 3.0.
The company is currently a leading service provider for dedicated public IPFS gateways, which allows creators to upload their NFT content onto the peer-to-peer distributed file system where it will no longer need to rely on a centralized service provider such as Amazon S3, Google Cloud, and Microsoft Azure, who currently lead the Web 2.0 services sector.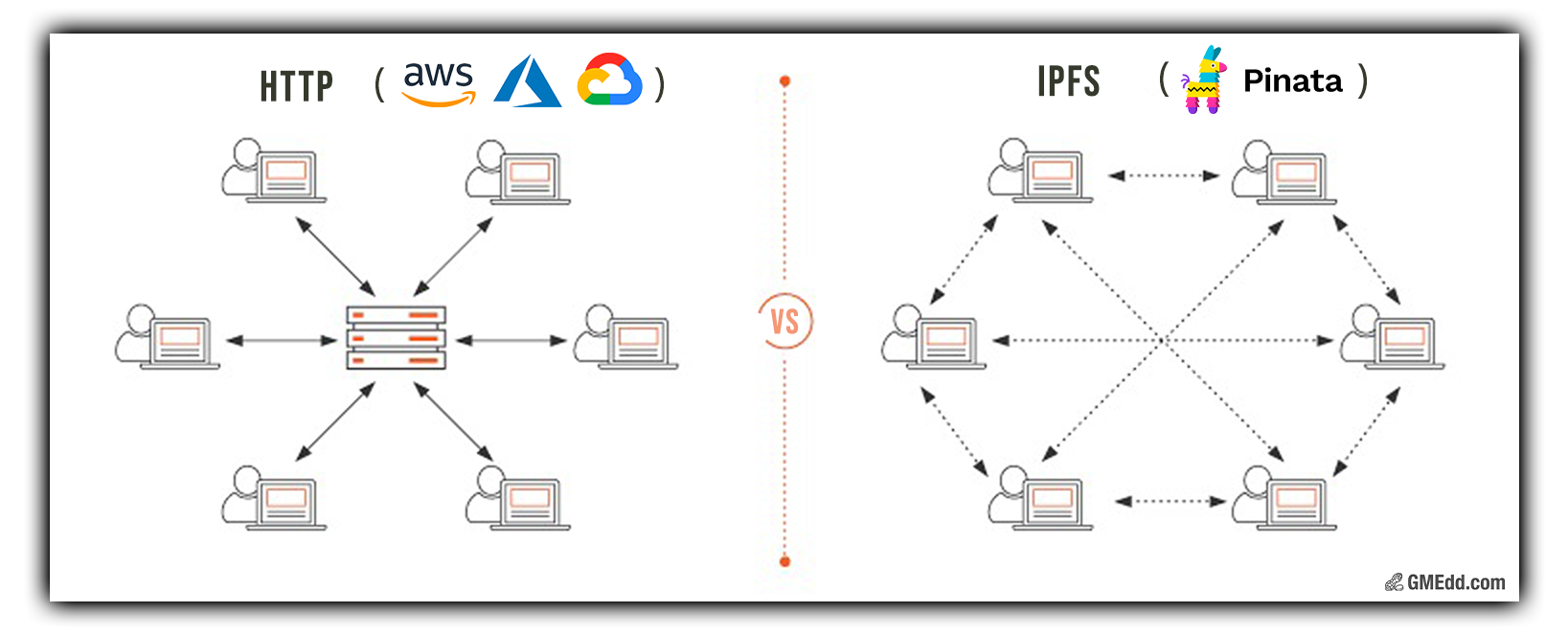 A visualization of HTTP vs IPFS
Due to the decentralized nature of blockchain technologies, in order to have true ownership of NFT content users cannot rely on a centralized server.
In the centralized world of Web 2.0, users must trust the data provider as well as the data. Contrary to this, in Web 3.0 users only need to trust the data itself thanks to the decentralized nature of IPFS and its use of cryptographic hashing.
By using Pinata and their IPFS services, GameStop can securely host NFT content on behalf of its users in a decentralized manner which enables players, creators, and collectors to have complete ownership of their content.
IPFS provides both reliability and resiliency to attacks. When a traditional content provider goes offline, whether due to maintenance, software bugs, a cyber attack, or even censorship, users are left unable to access their data, games, media, or other files. With IPFS, users can rely on the many peers of the system to continue hosting content while some nodes may be offline.
To put it simply, GameStop powers the players, creators, and collectors; Pinata powers the underlying NFTs.
Pinata's Roots
Established in 2018, Pinata offers professional services for NFT file management, allowing users to upload files of any type and size to the peer-to-peer distributed file system known as IPFS.
"Our mission is to help creators provide an experience worth paying for." – Pinata

Pinata by the numbers, according to pinata.cloud/about
Pinata works via storing content, such as games, media, or files, within a hash of an NFT's verified URL. This verification takes place with an access token that is only generated by the NFT owner.
Think of a DNA strand: it's tiny and works with others to make up a whole asset, but if destroyed, the next strand can reproduce the entire product!
Pinata's distributed storage creates DNA strands of digital assets, enhancing security and decentralized goodness.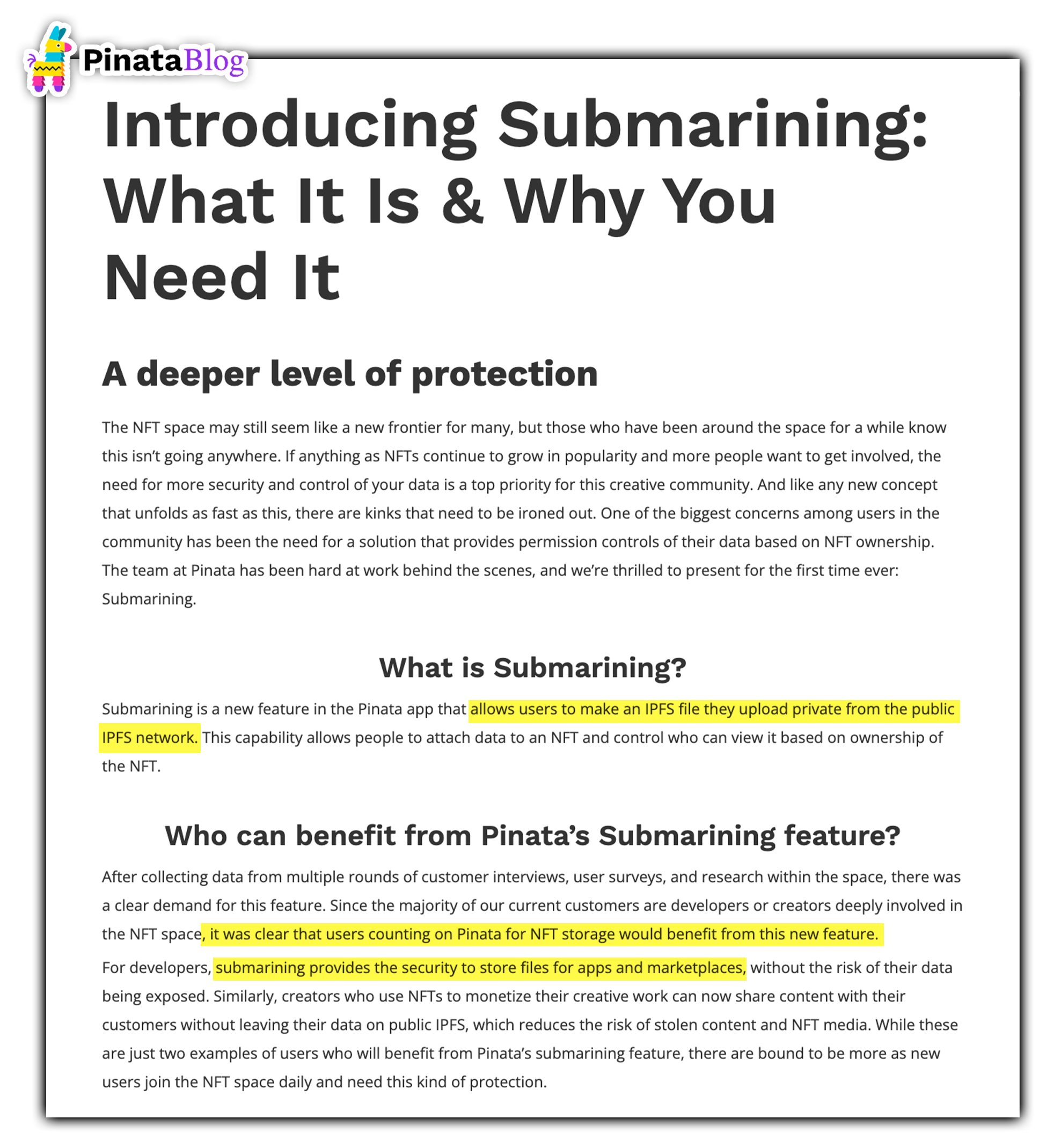 Pinata's Submarining, explained.
One of Pinata's distinct features is Submarining, which allows users to make an IPFS file they upload private from the public IPFS network. This capability allows people to attach data to an NFT and control who can view it based on ownership of the NFT.
It's a Party
In essence, Pinata allows applications, end users, and creators to interact with the Blockchain to create trustless, decentralized verification between themselves and others.
GameStop using Pinata's offerings to host and serve their NFTs indicates that the video game retailer is committed to the future of digital, pinning themselves at the forefront of the internet's transition to Web 3.0.
Vice and kmsully contributed to this piece. Toast edited and contributed.
Sources: IPFS Draft 3, What is IPFS, Pinata FAQ, Pinata Features, The Block Crypto