GMEdd.com was built as a transparent communication platform to immortalize the research and high-quality due diligence that the community has put into the GameStop investment thesis, and prevent it from being drowned out by attempts to mislead or confuse public discourse on company's shares.

Kindly consider donating to help fund our server costs. Any excess will buy our contributors a coffee.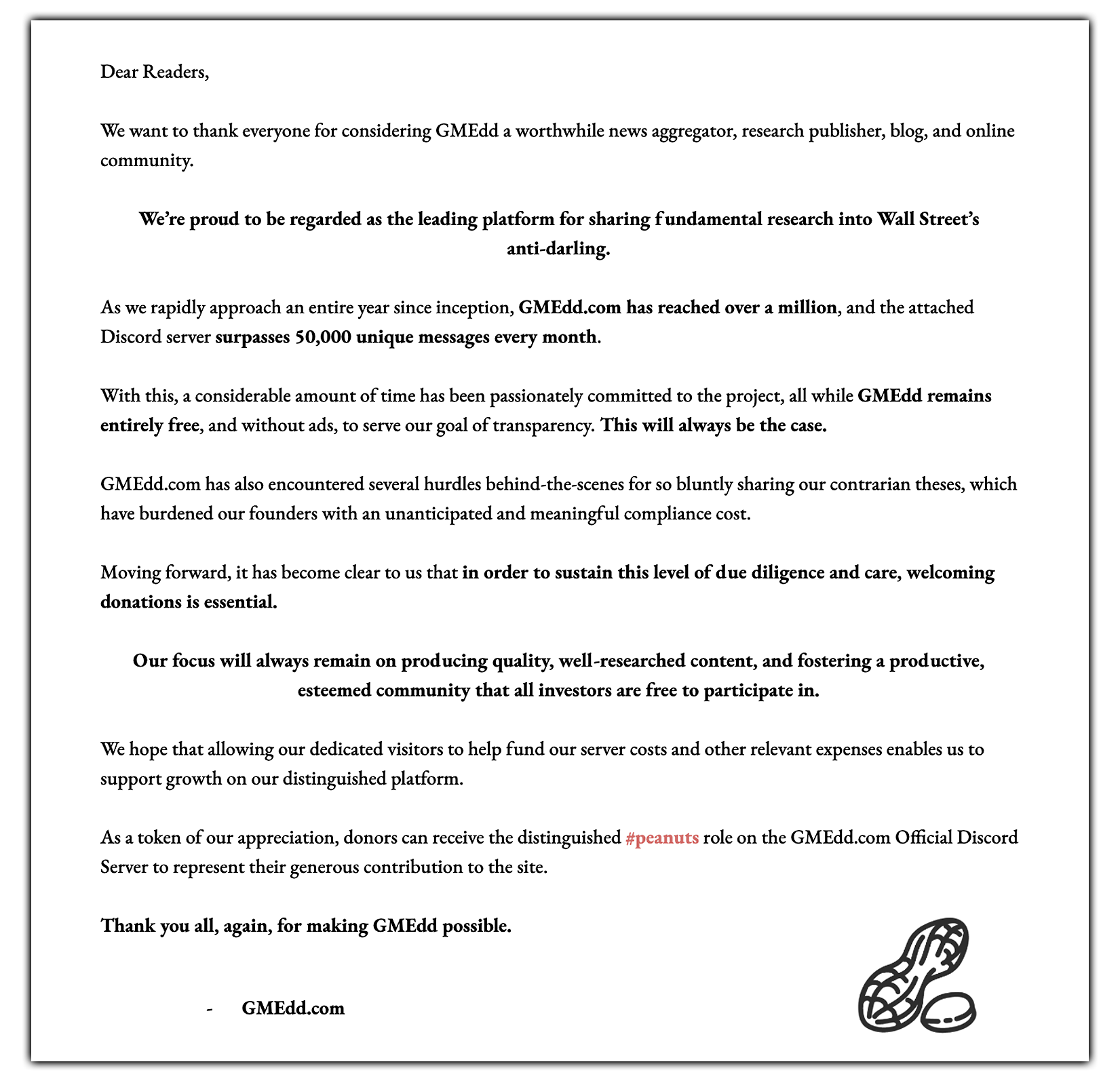 BTC: 3JMqFyETThiNNJG1yjrLsrjvMpEuWb2EEA
ETH: 0xBeEC8857c6FD5c6CFE2c87bEcAA24c5Df9e7110A
LRC: 0x8dE085024350eaD50f4070e59032046842B1EcC3

THE CONTENT OF THIS WEBSITE REFLECTS INDEPENDENT RESEARCH AND ANALYSIS CONDUCTED BY A COLLECTIVE OF INDEPENDENT RETAIL INVESTORS IN GAMESTOP CORPORATION, IS FOR INFORMATIONAL PURPOSES ONLY, AND IS PROVIDED "AS IS" WITH NO WARRANTY OF ANY KIND, EXPRESS OR IMPLIED. ANY CONTENT OR STATEMENT HEREIN SHOULD NOT BE CONSTRUED AS INVESTMENT ADVICE, OR AS AN OFFER TO BUY, SELL, OR SOLICIT THE PURCHASE OR SALE OF ANY SECURITY OR FINANCIAL INSTRUMENT. YOUR USE OF THE INFORMATION CONTAINED HEREIN IS SOLELY AT YOUR OWN RISK. DO YOUR OWN DUE DILIGENCE.